Need something dark behind it so its easier to read!
By
Cora H.

(Cedar Falls, IA) - July 2, 2013 (
See all reviews by this customer
)
Inscription does not show up very well but quality is good and delivery is fast as usual!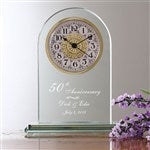 anniversary clock
By
Shopper

(Fort Lauderdale, FL) - June 2, 2013
The item go here intact, quickly and was ingraved beautifully. It was a bit smaller than I anticipated but over all very nice. I was a bit confused about the delivery having paid for what I thought was UPS and the UPS dropped it off to be delivered by the local post office.

Gift
By
Barbara V.

(Lake Forest, CA) - April 12, 2013 (
See all reviews by this customer
)
Looks lovely. Arrived so quickly.

Anniversary clock
By
Debra B.

(Ft Myers, FL) - April 5, 2013 (
See all reviews by this customer
)
Product is nice, engraving as well but be sure to look at size of clock because it isn't as big as I envisioned. This is at least the 4th engraved gift I have purchased and I have been pleased with all items and timely delivery.

Perfect Anniversary gift
By
William W.

(Monett, MO) - January 25, 2013 (
See all reviews by this customer
)
Nice gift for not a lot of money. We ordered this as a gift to family member and it arrived as described, was quite surprised. Only bad thing was one of the hands on the clock was bent so clock would not work. I was able to disassemble and fix the bent hand. Other wise satisfied.

Everlasting Love Anniversary Clock
By
Shopper

(Braymer, MO) - January 7, 2013
Fast service. Nice quality. Etching makes the gift so much more personal. Clock face was lose when it arrived. Hopefully, this was just caused by shipping.

exceeded expectation
By
Shopper

(Litchfield, OH) - November 5, 2012
I was very impressed with this purchase. The beveled glass is of high quality with a very nice weight to it. The engraving is expertly executed and very stylish.

I am certain the recipients will cherish this for years to come.

Also, I was amazed how quickly I received my clock. It was a matter of days.

I will definitely make more purchases from this company.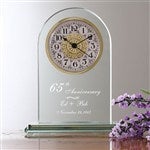 ANNIVERSARY CLOCK
By
Shopper

(Carrollton, TX) - August 30, 2012
I received the clock in less than 2 weeks and it looks wonderful

Anniversary Gift
By
Shopper

(Coarsegold, CA) - August 2, 2012
Ordered for our son and daughter in law. The clock is beautiful but when we tried to put the battery in, the hands on the clock came off. Called immediately and a new clock was sent very quickly with no questions asked. Clock works fine now. Great service!

a nice personalized gift
By
Robin A.

(Henderson, NV) - July 20, 2012 (
See all reviews by this customer
)
I ordered for a friend's 50th anniversary. Smaller than we'd expected and not quite the "wow factor" we'd hoped for, but overall a pretty nice gift.

Everlasting Anniversary Clock
By
Shopper

(springfield, VA) - January 30, 2012














The engraving is hard to see/read, thus taking away from the expressed reason for having a gift engraved. It is a clock that is acceptable if you need an inexpensive gift that looks nice.

Tasteful Gift
By
Shopper

(Winfield, KS) - January 24, 2012
Pleased with the appearance of the clock. I was a little concerned as it was priced so reasonably. Did have an issue with putting the batteries in place, found one location easily, but the other was not obvious (perhaps I am just technically challenged). I was happy with the purchase.

Pleasantly pleased!
By
Sheryl L. O.

(Rochester, MI) - September 4, 2011 (
See all reviews by this customer
)
The engraving quality is perfect! The weighty beveled glass base (made in China) was without production flaws, a true surprise(unlike some reviews I read). The plastic gold clock insert (made in USA) had minor flaws if studied extremely well. I called Customer Service and they shipped out a replacement clock insert within 4 days of inquiry. They did not require me to package and return original clock insert which was a nice convience. The replacement came in fine order without flaws. It is easy to pop in the glass base. I'm exceptionally pleased with the service,and very much with the product. However, when the website said, "Made in USA", it was the primary reason for my selection, so I was somewhat disappointed that only the clock insert was USA made. Overall, the entire clock quality is no better or no worse than a shelf product in a retail store.Partly made in USA is a bonus to me.The service is excellent, expediant and the price of the product very reasonable comparative to retail.
Thank you PersonalizationMall.Com.


Good anniversary gift for parents
By
Michael C.

(Winston Salem, NC) - July 12, 2011 (
See all reviews by this customer
)
identifies the persons involved and their date with a classy time piece they can display openly in any room. creates a converstion piece as well for paties once displayed.

Very Fast Shipping and Delvery Process
By
David D.

(Cedarcreek, MO) - June 17, 2011 (
See all reviews by this customer
)
We ordered this for our sister and brother-in-law's 50th wedding anniversary for June 25th. I explained to the customer service representive how desperate I was that I really liked the clock and especially the engraving as that makes it so personal for them. She was so nice and friendly and reassured me that it would be at my house on June 17th. Took the chance and ordered it on Tuesday, June 14th planning on leaving for Colorado, June 18th. I started tracking it the next day and it kept me informed as to where it was each day. And come early afternoon today it was on my front porch ready for me to receive. Awesome!
The clock is beautiful and I am quite sure that they will love the professional engraving. The only thing wrong is that the little hands had come appart so I got my handy little screwdiver out and fixed them.
All in all I am very impressed and thanks for saving me a trip to the city to shop.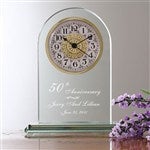 Gift
By
Shopper

(Chesterfield, MI) - May 16, 2011
Although this purchase was a gift, it was received with great pleasure. We really cannot put a true rating on it because it was a gift, but all in all it arrived in a timely manner and in great shape.

Great Quality
By
Shopper

(Muskegon, MI) - April 23, 2011
This clock is of great quality, the only concern i have is the quality of the etching, at this point i am not sure if it will fade/wear over time. Will have to see.