Absolutely breathtaking
By
jennifer G.

(West Milford, NJ) - February 18, 2010 (
See all reviews by this customer
)
I purchased this as a Valentine's day gift for my husband and when it arived I was stunned by how beautiful it was!

excellent quality
By
Rebecca L.

(San Francisco, CA) - February 11, 2010 (
See all reviews by this customer
)
This turned out even better than I expected. The photo quality was excellent, it has a very classy look to it. I love it, and I hope my fiance loves it too when I give it to him on Valentines day :)

I would give more than 5 ***** if I could.........
By
Christi H.

(El Cajon, CA) - January 18, 2010 (
See all reviews by this customer
)
This is such a beautiful unique gift. I just love it. I can't wait to give it to my daughter. what an amazing personalized gift.

Beautiful!!!
By
Pamela S.

(Gulfport, MS) - December 28, 2009 (
See all reviews by this customer
)
My mother cried when she received this for Christmas. It was the best gift ever.

Excellent Production
By
Christopher M.

(Spring, TX) - December 18, 2009 (
See all reviews by this customer
)
Excellent product and service delivery.

awesome!
Love this item

Very nice!
By
Shopper

(Niles, OH) - December 30, 2012
I bought a mug for my mom. She loved it! The only problem was the print was a bit small. But it wasn't horribly small. it was a lovely gift and was high quality.

Mama's mug from joelle
By
Shopper

(Lake Mary, FL) - July 6, 2012
This product came out very nice. I only wish the picture could have been a little bigger. Other than that it was a beautiful poem and my mother loved it.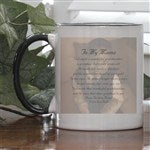 Awesome Mother's Day Gift
By
DeAndre H.

(Houston, TX) - May 17, 2012 (
See all reviews by this customer
)
My mom and my mother-in-law loved there gift. the gift arrived on time and packaging was appropreiate. The site was very easy to use.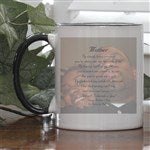 Writing on Mug
By
John A.

(copiague, NY) - April 13, 2012 (
See all reviews by this customer
)
Writing should be darker and thus more readable. Large unused space on other side of mug would be usable to something like "HAPPY 70TH BIRTHDAY" However still needed as my brother's celeration is next weekend. This mug is not just for "her" but also for men to receive...perfect size for a cup of tea.

Thanks, John Armstrong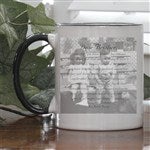 Father's Day Mugs
By
Deborah L K.

(Cedartown, GA) - June 25, 2011 (
See all reviews by this customer
)
For our Sunday School class of teens, I was looking for an affordable Father's Day gift from the students to their dads to illustrate the correlation between loving earthly fathers and their Heavenly Father. Because of Personalization Mall's high quality of items I ordered in the past, and because of the discount, I decided to try the mugs. Only most of the students preferred to honor their mothers. The mugs are of high quality and turned out really well, except it is a little harder to see the face of the student under his or her original poem. Still, a very nice and heartfelt remembrance to the shocked but thankful moms.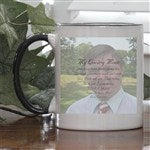 Beautiful
By
Shopper

(Poughquag, NY) - February 4, 2011
This mug looks absolutely gorgeous in person. The only issue I came across with the purchase of this item was finding a picture that would both fit and look good. Other than that it is a great gift!

Nice, but picture is hard to see
By
Joyce J.

(Mechanicsville, MD) - December 21, 2010 (
See all reviews by this customer
)
This is a really nice mug and I love the poem, but, the picture behind it is a little difficult to see. I think it would be better to have the picture on one side and the poem on the other. But, overall, still a great product and I know my mom will love it.

Beautiful!!!!
By
Brian M.

(Canton, MI) - December 4, 2009 (
See all reviews by this customer
)
I LOVE this cup! It's just beautiful. Wish the picture was a little darker, but, as a whole, it's a keeper!

OK, but some tips...
By
Shopper

(New York, NY) - May 14, 2011
The product is as advertised. However, the photo reproduction on the cup wasn't as brillant as I thought it would be. This does make a nice gift if you pick a photo with strong colors and contrast. If I were to do it again, I would reduce the amount of writing (which is right over the photo faces!)and use a simple Happy Mother's Day at the bottom of the cup. The site does let you see the cup as it will be made, but different computers can alter color contrasts. All in all, a worthy product.

not as happy this time
By
Stefanie L.

(Norristown, PA) - April 20, 2010 (
See all reviews by this customer
)
Got this mug for my husband a couple of years ago and I loved it...love the fact that you can write your own poem and put the pic on it too...very special. So I just ordered two for the godparents of my second daughter and the picture on it is hardly noticable....it's a shame b/c the poems are so nice, you just can't see the picture very well...so keep this in mind, might want to get a mug with pic by itself....they should offer this mug with that option?