Photo Keepsake Box Brings Happy Tears
By
Deby H.

(Port Allen, LA) - May 19, 2011 (
See all reviews by this customer
)
I absolutely loved this gift. I did for a special family in my community and it bought lots of happy tears and memories for them. This box turned a very tragic accident into a personalized memory keepsake box for them to share with their new sibling. And your company offers the very best quality of workmanship in their products. Thank you standing behind the service you offer to your customers.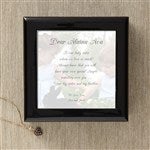 Great gift, my grandmother loved it!
By
Shopper

(South Abington Twp, PA) - May 13, 2011
This was a wonderful keepsake gift for someone special. I gave it to my grandmother for mother's day and my mom was actually jealous that I didn't get one for her. The message and the photo make it very personal, and I would definitely recommend it to anyone.

Thoughtful, inexpensive gift.
By
Krisitn L.

(Cary, NC) - September 10, 2010 (
See all reviews by this customer
)
I had a wedding gift to purchase and I was short on cash but didn't want the bride and groom-to be to feel slighted. This jewelry box was a great gift for the Bride to keep her treasures from the day (wedding jewelry, etc.). I personalized it with a beautiful verse of poetry from a well known poet and put their names and the date of their wedding-all on top of a sentimental picture of them. The Bride-to-be just received the gift and she said she loved it. I highly recommend this to anyone.



PERFECT Service and Quality!
By
Sharonda L.

(Chicago, IL) - May 19, 2010 (
See all reviews by this customer
)
I was in need of the perfect graduation gift in a hurry. Here it was the 11th and graduation was the 14th! To make matters worse, I was traveling out of town for the graduation, so I needed the gift on the 13th!

What better place to buy my gift than from Personalization Mall! Not only did they guarantee and rush my order in 2 days, the jewelry box was of excellent quality! I was very pleased with the outcome.

As advertised
By
Chad W.

(Dayton, PA) - May 7, 2010 (
See all reviews by this customer
)
Very quick shipment and product looks as I hoped it would! Will recommend.

Picture doesn't do product justice.
By
Julie A.

(Chicago, IL) - October 20, 2009 (
See all reviews by this customer
)
This is a great product. It is not some cheap jewelry box. It is sturdy and well-made. Definitely a dresser top showpiece. The picture is printed on a smooth glossy tile. The inside is covered in a silky cream fabric. Only problem is it has a tension open/close system - meaning it might take two hands to open the box. Regardless, great product overall.

Gift for dance team
By
Shopper

(Algonquin, IL) - February 8, 2014
Needed this item in a large quantity in a short period of time. I couldn't have been more pleased with the customer service. It was at my door in just over 24 hours. The jewelry box was beautiful! I wish the wording on top was a bit darker but maybe it was the picture I chose. I thought it was a bit difficult to read. Other than that, great purchase.

Very Nice Daughter-In-Law Gift
By
Heidi G.

(Lewis Center, OH) - November 25, 2013 (
See all reviews by this customer
)
I wanted to get my Daughter-In-Law a special Christmas gift & thought this box would be perfect, since I can write whatever I wanted. The only problem, is that the wording could be darker over the picture. You have to REALLY look at the wording to read it. Either the picture should be lighter or the wording should be darker.

Memory box
By
Shopper

(Hanover, MA) - November 4, 2011
This is a very sweet memory box with a meaningful photo and message. My daughter was very touched by the gift.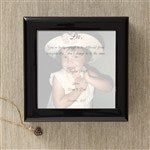 Best box ever!
By
Arturo A.

(El Monte, CA) - April 2, 2011 (
See all reviews by this customer
)
I purchased this box to give to my girlfriend on our engagement. When I received it I wasn't it expecting it to be this nice. It was a beautiful box that was created perfectly for me. The tile that was in the center of the box was amazing. Only issue I had was that they did not glue it down properly and during shipping it came lose. Did not contact shipper as a simple dot of super glue fixed the problem. My fiancé loved the box and I know she will keep it with her forever. Thank you personalization mall!!!!!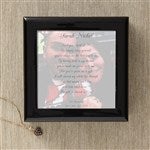 gift
By
Shopper

(lakewood, CA) - March 8, 2011
loved my order only one thing was wrong the tile came off no big deal i just used a strong glue to fix it. the box is beautiful and came so fast.

pretty nice
By
Shopper

(Mars Hill, ME) - December 21, 2011
Overall, I am pleased with this item. I feel the quality could have been better, especially for the price, but it's okay.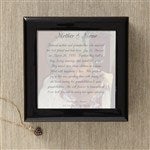 poor workmanship
By
Angela P.

(Harrisburg, NC) - April 24, 2011 (
See all reviews by this customer
)
The tile that shows photo fell off the jewelry box the same day I received it. The photo is not that visible under the text that was written. Just not happy with the purchase.