Very nice frame!
By
Shopper

(Antioch, CA) - September 12, 2011
We bought this as a going away gift for our Aupair. Frame arrived in an nice, attractive box, and frame itself appeared in good quality. Several of my friends asked me where I got the frame (I had it shipped to my office) and said it was a beautiful saying - 100 Years from Now... if anyone gets one of those, get ready for tissue! I used a picture of her and our kids. I will give to our Aupair at her surpise party this weekend and can't wait to see her reaction. Will order again and again, and have referred my friends to your site.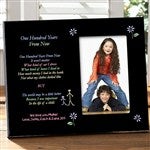 Very nice frame
By
Kathy B.

(Knoxville, TN) - September 8, 2011 (
See all reviews by this customer
)
Bought this as gift for preschool teachers. They were very touched and thought it was beautiful. Very pretty frame, nicely engraved. Would buy this again as a gift.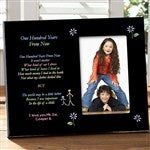 Perfect Teacher Gift!!
By
Shopper

(avon, OH) - May 28, 2011
This gift was bought for my daughters preschool teacher at graduation. I loved it and she loved it even more! After a long search for the perfect gift... This was it. The site provided extremely fast shipping as well.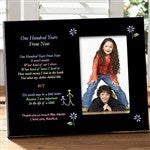 Perfect gift
By
Natalie C.

(Wichita, KS) - May 25, 2013 (
See all reviews by this customer
)
I bought this gift as a going away present for my kids daycare provider. We were heartbroken to see her leave and wanted her to know how much she meant to all of us. This worked perfect and the personalization made it extra special.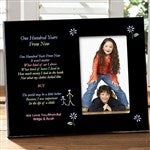 Will bring tears to their eyes!
By
Shopper

(Rugby, ND) - February 4, 2013
We ordered this frame with poem on it for my son and daughter-in-law, and had it signed: We Love You Mommy & Daddy! With the names of their 3 little children underneith. We're giving it to them for their anniversary gift (from the kids via Nana and Papa). I'm sure that it will bring happy tears. Love the rich gloss and heavy quality of the frame.
Thank you!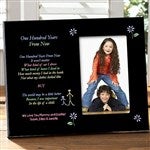 WOW!
By
Shopper

(Canada) - May 4, 2012
This picture from is amazing. I bought one for my mom and my two mother in laws and they will love them. Great product!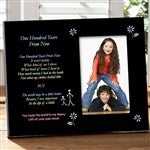 Excellent Keepsake
By
Anne W.

(High Point, NC) - June 7, 2010 (
See all reviews by this customer
)
I've ordered this plaque for several of my son's caregivers and they've loved it. It makes a wonderful keepsake. I keep coming back to this website to order this as a gift. I've recommended it to others also.

Thank you gift
By
Linda S.

(Janesville, WI) - February 22, 2010 (
See all reviews by this customer
)
I purchased this as a Thank you for our foster care agency. The saying is perfect & it is a beautiful frame. Now if I can only find the perfect picture. :)

Total Satisfaction
By
Mary M.

(Pass Christian, MS) - December 13, 2010 (
See all reviews by this customer
)
I purchased this frame for my granddaughter's dance teacher, who has really made our "little one" feel special. It is perfect.
I have purchased many items from this website (I have it on favorites.) and I am never disappointed. Also, they have the fastest delivery I have ever received.

one hundred years ago
By
rosemary L.

(powhatan, VA) - October 28, 2010 (
See all reviews by this customer
)
we saw this down at the beach at a house we stated at and then found it on this sight and it was perfect it was just what we were looking for and it was very pretty thank you

Wonderful Item - Couldn't be happier.
By
Annie R.

(Brooklyn, NY) - February 11, 2010 (
See all reviews by this customer
)
I purchased this as a gift for my son's teacher. It is absolutely wonderful. I'm always very pleased with the personalized items from this site.

The perfect gift
By
Judith K.

(Trenton, NJ) - November 5, 2009 (
See all reviews by this customer
)
This was purchased for a friend who just completed an adoption of her 6 year old great-grandchild.The poem and the frame are perfect for the occasion.Personalization came out beautiful.Cant WAIT TO GIVE IT TO THEM.

Gentle Packaging Please
By
Elisa G.

(Grand Forks, ND) - December 22, 2010 (
See all reviews by this customer
)
I received this frame and it was very nice. However, the way it was shoved into its box made the frame stand tear away from the cardboard backing. It's not completely torn off but the frame will have to be hung on a wall now as opposed to standing on a flat surface. Could be a quality issue combined with packing issues. The important part of the frame is very nice though!

Greaat gift
By
Roni F.

(Oakville, MO) - November 9, 2009 (
See all reviews by this customer
)
I was struggling to get a gift for my daughter-in-law from my granddaughter. This beautiful, high quality frame, with the wonderful message was just perfect. She loved it. Thank you so much.

Meaningful gift
By
Laura S.

(Centreville, MD) - November 10, 2009 (
See all reviews by this customer
)
I love these frames and have given several as gifts. This one is especially meaningful because of the "saying". I'm giving this as a shower host gift and will send them a picture of the new baby to fit their frame (vertical or horizontal--whichever is appropriate depending on the frame I gave them). In the meantime, I just slipped a copy of a sonogram pic in there. The colors are vibrant. The only reason I didn't give it a 5 is because the edges around the photo opening looked just slightly rough. I was able to rub the edges a bit to smooth the look. Overall, a great gift which I think they'll love.

Must have for Special Teachers
By
Samantha D.

(Delmont, PA) - March 16, 2012 (
See all reviews by this customer
)
My child's daycare teachers were exceptional with her -- and as a full time working parent, that means the world to me. I bought this for them with a picture of my child and each teacher. They LOVED it and will cherish forever.

exceeded expectations
By
Melissa L.

(Arlington, TX) - August 9, 2011 (
See all reviews by this customer
)
I purchased this gift for a new teacher and wasn't sure how good the quality would be since it was so inexpensive. Not only was it very good quality, but it arrived 2 days earlier than I anticipated. Very pleased with this purchase and the gift recipient loved it!

Beautiful
By
Shopper

(Yucca Valley, CA) - May 6, 2012
This frame is beautiful and very high quality. It is so much nicer in person. It is made very well and is so beautiful. The frame is very heavy. I wasn't expecting something this nice because it was so affordable. This is a great buy. I am very pleased. Perfect gift for that special teacher!!

super cute
By
Shopper

(Las Vegas, NV) - April 26, 2012
nice quality and design. also like that the product arrives in a box that i can wrap and hand over to the teacher. wish the product was avaiable horizontally...so i can fit a class picture.

GIFT FOR DAD
By
Shopper

(Naperville, IL) - June 23, 2011
My husband likes the gift and was touched.

A Unique Frame for that Unique Recipient
By
Shopper

(Hamilton, NJ) - February 8, 2011
I had the most difficult time trying to decide what to get for my son's child care provider. She is very special to us and I wanted a nice way of letting her know. She absolutely loved it. A very meaningful poem beautifully printed on a smooth black frame. Nicer quality than I expected.

Special Gift
By
Shopper

(Beaverton, OR) - January 24, 2011
This was a perfect gift for my volunteer. Great quality and workmanship. It came in a very timely fashion and was reasonably priced.

Teacher gifts
By
Jeri W.

(Wagram, NC) - June 3, 2014 (
See all reviews by this customer
)
This is one of the best personalized teacher gifts I've ever purchased. I would highly recommend it! The teachers loved it! I personalized by saying, "you'll never be forgotten. " Love,

Teacher's Thank You Gift
By
Christina G.

(Wesley Chapel, FL) - May 27, 2011 (
See all reviews by this customer
)
I chose this custom frame for my 8 year olds teacher as a thank you gift for all of her extra effort and care with my daughter. When it arrived and I showed it to her, she was ecstatic when she saw it...LOVED IT!!