Great Quality
By
Nicole G.

(Philadelphia, PA) - December 7, 2013 (
See all reviews by this customer
)
Item was very beautiful. It looked just as expected and the quality was very good. It was a birthday gift for my father and he loved it.

Worked great
By
Samuel K.

(Cleves, OH) - July 26, 2013 (
See all reviews by this customer
)
I actually used this for my girlfriend. I couldn't find one specifically for something like that but it worked perfectly anyways. And it was less then half the cost of anywhere else I looked and was shipped and at my house in 3 days! Will definetly buy again.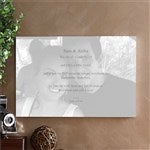 Amazing Fathers Day Gift
My sister and I gave this to my father for Father's Day and as always it is another Personalization Mall beauty. It brought tears to my fathers eyes. It really came out wonderful.

LOVE
By
Shopper

(pembroke pines, FL) - June 19, 2013
I ordered one with a poem I wrote to my fiance and he loved it, came out amazing and looks awesome on our wall...

Great Item
By
Shopper

(Tacoma, WA) - June 15, 2013
I purchased this product as a Fathers Day gift and it was the same as shown when I reviewed it. It was shipped quickly and all around great.

Great product!!
By
Shopper

(Cadott, WI) - June 11, 2013
This product turned out amazing!! I love how I was able to put my own choice of words on te canvas along with our wedding picture! I would recommend this site to anyone!

Beautiful Canvas
By
Shopper

(Saraland, AL) - June 10, 2013
Ordered this canvas so that my 2 yr old grand daughter could give her daddy something special for father's day. The quality and color of the canvas was perfect. Its going to be a very sentimental gift for my son from his precious little girl.... Great Job !!!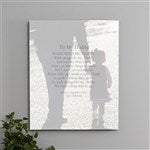 Beautiful
By
Shopper

(Aurora, CO) - June 3, 2013
This canvas is beautiful my children's pic looks amazing and the poem is wonderful I love it and its going on the wall :) wonderful Father's Day gift for my hubby this will be cherished for ever! Quality is amazing I have one from last Father's Day and its still in wonderful condition!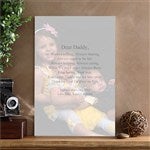 Perfection
By
Ashley S.

(Rahway, NJ) - February 27, 2013 (
See all reviews by this customer
)
It really does come out looking EXACTLY like the preview they provide for you on this site. I was so excited for it to get here, and when it did I was blown away. I haven't even given it to my best friend yet, but I just know he's going to love it. THANK YOU PERSONALIZATION MALL! :)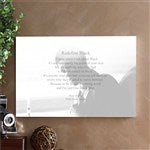 Great gift!
By
Kalli P.

(Cortlandt Manor, NY) - February 16, 2013 (
See all reviews by this customer
)
I bought this for my husband as a Christmas gift. It's a picture of him and at the time our 2 week old daughter with a poem about being a dad. He loved it and even got teary eyed when he opened it. I called about a month later because the canvas was loose and there was a spelling mistake- totally my fault- mommy brain- and they replaced it! Great customer service!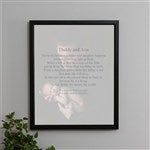 Photo canvas
By
elizabeth S.

(Kerman, CA) - December 26, 2012 (
See all reviews by this customer
)
I received my item really fast just within days after purchasing for my husband and in perfect condition. I couldn't be happier with it and neither could he, he loved it. Would definitely order again when I need a different one!

LOOOOOVE this gift
By
Shopper

(SPRING HILL, TN) - December 5, 2012
I got a picture of my husband and son for a Christmas present for my husband. I wrote my own quote/poem. It is AMAZING! I've made several purchases from this site before and will continue to do so in the future. The products are always great and shipping is very fast!

Great Gift!
By
Shopper

(Elsberry, MO) - December 4, 2012
I love the way the photo sentiments for him canvas looks! It is beautiful and definitely the perfect gift for my Dad...I would recommend personalizationmall.com to anyone looking for a present for someone close to you...Although you don't make it yourself your the one who puts the thought into it and that makes it the mot special gift of all! The shipping was fast and my package was wrapped nice and tight with no scratches or tears! Perfect gift for the Holidays!! Merry Christmas (: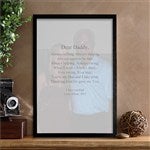 Wonderful unique gift opportunity
By
Shopper

(El Cajon, CA) - November 4, 2012
This is a wonderful gift idea and price is very affordable. The canvas comes out exactly as displayed when ordering. The shipping is very quick and arrived timely. Quality canvas print! The photo back drop with the ability to add a sentimental poem, words, etc. makes this gift unique from other canvas photos. I bought this for all my sisters after our father passed away using a photo of my dad & each sister, with the poem we used at his funeral. Truly a keepsake & loved by everyone who has seen the canvas. Highly recommended!

Terrific product at a great value
By
Blane M.

(Jacksonville, FL) - October 20, 2012 (
See all reviews by this customer
)
I ordered this product to give to my son for his upcoming 10th birthday. I cannot tell you his response, since he has not yet received the gift. But, I am very, very pleased with how it came out and expect that he will be touched and pleased by it. I plan to order more of these for my other sons as they reach marker ages also.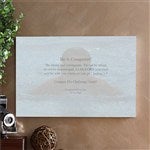 Portrait with wording
By
Gwen M.

(Mahwah, NJ) - October 5, 2012 (
See all reviews by this customer
)
My son has always sung a special song to his baby. For her first birthday I wanted to somehow memorialize that in a special way. What I ordered from Personalization Mall was a 16 x 20 picture of the baby with the words to the song superimposed over her photo. It is beautiful and more than I could have hoped for. I think this will be something my granddaughter will always keep and treasure.

Beautiful
By
Shopper

(Driftwood, TX) - August 27, 2012
My son is stationed overseas & is without his wife & daughter. The photo canvas of he & his daughter was the perfect gift for him while he is away from her. I highly recommend this gift!

Wonderful!
By
Shopper

(Louisville, KY) - July 24, 2012
I absolutely loved this product! It came within a week and was exactly what I was looking for. It was a lot larger than I had expected, however I still LOVED it.

Wedding memory with Dad
By
Lauren R.

(Waukesha, WI) - July 24, 2012 (
See all reviews by this customer
)
I made one for my dad of him and I dancing at my wedding. I included some of the song lyrics from the song we danced to. It turned out perfect and he loved it! I only wish I would have gotten one for myself!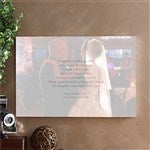 Everything I was looking for...!
By
Shopper

(Center Point, IN) - July 11, 2012
So- I didn't use this for "dad". I have been looking for a way to put our wedding song on canvas with a photo from our first dance in the background. I had found other sites that were overpriced. I found this and then chose my own "poem" so I could make it just right. My husband loves it. It shipped quickly and was nicely packaged. The quality is great; everything I was looking for! Will order from Personalization Mall again!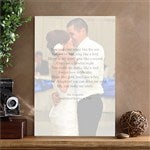 AWESOME!!
By
Shopper

(Fort Collins, CO) - July 1, 2012
I had never ordered from this online store, and I just have to say that I was very pleased with quality and presentation of my item. It was more than I was expecting and I couldnt have been more happy!! My dad loved the gift as did I.
Thank you for providing quality items and great work!!

LOVED IT!!!
By
Marisa T.

(Covington, GA) - June 25, 2012 (
See all reviews by this customer
)
I got this for my husband from our son & it came within three days of me ordering it & it was absolutly beautiful! I could not bleieve how nice this was for the price I paid. My husband loved it & I think I might get one for myself!!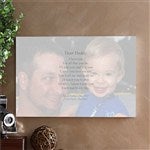 So Special for Dads
By
Shopper

(Dallas, TX) - June 25, 2012
My husband loved this personalized item of our two boys so much and took it to work. I would recommend this item to anyone.

Perfect 1st Father's Day Gift
By
Lori N.

(Statesboro, GA) - June 23, 2012 (
See all reviews by this customer
)
I got the canvas print and the quality was great! Such a great product and great price!!

Wonderful!
By
Mary O.

(Silverdale, WA) - June 21, 2012 (
See all reviews by this customer
)
This really came out so nicely. It is a simple idea, but it's a great one and beautiful in it's simplicity. It was gorgeous, and it brought tears to my eyes and really went over well with my husband, whom it was for.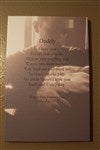 Gift well received
By
Shopper

(Charlotte, NC) - June 20, 2012
My husband really appreciated the Photo Sentiments© For Him Canvas - 16"x20" He said it brought tears to his eyes! I haven't seen it yet, but when I asked him about the quality he stated it was great quality and that he would use Personalization again. Him being a photographer thats saying something. The delivery was timely and it arrived in perfect condition. I would like to add the Groupon discount was an awesome deal!

Amazing picture
By
Renae S.

(Romeoville, IL) - June 20, 2012 (
See all reviews by this customer
)
I recently placed an order and was skeptical on how great it was going to be, only because the process was so simple!!! I picked a picture wrote a small poem and hit order not knowing what to expect. When I recieced the order it was just amazing and beautiful!! The framework was awesome and for such a simple processes it looked like I slaved over everything to make it just right!!! Thank u for such a wonderful product and for making this fathers day one he will remember for a lifetime!!

Great Father's Day gift!
By
Shopper

(Redwood City, CA) - June 19, 2012
I ordered the 16"x24" canvas for a father's day gift. The ordering process was very easy. I really liked that wording samples are provided. My husband LOVED the gift.

Daddys gift
By
Julia L.

(Sylmar, CA) - June 19, 2012 (
See all reviews by this customer
)
When it arrive I was so exited to open it, I was happy I cried when I saw what a wonderful frame it was. Just as describe online. When I gave it to my hubby he was in love with it. I'm please and greatful for the wonderful job. Buying more in the future

Great fathers day gift
By
cristina P.

(camden , NJ) - June 17, 2012 (
See all reviews by this customer
)
The picture was amazing not only was it a decent price but it was delivered in about 3 days . My husband apsolutely loved it! I'm am super happy with my purchase !

Very happy
By
Shopper

(Glen Burnie, MD) - June 6, 2012
I haven't gave it to my husband yet but I was very pleased with the product. I hope he loves it.

Great quality!
By
Shopper

(PAPILLION, NE) - May 13, 2012
Very high quality product, arrived quickly, just perfect!

Perfect
By
David S.

(Palm Beach Gardens, FL) - April 29, 2012 (
See all reviews by this customer
)
I can't be happier with my purchase. It is a gift for my parents and I can't wait to give it to them. It was exactly what I was looking for.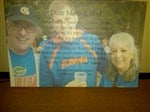 My father loved it!
By
Tina G.

(Hesperia, CA) - March 28, 2012 (
See all reviews by this customer
)
I bought this for my father on his birthday. I had no idea what to get him and I usually always make him something special (personalized) and then I found this web-site and fell in love. I ordered it and didn't expect it to get to him till 2 days after his birthday and surprise! It arrived the day of and was perfect. He opened it and couldn't believe it....

Second one I have ordered....
By
Annie Z.

(Norwood, MA) - March 19, 2012 (
See all reviews by this customer
)
This is really lovely. The first one I ordered had my wedding vows to my husband and this one has a quote that I love. Nice gift, very pretty framed.

Best Present ever!!!
By
Tasha H.

(Gonzales, LA) - January 12, 2012 (
See all reviews by this customer
)
This product was the best purchase i have ever made!!!!

Just Beautiful
By
Shopper

(Broadview Heights, OH) - December 31, 2011
While searching for a last minute Christmas gift, my children and I found this item and thought it would be a perfect gift from our children to their Dad. We ordered it on 12/19 and kept our fingers crossed that it would arrive by Christmas. We received it in plenty of time, and it is just Beautiful. Great service and quality and Dad loved it!

Perfect for a sentimental gift
By
Shopper

(Papillion, NE) - December 30, 2011
Decided to try Personalization Mall for the first time...so glad I did. The picture was beautifully mounted and it looked exactly like they showed in the preview. Bought this as a Christmas gift for my husband. When he opened his gift on Christmas morning tears were rolling down his cheeks, not only was the picture very dear to his heart, but I was able to create a personal poem to go with it. Would recommend to anyone who loves keepsakes!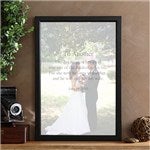 Turned out great!
By
Shopper

(Missoula, MT) - December 19, 2011
This product turned out great. I got it without a frame and it is wrapped just as in the description. The only thing I would change is there should be more font options.

Perfect
By
Shopper

(Amityville, NY) - December 18, 2011
perfect gift for the perfect person!