Great gift
By
LaToya F.

(Philadelphia, PA) - June 22, 2011 (
See all reviews by this customer
)
I purchased this as a Father's Day gift from our daughter. When her dad opened it, I could tell that he was really touched. The delivery was fast-purchased the week of and it arrived within 3 business days. The picture I chose was perfect; the words in the "Daddy" poem were spot on. I couldn't have picked a better gift. You won't be disappointed.

The only con I had was that I had to keep re-sizing my photo and resolution to accommodate the product but that only took me about 20 minutes.

Great gift
By
Sydney B.

(Pullman, WA) - December 13, 2010 (
See all reviews by this customer
)
I read the reviews of this gift and decided to purchase it for my dad for Christmas. I was so pleased with how it turned out. I got a call from the people making the actual canvas to tell me I needed to fix my picture for it to turn out better on the canvas and that impressed me as well. I think this is a great gift idea for anyone who would like a more personal gift. I can't wait to see the look on my dad's face when he opens it and to purchase more things from this site in the future.

Great gift.
By
Heather M.

(Albuquerque, NM) - December 2, 2010 (
See all reviews by this customer
)
The Gift is great. The picture was printed on well. The only complaint was it was a lot of money for what was received. Still, it's a great gift to buy and I'd probably order from here again.

Dad loved his Father's Day Gift
By
Annette P.

(Williamsville, NY) - June 21, 2010 (
See all reviews by this customer
)
My daughter gave him this gift and he said it was the best gift he received. He loved how personalize it was and is going to hang it in his office. The quality was great and definitely worth every penny.

dad's christmas gift
By
Kristy M.

(west seneca, NY) - December 8, 2009 (
See all reviews by this customer
)
I love the picture however, when I viewed it I bought it without the frame so I feel it should show that way when you view it before buying. I received it and then noticed that my oldest sons head wraps over the top of the picture. My mom and I both looked it over before buying and because it shows with the frame did not realize this. When I called they told me they could not do anything because thats theway it shows in the viewing. Maybe you should have a rectangle showing what will beon the picture and where it will wrap over the sides. I was disapppointed that this happened and now can do nothing about it! I would not have chosen to chop my sons head off like that on purpose.

Great Quality
By
Jennifer T.

(Cleveland Heights, OH) - October 5, 2009 (
See all reviews by this customer
)
I was happy with the product!! I was curious as to why their were not any font options to chose from, I would have liked a different font.

I also clicked the "submit order" too quickly!! I wanted to change the ending .. thinking I did, but really did not.
Any chance to re-do it ????

Thanks, I use your complany a lot, and the service is always quick!!



Slightly disappointed
By
Jessica C.

(Farmingville, NY) - June 18, 2013 (
See all reviews by this customer
)
I have bought the same product previously from this company and was much happier with the result of my previous purchase. This time around, the writing over the picture was very light and could hardly be read when the picture was hung.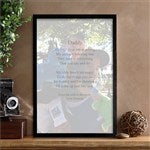 smaller then I thought
By
Yashaira O.

(Bronx, NY) - June 15, 2013 (
See all reviews by this customer
)
How the back was do open like that made it ugly.. Then no hook to hang it up... Just look to cheap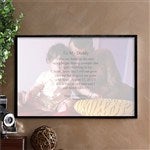 Fathers day
By
elizabeth B.

(escondido, CA) - June 30, 2012 (
See all reviews by this customer
)
I ordered two pictures for fathers day 2012. I received them very quickly and they were amazing. The pictures came our great and the words weren't so dark that they overshadowed the background. When I got them I was a little jealous and wanted to keep them for myself. Will definitely order these again!! I try to always give meaningful and heartfelt gifts, if you are the same, I recommend personalization mall!!!!!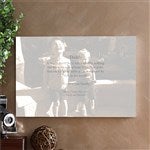 Little too pricey...
By
Tosha E.

(Yucca Valley, CA) - June 23, 2012 (
See all reviews by this customer
)
The poem over the picture I ordered for Father's Day, I'd say was just ok. The quality is good but, not worth the money I paid. More thought could of been put in as to the exact placement of the poem. It completely overlapped my child's eyes. I do regret spending so much money on it.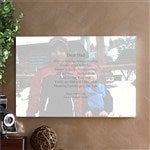 picture was a big disappointment
By
Shopper

(Dickson , TN) - June 27, 2011
I loved the idea of this but the pic I submitted they said was to dark to read so I asked for black and white? must not have been able to do but then when they fullfilled the order the picture I sent second was way to light you can barely see the image does not look like the preview just wasn't as nice as I expected . But will probably order again from this site just not photograph presents .

Perfect Father's Day Gift! (...well, ALMOST perfect)
By
Shopper

(Baton Rouge, LA) - June 22, 2011
I LOVED how the canvas turned out, especially my husband, who received it for Father's Day. This is his absolute favorite gift for Father's Day thusfar. I was concern about the quality when ordering it but am very pleased with it. I would have rated this product a 5 but because our canvas had a light spot smeared on it, I rated it lower. I would have called to have another one made and return the one I had but it wouldn't make it in time for Father's Day. If it wasn't for the little spot smeared on the canvas, it would have been perfect!

picture too small and too loght
By
Shopper

(Sabattus, ME) - June 22, 2011
i wish that you could darken the photo it was very light under the words. i also wish that the poem could be moved where i would like it instead of completely covering my daughters face. Lastly i wish that the canvas could come in a bigger size.

Cute gift but poor quality!
By
Danielle D.

(Rocky Hill, CT) - December 3, 2010 (
See all reviews by this customer
)
I just ordered two of these canvases, one for my mom and one for my dad. each had a picture on it.. I asked for both images to be in black and white and only one came in black and white; the other was delivered to me in color. The black and white canvas was more gray then anything and it is hard to see the picture. if you are going to order a canvas i recommend you get it in color! however, they did ship the items pretty fast.

the daddy canvas with poem
By
Ashley K.

(Grand Forks, ND) - May 28, 2010 (
See all reviews by this customer
)
i thought the picture was gonna be a little clearer, and the poem was off center with the picture and the lines in the poem were off center from eachother..overall im somewhat satisfied

Was a little disappointed
By
Kim S.

(Mount Prospect, IL) - December 10, 2009 (
See all reviews by this customer
)
I just received this item and I was a little disappointed. The font really doesn't look . I wish there was a way to change it because the picture looks great but not with the way the font is.