Great mug, and not just "for him"!!
By
Shopper

(Berlin, MA) - December 20, 2011
The quality of the mug is great! It's a good weight, very solid, but not too heavy, and I really like the black trim on the white mug. The muted photo with words looks great, however depending on the photo you use the words could be a little hard to read. I think the letters could be a little bit darker. For me it worked well because the photo I chose was in black and white.

My only other suggestion is that you promote this mug for all occasions, not just under "for him". I wanted to personalize my message, and this was really the only one I found that had the accompanying larger photo. You also might consider also offering this with the wording on the other half of the mug.

I am VERY happy with this mug though, and it will be a wonderful keepsake for my daughter.




Very Nice
By
Shopper

(Brooklyn, NY) - July 2, 2011
I liked it alot. I bought is a father's day gift for my dad and he loved it. The picture didn't do much, but you were still able to see it. The price is what I was really happy about. With a promotional coupon I got this for under $11. Great deal for something personalized. It was quick to ship and I was impressed.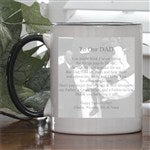 Very cute
By
Shopper

(Augusta , ME) - June 25, 2011
Nothing bad I can say about it, it's a mug, with a picture and a poem, it's very cute, and the picture and words came out very nice. I would order it again.

Good Product, not so good printing
By
Elaine L.

(Livingston, TN) - June 17, 2011 (
See all reviews by this customer
)
Was pleased with this product other than the fact that the writing over the photo is not dark enough, it is difficult to read what has been written. I still would recommend the item to those considering it.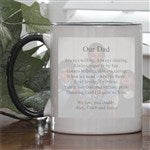 almost a 5
By
Sharon S.

(La Grange, IL) - November 5, 2010 (
See all reviews by this customer
)
I loved this mug! The only reason it isn't a 5 is that I think the print is a bit too light in color...the sentiment was a bit difficult to read.
Other than that...a phenomenal choice for a gift! And the mugs arrived within 4 days!!
thanks!

Very nice, but could be a bit better
By
Shannon K.

(Pocahontas, IL) - June 22, 2010 (
See all reviews by this customer
)
My husband is right handed, and the mug has the picture on the opposite side and there is nothing on the side he sees. And, the picture they display does show that, but it seems kind of opposite for most people. Otherwise, the picture and wording are awesome! He loves it!

personalized mug
By
Jerry M.

(Louisville, KY) - October 15, 2009 (
See all reviews by this customer
)
I was very pleased with this product.

faded
By
Danielle D.

(Basking Ridge, NJ) - February 18, 2014 (
See all reviews by this customer
)
Both the photo and quote were very faded making it difficult to see either clearly.

Sentimental
By
Shopper

(Plainfield, IL) - December 26, 2013
Loved the idea and the ability to create your own words was great; however, the handle was made for a left handed person. It would have been more beneficial if there would have been a request for placement of the picture.

Personalization Mug
By
Gauri K.

(Glendale, AZ) - December 15, 2010 (
See all reviews by this customer
)
Liked the photo but the color of the mug could have been something different like pure white. The current color looks very dull.

Blurry Picture
By
Katherine B.

(Chicago, IL) - June 23, 2010 (
See all reviews by this customer
)
Overall I was satisfied with the purchase of the mug but I was a bit disappointed in the quality of the picture. It was a lot more blurred then I was expecting and was hard to see in the background of the writing. My daughters eyes looked doubled so the overall effect wasn't quite what I was expecting. The preview looked much better than the end product.

just okay, very plain and picture is a no show
By
Sara C.

(Greenville , NC) - June 19, 2010 (
See all reviews by this customer
)
I was not very impressed with this at all. The quote is sweet and the mug quality is nice but the picture dosent show and the back of the mug is totally bald

should have raed the details closer
By
Deborah P.

(Ashland , WI) - October 14, 2009 (
See all reviews by this customer
)
I did not like this product as the words were printed over the picture. For some reason I assumed the words were on the back side. Did not look good with words on peoples faces.