unique gift item
By
dyanne B.

(Arvada, CO) - July 27, 2014 (
See all reviews by this customer
)
great quality, unique gift idea. I wish I had added the tele number incase he lost the knife. Will next time!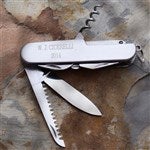 Great gift!
By
Staci B.

(Siloam Springs, AR) - June 25, 2014 (
See all reviews by this customer
)
Got this for the grandpas for father's day and they loved it.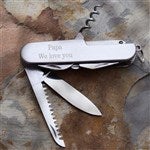 13 function knife
By
marilyn G.

(flushing, NY) - May 27, 2014 (
See all reviews by this customer
)
I was very disappointed with the knife. I was giving it as a gift to my son in law but it is much smaller than I thought it would be and so I am now stuck with it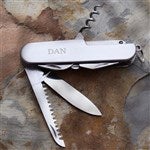 Personal 13-function pocket knife
By
Dan M.

(Woodbury, MN) - May 25, 2014 (
See all reviews by this customer
)
Quick fast and accurate service. It was exactly what I was looking for.

Thank you.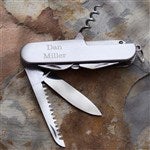 Birthday Gift
By
Karen V.

(Jonesboro, GA) - February 21, 2014 (
See all reviews by this customer
)
I was very pleased with my purchase of this knife. My boyfriend collects them and it made the perfect gift for his birthday!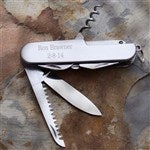 Very Nice
By
Denise D.

(West Palm Beach, FL) - February 18, 2014 (
See all reviews by this customer
)
Bought this knife for my boyfriend for Valentine's Day. It was a gift I knew he'd like as he loves most pocket knives but it was more special because of the personalization. He can carry it everyday & is always reminded of receiving this on our first Valentine's Day together.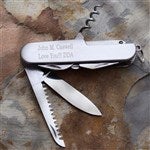 awesome gift
By
Shopper

(Suwanee, GA) - January 26, 2014
gave this to my nephew turning 13, he loved it!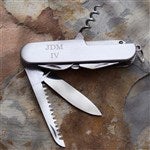 Too small poor quality
By
Shopper

(Fresno, CA) - January 26, 2014
This pocket knife is not very good quality and is very small. Definitely not enough for a groomsman or best man gift. We were hoping it would be a little more substantial. Now we have to get something else. I don't recommend this product. However, I do love this site and have been happy with other purchases. Just make sure you look at the measurements. Often times the picture of the item online makes it look bigger and better than it really is.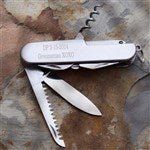 Useful Tool
By
Shopper

(Federal Way, WA) - January 18, 2014
Very functional and engraved name and year. This will be a great Birthday gift.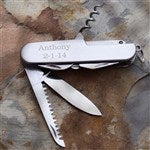 Awesome!
By
Pamela P.

(Madera, CA) - December 31, 2013 (
See all reviews by this customer
)
Hubby was very, very happy with this high quality knife that has every imaginable device that could be incorporated in this small device. Great quality too!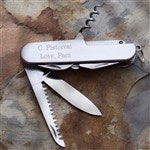 Very poor quality
By
Amber H.

(ASHMORE, IL) - December 12, 2013 (
See all reviews by this customer
)
When I bought the knife for a Christmas present, it looked Very small. Is perfect size for a key chain. the knife wasn't sharp, I couldn't pull out most gadgets, and I could barley see the engravement. I am Very disappointed, and am embarrassed to give this as a gift alone, so I had to buy something else.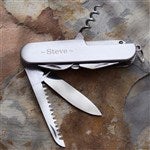 Is as it seems
By
Carol L.

(Hope Mills, NC) - November 17, 2013 (
See all reviews by this customer
)
This turned out well and is what it describes. Well worth the money!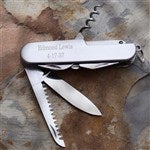 Brings a smile
By
Shopper

(Charleston, IL) - October 24, 2013
This was a neat gift for my husband on our anniversary. Whenever he is having bad day he can pull this out of his pocket and bring on a smile!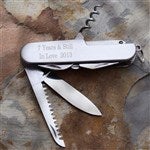 Perfect for my country guy.
By
Tracy S.

(Scottsville, KY) - October 13, 2013 (
See all reviews by this customer
)
For our one year anniversary I ordered my boyfriend this knife and he loved it. He was afraid to use it because it meant so much to him but he has used it some and he is very pleased with it. We were shocked it came already very sharp. I love PMall.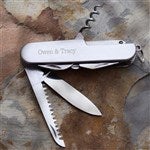 Nice gift, hard to open
By
Shopper

(Roslyn Heights, NY) - June 22, 2013
Got it for dad for Fathers Day. He likes it a lot but says it's a little difficult to open and pull out each part of it.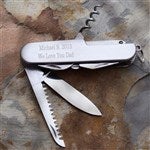 Pocket Knifes
By
Diane S.

(Rogers, AR) - June 18, 2013 (
See all reviews by this customer
)
I recently purchased 5 pocket knifes for Fathers Day. They all loved them and I
I was so pleased with the quality of the pocket knifes and the engraving with their names. I have ordered many items from personalization and will continue to do so.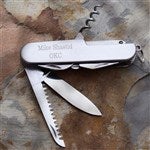 Nice quality for the price
By
Shopper

(Manteno, IL) - April 8, 2013
Purchased as groomsmen gifts. Good value.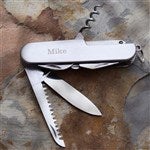 always pleased with orders from here
By
Shopper

(HENRYETTA, OK) - February 20, 2013
I loved the knife that I ordered my son for valentines day. The engraving looked great.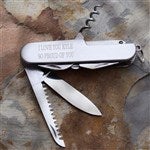 Absolutely completely WONDERFUL!!
By
Courtney K.

(North Babylon, NY) - February 14, 2013 (
See all reviews by this customer
)
Once again personalization mall, exceeded all expectations. I placed my order exactly 2 and a half days before valentines day..totally cutting it close. But as promised it was delivered to my house by mid noon valentines day, leaving me with plenty of time to open it, check it out and wrap it up. The simple fact that I got it on time as promised had me already completely in love with this company. But they didn't just live up to their delivery time, they lived up to all the product hype as well. It was flawless. It looks just like the picture, it included everything they listed on the website, and it was solid and durable..not some cheap-o POS. I paid a remarkably reasonable price, and received an AMAZING quality pocket knife (which my boyfriend LOVED) all in 2 days! Well done PM, I will definitely be back for future purchases!!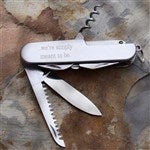 hero knife
By
Shopper

(Pontiac, IL) - December 31, 2012
My husband had a smaller knife from here and lost it. So I got him another one. It is stiff opening the needed tool, but is quite durable.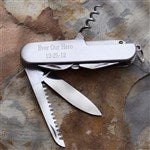 Good quality
By
Shopper

(Riverside, CA) - December 12, 2012
I was afraid this might be a little on the cheesy side, but to my surprise it's sturdy. It has weight to it and the tools are great. I know my husband will love it!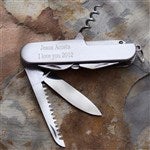 Personalized pocket knife
By
Shopper

(Elkhorn, WI) - November 21, 2012
Some of the tools are a little hard to open, but otherwise it's a good buy.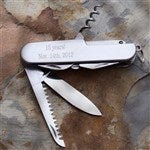 Exactly what I wanted!
By
Ashley W.

(Grand Island, NY) - October 15, 2012 (
See all reviews by this customer
)
I bought this for my 11 year old nephew for serving as a Jr. Groomsman in my wedding. The personalization looks really nice, and the knife itself feels pretty strong. Only thing is that each function is a little tough to open up. I think that will eventually get easier the more it is used. Overall very happy with my purchase and I think my nephew will really like it!!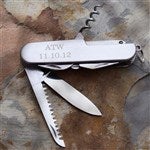 Happy with knife
By
barbara H.

(Reading, PA) - August 24, 2012 (
See all reviews by this customer
)
product was here quickly and just as ordered. Price was excellent. I am very happy with it. Wish the name and date were a little more noticable but you can't have everything.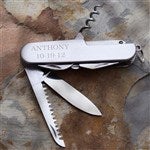 Great Value for the price
By
Robert B.

(Broomall, PA) - August 21, 2012 (
See all reviews by this customer
)
If you are looking for engraging, this knife is an excellent value choice.
There are tons of internet options for swiss-army style knives, many of which offer engraving. However, the engraving costs a lot. You generally pay per character. This knife allows for plenty of charcters on two seperate lines. If you were to order that many characters on a knife from another website, it would cost a small forture.
Don't get my wrong: the quality is not quite on par with Victorinox...the only significant difference is how difficult it is to open up the various tools. I plan on trying WD-40.
I bought these as gifts for groomsmen for my wedding. It was a great decision!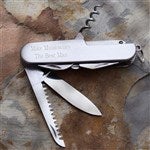 Daddy loved it!
By
Luciana F.

(Fort worth, TX) - July 6, 2012 (
See all reviews by this customer
)
Very good quality, fast delivery, perfect gift that will last forever.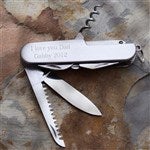 Great service and prodcuts
By
Shopper

(san antonio, TX) - June 19, 2012
We received our shipment promptly and we loved the items! One was for graduation and the other for Father's day. Both of our boys were happy with their gifts!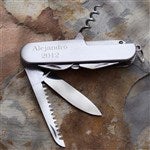 Wonderful Gift
By
Shopper

(Boulder City, NV) - June 4, 2012
Got this for my hubby for Father's Day. Had it engraved with a message from our kids. Looks beautiful and is very sturdy. I'm sure he'll be able to enjoy it for years.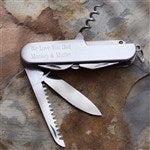 pocket knife
By
Leslee M.

(Vista, CA) - April 12, 2012 (
See all reviews by this customer
)
Bought three of these as gifts. I was trying to find a great for my nephew. Have so many girls in the family, it's hard to think of gifts for the boys. Saw this knife, like it so I bought two more. One for a friend for his birthday next month and one for my boyfriend. Loved the fact they were a daily deal when I bought them. Thank you for that. Will be back.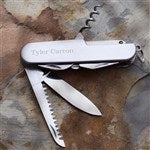 better than I expected
By
Shopper

(Leander, TX) - February 13, 2012
Perfect! Great size for the man that wants to put it on his key chain (or do only women do that?). Strong, sturdy and the engraving came out beautiful. Perfect and affordable gifts for the men in your lives. Ordered last minute for Valentines Day and it showed up on expected delivery date. Thanks!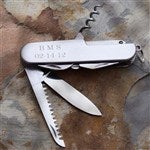 not worth it
By
Linda D.

(Sterling Heights, MI) - February 12, 2012 (
See all reviews by this customer
)
The engraving on the knife is so light you can't see it.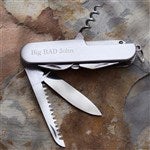 Perfect for a dad!
By
Melissa M.

(Commack, NY) - February 5, 2012 (
See all reviews by this customer
)
My dad has had the same mini pocket knife for longer than I have been alive. This is something I wanted to give him, and honestly I think it's perfect!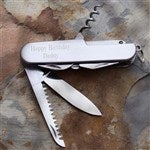 Definitely worked!
By
Shopper

(Winnsboro, LA) - June 19, 2013
Great Father's Day gift! He keeps 2 knives on him at all times so this one is small enough to fit in his pocket and the inscription made it so he can show it off also.

Nice gift for anyone
By
Shopper

(Louisville, KY) - February 21, 2011
The knife was a gift to my husband - nice quality and good price. Plus the personalization makes it a real keepsake.

Groomsmen Gifts
By
Shopper

(Fort Kent, ME) - March 12, 2013
I ordered 3 of these pocket knives with the name and role in the wedding of my three Groomsmen. They are high quality knives- stiff on the initial opening which is what you want.
The only complaint I have, is that the knives can scratched where the engraving was placed. Obviously, the knives will become scratched and worn eventually- unfortunately I didn't expect them to come pre- scratched.

But over all- I would and have recommended them.

Very nice gift
By
Linda B.

(Pompano Beach, FL) - July 16, 2010 (
See all reviews by this customer
)
I would have given this knife a 5 star rating if it weren't for the shipping cost. Expensive for a small item. However, the knife itself is a very nice gift which is why I bought it. It looks like a good knife and the engraving made it very personal.

Very Nice Pocket Knife
By
April M. R.

(Whittier, CA) - December 13, 2010 (
See all reviews by this customer
)
I ordered this pocket knife for my dad - the engraving looks really nice and the quality of the knife is good. It's a little tough to open, but maybe once it gets some use and is broken in, it'll be easier to use.

Great gift
By
Megan F.

(Gheens, LA) - October 5, 2010 (
See all reviews by this customer
)
Love the personalization

Pocket Knife
By
Shopper

(Prior Lake, MN) - February 11, 2011
I am happy with my purchase of the pocket knife. The engraving is done well and there are many functions. I am disappointed by the size. I don't remember seeing anywhere how big it would be, at least not noticibly. It is quite a bit smaller than I imagined it for the cost.

Both Gifts are Perfect
By
Kylie K.

(POYNTELLE, PA) - August 3, 2010 (
See all reviews by this customer
)
Both gifts a re perfect.
The Bracelet I recieved and the Pocket Knife.

I would definately buy from you again when I get the urge
to Personalize something.
Great job and very quick on delivery too.