Nice knife - nearly impossible to open
By
Wally W.

(Wintersville, OH) - December 27, 2013 (
See all reviews by this customer
)
It's a very nice knife and the engraving was exceptable but the knife is nearly impossible to open. We never could get the other tools opened and finally decided to get a different knife from Things Remembered. If it had opened without difficulty I would have been happy. It was a gift for our 89 year old grandfather and I felt certain he would not be able to use it.

Nice but smaller than expected
By
Shopper

(Warsaw, IN) - September 8, 2013
This is such a nice gift but way smaller than I expected. I didn't look at the size description before I bought which was my fault but just be aware of the size before you buy. Very nice engraving and high quality product though!!

Engraving looks a little cheap
By
Caitlin B.

(Farmingdale, NY) - August 12, 2013 (
See all reviews by this customer
)
The pocket knife itself looks fine, I was expecting a little better with the engraving. It looks like it was printed on by a computer. If anything I would have just bought them without the engraving if I had known.

Hard to get the pieces out
By
Shopper

(LISLE, IL) - August 3, 2013
The engraving is wonderful and the item comes in a nice bag as usual - however, it's very difficult to get some pieces out.

Tiny
By
Shopper

(Houston, TX) - January 3, 2013
I got this for my boyfriend for Christmas and it is itty bitty. It easily fits in the palm of my hand (and I'm a girl). I do like the quality of the knife and the engraving is true to the preview. I just wish that it was bigger

Pocket Knife
By
Shopper

(Harshaw, WI) - December 18, 2012
Not too bad for the price. Engraving is OK. Haven't used it as I am giving it as a gift so I cannot comment on the knife.

OKay
By
Elizabeth P.

(Portsmouth, VA) - December 16, 2012 (
See all reviews by this customer
)
While I was excited to get this item, I was disappointed by the engraving. It is so light you can barely see it on the knife. Quite upsetting.

Pay Attention to the Dimensions
By
Shopper

(Lafayette, LA) - December 20, 2011
Nice knife, but pay close attention to the dimensions as it is VERY small! It was my mistake for not reading carefully.

Nice but a little disapointing
By
Schyler L.

(North Arlington, NJ) - November 8, 2011 (
See all reviews by this customer
)
It is a nice gift and the engraving is very nice but the tools are a little stiff, like enough to break a nail, I probably would have gone for the single blade next time.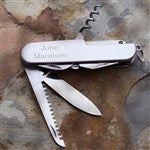 Very versatile.
By
Amanda R.

(Dallas, TX) - December 11, 2010 (
See all reviews by this customer
)
This knife is just as versatile as promised with many different abilities. I was impressed with the engraving. Looks very professional and classy. However it is very very hard to get some of the pieces to come out. Seems like the thing may need a little WD-40. Haha.

Personalized 13 Function Stainless pocket knife
By
Kay D.

(Marlboro, NY) - December 26, 2009 (
See all reviews by this customer
)
Not quite the quality I expected, but still a nice gift.

Pocket Knife
By
Kimberly K.

(Canandaigua, NY) - December 24, 2009 (
See all reviews by this customer
)
It's ok. It is kind of cheesy looking. If I had seen it in person first I would have more then likely not have gotten it. I have had good experiences with this company though.

It's CUTE, not manly.
By
Angelique L.

(Nolensville, TN) - December 21, 2009 (
See all reviews by this customer
)
I bought this expecting something the size of a Gerber. This is actually a very VERY small item. It's CUTE. It goes on a key ring, though it's actually too big to go on a key ring, but too small to be considered Gerber quality.

Unless the person you're giving this to needs a SMALL tool to keep handy then I don't reccommend this.

Could be bigger
By
Rozalia K.

(Fords, NJ) - December 2, 2009 (
See all reviews by this customer
)
Its nice and the personalization came out nice and clean but the knife can be a little bigger in all. Def. a nice stocking stuffer for the holidays.

Missing Bags
By
Linda M.

(Signal Mountain, TN) - November 3, 2009 (
See all reviews by this customer
)
Got 12 knifes and only 3 black bags. There were 4 knifes in each bag. I believe each knife should have had a blck bag