Love this as a wedding gift
By
Donna M.

(Temple Terrace, FL) - June 16, 2013 (
See all reviews by this customer
)
I've ordered this certificate holder about 10 times now. I have always been pleased with the personalization and the gift was LOVED by all! I plan on ordering more! Very unique and not something would get 10 of:)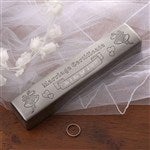 Exqusite Item
By
Shopper

(New Carrollton, MD) - June 11, 2013
This is a wedding gift that can be treasured forever. It is simply beautiful! The happy couple will enjoy this unique gift for keeping their most treasured item in its own safe casing.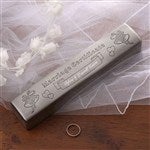 Wedding gift
By
Shopper

(Hanover, MD) - June 9, 2013
I purchased this as a wedding gift. They loved it!

Beautiful!
By
Pamela P.

(Madera, CA) - April 12, 2013 (
See all reviews by this customer
)
I've ordered two of these. They are beautiful and I think an unusual gift for the newly betrothed.

Beautiful & Unique
By
Shopper

(LaPlace, LA) - March 25, 2013
I had never seen such a unique item until I visited PersonalizationalMall.com. When I first seen the marriage certificate engraved keepsake box, I knew the was the perfect gif. Since this was such a unique idea and gift,I knew my sister and her husband would only receive one of these at the wedding. The packaging was the immuaculate, the best I've seen yet. I luv it!

Thanks!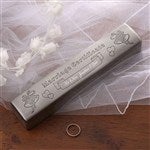 Bridal Shower gift was a hit!
By
Mindie C.

(Vancouver, WA) - March 12, 2013 (
See all reviews by this customer
)
This was so unique and good quality. The inside was beautiful and the bride to be kept tellng me how much she loved it. This is a perfect gift for a wedding gift. I would recommend it to anyone.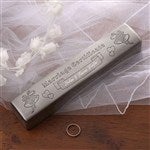 engraved certificate box
By
janice G.

(jupiter, FL) - January 19, 2013 (
See all reviews by this customer
)
received exactly as expected. nice piece.

Beautiful
By
Shopper

(Keansburg, NJ) - January 13, 2013
Worth every penny

Engraved Box to Hold Marriage Certificate
By
Shopper

(Brockton , MA) - December 23, 2012
A beautifully engraved box of superb quality with the new bride & grooms name engraved on it. The pewter box is lined with deep blue velvet & has a matching satin tie to hold the marriage certificate. It is absolutely Exquisite! The quality of the box, so solid & heavy, and the superb engraving make a beautiful gift that is very reasonably priced.

Thank your Personalization Mall for all of your unique gifts. You know I'll be back!!! Thanks, Shopper, Brockton, MA

You've gained a lot of new business as I've had several phone calls "where did I get this present?"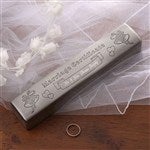 amazing!
By
Brianna B.

(largo, FL) - December 5, 2012 (
See all reviews by this customer
)
I bought this for my fiancé for Christmas. He hasn't opened it yet, but I know he will love it! It looks awesome and the engraving was done very well.

safe box for one of your most treasured documents
By
Shopper

(egg harbor township, NJ) - December 5, 2012
This purchase was made for the newly wedded couple that got almost everything!
Comes in its own gift box and is actually a lot heavier then I would've imagined.

BEAUTIFUL
By
Lulu M.

(PALESTINE, TX) - November 3, 2012 (
See all reviews by this customer
)
I can not say how beautiful this box was. It exceded my expectations.Shipment was sent as promised. This company rocks!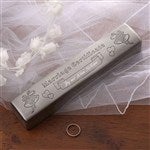 Unexpected Satisfaction!
By
Adeyling F.

(Santa Ana, CA) - October 29, 2012 (
See all reviews by this customer
)
It's not the first time I purchase something from this website...actually it's only my second time and I am in love with their personalization items. This box is really nice. I wish the font on "Marriage Certificate" was different, more cursive perhaps, but I can't complain about it because it is still nice. I also wish the names of the couple was was bolder, but I guess it works. I'm impressed with the size of the box and the quality. I ordered a gift box with it that comes with tissue paper and a simple bow...the certificate box fits there, but the gift box is squared so I might have to use another box or a gift bag to give it to my friend that is getting married.

Wedding gift for Daughter and son-in-law
By
Shopper

(Wayland, NY) - October 6, 2012
Very satified. Super fast shipping, packaged beautifully, will def buy from you again. Thank you

great gift
By
Shopper

(South Heart, ND) - September 11, 2012
The couple was totally surprised and enjoyed it 100%, can't think of a better gift.

Perfect gift
By
Shopper

(middleville, MI) - August 31, 2012
The craftmanship is outstanding. The box is not tinny, but very substantial. It looks exactly as pictured. Beautiful memory for a wedding gift.

High End Quality
By
Mary Jo M.

(Minersville, PA) - August 28, 2012 (
See all reviews by this customer
)
This item was even nicer in person! High quality and very classy!

Great Wedding Gift
By
Tammy S.

(Little Rock, AR) - August 21, 2012 (
See all reviews by this customer
)
I am very pleased with the Marriage Certificate Engraved Keepsake Box. It is heavy and very unique. Not cheap looking at all!

Stunning
By
Kathy M.

(Vancouver, WA) - August 13, 2012 (
See all reviews by this customer
)
I ordered the personalized certificate keeper for my girlfriends wedding. It just arrived and it is stunning. The engraving is very nice. The keepsake box is sturdy but looks delicate. I think my girlfriend will absolutely love this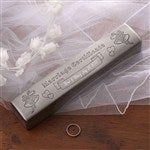 Very unique gift
By
Delores R.

(Loganville, GA) - August 2, 2012 (
See all reviews by this customer
)
This was a wedding gift for my brother and his wife. They loved it!!! As a matter of fact she posted it on facebook and everybody wanted to know where she got it. I showed it to my husband and he loved it. Needless to say I had to order one for us as well! Not something you'll find in a store, especially with the free engraving. Got a friend that's getting married soon, I'll give you one guess what she's getting!!!!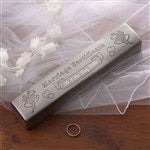 Nice inexpensive wedding gift
By
Shopper

(Ocala, FL) - August 2, 2012
Nice gift

Absolutely beautiful!!!
By
Sharon S.

(Amarillo, TX) - August 1, 2012 (
See all reviews by this customer
)
I am so pleased with this item. I love the quality of the workmanship. It is an excellent buy.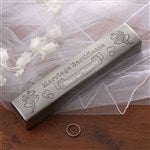 Lifetime
By
Shopper

(Baltimore, MD) - July 16, 2012
Three words. Beautiful; Well made.

Wonderful Keepsake!!!!!!!!!!
By
Amber G.

(Beloit, WI) - June 5, 2012 (
See all reviews by this customer
)
This is a beautiful and special way to store your marriage certificate!!!!!!!!!!

5 stars!
By
Shopper

(Commerce City, CO) - June 4, 2012
It looks great, just as the picture! I'm giving it to my sister for her wedding and I know she will love it.

Great unexpected gift!
By
Shopper

(San Francisco, CA) - May 14, 2012
The bride really liked the certificate box. It is an unusual gift and it is very well made. The inside is very posh.

Wedding certificate
By
Stephanie E.

(Louisville, KY) - May 7, 2012 (
See all reviews by this customer
)
This will make a beautiful keepsake. I ordered it for myself and am very happy I did. The engraving looks great. It was shipped in a timely manner and the service has been great.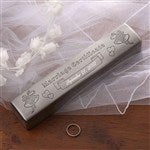 Very elegant
By
Shopper

(Arkadelphia, AR) - May 1, 2012
I really like how these certificate boxes turned out (I bought three of them as gifts). They appear to be high quality and I would think anyone would love receiving one of these as a gift. I would definitely purchase one again.

Product is a keepsake
By
Shopper

(Decatur, GA) - March 28, 2012
I went to a bridal shower and wanted to give a gift that was unique and not the "normal" gift. The bride-to-be was in tears when she saw this gift. It was a hit with all of the ladies! I highly recommend this for a wedding gift or bridal shower. This is a gift that will outlast all others. I was very happy with this beautiful keepsake box.

Very Pleased
By
Debbie H.

(El Cajon, CA) - March 11, 2012 (
See all reviews by this customer
)
Good quality, nicely engraved and swift service.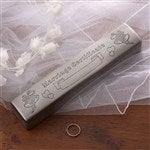 Gift for Family Member Who Will Wed in March 2012
By
Shopper

(Houston, TX) - February 21, 2012
The beautiful certificate keepsafe box was shipped securely and in record time. Its quality appears to be worth much more than the price and may last longer than the marriage, of which I hope will last infinitely. Thank you for this unique item.

EVERYTHING I EXPECTED AND MORE
By
Shopper

(oak ridge, NC) - February 11, 2012
THIS IS A GIFT FOR MY DAUGTER SO I WANTED IT TO BE A-1 AND IT WAS EVERTHING I EXPECTED IT TO BE!!!! SO MANY TIMES I HAVE ORDER ON THE INTERNET AND HAVE BEEN DISAPPOINTED, NOT THIS TIME!!!! I RECOMMEND THIS GIFT HIGHLY FOR SOMEONE YOU WANT TO GET A SPECIAL GIFT FOR.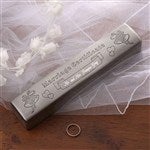 personalized certificate holder
By
Shopper

(Pensacola, FL) - February 11, 2012
Easy to order and quick to receive. Very elegant.

Very nice gift for newlyweds!
By
Shopper

(Richmond Hill, GA) - January 21, 2012
Very nice, personalized gift. Hope it brings many years of happiness to the couple I purchased it for!

unique wedding gift
By
Shopper

(Kyle, TX) - December 1, 2011
I have ordered this unique wedding keepsake many times and have NEVER been
disappointed. The quality engraving is awesome! I highly recommend this gift
as it stands out among unique keepsakes for a special couple.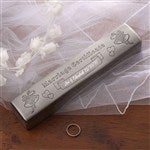 Great Stocking Stuffer
By
Shopper

(Carrollton, TX) - November 30, 2011
A safe place for the marriage certificate. Great quality. And a perfect
stocking stuffer.

Great!
By
Shopper

(Carlstadt, NJ) - November 22, 2011
I love this product! I order it for every couple getting engaged. It is so unique and it comes out beautiful. I definitely recommend it to everyone!

great keepsake
By
Shopper

(Tucson, AZ) - September 20, 2011
I recieved a gift like this 10yrs ago for my Wedding, and I wanted to buy one for my sister for hers! I ordered this product and within 3 days it was at my door, I am super impressed with the quality and the style. I hope she enjoys hers for the next ten yrs like I have. It makes it so easy to find the marriage cert. Its a beautiful way to display it on a shelf or like I do in a China Hitch

Gift I got for my husband and I
By
Angela M.

(Oklahoma City, OK) - July 18, 2011 (
See all reviews by this customer
)
Beautiful! The engraving was lovely on mine. They do engrave it a bit "dainty", but it is certainly visable and done beautifully. I love the concept, and our Marriage Certificate fits perfectly in it. No defects at all. Product is excellent quality...heavy, velvet inside is thick and a beautiful color of dark blue. Looks more expensive than it is! Like with all my purchases on here, it exceeded my expectations. I bought this as a gift for myself, lol...but would be a wonderful and thoughtful gift!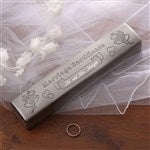 Marriage certificate keepsake box
By
Amor G.

(Rocky Hill, CT) - July 17, 2011 (
See all reviews by this customer
)
Wow it looks great the engraving looks really nice.