Larger than it appears
By
Mary C.

(Nevada, TX) - November 8, 2013 (
See all reviews by this customer
)
I was very happy with this glass. I wish I was able to write a little more. I had to write my kids nicknames instead of their full names because they wouldn't fit. But overall, made a happy Grandpa on Father's day!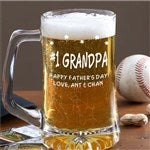 Smaller mug than I expected but still worth the money!
By
Shopper

(Livonia, MI) - June 21, 2013
The glass mug was very high quality but I thought it would be bigger even though it stated the ounces in the description.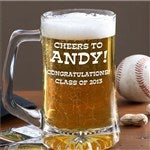 Beer Mugs
By
Shopper

(Lake City, FL) - December 29, 2012
Purchased 2 mugs for my daughter and son-in-law for Christmas. They were really surprised to have their names on a beer mug. My only complaint is that you can't really see the personalization when the mugs are empty - white on glass just doesn't show up. When the beer (or other drinks) are in the mug, you can then clearly see the inscription.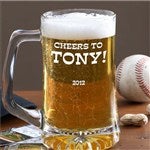 Great mug
By
Alexis P.

(farmingdale, NY) - December 27, 2012 (
See all reviews by this customer
)
Nice quality, arrived quickly,

Nice & Heavy
By
James R.

(Salem, IL) - December 2, 2012 (
See all reviews by this customer
)
Nice and heavy mug! Artwork and shipping were very fast. For as big as this mug is, it would be nice to be able to add one more line of text, but very nice product.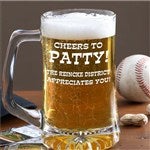 Good gift
By
Jeffrey G.

(Depew, NY) - January 1, 2012 (
See all reviews by this customer
)
Like other reviews say, the white lettering is a little hard to see. Probably would be better if it was engraved but overall happy with the gift. Very large! A little pricy, could probably be around $8-$11 cheaper. Was for my grandfather and he loved it. Put it to use right away. He is the type of guy always pouring his beer into a mug or glass so the gift fit him.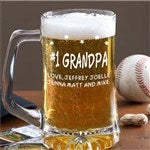 Great gift
By
Shopper

(east newark , NJ) - December 27, 2011
Letters color was too clear...would have like it to pop more...makes for an awesome gift though!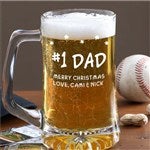 Gift for Grandpa
By
Shopper

(Concord, NC) - December 14, 2011
The mug is very cute and what I was expecting. I beleive my father will love it!!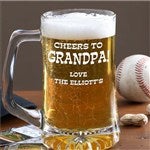 nice mug
By
Shopper

(Temecula, CA) - October 23, 2011
It's a nice mug and a good gift idea for someone you're not sure what to buy for, but the writing on it is very light (since it is white) and you really have to look at the mug to see what it says. If it were in a darker color I think it'd be worth the $20, but I do think it's over priced. I wish I would of bought the same thing but from somewhere cheaper.

21st Birthday Present
By
Sophia P.

(Sandy, UT) - August 14, 2011 (
See all reviews by this customer
)
I thought that the mug would be great because it's his 21st Birthday and it is personalized. I loved that I could add my own personal touch that will hopefully last a lifetime. I thought the mug was made very nicely, it was heavy duty, well packaged, and quite large. The only thing that could have made this better is if shipping had been free or the mug had been a little cheaper, just because spending $32.90 on a mug (that's including shipping) was a bit overpriced to me. But it was definitely a nice present and I and my fiance will enjoy it! :)

Not as expected
By
Shopper

(Hialeah, FL) - July 26, 2011
Heavy, and letters could be darker

Nice gift
By
Shopper

(Pearl River, NY) - June 24, 2011
This is beautiful to look at but it is larger than it appears online and very heavy even when empty. Beware if buying it for an older person-it may be too heavy for him to drink from comfortably when filled. Otherwise I would give 5 stars for quality, engraving, value, and speed of delivery.

Father's Day Beer Mug
By
Cheri Q.

(Ballston Lake, NY) - June 19, 2011 (
See all reviews by this customer
)
My husband loved getting this from our two boys.

dfgdfg
By
Melissa A.

(Imperial, MO) - December 19, 2010 (
See all reviews by this customer
)
The mug looked awesome... I just wish it didn't have to say "Cheers to..."

Fun to personalize
By
Kelly S.

(Bowie, MD) - June 18, 2010 (
See all reviews by this customer
)
Love personalized items. The only suggestion I'd have for the company- the white lettering doesn't show up very well when there is no drink in it.

Nice mug
By
Heather S.

(Canada) - June 9, 2010 (
See all reviews by this customer
)
Large size and great quality - heavy glass.

Adorable..
By
Alison D.

(Canada) - November 26, 2009 (
See all reviews by this customer
)
My sister got this mug for me and I loved it so I decided to get it for my boyfriends father. The letters on the mug I received were a little faded and not as bright as I expected but they are still clear. The one my sister bought me has stronger letters on it. Overall I think this mug is still worth the price and the actual mug is incredible quality. It is a lot bigger than you would expect.

Cheers Mug
By
Roxie C.

(New Boston, TX) - July 13, 2010 (
See all reviews by this customer
)
I couldn't see the lettering as well as I thought I would
otherwise it was great

disatisfied
By
IRMA J.

(BRONX, NY) - October 18, 2010 (
See all reviews by this customer
)
not what i expected, the writing is in paint ink, its not with in the glass like others i have purchased, very disatisfied., looks very cheap for a present, i kept it for myself

Handle starting to crack.
By
Jessica J.

(vernon, CT) - October 9, 2009 (
See all reviews by this customer
)
I bought this for my boyfriend from our kids for father's day and the handle is starting to crack so he doesnt even use it anymore. He only used it twice so far so it was a waste of our money.

DO NOT BUY!
I PURCHASED ONE OF THESE AND IT WAS DEFECTIVE. IT WAS REPLACED WITH ANOTHER DEFECTIVE MUG (ACTUALLY WITH THE SAME DEFECT), WHICH ALSO HAD A NOTICEABLE SCRATCH IN THE GLASS.

WHAT MORE CAN I SAY? I NEEDED THIS FOR MY BROTHER'S 50TH BIRTHDAY AND NOW I HAVE NOTHING FOR HIM AND HIS BIRTHDAY IS IN TWO DAYS.

GOOD LUCK!