Loved it
By
Shopper

(Machesney Park, IL) - December 29, 2013
I loved the personalized cd/dvd case.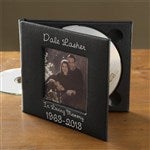 Very cute!
By
Shopper

(Yorktown, VA) - August 21, 2012
I ordered this for my fiancée who is stationed in Korea, it's our two year anniversary and I thought it would be a great little sentimental thing. It came just how I ordered it and it turned out awesome!

5 Star Case
By
Demetrius House H.

(Louisville, KY) - November 26, 2009 (
See all reviews by this customer
)
I am a videographer and I have ordered this DVD Keepsake Box numerous times and each time my clients have loved them.
I did a lot of research and found this item was the best quality with the best price out there. I was impressed by the fact that they gave me a discount on a second case when I spelled the name wrong and had to replace it. I have never had a problem with this item and I have full confidence I will order this item more in the near future. Thanks Personalization and keep up the great craftmanship.

Great product
By
Shopper

(Malone, NY) - February 14, 2012
This is an excellent product. I would've rated it 4.5 stars but that's not an option. My only complaint is that the black backing on the inside (near where you insert a photo) was torn a little bit. It is of terrific quality & the script font looks great on the black leather. I would recommend buying this & I may even purchase another in the future!

Very nice item for the moneh
By
Shopper

(Marrero, LA) - July 19, 2012
Just started a video business. Looking for a nice DVD case to put the dvd's in. This is exactly what I wanted to give to the customers. Very good product, superior service, and a great price.

Great for Memories
By
Brandon B.

(Fort Carson , CO) - May 28, 2010 (
See all reviews by this customer
)
I wanted something special for our anniversary. I ordered two of these. One for our wedding video and one for a CD of love songs that I made. Both cases meet my expectations and even more. Awesome product that will hold our memories for many years.

Great Keepsake Anniversary Gift
By
Mary Anne S.

(Manvel, TX) - July 2, 2010 (
See all reviews by this customer
)
My stepson created a wedding CD for us when we got married in 2006. We love the CD and gave them as favors at our wedding. Every time we listen to it, it takes us back to that day. So, having a nice case that will preserve it is very special. I ordered one for my husband for our anniversary this year. It is well made and beautifully done as are all the products I have ordered from this website over the years.

Custom cd/dvd case
By
Kara M.

(Jacksonville, FL) - August 3, 2010 (
See all reviews by this customer
)
The case was exactly what i was looking for. It was well made and looks just like what the photo on the website displays. I will be ordering more of these in the future!

Excellent Gift and Keepsake
By
Carol J.

(Baltimore, MD) - June 9, 2010 (
See all reviews by this customer
)
As previously mentioned, the ideal of this product is great for the price. Although I was a little worried about the comment with regards to the writing, it is a great place to keep treasured memories of your wedding day.

Special
By
Julie W.

(North Augusta, SC) - June 30, 2010 (
See all reviews by this customer
)
This was a great present for the parent's of the bride and groom. When the DVD arrived, we put them in these and made the parents feel very special!

Nice for the Price
By
Stacey S.

(Edison, NJ) - October 16, 2009 (
See all reviews by this customer
)
Arrived so quickly I couldnt believe it. Nice way to keep our wedding DVD protected, and made a great gift for our moms too!

Great Customer service
By
Milagros B.

(Jacksonville, FL) - October 19, 2009 (
See all reviews by this customer
)
I was impressed with the customer service provided at the 866 number. In the process of personalizing my CD case, I made an error. I immediately called the 866 number and the CSR was very pleasant and immediately made the correction. I received my CD case and it looks wonderful. I think the entire ordering process is great. I just received it, so I hope the product quality holds as great as the Customer service received. We will see..

writing comes off easy
By
Jessica L.

(Rockland, MA) - October 9, 2009 (
See all reviews by this customer
)
the silver writing on my cd case is off in some places and i just got it

Beautiful but lacking
By
Shopper

(Canada) - November 5, 2011
The engraving on this item did not come out correctly on my original order. I had another one mailed to me and it still was not correct. I just gave up trying to get the engraving correct on this item. I was quite disappointed by this experience. I have ordered numerous personalized gifts from personalizationmall.com and this was the only item they did not get right and i was not satisfied with.

DVD case met expectations
By
Gary S.

(Las Cruces, NM) - October 21, 2009 (
See all reviews by this customer
)
The case is good quality for the price...I found there were not many choices out there in this type product. I would have actually paid more for a little more quality (real leather, etc.) but am satisfied as-is.

GREAT!!
By
Shopper

(ASTORIA, NY) - November 30, 2011
I ORDERED THIS ITEM AND WHEN IT CAME I WAS SHOCK ON HOW NICE IT WAS. I GAVE IT A 4 BECAUSE I WANTED IT IN WHITE FOR MY WEDDING CD. OTHER THAN THAT IT IS REALLY NICE.

Beautiful Gift!
By
Vanessa G.

(Garland, TX) - December 2, 2011 (
See all reviews by this customer
)
I loved this gift so much and so did my boyfriend! I gave it to him for our 1 year anniversary and he absolutely loved it and thanked me so much for it!
Thank you so much personalizationmall. You've done it again.

Great Product
By
Ashley P.

(Jackson, MN) - February 11, 2010 (
See all reviews by this customer
)
I was very satisfied with this product. It shipped extremely fast!

Product good quality, poor quality control
By
Shopper

(Canada) - July 31, 2011
The product itself is a good product, it's fairly good quality, and the price is right. Unfortuneatly my product arrived with a spelling mistake on a name. A replacement was offered, but it would not arrive intime for the event, so I was credited my money back. I was very, very dissappointed.

Great Item
By
Shopper

(Hesperia, CA) - August 7, 2012
I love, love, love this. I will be buying another for our engagement session, and one for our wedding day pictures! Awesome product and great quality!

DVD CASE
By
wayne B.

(lawton, OK) - January 31, 2013 (
See all reviews by this customer
)
I have bought several cases in the last few months.
Great item with fast turn around time!!

CD Holder
By
Shopper

(Phoenix, AZ) - April 2, 2012
Excellent personalized give for the money...great value! And, they printed exactly the correct date...even though it was 5 yrs ago : )

DVD CASE
By
wayne B.

(lawton, OK) - July 6, 2012 (
See all reviews by this customer
)
A GREAT PRODUCT AT THE RIGHT PRICE!!!!

Perfect to store your special memories!
By
Shopper

(Valley Stream , NY) - February 7, 2013
I bought this for our Wedding Video (DVD), it's perfect! The quality is very impressive, and it also comes in a solid hard box. I would recommend this item and buy it again for a future special occasion. I love that you can add your own personal photo, just makes your memories extra special!

Makes a great impression!
By
Kevin M.

(Deerfield, IL) - October 11, 2013 (
See all reviews by this customer
)
These covers are really nice and made well. I got it for my sister's 50th birthday, as I had made a music CD and a DVD, so I put the CD on one side, and the DVD on the other side, and dropped a picture for the cover, and voila. It made the gift look so professional! Highly recommended.

Great Purchase!
By
Ruth Ann C.

(Fairview, WV) - December 7, 2013 (
See all reviews by this customer
)
This cd case turned out great! It even has a magnetic closure...I am very pleased that it turned out so nice! I wanted to give a very special cd for Christmas and this made the perfect case! great purchase!

It's Perfect
By
Shopper

(Fremont, CA) - July 23, 2013
I got one for our honeymoon and it was so cute

Perfect presentation
By
Shopper

(Kingman, AZ) - August 27, 2013
I do videos for people, and these personalized CD/DVD cases make the gift look extremely professional, not to mention that it also becomes a treasured keepsake. I have ordered this several times, and will continue to always. I'm also amazed at how fast this product is personalized and delivered to me. Thank you!

50th Anniversary
By
Robin L.

(Plymouth, WI) - September 1, 2010 (
See all reviews by this customer
)
I was very pleased with the DVD case I ordered for my folks 50th Wedding anniversary. It arrived in a timely manner and was of the quality I thought it would be based on the description I read on the website.

PERFECTLY UNIQUE !
By
Stephen S.

(North Babylon, NY) - October 13, 2010 (
See all reviews by this customer
)
ORDERED THESE FOR A DVD OF CONVERTED 8MM FILMS OF FAMILY MEMORIES. GIVING AS CHRISTMAS GIFTS TO MY BROTHERS AND SISTERS. THEY WERE PERFECT! DILIVERED IN A BEAUTIFUL MATCHING BOX WITH A SILVER ELASTIC BOW, TO MY SURPRISE. THANKS FOR THE MEMORIES!

Very Neat Wedding Shower Gift
By
Lisa F.

(Henderson, KY) - August 30, 2010 (
See all reviews by this customer
)
The bride to be loved this gift!! She and everyone else thought this was a unique and fun gift. Lots of people asked me where i bought it.

Best Idea for your Memory!
By
Heidi J.

(Raytown, MO) - August 31, 2010 (
See all reviews by this customer
)
This CD holder is perfect. The cover is soft and the quality of the personalization is great. Very nice to display! Highly recommend as a cover for wedding or special family moment!

Accurate and prompt
By
Charles F.

(Murfreesboro, TN) - April 20, 2011 (
See all reviews by this customer
)
I have ordered from this site twice now and both times, these cases arrived extremely fast and the printwork has always been of good quality and accurate. I'll be using them again without a doubt.

Great, practical gift!
By
Shopper

(Hackensack, NJ) - October 24, 2011
I have purchased three of these DVD cases and have been happy with each one. I make DVD slideshows and print a photo on the front of the DVD, so this case provides a nice display piece. The quality is nice and the font looks long-lasting. Will def purchase another at some point!

A "Wow" Factor For My Clients!
By
Robin H.

(North Port, FL) - February 5, 2012 (
See all reviews by this customer
)
As a professional wedding and portrait photographer, I am able to present my images on disc to my clients in a very professional, and still cost effective, manner. Each time, it "wow's" them, thinking they were going to be receiving just plastic jewel cases. I now present one of these Personalized DVD Cases during the initial sales presentation as another avenue to "seal the deal".

Looks amazing!
By
Shopper

(Royersford, PA) - August 15, 2011
Product was delivered quickly, great quality, beautiful presentation. Couldn't be happier!

Personalized CD Case is Very Impressive!
By
Shopper

(Lakeville, MA) - October 18, 2011
I have to admit, I didn't really know what to expect with this item. It looked nice online, but it's one of those things you really don't know the quality until you look at it in person. I love it! It's perfect for that hard to buy for person. I even had a professional photo sized to a 3x5 to place into the front cover. Beautiful in Every Way! A Must Have Keepsake!