Lovely letter opener
By
Shopper

(Lynbrook, NY) - December 10, 2013
My husband usually uses a kitchen knife for opening the mail...I usually rip it up all messy. I figured he should have the proper tool for opening the mail in his proper way! It's well made and looks great.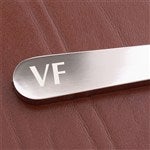 Very nice
By
Shopper

(Albuquerque, NM) - November 27, 2013
I am pleased with u.e engraving and simple look.

Nice
By
Donna G.

(Pittsburgh, PA) - November 15, 2013 (
See all reviews by this customer
)
The letter opener was very strudy and shiny. Felt good in my hand and the personalization was very nice.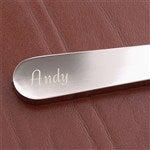 Monogramed letter openers
By
Shopper

(Tulsa, OK) - July 22, 2013
I ordered 9 of the letter openers as gifts for a meeting. They look beautiful and I'm sure each of the recipients will enjoy them.

Perfect Desk Gift
By
Susan C.

(Gambrills, MD) - June 23, 2013 (
See all reviews by this customer
)
This is a beautiful accessory for a professional. It is elegant yet simple. My husband absolutely loves it!

Very Pleased
By
Shopper

(Indianapolis, IN) - June 18, 2013
Based on other reviews, I felt confident in my decision to buy (4) monogrammed letter openers. Some reviews said the product looked even more beautiful in real life than in the pictures, but did not say how. The 'how' is that the finish is shinier, like silver plate. Despite 1-2 customer complaints that the engraving was too light, I found it substantial, easily readable, and pleasingly sized. I did open one (each box was labeled on the outside with the appropriate initials), and was surprised at how easily my finger prints showed up on the item- I would not expect this on nickel plate. Oh, well...it happens on fine silver, too. I wiped it down, repacked it, and wrapped it. Overall I am very pleased with my purchase. It arrived within a week of ordering.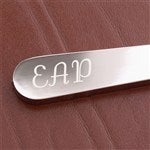 Perfect gift for bridesmaid's luncheon
By
Shopper

(alpharetta, GA) - June 10, 2013
Great gift to go with customized stationary for a bridesmaid's luncheon gift.

Great Letter Opener
By
Shopper

(San Jose, CA) - May 31, 2013
My daughter has been wanting her own letter opener after receiving so much mail from colleges this past year, so I ordered her one to take to college. She loves it and loves that her name is engraved on it. The only thing that would make it better would be if it came with some sort of case or cover for the tip of the opener. Other than that it is great!

Great value
By
Shopper

(Sun Lakes, AZ) - April 18, 2013
I am pleased with the weight of the letter opener& the engraving looks very professional.

Better than expected.
By
Shopper

(Tucson, AZ) - April 2, 2013
I have broken so many letter openers that I finally ordered this SS opener. It is a solid, heavy opener that does its job while looking beautiful. I had the engraving done in "script" and am very pleased with its appearance. I look forward to using this for many years.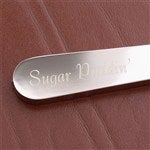 Judges gift
By
Shopper

(Surprise, AZ) - March 16, 2013
The five letter openers arrived & they are really beautiful. I am pleased with the look & feel of this product. Yes I will oreder again as needed

Even better in person
By
Shopper

(Carmel, IN) - February 10, 2013
The photo does not do the letter opener justice; it looks even better in person! I ordered it as a gift and the receiver loved it. It was engraved perfectly and was delivered right on time.

Perfect and on time when promised
By
Jamie G.

(Los alamitos, CA) - December 30, 2012 (
See all reviews by this customer
)
Ordered this for a Xmas gift, wasn't sure if they can make it and deliver on time. They did. The product was great not cheap the engraving was beautiful and delivery was delivered when promised. I would order from them again very happy with the quality of my purchase and great prices . 100% satisfied. Thank you I will be a returning customer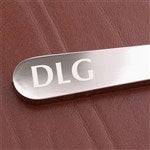 Simple & elegant
By
Shopper

(Shreveport, LA) - December 29, 2012
Very nice! Get for the money!! Bought for my husband as a stocking stuffer. He really likes it!

Good gift
By
Shopper

(Chicago, IL) - December 29, 2012
Gave this as a Christmas gift and it was well received. Delivery was quick and was exactly as imagined.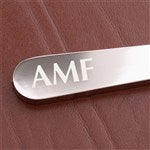 Great gift!
By
Shopper

(Woodinville, WA) - December 27, 2012
We gave this to our aunt and uncle as a Christmas gift and they love it! They were so impressed with the gift. Highly recommended!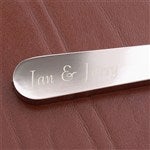 Personalized Letter Opener
By
Maureen L.

(Medway, MA) - December 26, 2012 (
See all reviews by this customer
)
It is so nice! It was a present and the receiver loved it. The quality of the piece is very good. I would recommend it to anyone. Personalizing it only made it all the better.

FAR EXCEEDEC MY EXPECTATIONS!!!!
By
Julie V.

(New Market, TN) - December 23, 2012 (
See all reviews by this customer
)
The quality and workmanship was amazing!!!!! My boss LOVED it!!!! Will use Personalization Mall again!!! Thank you!!!

Letter opener
By
Shopper

(Lexington, KY) - December 12, 2012
Even better than expected. Loved it.

I COULDN'T WAIT UNTIL CHRISTMAS.
By
Linda L.

(College Park, MD) - December 11, 2012 (
See all reviews by this customer
)
We all know that November and December bring a flood of mail, including many charitable solicitations. Seeing my husband confront a mound of envelopes, I couldn't wait until Christmas to give him this gift. We both agreed that this sleek, personalized letter opener made the task less odious. My gift to him was just what I hoped it would be.

Perfect size, just what I wanted!
By
Shopper

(Mesa, AZ) - November 21, 2012
I ordered this in Novemember for Christmas and I got it super fast (without paying extra). It is engraved and looks so good. I am excited to give it as a gift! I do wish it was wrapped a bit nicer to present to someone, the box was a bit mangled.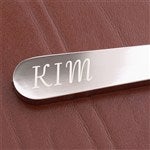 Help for Mom
By
Hilary K.

(Tacoma, WA) - August 27, 2012 (
See all reviews by this customer
)
My mother had a stroke making opening letters very difficult with her weakened right hand. She is now able to open every letter, flyer and, unfortunately, bill she receives. She loved that it was personalized.

Great gift.
By
Marcia H.

(Vacaville, CA) - August 1, 2012 (
See all reviews by this customer
)
This personalized letter opener is a Christmas gift for several members of our family. They are light weight and will be simple to mail - making a great gift.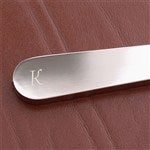 Very Happy
By
Shopper

(Bloomingdale, IL) - March 23, 2012
We were very happy with the service and product from Personalization mall. We ordered a personalized letter opener. The item shipped the next day, showed high quality workmanship and made a great gift.

AMAZING PRODUCT
By
Shopper

(DECKERVILLE, MI) - February 22, 2012
THIS PRODUCT"PERSONALIZED LETTER OPENER" WAS WAY MORE THEN I HAD EXPECTED...VERY FAST SERVICE

Exactly what I wanted
By
Nicole R.

(Westampton, NJ) - February 5, 2012 (
See all reviews by this customer
)
I actually couldn't find anything like this at any local stores. I was nervous that I wouldn't like it, but I def do! It's shiny and perfect and I enjoy using it to open my mail (classiest part of my day).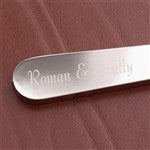 Excellent quality
By
Shopper

(Palisades Park, NJ) - December 31, 2011
Better than you can appreciate on the picture,it was an excellent choice to give it to my boss!

Great Gift
By
Shopper

(Saint Johnsbury, VT) - December 29, 2011
Bought for my Husband.He was very pleased. Letter opener very sturdy.

Quality and the Perfect Gift
By
Kimberly S.

(Allentown, PA) - December 22, 2011 (
See all reviews by this customer
)
I ordered letter openers for my colleagues at work. I wanted something that I could engraved. The letter openers that I ordered were exactly what I wanted. They were quality and a big hit around the office. Ordering was so easy and they came within days.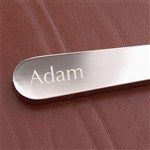 letter opener
By
Shopper

(Tornado, WV) - December 15, 2011
very slick item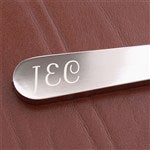 Perfect gift
By
Shopper

(The Dalles, OR) - December 11, 2011
We have been looking for a letter opener for awhile. This was is perfect - the right size and shape, and the personalization was a bonus.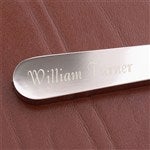 Personalized Monogram Letter Opener
By
Shopper

(Longmeadow, MA) - November 26, 2011
I bought this letter opener as a gift for a recent law school graduate and he loved it! It is very well made. The handle has some weight to it and the end is sharp for easy opening of envelopes. This is definately a practical and well made gift that will last for years.

Thank you!
By
Joanna S.

(Chicago, IL) - July 16, 2011 (
See all reviews by this customer
)
I previously reviewed this product and was very disappointed in the tarnishing of the engraving. However, Personalization Mall was quick to remedy the problem and I was immediately shipped a replacement free of charge. It has NOT tarnished and still looks beautiful. Thank you very much!

letter opener
By
Debi B.

(mt lebanon, PA) - June 20, 2011 (
See all reviews by this customer
)
It was a real good experience to shop with personalization mall.The letter opener was awesome.The engraving was clear and bright.It was a gift for father's day.My husband liked it very much.

Grads love these!
By
Shopper

(Choctaw, OK) - May 27, 2011
I have gotten personalized letter openers for grad gifts for years now, ever since my daughter got one as a grad gift and loved it. It is a personalized item they can use the rest of thier lives and everyone always tells me it was thier favorite graduation gift. I have also started giving them as wedding gifts with the last name of the couple and the year they were married. Quality gift item sent from the heart because you took the time to personalize it just for them.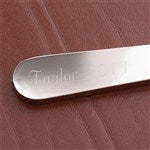 great grad gift
By
Shopper

(Choctaw, OK) - May 13, 2011
I get these for graduation gifts with the recipients name and year of graduation inscribed on them. Everyone loves them - they are functional, beautiful, and a keepsake all in one gift that will be kept and used for a lifetime.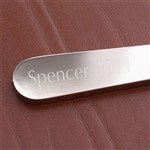 Great value
By
Anita P.

(Powhatan, VA) - May 11, 2011 (
See all reviews by this customer
)
The letter opener was high quality for a low price. I received it in just a few days. I would highly recommend this product.

Quality letter opener
By
Judith W.

(Denton, TX) - May 7, 2011 (
See all reviews by this customer
)
I ordered three monogrammed Letter Openers. The quality and monogramming were very good. Service was also very speedy. Well worth the price and I will be happy to give as graduation gifts.

Nice gift
By
Shopper

(Hackettstown, NJ) - April 24, 2011
I'm very happy with the letter openers themselves, but wish there had been a way to state a preference about how precisely they'd be engraved. As in the photo, the engraving faces away (for righties). I'd have preferred the right-handed user be able to see his/her name while using it. But this is a very minor complaint...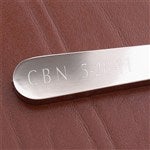 An elegant, inexpensive gift.
By
Marvin K.

(Sherman Oaks, CA) - January 25, 2011 (
See all reviews by this customer
)
The personalized monogram letter opener filled my need for a simple, elegant gift that was not too expensive. Your delivery time of just a few days was an added bonus.