Great Boss' Day Gift
By
Traci D.

(Brentwood, TN) - October 22, 2009 (
See all reviews by this customer
)
Purchased for my boss for Boss' Day. It's good quality and the engraving was very nice and professional. Gifts arrived in a very timely manner even though it was Postal Service Delivery.

I love my letter opener
By
Marcela L.

(Framingham, MA) - October 8, 2009 (
See all reviews by this customer
)
I am very pleased with the purchase of this product and recommend it to people and because of excellent quality.

Satisfied
By
Shopper

(Clay , KY) - September 24, 2013
Product was as shown good quality and good price shipping was fast and no problems with the personalized touch.

Very nice piece
By
Shopper

(Brooklyn, NY) - September 10, 2013
It's a very nice letter opener. The etching is a bit light (not deep) but it still looks good and seems pretty solid.


Off Center
By
Shopper

(augusta, GA) - December 28, 2012
We have been a customer for over 15 years and have nothing but good words for them. A recent gift order to our banks VP's however, was engraved noticeably off center. I emailed pictures to customer service. It was then 3 days until Christmas. They returned a promised for a complete replacement at no cost and it will be mailed the week after Christmas. You cant beat that and I only wish more online companies would do the same. I'm sure they will be around many more years and we will continue using them. Cudos/Cudos to a great gift company!!

Recommend
By
Shopper

(Clarksville, TN) - September 9, 2012
Loved the letter opener. The engraving was perfect. It is a gift and I thought it looked very professional. The only reason I gave it 4 stars is because I feel it could get scratched very easily. Otherwise, makes a wonderful gift.

Letter Opener with monogram on it
By
Jo Nell B.

(Graham, NC) - February 20, 2012 (
See all reviews by this customer
)
I ordered it for my Mom to give to my nephew and she said it was great.

I would like a few more choices on type of printing on the monogram but all in all I was very satisfied.

Thank you!

Nice office gift.
By
Shopper

(St. Cloud, MN) - December 22, 2011
This is a very nice office gift for any up and coming office worker or business person. My only improvement suggestion would be to engrave it in the other direction. As a right-handed person putting the letter opener down on my desk, it is backwards. These were engraved beautifully for a left-handed person.

Engraved Letter Opener
By
Jill M.

(Delaware, OH) - June 23, 2011 (
See all reviews by this customer
)
This item was purchased as an 11th anniversary gift for my husband. Regular shipping was quick. The engraving is very light. It can be felt, but just barely. An option to engrave both sides would be nice as would an option to engrave initials with a date. Overall, I am satisfied, and so was my husband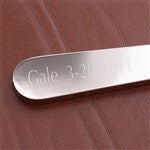 great gift
By
Kimberly S.

(Lake Havasu City, AZ) - December 13, 2010 (
See all reviews by this customer
)
i personalized it for my boss. she uses a knife to open mail so i figured get this and she would use it everyday!

julie g
By
julie G.

(westland, MI) - December 13, 2010 (
See all reviews by this customer
)
i really like this opener, but the script j letter doesnt fit clearly on the item. that letter is longer than the others (script and block) that it almost doesnt look like a J at all.

great gift
By
Feige G.

(brooklyn, NY) - April 20, 2010 (
See all reviews by this customer
)
I bought this for my husband and he really likes it. One thing that i was disappointed about, was that it appears to me that for a right handed person the monogram is upside down. The letter opener itself though is very sleek and effective.

Review of Personalized Monogram Letter Opener
By
Nancy E.

(Kalamazoo, MI) - November 4, 2013 (
See all reviews by this customer
)
The quality of the item ordered is fine. However, I was disappointed that it is so small. The photos seemed to indicate that it was larger (i.e. 9 1/2-10" long instead of 7".) If measurements were given in the ad, I missed them.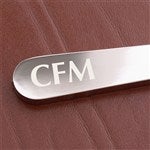 Review of my letter opener
By
MARY ANN S.

(TUCSON, AZ) - November 5, 2010 (
See all reviews by this customer
)
I purchased a monogramed letter opener as a gift. I'm a little disappointed in it. While the engraving is very nice, it's kind of hard to see as it's not too deeply engraved. And for a right handed person, you just don't see it when holding the opener - can be seen much better when held in the left hand. This is for an aunt with not-too-good vision and I'm afraid she won't even notice her initials unless I point them out to her.

Do not buy this for a man.
By
Denise L.

(EL CAJON, CA) - December 6, 2011 (
See all reviews by this customer
)
I have enjoyed everything I have purchased from Personalization.com however this time I'm REALLY disappointed. I purchased this for a man. It is so small and lightweight. Definitely for a female only. Unfortunately I have to purchase another one. Too bad I don't know a woman with the same initials I could give this one to :(