I like the mug very much.
By
Shopper

(San Marcos, TX) - October 7, 2011
The background photo you print of the cap and deploma on the front of the mug doesn't provide enough contrast with the individual's name. Could the individual's name be below the picture? We do like it very much and the nice print on the back. Thanks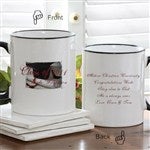 Graduation Mug
By
Carol T.

(Manchester, NH) - September 10, 2011 (
See all reviews by this customer
)
This mug was done very nicely. The only comment that I have is that I might have added the name under the graphic to make it more legible. Its a cute gift and well worth the money.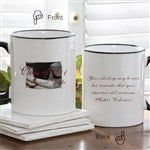 Personalization Mug -- Hit the Spot
By
Shopper

(Schenectady, NY) - January 2, 2013
I needed a combination Graduation, Moving away Gift and This Personalized Stainless Steel Mug filled both needs. The message I had placed on this high quality mug said it all and was a big hit. I placed this order late in holiday season and still received it on time. The graphics were high quality and easy to read. Totally recommend this site to anyone.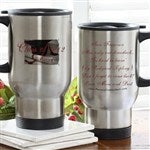 Coffee Travel Mug
By
Colleen C.

(Brooklyn, NY) - November 12, 2009 (
See all reviews by this customer
)
This is a nice gift and I hope my sister will like it. I used my own quote that I found online; not one of the one's offered by the site. It came out nicely. I also had space to add words of my own after the quote which was nice. On the other side, it is a little hard to see my sister's name and the Graduation stuff 2009, but there's the cap/gown detail behind it so it kind of competes with the inscription. However, since the inscription is in red, it does make it a bit more legible. The script used is VERY elegant and I like that about this item. I just hope it holds up well to washings and does not rub off easy. My sister is a chronic coffee drinker so I hope this serves as a great utility item to her and also a nice reminder of a big day in her life, her college graduation day.

It looks nice, let's hope it stays nice. I am pleased with it so far!

Class of 2010
By
Catherine T.

(Richwood, OH) - September 11, 2010 (
See all reviews by this customer
)
I was happy to get the information I wanted on the back of the mug. The front however is a bit hard to read. I suggest they put Class of 2010 above the picture on future mugs. My husband was very happy to receive this special mug.

Love it!
By
Amanda S.

(Logan, OH) - December 16, 2009 (
See all reviews by this customer
)
I am so happy I purchased this. It turned out great. I can't believe how quickly I received my order seeing as how everything is personalized. I have already started recommending this site to others.

Graduation mug
By
Shopper

(Thomaston, CT) - May 20, 2011
I bought the mug because I liked the verse for my son who was graduating with a business degree, however, the area where his name is printed is so dark, that his name is barely legible. But, looking at the picture now, it does look just like it's pictured on-line. A good value for the price!

improvement needed here
By
Pauline A.

(Hyannis, MA) - May 9, 2013 (
See all reviews by this customer
)
I must say that this is the first time I am disappointed in an item from his company. I have done many mugs myself, so have some experience here. Never should there be writing imprinted over a picture, it just never comes out as a good product. My advice is do not buy this mug, as the writing on the front is barely visible. The back quote is perfect. The quality control needs to take a good look at this and improve on the front of the mug.

good item; bad print, color and font
By
Srinivasa K.

(Alpharetta, GA) - April 30, 2010 (
See all reviews by this customer
)
While the cut itself is a good item to give as a gift, the personalization part of the gift is pretty bad. The colors are not like what is shown in the picture. The writing lacks clarity and the print itself is bad and looks cheap. I decided to throw away the item instead of giving it.

Red Lettering difficult to read
By
Georgiana A.

(Westminster, MD) - May 13, 2010 (
See all reviews by this customer
)
Red lettering is difficult to read on the Stainless Steel Mug. Would be nice to be able to select a color of ones choice. The Mug itself is very nice.

Graduation Mug
By
Shopper

(Denver, CO) - May 27, 2011
Delivered on time and exactly as described. Thank you.

Promotion gifts
By
Shopper

(Bishop, CA) - June 3, 2013
The mugs that I ordered for my awards ceremony were very nicely done. The lettering on the back of the mug was clear and neat and professional.

product
By
Shopper

(Sedona, AZ) - December 14, 2013
It was perfect. Exactly as I ordered!

beautiful gift item
By
Stephen P.

(Kingsley, PA) - May 24, 2010 (
See all reviews by this customer
)
Nice looking mug, crisp personalization, good price, fast delivery.

Lot it!
By
Amanda S.

(Logan, OH) - December 27, 2009 (
See all reviews by this customer
)
Great! Received it very quickly, and it's exactly as I wanted it.

Great gift
By
Christine D.

(Penn Yan, NY) - May 2, 2010 (
See all reviews by this customer
)
All steel inside and out..medium to heavy quality so it should last. Very elegant looking.

Graduation Quote Mug
By
Christina V.

(Greene, NY) - May 19, 2010 (
See all reviews by this customer
)
great quality, better than I expected. I am sure my son is going to love this.