Dad was speechless
By
DM N.

(Waco, TX) - December 29, 2009 (
See all reviews by this customer
)
I bought this frame for my father for Christmas, and the second he opened it, he teared up. He thanked me for it and said it was absolutely beautiful. I highly recommend this product. It's lovely. The picture size is a bit smaller than a wallet picture, so just trim it down a little and it will fit perfectly.

Dad cried!
By
Abby D.

(Moberly, MO) - December 2, 2009 (
See all reviews by this customer
)
This product was great! It came quick, with my personalization perfect! When I gave it to my father, it made him tear up! It was a very nice gift for him, and a nice product from Personalization Mall!

My Dad Loved It!
By
Tiffany W.

(Salem, OR) - October 8, 2009 (
See all reviews by this customer
)
I put a picture of myself in it of when I was a little girl and gave it to him before my wedding. I could tell he really loved it, and was even a little teary-eyed.
The quality of the whole frame is awesome and the engraving was done perfectly. As always, very fast shipping! Very happy with it, thank you!

Perfect
By
Samantha A.

(Florissant, MO) - October 8, 2009 (
See all reviews by this customer
)
I bought this for my husband for his first Father's Day and it turned out to be just as nice in person as it was on the internet! I would definately recommend this to anyone wanting a special gift for someone!!

Great Gift
By
Shopper

(Westbury, NY) - December 12, 2012
This picture frame is great. It's a little smaller than I thought it would be but the fact that it's so personal makes it a great gift anyway. The poem is short yet touching. I'm so excited to give this to my dad on Christmas! I know he'll love it

Perfect for daddy
By
jennifer M.

(san antonio, TX) - February 17, 2012 (
See all reviews by this customer
)
My lil girl got this for her dad to say thank you for everything he does. My husband loved it but I wish it was bigger.

Loved it, just wish the print was a little darker
By
Shopper

(Irving, TX) - June 20, 2011
My husband loved it from my 2 year daughter for his fathers day gift 2011. Was very personalized with good quality. Just wished that the print was deeper for proper viewing. Overall a great product.

I LIKE IT...
By
Archana J.

(Canada) - March 1, 2011 (
See all reviews by this customer
)
The frame and the carving is beautiful..I got this for my dad on his birthday..but the only thing they could improve on is the size of the entire frame..it is preety small..its about twice the size of your palm...I really hopped if the size was little bigger I would have loved it the most...anyways it was still alright..

Very Nice !
By
Carmen P.

(Hyattsville, MD) - December 29, 2010 (
See all reviews by this customer
)
My daughter ordered this frame for her father for Christmas and it is absolutely beautiful I was just a little surprised at how small it was but, he was so happy with it.

I love Personalization Mall!!!!!

Nice quality, but too small
By
Michele M.

(Export, PA) - August 11, 2010 (
See all reviews by this customer
)
I got this for my father to give as a wedding gift. I think it is nice because you can personalize for free, and it came quickly...However the frame is barely larger than my cell phone, and the engravement is very fine (although the size of the wording was fine). For the price, I would probably have picked something else.

A little disappointed with this one!
By
Christy W.

(Lorida, FL) - February 15, 2010 (
See all reviews by this customer
)
I've ordered several products from Personalization Mall in the past and have been just thrilled with the products, however when I received this product I was somewhat disappointed. While the frame itself is very pretty, I could barely read the message that was ingraved into the silver. I actually have to angle the frame in the light to even be able to read what is says. I wouldn't reccomend this product unless the engraving was much deeper.

not to happy
By
Shopper

(riverhead, NY) - August 13, 2012
the frame looks really good its alot smaller then i thought it would be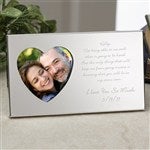 Very disappointed
By
Augustina J.

(Vista, CA) - July 4, 2011 (
See all reviews by this customer
)
The frame is much smaller than I expected and against the blue frame the silver engraving is almost illegible. The engraving is so small. This is one item where you can't see a preview of the finished product when you order it, and therefore you don't know what to expect but I was completely dissatisfied.

writing smudged
By
Shopper

(Cincinnati, OH) - June 24, 2011
I received my order of the frame and I also purchased a pocket watch. The silver frame was for my Dad for Father's day. The 2 W's that were in my engraving are smudged and it is very hard to tell what the letter is. i kept it because I had no choice it was for Father's day and I needed it then. I am not happy with the quality though. i have always been hapy with every other item I have purchased from you, but this was a disappointment. I know whoever did the engraving had to see their mistake but it was sent out anyway.