Very, Very Pleased
By
Pamela D.

(Plano, TX) - February 4, 2010 (
See all reviews by this customer
)
I was so impressed with my first 2 purchases, I returned and purchased 5 stadium seats. They're just wonderful! Great quality and beautiful personalization. My only disappointment? I didn't get one for ME.

Great buy, very quick shipping
I bought this for my mom and she loves it! She said it was so comfortable and she loves her name on it and that it has a pocket for personal items!

Great seat!
By
Erika G.

(Cleveland, OH) - January 4, 2010 (
See all reviews by this customer
)
My son (basketball player) bought this seat for me as a Christmas gift. It's sturdy and the personalization "ADAM'S MOM" was perfect! I love it!


Comfortable Seating
By
Nicole R.

(Cincinnati, OH) - December 17, 2009 (
See all reviews by this customer
)
My parents attend the Ohio State Football games because my brother works for the team. They get great seats but as the weather changes, the seats get cold, wet and uncomfortable. These are excellent for them to sit all day at the game and be comfortable.

FANTASTIC GIFT

Always with us!
By
Carol P.

(Alpine, TX) - November 29, 2009 (
See all reviews by this customer
)
I originally bought one for my husband for our outdoor theater beacuse of his bad back. He loved it so much he convinced me to buy one for myself. When we finally got a minor league baseball team in town I was so glad to have them. They are very comfy. He folds his down on the concrete benches, I like having the back support so I don't slouch after a couple of hours. The pockets are great for caryying coozies, programs and other paraphenalia. The strap make them very easy to tote along. We have found that by allways having them in the car we can stop and have comfy seats at roadside parks or even set them flat to sit on anytime we have a picnic. I highly recommend them to anyone who wants a comfy seat with them. And being personalized makes sure they always get home with us!

Super nice
By
Maxine M.

(Lubbock, TX) - October 1, 2009 (
See all reviews by this customer
)
I received my order in a short time..am very satified with the quality..the embroidary work is beautiful...going to order more for Christmas

Sporting events
By
Shopper

(Greenwood, IN) - December 26, 2012
I gave this as a gift to my daughter-in-law and had it shipped directly to her home so I, personally, have not seen the item. However, she is extremely satisfied with the gift and said it was absolutely beautiful. She spends a lot of time at different school sporting events for my grandsons and said it will definitely come in handy. I will await her feedback as to the comfort of the seat.

Nice, comfy seat cushion
By
Richard B.

(Lexington, SC) - October 28, 2011 (
See all reviews by this customer
)
This is a nice, well made seat cushion that serves me and my wife well. We have used them at about 7 or 8 football games this season and they are the best cushions we've had. Our requirements for cushions were that they have a shoulder strap, pocket, back support, and no arms (not allowed in some stadiums). These fit the bill nicely. Two minor drawbacks that keep them from receiving 5 stars are: 1)the cushions must be folded up opposite of how you seat on them... so you have to unclip the sides, fold it over, reclip the sides, then fold over the pocket for the velcro to catch. This isn't a huge deal but it adds an extra step when leaving a crowded stadium. 2) It must be carried by the shoulder strap because there isn't an extra handle on the top. Most cushions have a small handle on top and this addition would make the cushion easy to carry both ways. All in all they are nicer than what we found in stores and customized to top it all off.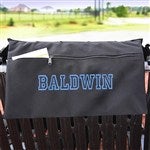 Impressive
By
Susan G.

(Granbury, TX) - December 24, 2010 (
See all reviews by this customer
)
This item was purchased as a gift so I haven't used it, but I was impressed when I opened the box. The seat is attractive and looks well-made and sturdy. The engraved name is beautiful. It's very light weight, with a handle when folded, and hopefully will hold up well.

No back support
By
Alyson T.

(Stafford, VA) - September 11, 2010 (
See all reviews by this customer
)
After some extensive searching online for a comfy seat to cush my tush, i came about this site. Based on the reviews i purchased two of these seats. i would not purchase additional seats. although the padding is nice and the zipper compartment is great, there is no back support at all. the backing is almost useless. in addition, carrying the seat via the strap is awkward. the seat is very light weight, so that is a plus. if you are looking for something with back support, do not purchase this item.

Product defect
By
Brandy B.

(Carlsbad, NM) - May 11, 2014 (
See all reviews by this customer
)
I believe the zippered part of the seat that has the name on it was improperly placed. When the seat is unfolded to place on the bleachers, the embroidered name cannot be seen. That's disappointing.

Poor back support
By
Shopper

(Spring Branch, TX) - November 19, 2012
This product looks great! If you intend to use it for long days at the stadium, this is not the chair for you.
The cushion is good for the bottom but there is no support for the back. You definitely can't lean back and feel secure. It would be great for a young person/child. Seems to be very well made but it didn't fit our needs.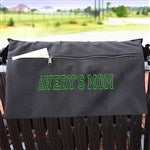 good quality but useless to us!
By
Paul C M.

(Green Bay, WI) - September 20, 2010 (
See all reviews by this customer
)
This padded stadium seat was purchased to use on bench stadium seats. The seat does not have a strap or anything that could be used to attach the seat to the bench. The seat will fall off the bench, get soiled and cause a tripping hazard. Be wary when ordering. Make sure the product is exactly what you want, because they will not refund your money or take the product back!

not what i was expecting
By
Tiffany A.

(Uvalde, TX) - October 3, 2009 (
See all reviews by this customer
)
i did not like this item,it does not support my back and and can not seat back on it like you would a chair was not happy at all! payed to much for a crummy seat!

COLLAPSING CHAIR
By
Elaine F.

(FAYETTEVILLE, GA) - September 18, 2014 (
See all reviews by this customer
)
These look nice. It ends there. We bought these chairs because the reviews were great. Since I've noticed a few people complaining about the lack of support. We took ours to our son's football game so excited to use them... what a disappointment... our's were collapsing on us while everyone around us was sitting comfortably in their steel framed folding chairs. OUR MISTAKE for not paying attention to how these chairs are constructed. DON'T WASTE YOUR MONEY; BRING A LAP BLANKET IT WILL BE JUST AS COMFORTABLE TO SIT ON, EASIER TO CARRY AND MUCH CHEAPER!

No support
By
Anne H.

(New Orleans, LA) - June 10, 2013 (
See all reviews by this customer
)
This seat provides absolutely no support to my back, it's too soft and flexible. Total waste of money.

NO Back Support
By
Nicole F.

(Brooklyn Park, MN) - September 17, 2011 (
See all reviews by this customer
)
This is not at all what I expected. Very unhappy customer.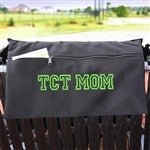 Seats offer no support
By
Wanda S.

(Leander, TX) - November 29, 2010 (
See all reviews by this customer
)
The stitching on the names and the seats themselves appear to be high quality; however, the seats offer no support whatsoever. When you lean back in them, they buckle. I purchased them for a Christmas gift but will not be able to use them because they collapse when you lean back in them.

Would not recommend...
By
Stacey R.

(Cave Creek, AZ) - June 24, 2010 (
See all reviews by this customer
)
Would not recommend getting this item unless you plan to use it with a chair or on a seat that has a back. There is no back support in this item. It is strictly just a pad/cushion. There is no way to secure this item to the bench so there is no support if you lean back.

No back support!
By
Katilee P.

(Elizabeth City, NC) - February 13, 2010 (
See all reviews by this customer
)
The one star is for the beautiful embroidery, which is pretty, but the whole point of a stadium seat is to have back support, of which these seats have none!

I bought 2 b/c my hubby is a Vice Principal, and we go to A LOT of games. I am so disappointed, as this was his V's. gift. Now I am seriously thinking of returning them!