Darling!
By
Shopper

(MADISON, WI) - August 19, 2014
I purchased thin little hat for my newborn great-grand baby. I love giving personal gifts and this hat was perfect. The embroidery is beautiful and the hat is quality and very well made. My granddaughter loved it!
I was very satisfied with my purchase.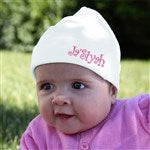 Perfect and adorable!
By
Kristin V.

(bloomington, MN) - August 11, 2014 (
See all reviews by this customer
)
I LOVE this little hat. The quality is exceptional and it is perfect, just as I ordered. Shipping was quick as well. Would definitely purchase here again and have referred others as well.

Cute & Useful
By
Shopper

(Shippenville, PA) - September 20, 2013
I purchased this for my month-old granddaughter. Looks lovely & of good quality. It was a gift, so I can't attest to the particulars.

Baby Beanie
By
Shopper

(Tucson, AZ) - August 7, 2013
This is a great gift for a mommy to be, it is always a huge hit! They love the personalized name and of course the beanie is soft and comfortable!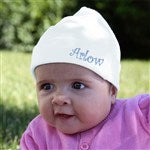 How I liked my snug embroidered Baby Hat and gift box.
By
Shopper

(FORT MONTGOMERY, NY) - February 20, 2013
The baby hat was beautiful and the embroidery was perfect. Unfortunately the baby hat was in a nice gift box which was totally squished by the post office. Since I was in a rush to give the gift to my daughter for her baby shower I just threw the box away and forgot about it. I did lose out on the cost of the gift box. Better luck to anyone else with the shipping.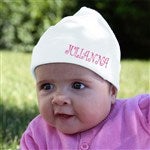 Big hit
By
Heather B.

(Manassas, VA) - November 3, 2012 (
See all reviews by this customer
)
I have bought 3 of these hats just in the past 6 months, once everyone saw a picture of my newborn son wearing his, they loved it & wanted one for there expectant babies! It got compliments from all the hospital staff, friends & family. Though its not the greatest hat for day to day use since the elasticity is low, it is a very sweet novelty hat for a newborn. The embroidery is beautifully done & survived many washes. Great keepsake!

adorable little baby hat
By
Candy T.

(Solana Beach, CA) - October 19, 2012 (
See all reviews by this customer
)
the embroidery was extremely well done and looked amazing, which was my primary intent, the hat is very simple which makes the name a highlight and is a very nice & soft material. Mommy loved it and I'm sure "Baby Tut 2" will too.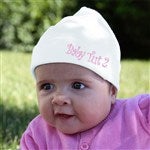 loved it
By
Cynthia D.

(Bronx, NY) - May 2, 2012 (
See all reviews by this customer
)
so cute! I cant wait to put it on my baby! (3 months to go!)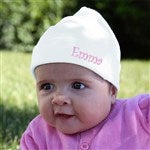 Very Very Nice!!!
By
Shopper

(brooklyn, NY) - March 26, 2012
This is not an iron on or a print! This is embroidered on the hat. It looked beautiful!! Perfect gift.

Really beautiful I like it very much
By
fahad A.

(Springfield Gardens, NY) - January 16, 2012 (
See all reviews by this customer
)
Really cute I like it too much

Monogrammed Hat
By
Mary Ann L.

(Charlotte, NC) - December 29, 2011 (
See all reviews by this customer
)
Cute as a bug in a rug! Quality is excellent.....

Great choice!
By
Shopper

(Hampton, SC 29924, SC) - October 10, 2011
This little hat is adorable! I was very pleased with the variety of thread colors which allowed me to coordinate the perfect "bring baby home" outfit for my daughter. The lettering is very cute as well. Thanks for a great product!

The perfect gift for the lil girl
By
Shopper

(Excelsior Springs, MO) - October 5, 2011
This gift came and was a great asset to the baby blanket I got from here as well. My sister in law thought it was very nice. I showed both gifts to the ladies i worked with they all wanted the websight after that.I am very pleased with the cute little stocking cap.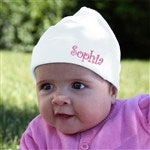 Cute personalized hat!
By
Mariella B.

(North Bellmore, NY) - August 30, 2011 (
See all reviews by this customer
)
This hate was so cute & it came in a clear little pouch. My friend thought it was an adorable gift for her daughter and I personalized a bib to go with it!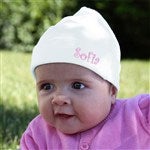 So cute!
By
Shopper

(Overland Park, KS) - June 28, 2011
Love it! I was pleasantly surprised by the quality of the embroidering. Well worth the price.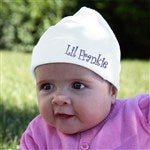 too cute
By
Shopper

(cape coral, FL) - February 6, 2011
bought the hat for my son, can't wait for him to be born so can put it on him, it was just as described and very cute

You will not be disappointed!!
By
Sandi D.

(Spotsylvania, VA) - January 17, 2011 (
See all reviews by this customer
)
I love this little hat and use it as my standard baby gift......Well made and is simply adorable!!

Adorable
By
Denise F.

(New City, NY) - September 23, 2010 (
See all reviews by this customer
)
This is a fantastic gift for a newborn. I am giving it as a wishing well gift at a baby shower. I simply personalized it "Baby" Last name. Another positive note is the quick shipping...I received it 4 days after the order was placed!

TOO Cute!!
By
Brenda S.

(Ft. Thomas, KY) - September 21, 2010 (
See all reviews by this customer
)
Perfect gift for a newborn! The hat is very soft and the personalization looks really cute on it!!

I've ordered this item in the past and each time I give it to a new Mother, she is thrilled. This hat is always among the items I give to newborns.

If you are thinking about this one, you won't be disappointed.

Adorable
By
Katrina B.

(Saint Louis, MO) - August 27, 2010 (
See all reviews by this customer
)
I am 36 weeks and 1 day and I ordered this hat for my son and had it personalized in the baby/powder blue. It arrived a few days after I placed the order and it is soft and looks just like the title says..."snug as a bug"! I can't wait for my little fellow to arrive so he can sport his hat and take pictures in it.

happy customer
By
Gail B.

(Brooklyn, NY) - July 22, 2010 (
See all reviews by this customer
)
I am very satisfied with this item this is not the first time i have ordered something and i am always very pleased with the items i have ordered and the shipping and customer service. Its always a pleasure to order from you.

the cutest thing I ever seen!
By
shirelle C.

(woodmere, OH) - May 19, 2010 (
See all reviews by this customer
)
I love this cap. I purchased it for my sons highly anticipated arrival!

Cute hat
By
Melida C.

(San Francisco, CA) - April 29, 2010 (
See all reviews by this customer
)
Very Cute hat love the lettering and the feel of the fabric.

Big Hit!!!
By
Laurie D.

(Glenview, IL) - February 23, 2010 (
See all reviews by this customer
)
Just ordered the second for a new baby. The first I gave as a shower gift with just the last name. "Baby ..." The new Mom took it to the hospital with her--it was a hit. Just ordered another with his first name of it. Really nice gift!

Cute! Cute! Cute!
By
Wanda R.

(Conyers, GA) - January 25, 2010 (
See all reviews by this customer
)
I love the hat and you guys did a great job and shipped very guickly. Would order from you again.

Awesome
By
Janice L.

(Elk Grove, CA) - October 7, 2009 (
See all reviews by this customer
)
I bought 2 hats for 2 new nieces! Love them!

Good quality
By
Shopper

(Thompsons Station, TN) - July 20, 2014
Great quality on hat itself, thick and quality. Very happy with it. The embroidery is a bit bunched up but overall I am happy

Start them Early!
By
Shopper

(Royal Palm Beach, FL) - August 5, 2013
Such a cute little monogrammed hat! There is a tag on the inside of the hat so if you are looking for seamless, this isn't the one. But it's quite soft and feels durable! And the side placement of the monogram is adorable!

Good for taking one pic!
By
Shopper

(Columbus, OH) - May 24, 2013
I ordered total 5 hats. When I found it on the website i thought it was too cute and sent them to my friends' newborns who lived far from me. thus, I never got to see actual hats. Then I ordered 3 hats at a time: for my sister's twins and for my 4-months old son. I really hope hats will fit my nephews since they are a little smaller than average newborns, but I couldn't fit it on my son, forget about covering ears, it doesn't go half-way through his head. I decided to use it as a wall decoration. Also, I didn't like the fabric - good to take one pic, but not to wear it all the time.

Adorable
By
Shopper

(Clifford Township, PA) - October 30, 2012
Very, very cute! Much smaller than I expected- especially after first washing.

Very cute and adorable
By
Shopper

(Lakeland, FL) - November 22, 2011
was good quality and just adorable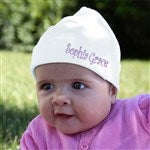 cute pimpin
By
patrick K.

(clarksville, TN) - December 27, 2010 (
See all reviews by this customer
)
hat is too cute. however the hat is for babies more under 6 months.. the hat fits a little snug

Adorable!
By
Cathy W.

(Holiday, FL) - March 8, 2010 (
See all reviews by this customer
)
This is a soft, white-cream hat...the writing is beautiful. I love it...the only problem I had and that I am finding is that when they say it is for birth to 6 months...it will not come down over the ears...My grandson is 4 months and the only way it would cover the ears were if we turned the fold down where the name is, but then the name is inside out. If you notice the baby, the hat sits (barely) on top of the ears. It looks like it has more room but it doesn't...so if you want this for warmth & coverage of the ears against wind, etc., it won't do it. But it is super soft and pretty.

Snug as a bug baby hat
By
Lois S.

(Drexel Hill, PA) - December 25, 2009 (
See all reviews by this customer
)
This item is soooo cute, love the way it fits baby's little head.

Lettering too crowded with this font
By
Shopper

(Murrieta, CA) - April 8, 2014
With the sample picture they gave, you can see that the lettering for the first name was too crowded together. (I was hoping that this wouldn't be so when I got it.) That's partially b/c of the lettering that was needed (Avarie)...the "v" is too curly-q and runs into the "a".The "Anne" is well-spaced. This was a gift to a person 450 miles away, the baby is 3 months premature, so in the hospital and has to wear a cap all the time. I thought having the name on the cap would be a good idea for the nurses, but the first name is so hard to read due to the font. If the font was not so fancy, it probably would have worked (unless the sewing machine just crowded it together too much.) Regardless, I was disappointed. I recommend changing the font, for sure, or giving a choice.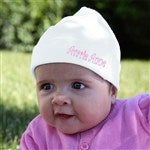 doll size
By
Jane G.

(Andover, MA) - February 2, 2014 (
See all reviews by this customer
)
The service was wonderful, I got the personalized hat every quickly. However I was VERY disappointed that it was sized for a very small premie,or a baby doll not a normal 6 1/2 pound child. The dad took a photo to show me how it only sat on the top of the babies' head, and he is not even two weeks old.

Snug as a Bug hat
By
Shopper

(Canada) - September 13, 2012
Way too small. My son is only 2 months and it was so tight.

very poor sizing
By
julie J.

(bettendorf, IA) - March 21, 2014 (
See all reviews by this customer
)
The description states 0-6 months. It is very, very small and may only fit a newborn who weighs under 7 lbs. for a day or two. There is no way it would fit a child up to 6 months of age. Waste of my money.

Did not fit
By
Barb M.

(Pullman, WA) - October 25, 2011 (
See all reviews by this customer
)
The hat was to small and the baby is only 2 weeks old.