Awesome
By
Janice L.

(Elk Grove, CA) - October 7, 2009 (
See all reviews by this customer
)
I bought 2 hats for 2 new nieces! Love them!

Good quality
By
Shopper

(Thompsons Station, TN) - July 20, 2014
Great quality on hat itself, thick and quality. Very happy with it. The embroidery is a bit bunched up but overall I am happy

Start them Early!
By
Shopper

(Royal Palm Beach, FL) - August 5, 2013
Such a cute little monogrammed hat! There is a tag on the inside of the hat so if you are looking for seamless, this isn't the one. But it's quite soft and feels durable! And the side placement of the monogram is adorable!

Good for taking one pic!
By
Shopper

(Columbus, OH) - May 24, 2013
I ordered total 5 hats. When I found it on the website i thought it was too cute and sent them to my friends' newborns who lived far from me. thus, I never got to see actual hats. Then I ordered 3 hats at a time: for my sister's twins and for my 4-months old son. I really hope hats will fit my nephews since they are a little smaller than average newborns, but I couldn't fit it on my son, forget about covering ears, it doesn't go half-way through his head. I decided to use it as a wall decoration. Also, I didn't like the fabric - good to take one pic, but not to wear it all the time.

Adorable
By
Shopper

(Clifford Township, PA) - October 30, 2012
Very, very cute! Much smaller than I expected- especially after first washing.

Very cute and adorable
By
Shopper

(Lakeland, FL) - November 22, 2011
was good quality and just adorable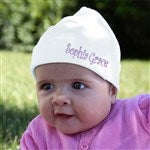 cute pimpin
By
patrick K.

(clarksville, TN) - December 27, 2010 (
See all reviews by this customer
)
hat is too cute. however the hat is for babies more under 6 months.. the hat fits a little snug

Adorable!
By
Cathy W.

(Holiday, FL) - March 8, 2010 (
See all reviews by this customer
)
This is a soft, white-cream hat...the writing is beautiful. I love it...the only problem I had and that I am finding is that when they say it is for birth to 6 months...it will not come down over the ears...My grandson is 4 months and the only way it would cover the ears were if we turned the fold down where the name is, but then the name is inside out. If you notice the baby, the hat sits (barely) on top of the ears. It looks like it has more room but it doesn't...so if you want this for warmth & coverage of the ears against wind, etc., it won't do it. But it is super soft and pretty.

Snug as a bug baby hat
By
Lois S.

(Drexel Hill, PA) - December 25, 2009 (
See all reviews by this customer
)
This item is soooo cute, love the way it fits baby's little head.

Lettering too crowded with this font
By
Shopper

(Murrieta, CA) - April 8, 2014
With the sample picture they gave, you can see that the lettering for the first name was too crowded together. (I was hoping that this wouldn't be so when I got it.) That's partially b/c of the lettering that was needed (Avarie)...the "v" is too curly-q and runs into the "a".The "Anne" is well-spaced. This was a gift to a person 450 miles away, the baby is 3 months premature, so in the hospital and has to wear a cap all the time. I thought having the name on the cap would be a good idea for the nurses, but the first name is so hard to read due to the font. If the font was not so fancy, it probably would have worked (unless the sewing machine just crowded it together too much.) Regardless, I was disappointed. I recommend changing the font, for sure, or giving a choice.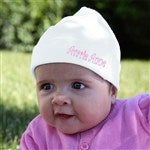 doll size
By
Jane G.

(Andover, MA) - February 2, 2014 (
See all reviews by this customer
)
The service was wonderful, I got the personalized hat every quickly. However I was VERY disappointed that it was sized for a very small premie,or a baby doll not a normal 6 1/2 pound child. The dad took a photo to show me how it only sat on the top of the babies' head, and he is not even two weeks old.

Snug as a Bug hat
By
Shopper

(Canada) - September 13, 2012
Way too small. My son is only 2 months and it was so tight.

very poor sizing
By
julie J.

(bettendorf, IA) - March 21, 2014 (
See all reviews by this customer
)
The description states 0-6 months. It is very, very small and may only fit a newborn who weighs under 7 lbs. for a day or two. There is no way it would fit a child up to 6 months of age. Waste of my money.

Did not fit
By
Barb M.

(Pullman, WA) - October 25, 2011 (
See all reviews by this customer
)
The hat was to small and the baby is only 2 weeks old.