High quality
By
Shopper

(Medford, NY) - December 31, 2011
Great item, just wish the mug itself was alittle bigger. However it is a great buy.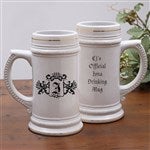 Almost Made Him Cry
By
Andrea M.

(Rio Rancho, NM) - December 30, 2011 (
See all reviews by this customer
)
This stein was perfect! The simple yet elegant design, the beautiful writing. My husband absolutly loved it! He said it was his favorite Christmas present.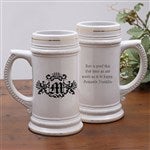 This is for a display item.
By
Shopper

(Hudson, NY) - December 22, 2011
This is a gift for a person that has everything.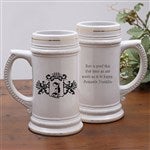 Great Purchase & Great Customer Service
By
Shopper

(Virginia Beach, VA) - December 21, 2011
I ordered this Beer Stein for my dad with a personalized quotes on the back... When I received the package I got the wrong Beer Stein with a different message on the back.. I immediately called them and told them about the one I received and to my surprise they immediately sent me a replacement (FOR FREE) and told me to just keep the one I just got... =) So now I have two great Beer Steins to give to my dad!.. =) I was a surprised on how good the quality of this product is.. I love personalizationmall.com and I'll be sure to order some more stuff from them in the near future..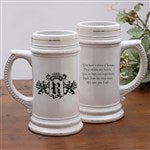 Perfect For Dad's Bar
By
Heather D.

(Cincinnati, OH) - November 22, 2011 (
See all reviews by this customer
)
I needed something personal for my Dad, he's a big beer guy and loves his newly reclaimed basement bar. These beer steins were the perfect addition to his bar area. They're great conversations pieces and just the right size. Another good buy from personalizationmall.com!!!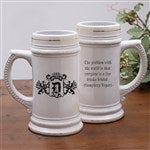 beer stein
By
Shopper

(Canada) - November 6, 2011
Wow looks soo much better then picture, would definitely buy again.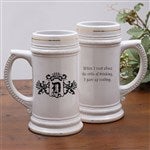 Great!
By
Whitney S.

(Aurora, CO) - October 7, 2011 (
See all reviews by this customer
)
First off it came on time, and then when I opened it, it was perfect. Sturdy and the personalization was correct. Boyfriend loved his birthday present and I have to say I love it too! The website is easy to navigate and the product is exactly what it looks like!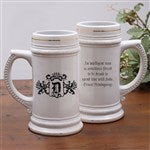 Great groomsmen gift
By
Shopper

(Pasadena, MD) - July 9, 2011
We bought these mugs for our groomsmen and they were a hit. The guys liked them, and it serves a useful purpose, too. I also bought one for the groom, and now he gets to remember the wedding every time he uses the mug.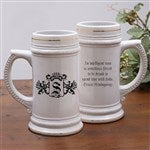 Great!
By
Frank M.

(Staten Island, NY) - May 30, 2011 (
See all reviews by this customer
)
Everything came out great, just like it looked on the preview. I'm excited for the reaction from everyone once they get their gifts.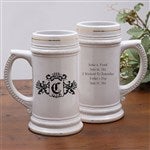 She loved it!
By
Shopper

(Freehold, NJ) - May 4, 2011
I got the gift as a traditional anniversary gift- 8 years. I used our wedding song and the line I used to grab her attention as the quotes on the steins.
FYI- we met in a bar and now we will toast using our beer steins every year after!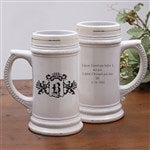 Very Impressed!
By
Shopper

(Forney, TX) - April 4, 2011
I took a chance ordering something like this on line. One cannot be certain of the quality or workmanship of these kind of items without seeing the physical item. I was very happy with the quality, lettering, and paint of this stein. I liked the style of this stein and loved the personalization options!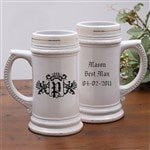 Beer Stein
By
Shopper

(Palmdale, CA) - January 9, 2014
I was very pleased with the beer stein I purchased. It was exactly as shown in the photo and the quality is better than I expected. I bought it for a birthday present...I am sure my friend will be very pleased!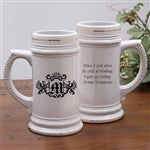 Great experience
By
Shopper

(Ooltewah, TN) - December 26, 2013
This personalized mug is exactly what I ordered. I will order here again. Thank you.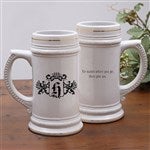 Beer Stein
By
Shopper

(Saint Clair Shores, MI) - December 8, 2013
Love this! It is better then what I had imagined it would look like when I got it.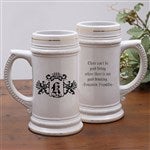 Satisfied customer
By
Jeremy L.

(Milwaukee, WI) - August 17, 2013 (
See all reviews by this customer
)
The personalized Steins look great. The quotes I added in all came out correctly and look very nice. They seem to be of a high quality. Haven't given them to the groomsmen yet, but I kind of wish I had ordered one for myself now! Shipping was very quick as well. Thank you.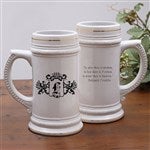 Great quality!
By
Brooke B.

(Clifton Park, NY) - July 9, 2013 (
See all reviews by this customer
)
We bought these for our groomsmen and used our own message. They came out fantastic! They are really nice and a great looking beer stein, heavy and sturdy like they should be! I'd buy these again as gifts and would recommend them to anyone!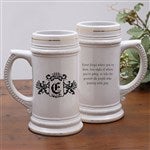 Great idea for guys in your life
By
Shopper

(Allen, TX) - July 7, 2013
Ordered the celtic stein first for my husband and it looked great so I ordered some for our three sons. Great idea for guys who may be difficult to buy for. I liked the celtic stein a little better than these ones but could not pass on the sale.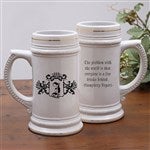 Another outstanding purchase!
By
robin D.

(Los Altos, CA) - June 10, 2013 (
See all reviews by this customer
)
This is the third Personalization product I've ordered. Again I personalized it with my own saying. As usual, It was a HUGE hit! . As usual, I was thrilled with the low price, how quickly it arrived, and above all I'm extremely pleased with the high quality (ie heaviness, craftsmanship, details) of the product. I now order Personalization for every special occassion!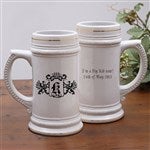 Best grooms gift ever!
By
Shopper

(Houston, TX) - May 11, 2013
We were looking for an affordable gift that we could get for our ten froomsmen that didn't look cheap or thoughtless. We absolutely love our personalized beer steins! Ordering them was so easy, shipping was extremely fast and they arrived in perfect condition! I would highly recommend this item and this website to anyone looking for a fabulous and affordable gift that astounds out!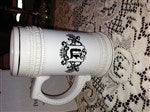 a great gift for the man who has everything
By
Shopper

(Shelby Township, MI) - February 20, 2013
I bought this for my husband for Valentine's Day this year. Shopping at stores is difficult as I am pregnant and experiencing a lot of sickness. When my husband opened this on Valentine's day, he was so impressed with it. He called it "a forever gift" because he would always have it. He felt bad for buying me a tablet! He has used this beer stein several times since opening his gift.
We have ordered from Personalization Mall several times for baby gifts, Christmas gifts and keepsake gifts, and we are always impressed by the quality of the items and the quality of the service and care.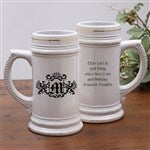 Very nice.
By
Katye Z.

(tehachapi, CA) - January 28, 2013 (
See all reviews by this customer
)
Overall very happy there is a couple things I could change but I got it in great time and it is exactly what it's says..love it can't wait to give it to him...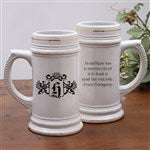 Great Mug
By
Michele F.

(Coloma, WI) - January 16, 2013 (
See all reviews by this customer
)
The mug was nice and heavy, a true stein! The printing was perfect and it made a great Christmas gift.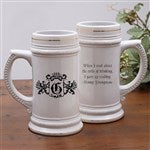 Better than I thought!
By
Shopper

(Canada) - November 17, 2012
I received this mug today. It is going to make a fabulous Christmas gift. It is great quality and looks beautiful.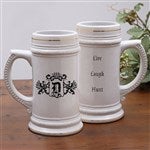 Very Pleased
By
Shopper

(Naugatuck, CT) - August 31, 2012
The quality of the beer steins was perfect. The personalization was professional and the receiver was very happy with them.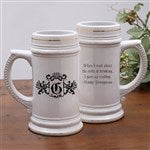 Birthday/Anniversary gift
By
Valerie G.

(Forest Ranch, CA) - August 30, 2012 (
See all reviews by this customer
)
I purchased this stein for my husband's 59th birthday & 38th anniversary next month. The stein & engraving is very nice, just wish the quote & letter emblem was opposite of where they are.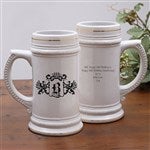 Ramsey
By
Stacy S.

(Plymouth, MN) - August 25, 2012 (
See all reviews by this customer
)
The beer stein is very nice, not cheap looking. Heavy duty and worth the money. It will make a great gift for the groomsmen in my wedding.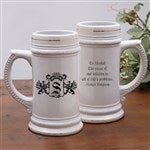 Can't wait to hand these out!
By
Theodore S.

(Fort Walton Beach, FL) - July 9, 2012 (
See all reviews by this customer
)
I ordered these for my groomsmen for my wedding in September, and I'm going to have a hard time not giving them out sooner. They are beautifully crafted, and much more sturdy than I would have thought. The monograms look great and the quotes really make the piece. I even did a personalized quote for one (pictured) and it turned out perfect. The guys are going to flip over them. My fiancé is saying now that she wishes I would have gotten one for myself because of how good they look! This a great product and I am a seriously satisfied customer. I highly recommend this!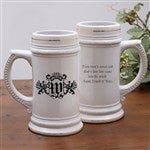 Just Beautiful
By
Pauline A.

(Hyannis, MA) - January 20, 2012 (
See all reviews by this customer
)
When I received my two steins for my two grandsons who were turning 21 I had no idea what to expect, never having ordered from your company. The steins were beyond my expecations. Very classy and buying the boxes was a great idea, as they were beautifully packaged. I have since made another purchase of another product and keeping this company in my favorites. You have a great customer service line also. I am more than pleased!!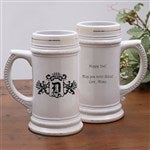 Great gift!
By
Shopper

(Hartford, KY) - January 3, 2012
My fiance absolutely loved this stein. It was good quality and the monogram and quote were placed very nicely. I would definitely recommend this product.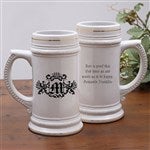 Couldn't be happier!!
By
Charlene F.

(Beryville, VA) - March 4, 2010 (
See all reviews by this customer
)
The personalized beer stein I purchased was just beautiful!!
Everything was done as I requested and was delivered ON TIME!!! Thank you so much, and I will purchase things from you all again! Wonderful experience and the customer service people were great!
Charlene

Best Anniversary Gift Ever
By
Alyssia H.

(Tahlequah, OK) - February 17, 2010 (
See all reviews by this customer
)
I'm a college student at NSU and was looking for a special gift for my boyfriend for our 2 year anniversary. He really loves beer, like most guys, but I thought I would do something personalized and so I had one of the steins personalized with his initial and a very special message on the back. I just received it yesterday and it is breathtaking. I look forward to giving it to him on Saturday and I thank you guys so much for doing such an amazing job.

quality
By
MAUREEN S.

(VIRGINIA BEACH, VA) - March 11, 2010 (
See all reviews by this customer
)
Was very pleased with this item..what you see is what you get...has nice heft to it, but not overly heavy. The scriptwork is very nicely done, even when I did my own quote, the scripted letter on the front looks beautiful....well worth the price...

VERY nice gift
By
Renee C.

(Abilene, TX) - March 8, 2010 (
See all reviews by this customer
)
I am very pleased with the stein I ordered. It is a gift I will enjoy giving.

The perfect substitute for wedding flute glasses
By
Christie S.

(Moore, OK) - February 13, 2010 (
See all reviews by this customer
)
I was very impressed with everything about this purchase. My fiance and I decided to use this beer stein as our toasting glasses for our wedding. They are so beautiful! The quality of the printing is gorgeous and we got to print something special for our wedding on the back. When the order said it was going to be shipped in 3-5 days, I thought that's how long it would take after it was created. I thought it would take a few weeks, but within 4 business days, I received my order! I was very impressed. This was one of my favorite purchases for our wedding. I know that I will be returning to this site when I need something personalized. Great job, you guys! And thanks again!

Awesome Product!
By
Maria W.

(Highspire, PA) - February 11, 2010 (
See all reviews by this customer
)
I personalized this beer stein for my husband for our anniversary. I have not given it to him yet, but it shipped fast and got to me VERY fast. It is WONDERFUL and completely exceeded my expectations - it is very nicely crafted and my personalization was done exactly as I had ordered it. I'm sure my husband will LOVE it when I give it to him!

Very Satisfied
By
Karla P.

(Tooele, UT) - February 15, 2010 (
See all reviews by this customer
)
I am very satisfied with this order from beginning to end!!! I ordered this on a Wednesday and received it on Friday (2 days later)!!! This was a gift for my boyfriend for Valentines Day. He collects beer steins and was impressed with this one. He now wants to order one for his dad!!!

very happy
By
David M.

(rochester, MN) - February 14, 2010 (
See all reviews by this customer
)
I was looking for a gift for all of my groomsmen and found these steins. I am very happy with the detail and speed of service.

Great product!
By
Dawn A.

(West Hills, CA) - June 18, 2010 (
See all reviews by this customer
)
My parents collect beer steins and were really impressed when they received this Famous Quotes Stein! They felt it was well made and a higher-end product.

Beer Stein
By
Shannan W.

(Fairfax, VA) - July 13, 2010 (
See all reviews by this customer
)
Great product, love it a lot.

Loved it!
By
Naomi A.

(Laverock, PA) - June 25, 2010 (
See all reviews by this customer
)
My children ordered this stein to give to dad for Father's Day. We were all quite pleased with the quality and look of the stein. My only drawback was the script, as the letter "E" was not very clear if you weren't familiar with that type of script.