Excellent Anniversary Gift
By
Shopper

(TOLLAND, CT) - August 8, 2014
The album was bought as a gift for friends for their 50th Wedding anniversary. The engraving on the album was very professional. The album will be a wonderful keepsake for this occasion. Very pleased with the quality of this album. We received it in a short period of time and it was shipped within 2 days of ordering.Will definitely use this website again.

Lovely gift
By
Shopper

(Monroe, LA) - August 4, 2014
I took pictures at an anniversary and ordered this album to display them. I found it to be a reasonably priced, beautifully engraved quality product.

Very Affordable Gift
By
Elizabeth C.

(Maidsville, WV) - June 22, 2014 (
See all reviews by this customer
)
I bought this for my grandparent's 50th Wedding Anniversary. The engraving was free with purchase! You can not find that many places! It's great quality and I can't wait to fill it with pictures for them to enjoy!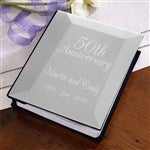 40th Anniversary Photo Album
By
Randall T.

(Pink Hill, NC) - April 15, 2014 (
See all reviews by this customer
)
Product arrived on time and as advertised. Very nice album to capture our anniversary cruise in May. Thanks for your expedient service.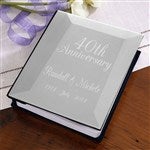 Amazing
By
Jennie H.

(Australia) - February 24, 2014 (
See all reviews by this customer
)
We were both overjoyed at our 25th Wedding Anniversary album. We could not find any faults with this!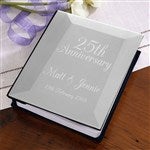 Beautiful!
By
Shopper

(Madison, AL) - February 11, 2014
I have purchased a lot of items from personalized mall from birthdays, Anniversary, Weddings and Graduation. Never disappointed with the product - great service, quality and price! This item is beautiful for all our renewal of vows photos and the engraving just adds to the special day as a keepsake!!

Wonderful gift
By
Shopper

(Leland, NC) - November 4, 2013
Beautiful gift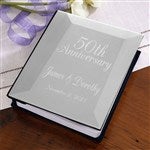 Nice keepsake
By
Shopper

(Henderson, NV) - September 3, 2013
Very nice album that will hold many pictures and a gift that lasts forever.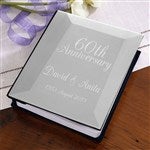 Anniversary Album
By
Shopper

(Largo, FL) - July 29, 2013
Beautiful album for the price. Great quality and service, took less than 5 days from ordering to receive, with personalization! Ordered for other things already.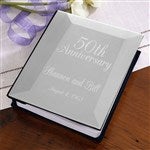 Very practical!!!!
By
Jeanette B.

(Jordan, NY) - June 14, 2013 (
See all reviews by this customer
)
I would recommend this photo album for any occasion.

anniversary gift
By
Shopper

(Nine Mile Falls, WA) - May 18, 2013
This is the second photo album ive purchased. Everything was printed perfectly. Will definitly use again.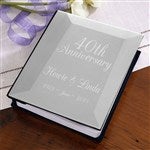 Silver anniversary remembrance
By
Shopper

(hendersonville, NC) - March 24, 2013
Having recently celebrated our 53rd anniversary, My husband and I know the signifigance and importance of remembering memories and special occasions. When our son and daughter in law celebrated their 25th, silver anniversary, we need to give them a keepsake to memorialize their marriage as well. Sifting through all of your lovely gifts we settled on the personalized photo album, adding pictures of dating, engagement,special parties,Christmas etc. Then of course the wedding day itself. After that we included pics of our grandchild. They simply loved the album and we had a wonderful time putting it together and "remembering". It was engraved beautifully and a lovely remembrance we shall all treasure and enjoy. always. Our deepest thanks, Carolyn and family

a great gift for memories.
By
mario U.

(SANTA FE SPRINGS, CA) - March 11, 2013 (
See all reviews by this customer
)
I wasn't sure on what to give a friend of mine for her anniversary but when I saw this album & the finish touch it came out real nice they were real happy with this gift & I was lucky to remember personalized.com for memorable gift ideas thanx.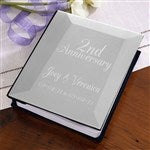 LOVED EVERYTHING ABOUT IT !
By
sandie W.

(elkgrove, IL) - January 21, 2013 (
See all reviews by this customer
)
EXCEEDED MY EXPECTATIONS!! WILL DEFINETLY DO BUISNESS WITH YOU AGAIN!

SHIPPING WAS SO FAST!! I ORDERED SOMETHING ELSE FROM SOMEONE ELSE AND IT TOOK

TWICW AS LONG TO GET IT!

A gift
By
Shopper

(Taylor, MI) - November 6, 2012
This was a 25th Wedding Anniversary gift for my sister and brother-in-law. Although I didn't see it, my sister reported that it was beautiful, and it was delivered very quickly after ordering. Thank you.

GREAT GIFT
By
Sheila B.

(Covington, LA) - October 14, 2012 (
See all reviews by this customer
)
Again, I ordered this for my parents 65th Wedding Anniversary. There isn't much on the market for 65 years of marriage so Personalization Mall helped to make this special with their names and anniversary date on it. Now they will have the photos of their special dinner celebration together in one very special album.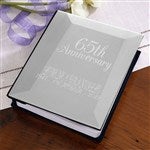 Anniversary Gift
By
Shopper

(Mesquite, TX) - September 25, 2012
Purchased this for my brother and his wife for their 50th wedding anniversary. They were renewing their wedding vows and i wanted to give them a gift that was very special. This was the perfect gift. They loved it!! Very pleased with this order and will definately shop with PersonalizationMall again.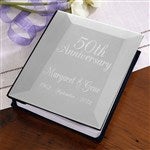 Nice anniversary gift
By
Shopper

(Katy, TX) - August 6, 2012
This was a gift for my parents anniversary. They loved it being such a personalized gift. The quality is very good. They will be able to keep all the pictures and memories from that special day.

25th Anniversary Gift
By
Betty W.

(Vancouver, WA) - June 3, 2012 (
See all reviews by this customer
)
I'm Very pleased with the photo album. The silver-plate cover was beautifully engraved and the back cover of navy velvet was a compliment to the front cover Another plus was the one hundred 4"X 6" pocket photo holders. This is truly a beautiful keepsake.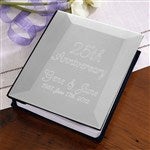 Elegant
By
Shopper

(Bedford, PA) - May 7, 2012
I ordered this for my Brother and sister-in-law for their 25th wedding anniversary. It is very elegant, and they love it.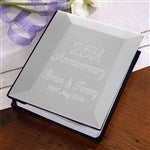 Awesome Anniversary Gift
By
Shopper

(Salinas, CA) - March 13, 2012
We purchased this album for one of our employees who celebrated his 10th wedding anniversary. He and his wife simply loved it! It was great to be able to order a personalized, high quality item and receive it within a week. Great Job!!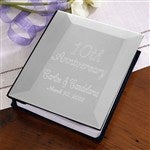 50th Wedding Anniversary Gift
By
Shopper

(Fountain Hills, AZ) - February 25, 2012
A perfect, tasteful and practical 50th Anniversary Gift. Very good quality and and just the right size. My brother and his wife will enjoy sharing photographs of their special 50th celebration, without having to log onto the computer. This was the first time I had ordered anything from Personalization Mall, very easy, good follow up, and I will certainly shop here again.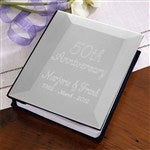 Anniversary Celebration Engraved Photo Album
By
Shopper

(kaufman, TX) - January 23, 2012
I ordered basically the same book for my niece's graduation. Please with both books. Will purchase again.

50th Anniversary Album
By
Shopper

(Santa Monica, CA) - January 5, 2012
The album came promptly and was just what I ordered. Thank you.

Gift idea
By
Mary S.

(Schaumburg, IL) - December 7, 2011 (
See all reviews by this customer
)
I took pictures at the 25th Anniversary Party, put them in the album, and sent this gift after their anniversary. It really made them happy!

Beautiful
By
DONNA L W.

(NANTICOKE, PA) - November 21, 2011 (
See all reviews by this customer
)
I bought this for my parents 50th anniversary. Of course I waited until last minute and had to rush it. Even with the rush, it was still stunning! I had it gift boxed and they did a fantastic job!. I love PersonalizationMall.com!!!!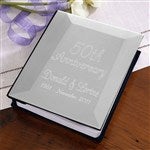 nicely done
By
Shopper

(bechtelsville, PA) - November 4, 2011
thank you for the recent delivery of a great quality item. I love the fact that you can view what the personalization will look like before you buy the item. It really does help and there is no disappointment that way. It was nicely done and I know that our very close friends will enjoy their photo album for years to come.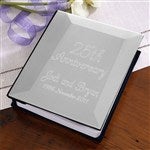 Met and exceeded expectations
By
Margaret M B.

(Vallejo, CA) - August 10, 2011 (
See all reviews by this customer
)
Engraving was perfect and exceeded my expectations. The anniversary couple is very happy to have the album for their photos and display it on their coffee table for all to see.

LOOKS GREAT!!
By
Shopper

(Mobridge, SD) - August 8, 2011
Purchased this for a 25th wedding anniversary. Received the order in less than a week, which was nice and it looks great!! I was impressed!.

Very well made
By
Linda Jo F.

(Algonquin, IL) - June 13, 2011 (
See all reviews by this customer
)
The personalization,is really nicely done and it is well made. A wonderful gift to give on any occasion.

The Perfect Gift
By
Joyce P.

(Brooklyn, NY) - May 31, 2011 (
See all reviews by this customer
)
I purchased the engraved album for very good friends celebrating their 25th anniversary. The album looked great! The special detail of their name and wedding date made it the perfect gift. It was a big hit with them and they can't wait to fill up each page with memories of this very special ocassion. I'm so glad I decided to look on Personalization Mall.com first.

Simply Elegant
By
Shopper

(Coshocton, OH) - March 30, 2011
This was perfect! I got this for my parents 30th anniversary and they were so thrilled. They said we can look back on this and always remember it.

The engraving was perfect the size was great too (not too big or too small).
Also the back part of the album was felt or velvet (who knows?) but it was definitely a nice touch and the price was great!

Great item, fast shipping!!
By
Andra B.

(Oxford, AL) - March 21, 2011 (
See all reviews by this customer
)
The photo book is beautiful, and it got here really fast!!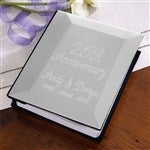 Absolutely Awesome Album
By
Patricia B.

(Leesburg, FL) - March 21, 2011 (
See all reviews by this customer
)
This album was ordered for the Renewal of Vows for our 10th Wedding Anniversary.The quality is outstandinng, far better than anticipated and the engraving is astonding! The Velvet edges were finished beautifully and far extended any expectations. Since the quality is so superior we are now ordering our flute glasses from you also. You have a repeat customer for life.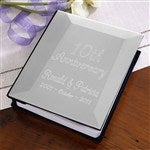 Thoughtful GIft
By
Shopper

(Irving, TX) - January 9, 2011
We purchased the album for a family member's 50th anniversary. We think they will truly treasure it. Item was exactly as described and shipped so fast we were surprised. Would definitely buy again.

Very Happy with the Quality of Product & No Charge for Engraving
By
Martha L G.

(West Mifflin, PA) - November 30, 2010 (
See all reviews by this customer
)
I tried looking up others online companies to have a 60th Anniversary present for my parents. I received it very quickly with the standard shipping. They informed me when it was shipped out. My luck instead of receiving the gift on a Monday, UPS had it here the Friday before. The photo album is beautiful with the engraved/personalization on it. It looks so professional and it's so elegant. The blue velvet on the side & back gives it a wonderful touch. Something they will always have to remember. It's for a special surprise party. Wishing you a very Merry Christmas & a Happy New Year.

Thank you for your great convenience & professionalism,

Martha




Beautifully Done.
By
Neil W.

(Ranchos de Taos, NM) - November 24, 2010 (
See all reviews by this customer
)
A unique gift that impresses all who see it. Very well recommended.

Wonderful and Exellent Work
By
Abdullah A.

(NEW YORK, NY) - October 27, 2010 (
See all reviews by this customer
)
I like your work and you have very creative ideas for any celebration.

20th Anniversary Photo Album
By
Michelle R.

(Hampton, GA) - October 5, 2010 (
See all reviews by this customer
)
I purchased this album for several reasons. First, that it could be engraved and secondly, for the price. My husband and I are going on a cruise for our anniversary and this will be the perfect way to display our memories. It will be our "coffee table book" and I will cherish it forever! Thanks for the great job and the fast service!

Outstanding
By
Tracy M.

(Great Neck , NY) - September 22, 2010 (
See all reviews by this customer
)
Outstanding product and outstanding customer service, I will definetly order from this site again!