Good Value
By
Nikita G.

(oakland, CA) - July 1, 2010 (
See all reviews by this customer
)
Good quality for the price. The flutes were a bit smaller than I imagined.

Nice glasses and good service
By
Sally S.

(Truth or Consequences, NM) - June 24, 2010 (
See all reviews by this customer
)
The glasses were very nice specially for the price. The service was fast. They came well packed and in good condition. We will use this site again when any need occurs.

FLUTE SET
By
Diana D.

(Madisonville, LA) - June 14, 2010 (
See all reviews by this customer
)
they are very elegant for the price. i know the bride and groom will love them. thanks

Good Product, Good Price, Great Service
By
Denise W.

(Clinton, MO) - June 12, 2010 (
See all reviews by this customer
)
I purchased the flute set for my son's wedding. we were all very happy with the flute's. The were very nice! what impressed me the most was how fast the order was processed and shipped. Will use this service again!

Shower gift for wedding
By
Karin B.

(Glenmont, NY) - May 10, 2010 (
See all reviews by this customer
)
Wanted to give my niece something special for her wedding day. This flute set was perfect. The size of the glasses is just right, not too tall, and sturdy. The glasses are elegant and the engraving was beautifully done.

As nice as it looks in the picture
By
Laurie H.

(Rock Hill, SC) - April 21, 2010 (
See all reviews by this customer
)
Overall, I was very pleased with this item. The personalization was done correctly and looked very nice. There were two small areas where the lettering was missing, but barely noticeable.

Good item for the price
By
kathryn C.

(salinas, CA) - March 21, 2010 (
See all reviews by this customer
)
I was pleasantly surprised when these flutes arrived...not your cheap prom champagne glasses, good thick and nice looking, worth the price.

Perfect Shower Gift
By
Renee F.

(Cheshire, CT) - March 2, 2010 (
See all reviews by this customer
)
I bought these for my sister-in-law's briday shower. She loved them. They were perfect and also a perfect price. I would recommend these to anyone. They are true to the photo.

Nice flutes delivered on time
By
Dennis W.

(Erie, CO) - February 17, 2010 (
See all reviews by this customer
)
We bought a set of these for friends who announced that they were getting married in just 3 days. They arrived nicely packed in perfect condition exactly when promised. Would have given a 5-star review, except that the words "Bride" and "Groom" were mandatory. This should have been optional.

Love It
I was pleasantly surprised by the quality of this flutes. The stem is absolutley beautiful. My only compaint is having the words "Bride and Groom" on the glasses, it takes the classiness of the glasses down a notch. The couple (and I) still loved the glasses.

Sons wedding
By
Patricia L.

(Harrisonburg, VA) - December 8, 2009 (
See all reviews by this customer
)
The champagne flutes are really very pretty. The stems are delicate and defined -- they truly make the glass. I do wish you had a choice if you would prefer not to have Groom and Bride written on the glasses -- I believe I would like them to just have the names and date on them

Great Gift
By
Karen H.

(Plano, TX) - November 25, 2009 (
See all reviews by this customer
)
I love the personalized flutes. My daughter will love them!

The Bride & Groom Flute Set
By
Stephanie M.

(Cincinnati, OH) - October 8, 2009 (
See all reviews by this customer
)
Very simple and elegant set. The personalization shows nicely and flutes were packaged extremely well! These flutes are not extremely "showy" or fancy but still simple and beautiful!

Wedding elegance
By
Monica M.

(Pamplico, SC) - October 7, 2009 (
See all reviews by this customer
)
As coordinator for a friend's wedding I purchased these flutes. Not sure of the quality due to the low price I was skeptical. But I was thrilled by the quality and beauty of the set. I would definitely buy again.

The Bride & Groom© Personalized Flute Set
By
Jan N.

(San Gabriel, CA) - October 5, 2009 (
See all reviews by this customer
)
Love your site, love the glasses. The only thing I wish was different...That we didn't have to have them say "Bride" & "Groom" on the glasses. It takes away from the look. Makes it not seem as classy. It would be great to give the buyer the option of having it say Bride and Groom.

not pleased
By
Shopper

(Kingwood, TX) - February 9, 2014
they were WAAAYY smaller than i thought they would be. It's so unfortunate that I can't return them and get a refund.

But other than that, the personalization came out pretty good, and the shipping is beyond wonderful!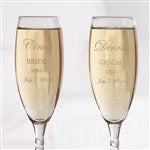 Nice but plain
By
Shopper

(Cuyahoga Falls, OH) - March 23, 2013
I received these very quick but they are very very plain. I will need to add some sort of bows or something to dress up these glasses.

not dark enough
By
Laura L.

(Plant City, FL) - March 2, 2013 (
See all reviews by this customer
)
it is very pretty, but you can't hardly read it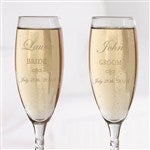 Pictures sell
By
Shopper

(Bronx, NY) - May 11, 2012
The product image sold well, but after seeing it in person the font was a lot smaller than I expected. I am slightly disappointed with it but otherwise a decent gift.

Beautiful but Small
By
Shopper

(Canada) - May 6, 2012
These glasses are pretty but they are much smaller than I expeted. I bought 2 sets as gifts and to be honest, I now wish I went with the more expensive ones offered on this site.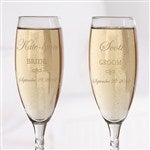 Flute set
By
Shopper

(Chicago Ridge, IL) - February 14, 2012
They were nice, much smaller than they appeared online.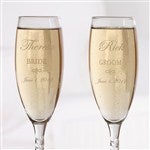 Less than expected
By
Shopper

(Marlton, NJ) - August 22, 2011
I am an avid shopper on this website and this is the first purchase that has disappointed me. The quality of the glasses are not as it seems in the picture, and what I thought would be a great gift turned out to look "cheesey." If it wasn't personalized, I would have returned it, but I had to buy then an extra something for the present in hopes of it looking complete. I will say the engravement was beautiful, the glasses themselves were the issue.

I will continue to shop on this site because I believe this was just a fluke.

Great product but no nice packaging
By
Paul M.

(United Kingdom) - July 17, 2011 (
See all reviews by this customer
)
I can't fault the product itself. My wife and I are both totally pleased with it. It was for a wedding gift and we did however expect it to be in a presentable cardboard box, as you would if you bought it in a store. A simple thing like that, disappointed us quite a bit, being that it was a gift for someone.

OK for a gift.
By
Robin R.

(Jacksonville, FL) - December 20, 2009 (
See all reviews by this customer
)
I ordered this set to go with the Rhinestone knife and server set and was a little disappointed. The glasses seemed cheap compared to the Rhinestone set. As such, I plan to order the other flute set. The glasses are OK for a gift, but not the set to buy for your reception.

Cute Glasses
By
Shopper

(New York, NY) - September 20, 2011
The stem was very, very nice. Good gift with the personalization. Just with the text was in gold.
Or.... At least a darker shade.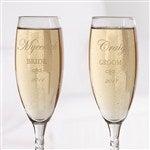 Disappointed
By
Sandra D.

(chattanooga, TN) - June 11, 2010 (
See all reviews by this customer
)
Ordered quite a few items from Personalization Mall,always been more than pleased ,until these glasses they are very small,don't think i have ever seen Champagne Flutes this small but this is the first item that hasn't been up to par so not gonna complain too much!

Unfortunate defect on Bride's flute
By
Tobi H.

(San Diego, CA) - June 8, 2010 (
See all reviews by this customer
)
These would be beautiful, unfortunately there is a defect on the Brides' flute that creates a ripple effect in the middle of the glass and distorts the word "Bride." I have asked for a replacement flute but our wedding is only 11 days away! Hopefully I will hear back from the company.


disappointing
By
Shopper

(Cliffside Park, NJ) - July 23, 2013
the quality was very low.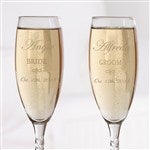 Bride and groom flutes
By
Shopper

(Lagrange Park, IL) - July 30, 2012
These flutes were a dissapointment! The quality was that of ones I had seen in the dollar store. The engraving was nice