Bride's Sons
By
Shopper

(Mount Juliet, TN) - March 4, 2012
These yoyos are so cool & the perfect gift for 3 young men. The engraving
looks great & I am sure the sons will be surprised that they received a gift.
Hopefully with the wedding date engraved they will remember to send the couple an anniversary card.

Great Gift Idea for the person who has everything
By
M J M.

(Hickory Hills, IL) - November 30, 2011 (
See all reviews by this customer
)
I love the yo yo. What a great gift to give to someone who has everything. It is really classy looking.

PERFECT!!!
By
Hayley V.

(Monterey, CA) - January 26, 2011 (
See all reviews by this customer
)
My boyfriend's birthday is coming up and he has recently gotten into the yo-yoing world. He has some very expensive yo-yos, but I thought this one would be a nice looker in his collection. I didn't think it'd be any good for playing, just to look at. But it arrived this morning and I opened it up and OH MY GOD IT'S AWESOME! It looks SO nice, perfect engraving and shine. In addition the yo-yo plays very well, too! It's smooth, comes back up easily and even I, whom is terrible at yo-yoing, can play like a pro!

This is amazing. If you think they MIGHT like this as a gift, THEY WILL!!

My Grandson loves it!
By
Laurel M.

(Sparks, OK) - January 2, 2011 (
See all reviews by this customer
)
I bought this for Christmas, but also as a reward for being such a good reader. He made the "100 club" in his school before anyone else and I engraved the YoYo to remind him of that fact. He's only 7 but I'm sure he'll keep it forever!

Great gift!
By
Jennifer G.

(Kingwood, TX) - December 14, 2010 (
See all reviews by this customer
)
Our little neice loves to yo-yo and we got this for her for Christmas. I am so excited, it's perfect and she'll love it!!

Ring Bearer gift
By
Kimberly G.

(Bradenton, FL) - October 4, 2010 (
See all reviews by this customer
)
We ordered this for our ring bearer and when I received it, I couldn't help playing with it!! It is beautiful, and it is well made. He'll have a great time with it (assuming we decide to let it go!!)

Yo-Yo for little boys
By
Delores L S.

(Camarillo, CA) - July 22, 2010 (
See all reviews by this customer
)
Little boys will be boys. This is perfect for little boys, perfect keepsake.

Perfect
By
Christine L.

(Atlanta, GA) - May 16, 2010 (
See all reviews by this customer
)
Fast shipping
Perfect engraving
Perfect item.

All perfect :o) !

YOYO
By
CINDY C.

(DEL CITY, OK) - April 2, 2010 (
See all reviews by this customer
)
I WAS SOOOOOOO THRILLED WHEN I RECIEVED THE YOYO, IT WAS HEAVY, NOT CHEAP, AND MY HUSBAND THOUGHT IT WAS A GREAT EASTER GIFT FOR OUR 6 YR. OLD GRANDSON.
THANK YOU

EXCEPTIONAL!
By
Christie B.

(Lakeville, MN) - January 4, 2010 (
See all reviews by this customer
)
I purchased 2 yo-yo's one for my brother and the other for my nephew, with their full names. BEAUTIFUL! My sister-in-law was very impressed. the recipients had a comment of oh, more packaging, could of done with less, but all was good. thanks for the fast service too!

YO YO
By
Shopper

(Omaha, NE) - December 26, 2013
The yo yo was beautiful the engraving was great. The string on the yo yo was not good, I ordered 8 of them and was not happy with the way they worked.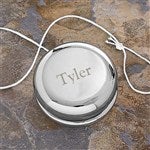 Yo-Yo
By
Shopper

(Huber Heights, OH) - September 17, 2013
It seems to be of good quality, nice material. The engraving makes it unique.

Solved a major problem
By
Shopper

(Elmwood Park, , IL) - August 4, 2012
This Yo-yo was purchased for a "grownup" and solved the age-old issue of what to buy for a male someone you know but don't know much about their likes and dislikes. This novelty gift was the answer. A blast from the past as most of us have played with a yo-yo growing up. This was a hit believe me !!! The fact that it simulated silver and could be engraved was a major factor in buying.

Nice product but, as usual, personalization is off
By
Mark S.

(Beaumont, TX) - December 14, 2011 (
See all reviews by this customer
)
I have purchased several products from this website and the one thing I have noticed about practically every product is that nearly all of them are either misaligned or the text is smaller than it looks in the photos or, sometimes, both. This product was no exception. The product is nice, feels and looks like a pretty good quality product, but the text is very small and not nearly as deeply engraved as it appears in the photo. It's still gift-able, but not as great as it could have been.

Great little boy keepsake gift
By
Shopper

(Sugar Grove, NC) - September 18, 2011
I bought these as ring bearer gifts for my nephews. They are very cute; a toy and yet a keepsake also. Engraving looks good too!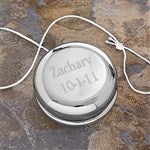 Personalization
By
Kristen J.

(Morganton, NC) - November 21, 2011 (
See all reviews by this customer
)
I bought two of these Yo-Yo's for my nephews and had their names put on each one. When the Yo-Yo's came I was pleased with the packaging and with the yo-yo itself, but you could barely see their names - I had look very closely and hold it at just the right angle. I will probably have to put a note in their card to look closely so they can see it as well.

Gift for Ring Beaer
By
Tracy H.

(Oconomowoc, WI) - August 9, 2010 (
See all reviews by this customer
)
It was nice, but I purposely ordered this one because I thought the black string looked nicer than the white string. Mine came with white. Also, I felt on the engraving the J (for Joe) looked very light.

Other than that, I like the idea.

Not that fancy as the photo shows
By
Shopper

(Canada) - December 24, 2011
The colour is different from the picture which means the materials are not the same, and the ball is too small