Loved it
By
Joslyn S.

(Plainfield, IN) - June 21, 2010 (
See all reviews by this customer
)
I loved the bracelet. I can not wait to give it to my God Daughter this weekend.

Baptism Gift
By
Kara O.

(Crestwood, IL) - June 14, 2010 (
See all reviews by this customer
)
Was looking for something to give my girlfriends baby on her special day and this was perfect. My girlfriend was not only very touched but others asked where I had found it.

At first I was a little concerned at how tiny and frail but after seeing the look on Sharyn's face, well it was a hit.

My only other comment would be... it would of been nice to get the baby's full initial's on the charm, not just the first initial, i.e. EJW (first middle and last).

really happy with the bracelet
By
Kathleen L.

(Monee, IL) - May 31, 2010 (
See all reviews by this customer
)
I bought the baby rosary for my niece's baptism. I am her godmother and I wanted to get something that was more personal for her. My sister (her mom) loved it. She took pictures with the bracelet on and it was beautiful. I was unsure about the year to put since her birth year and the baptism year were different, but I settled on the birth year. The only complaint I had upon seeing the actual thing was the Virgin Mary charm. It was a bit cheap looking up close. The cut out was just kinda rough, but overall it was a really nice gift.

Adorable
By
Claudia G.

(West Orange, NJ) - March 31, 2010 (
See all reviews by this customer
)
So Adorable and tiny! Loved it and my god daughters parents loved it too. Would recommend to anyone shopping for a new baby or baptismal gift.

Beautiful a little big
By
John D.

(Hainesville, IL) - March 3, 2010 (
See all reviews by this customer
)
We purchased this for our goddaughter who is four months old at the time of her baptism. It turned out to be a little big on her. it would have been nice to have a couple of other holes to clip on to so it could be adjusted but this is very nice. That is the only reason for 4 and not 5 stars.

Decent Enough
By
David S.

(Conway, NH) - February 12, 2010 (
See all reviews by this customer
)
We bought this bracelet for our niece and my partners god child. The bracelet itself is very delicate and beautiful, however, I was not overly impressed with the charms. When we received it, the cross had one or two minor rust cuts in it that were almost invisible, but you could see that later on they would turn into more. The initial insignet came scratched and the year was etched crooked. I definitely think that better quality charms could be used. I did like the fact that it was a rosary as this was for her baptism and I cannot complain at all about the size and/or the crystals.

Baby Rosary Bracelet
By
Bonnie W.

(Conway, SC) - January 27, 2010 (
See all reviews by this customer
)
I was not totally pleased upon receiving the personalized bracelet for my granddaughter. The little attached symbols appear to be tarnished. This is the first time I have ordered from this site.

Sweet & Delicate
By
Katie S.

(West Bend, WI) - January 25, 2010 (
See all reviews by this customer
)
I bought this for my god daughter & it is very sweet. I like the fact they can personalize it. However, I was hoping the bracelet would of been a little larger in size so she'd be able to wear it as a toddler, instead of only being able to wear it as an infant.
I'd reccamend this too
7950 - Christening Day© Personalized Frame.
I also ordered this frame & it is simply beautiful!

Baby Rosary Bracelet was a hit!
By
Tina P.

(Florissant, MO) - October 13, 2009 (
See all reviews by this customer
)
This baby rosary considering the price seems to be good quality.
It's not as nice as a Sterling Silver bracelet would have been but it does the job. It's not as if the baby will be wearing it for a long time. It's only going to fit her for maybe a year. When I gave it to my friend for her daughters baptism I thought she was going to cry. She and her husband absolutely loved it. The online photo does not do this item justice. The personalization was a big hit. Everyone loved this rosary. Definitely worth the money and I would definitely buy it again! Overall, I and the recipient are very pleased!

Beautiful
By
Kristen I.

(Edison, NJ) - October 2, 2009 (
See all reviews by this customer
)
The baby rosary is very delicate and beautiful in person! Perfect gift for a new baby.

Cute bracelet for baptism
By
Shopper

(Fayetteville, PA) - January 26, 2014
Ordered this for my goddaughter. So small and cute, perfect size for baby. It's precious how small and it's nice to personalize. I expected the charms to be heavier/higher quality. Was delivered extremely fast!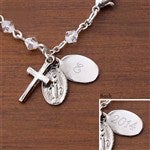 Excellent Baptism gift.
By
Shopper

(Chicago, IL) - August 21, 2012
Bought this gift as a Baptism gift for my grandaughter. Excellent gift as a Keepsake and not as a piece of jewelry to be worn. Item not child safe - fear of charm/s coming off if child puts in mouth.

Too Small
By
Shopper

(Mount Shasta, CA) - June 24, 2012
Baby Rosary was too small, over priced for the size.

Bought for friend's son's baptism
By
Jaclyn C.

(Nutley, NJ) - April 29, 2012 (
See all reviews by this customer
)
This item arrived 1 day prior to schedule which was nice, but I feel the "silver" is very cheap and could have been a little heavier or durable. The price was reasonable though, and I like the initial & year that was engraved for a more personal touch.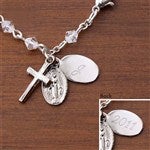 too small
By
Stephanie C.

(Middletown, NY) - September 19, 2011 (
See all reviews by this customer
)
This bracelet is very pretty and I did not recall seeing the measurements before placing my order, however it doesn't fit my 6 month old twins and they were 25.00 each. I will keep them as a keepsake for them but disappointed they can not wear them on their special day!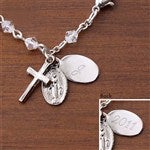 Not quite worth the money
By
Nicole A.

(Millinocket, ME) - April 8, 2010 (
See all reviews by this customer
)
this bracelet is a lot cheaper looking in person than in the picture, the medallions and cross are almost plastic looking. I just expected more for the money.

Pretty
By
DENNIS G.

(CARTERET, NJ) - March 3, 2010 (
See all reviews by this customer
)
This is beautiful but small. My Granddaughter will only be able to wear this for
a while. I wish there were extensions because it is so cute.

decent but not great
By
Suzanne S.

(Niagara Falls, NY) - November 3, 2009 (
See all reviews by this customer
)
It was a beautiful braceletand looked wonderful on my neice, but even though she was 6 months old it fell off her wrist at the ceramony into the holy water. They need to make it a little bit smaller.

Looks nicer in the photo
By
Shopper

(philadelphia, PA) - May 8, 2012
This bracelet is nice enough, but had I seen it in person I wouldn't have purchased it. It looks kind of cheap, especially the 3 medallions. There was an issue with the engraving on the medallion being off-center but after contacting customer service a new one was shipped to me ASAP . Still feel that it was not worth the money though.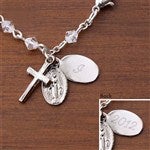 Slightly disappointed in quality and concerned by safety
By
Shopper

(Astoria, NY) - March 15, 2011
Based on the previous reviews, I was really excited about this gift for my niece. However, upon opening it, I did not feel that it was as high quality as the reviews detailed - and I felt very concerned by the safety of the charms. They did not seem very secure. In the end, because it was personalized with the initial and I could not return it, I gave it thinking she may eventually use it as a rosary.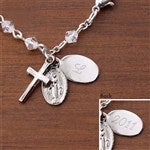 Not Worth It!
By
Vickie H.

(Springdale, MD) - October 8, 2009 (
See all reviews by this customer
)
My daughter only had this for a day and it broke. I know it's not real, but gesh! One day of use...c'mon!

Shipped pretty but turned black in 2 days
By
Kim D.

(Alpharetta, GA) - October 7, 2009 (
See all reviews by this customer
)
I was not happy with this purchase. At first I really thought it was very cute and then it had only been 2 days and the silver was already tarnished. Not worth the money.

Didn't arrive in time
By
Shannon H.

(Canada) - November 20, 2011 (
See all reviews by this customer
)
I am so disapointed that I have not recieved my bracelet yet. The baptism was yesterday and I had no gift to give. I doubt ill be telling any of my friends about this product or website.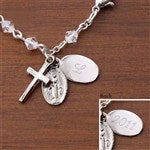 Poor quality and very small
By
Tamra B.

(San Francisco, CA) - November 6, 2011 (
See all reviews by this customer
)
I was rather unimpressed with the quality. It is engraved on cheap aluminum and just looks cheap. The crosses I purchased look and feel like they are worth more than this bracelet and the bracelet cost more! I just feel like there should have more specifications around the bracelet an materials used to make it. Not high quality by any means. Sad! Plus, maybe I missed it somewhere, but I never saw the size of the bracelet and was surprised at how small it was. I recommend buying the engraved wooden crosses. They are adorable!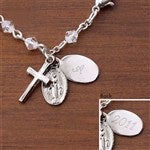 Baptism gift
By
Tricia C.

(Harahan, LA) - October 8, 2009 (
See all reviews by this customer
)
The chain broke 30min after the baby put it on. I was very embaressed and disappointed because it was my niece's baptism, and because I spent 20$ on shipping to make sure I got it before the baptism.