Beautiful
By
Kristen I.

(Edison, NJ) - October 2, 2009 (
See all reviews by this customer
)
The baby rosary is very delicate and beautiful in person! Perfect gift for a new baby.

Cute bracelet for baptism
By
Shopper

(Fayetteville, PA) - January 26, 2014
Ordered this for my goddaughter. So small and cute, perfect size for baby. It's precious how small and it's nice to personalize. I expected the charms to be heavier/higher quality. Was delivered extremely fast!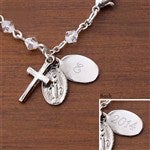 Excellent Baptism gift.
By
Shopper

(Chicago, IL) - August 21, 2012
Bought this gift as a Baptism gift for my grandaughter. Excellent gift as a Keepsake and not as a piece of jewelry to be worn. Item not child safe - fear of charm/s coming off if child puts in mouth.

Too Small
By
Shopper

(Mount Shasta, CA) - June 24, 2012
Baby Rosary was too small, over priced for the size.

Bought for friend's son's baptism
By
Jaclyn C.

(Nutley, NJ) - April 29, 2012 (
See all reviews by this customer
)
This item arrived 1 day prior to schedule which was nice, but I feel the "silver" is very cheap and could have been a little heavier or durable. The price was reasonable though, and I like the initial & year that was engraved for a more personal touch.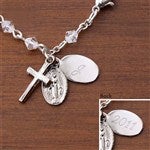 too small
By
Stephanie C.

(Middletown, NY) - September 19, 2011 (
See all reviews by this customer
)
This bracelet is very pretty and I did not recall seeing the measurements before placing my order, however it doesn't fit my 6 month old twins and they were 25.00 each. I will keep them as a keepsake for them but disappointed they can not wear them on their special day!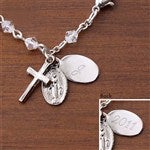 Not quite worth the money
By
Nicole A.

(Millinocket, ME) - April 8, 2010 (
See all reviews by this customer
)
this bracelet is a lot cheaper looking in person than in the picture, the medallions and cross are almost plastic looking. I just expected more for the money.

Pretty
By
DENNIS G.

(CARTERET, NJ) - March 3, 2010 (
See all reviews by this customer
)
This is beautiful but small. My Granddaughter will only be able to wear this for
a while. I wish there were extensions because it is so cute.

decent but not great
By
Suzanne S.

(Niagara Falls, NY) - November 3, 2009 (
See all reviews by this customer
)
It was a beautiful braceletand looked wonderful on my neice, but even though she was 6 months old it fell off her wrist at the ceramony into the holy water. They need to make it a little bit smaller.

Looks nicer in the photo
By
Shopper

(philadelphia, PA) - May 8, 2012
This bracelet is nice enough, but had I seen it in person I wouldn't have purchased it. It looks kind of cheap, especially the 3 medallions. There was an issue with the engraving on the medallion being off-center but after contacting customer service a new one was shipped to me ASAP . Still feel that it was not worth the money though.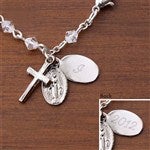 Slightly disappointed in quality and concerned by safety
By
Shopper

(Astoria, NY) - March 15, 2011
Based on the previous reviews, I was really excited about this gift for my niece. However, upon opening it, I did not feel that it was as high quality as the reviews detailed - and I felt very concerned by the safety of the charms. They did not seem very secure. In the end, because it was personalized with the initial and I could not return it, I gave it thinking she may eventually use it as a rosary.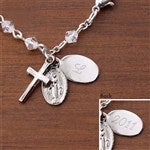 Not Worth It!
By
Vickie H.

(Springdale, MD) - October 8, 2009 (
See all reviews by this customer
)
My daughter only had this for a day and it broke. I know it's not real, but gesh! One day of use...c'mon!

Shipped pretty but turned black in 2 days
By
Kim D.

(Alpharetta, GA) - October 7, 2009 (
See all reviews by this customer
)
I was not happy with this purchase. At first I really thought it was very cute and then it had only been 2 days and the silver was already tarnished. Not worth the money.

Didn't arrive in time
By
Shannon H.

(Canada) - November 20, 2011 (
See all reviews by this customer
)
I am so disapointed that I have not recieved my bracelet yet. The baptism was yesterday and I had no gift to give. I doubt ill be telling any of my friends about this product or website.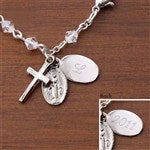 Poor quality and very small
By
Tamra B.

(San Francisco, CA) - November 6, 2011 (
See all reviews by this customer
)
I was rather unimpressed with the quality. It is engraved on cheap aluminum and just looks cheap. The crosses I purchased look and feel like they are worth more than this bracelet and the bracelet cost more! I just feel like there should have more specifications around the bracelet an materials used to make it. Not high quality by any means. Sad! Plus, maybe I missed it somewhere, but I never saw the size of the bracelet and was surprised at how small it was. I recommend buying the engraved wooden crosses. They are adorable!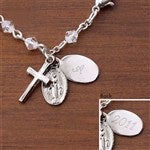 Baptism gift
By
Tricia C.

(Harahan, LA) - October 8, 2009 (
See all reviews by this customer
)
The chain broke 30min after the baby put it on. I was very embaressed and disappointed because it was my niece's baptism, and because I spent 20$ on shipping to make sure I got it before the baptism.