Better than imagined
By
Shopper

(Dallas, TX) - January 9, 2013
The photos of this pendant do not do it justice. I was very impressed with the quality and beauty of this necklace. Great job! I highly recommend this medal for anyone needing a gift for a guy they care about.

Great quality
By
Shopper

(Lockport, NY) - November 15, 2012
This item shipped so fast. The quality is wonderful, bought for my husbands birthday and he has not taken it off since he opened it. Overall excellent purchase

Very Nice
By
Beth C.

(Fort Myers, FL) - August 31, 2012 (
See all reviews by this customer
)
I was very surprised at the quality of the product for the price. The engraving on the back looks great. My son will love this, perfect size for men. I received it in just a few days. I definitely will be shopping at this site again.

Exactly what I wanted!
By
Brittany C.

(Pinckneyville, IL) - July 9, 2012 (
See all reviews by this customer
)
Shipping was great. I received it only a few days after ordering. The product itself was exactly what I expected. The pendant was a little bigger than what I expected, but that wasn't a problem at all. Love the chain it is on as well.

St. Christopher Pendant
By
Shopper

(Sugar Land, TX) - July 1, 2012
Beautiful! PM definitely exceeds expectations. Had it personalized and given to a Seminarian on his Birthday. Great gift!

St. Christopher Pendant
By
Shopper

(Tallahassee, FL) - June 18, 2012
Very nice pendant!!

St Christopher Men's Engraved Pendant
By
Emilie L.

(McChord AFB, WA) - March 25, 2012 (
See all reviews by this customer
)
I purchased this pendant for my sons birthday 3/17/86 and when he got it in the mail and called me with such praise and admiration for the item, I knew it was a great buy. I love the St. Christopher because it is a protection medal and I being so far away (I am at Fort Lewis, WA) (my son is at Fort Hood, TX), I wanted something that he could have everyday that reminded him of me, knowing that I am always thinking of him and my two grandbaby boys he is raising alone. Thank you for making such a beautiful item.

Danny Alexander
By
Danny A.

(Roswell, NM) - March 16, 2012 (
See all reviews by this customer
)
This piece is beautiful and well made, better quality of metal than what I was expecting, a nice heavy piece, craftmanship is great..looking for a St. Christopher this is the one

Teenage Boy gift
By
Shopper

(New Orleans, LA) - October 24, 2011
I bought this for my nephew for his birthday. It is a nice masculine piece that I had personalized with his name.

Perfect
By
Shopper

(Manasquan, NJ) - June 23, 2011
I got this for my 8th grade students for graduation. It is a very nice gift -looks expensive -heavy...they loved it! you won't be disappointed.

Fantastic Product
By
DEBBIE W.

(BRUNSWICK, GA) - June 17, 2011 (
See all reviews by this customer
)
This St. Christopher medallion is more beautiful than I imagined it would be! Great price, quality is excellant, and delivery was very fast. I'm glad I found you!

Strong work!
By
Shopper

(Colville, WA) - June 6, 2011
Nice, I am very pleased with the final result!

Beautiful medal!
By
Shopper

(Pointblank, TX) - May 13, 2011
I ordered this medal as a birthday remembrance for both my Son and Grandson. The medal itself is impressive and the engraving was very nice. Thank you.

ITS SO MUCH BETTER THAN THE PICTURE
By
maria P.

(sandston, VA) - February 16, 2011 (
See all reviews by this customer
)
I JUST ORDERED THIS GIFT FOR MY BOYFRIEND FOR VALENTINES DAY ITS FANTASTIC ITS SO MUCH BETTER THAN THE PICTURE IM VERY HAPPY WILL ORDER SEVERAL THINGS FROM YOUR COMPANY!!! THANK YOU

St. Christopher Men's Engraved pendant
By
Marilyn F.

(Omaha, NE) - September 20, 2010 (
See all reviews by this customer
)
so far my son loves this and said he would immediately wear it - some of the other reviews said there was a problem with tarnishing and that the engraving was not clear enough - but so far have not encountered these problems

Perfect!
By
Laura L.

(Jamestown, CA) - August 10, 2010 (
See all reviews by this customer
)
Excellent quality and nice engraving. Very happy with this item!

Marylou J
By
Marylou J.

(Ocean View, DE) - May 15, 2010 (
See all reviews by this customer
)
Very pleased with the St Christopher pendant as was my grandson who received it for his Confirmation. The order was shipped to him in 4 days. I am delighted.

Excellent!!
By
Lauren S.

(Oceanside, CA) - March 19, 2010 (
See all reviews by this customer
)
I ordered this pendant for my husband, whom will be going overseas, the chain is very durable and the perfect size for men. The pendant looks fantastic and the engraving was done perfectly!

Very nice.
By
Shopper

(BINGHAMTON, NY) - January 16, 2012
The pendant is very nice and exactly as listed. The engraving was also very good.The only problem I had with the necklace was that it did not have a clasp ,it was one piece.

Got a magnifying glass?
By
Shopper

(Springfield, VA) - August 1, 2011
Pleased with product except the engraving is very faint.

Quality
By
Shopper

(Camden, AR) - June 18, 2011
Nice quality to this pendant. Its heavy and has a good
length chain that can be used for man or woman.
I ordered this for my husband for Fathers day. He rides
a motorcycle and like having this charm with him.


Very nice except for a broken clasp
By
Shopper

(Blue Bell, PA) - May 9, 2011
Bought this for my Godson for his first communion. He opened the box and immediately put it on! He absolutely loved it, and having his initials and date of his first communion on the back made it even more special. I would have given this five stars, except that the clasp on the chain would not open to release the chain. Fortunately my Godson is smaller or else he would never be able to wear it. If this was for an adult I would have to send it back or call for a replacement.

St. Christopher Pendant for our son age 43
By
Peggy F.

(Danville, VA) - November 23, 2010 (
See all reviews by this customer
)
This St. Christopher Pendant is so pretty, very detailed. I like the size and weight of it. It is sterling silver. I really like the "Protect Me" at the bottom of the pendant. I had it engraved on the back which turned out very clear and the depth of the engraving is good. I would highly recommend this pendant. Can't wait 'till Christmas to give it to him.
Peggy F.
Danville, VA
11-23-10

ST CHRISTOPHER MEDAL
By
Shopper

(Johnston, RI) - March 24, 2012
The medal was beautiful but it had a slight nick on the edge. It looked like the engraver nicked it or it was nicked in the process of edging. I didn't contact the company because there was no time before the event so I have no idea if they make good on it. I should have bought it locally. Without the shipping it would have been cheaper.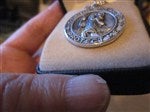 too big
By
Shopper

(Hanahan, SC) - March 22, 2011
This item was a lot bigger than I expected. And doesn't look as high in quality as I had imagined. But I am still a fan of this site and company. Fast delivery.

Engraving issues
By
Kenneth M. D.

(Hollywood, MD) - October 1, 2009 (
See all reviews by this customer
)
The actual medallion itself is very nice and has a sturdy chain. Unfortunately the engraving could be improved alot.
It is very shallow, thin, whispy and when the silver gets even a little tarnished, the evgraving is difficult to see. Also, I purchased two identical medallions and one was significantly scratched by the engraving machine (it looks like)??? Finally the capital J letter looks like a slightly longer straight line with no "hook" at all.

Disappointed
By
LuAnne V.

(El Paso, TX) - November 9, 2009 (
See all reviews by this customer
)
I bought this for my husband who is serving in the military overseas. He's been there almost 1 1/2 years and might not be home in time to see our son be born. This gift meant a lot to me; something, in my mind, to ensure my husbands safety and return home. Well, after a couple months my very well thought out engraving is hard to read through the tarnish. The only reason i gave it 2 stars is because its a beautiful pendant when new, but it doesnt last. It's enough to make me cry, but that could be the pregnancy hormones lol. Save your money. I wish i had bought a white gold pendant, would have been worth the extra money.

very poor engraving
By
Kathy N.

(Myrtle Point, OR) - December 22, 2010 (
See all reviews by this customer
)
The engraving is barely scratched in. Even brand new it is barely readable. I should have listened to the the other reviews. Never again.

Only lasts a couple weeks!
By
Shana P.

(Fruitland, ID) - October 26, 2009 (
See all reviews by this customer
)
I bought it for my husband who is in the military. The front is beautiful, yes, but engraving on the back brand new was hard to read because it was so shallow. Two weeks after wearing it you can't read the engraving at all it's so tarnished and discolored. Giving him this meant a lot to me and him for when he goes overseas and you can't even read the engraving. VERY disappointed!

Not good quality
By
Lorie W.

(Hollywood, MD) - October 8, 2009 (
See all reviews by this customer
)
I bought the St. Christopher Pendant for my husband for Fathers day in June and by Aug the Pendant and chain was so discolored he could not even wear it any longer. I tried to put it in silver cleaner and it still would not come clean. I was very disapointed.