Rosary bracelet
By
John and Terry F.

(Dallas, TX) - April 12, 2014 (
See all reviews by this customer
)
What a lovely gift this will make. Beautifully made.


Love Personalization Mall!
By
Shopper

(South Windsor, CT) - January 21, 2014
I love all the items I have purchased. The best customer service I have ever had!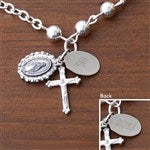 Once again,a happy customer!
By
Shopper

(Las Vegas, NV) - April 15, 2012
Ordered the bracelet in SS,for a family friend.She absolutely loved it,and couldn't thank me enough.Personalization Mall helped me with a lovely and unique gift,and as always,great customer service!Thank you!

Lovely detail, pretty and reminds me to pray
By
Shopper

(Mooresville, NC) - January 17, 2012
This is a beautiful bracelet, small and feminine - but sturdy - links and beads in sterling silver with the crucifix and medal in fine detail. The initial tag is nice - the date on the back is a nice touch. Default date must be 2012, as I received. If I'd known a date would be on the other side of my initial, I would have chosen a more significant date, such as birth, anniversary, or such as that.

Very pretty
By
Sarah Amanda F.

(Canada) - October 10, 2011 (
See all reviews by this customer
)
This bracelet is very dainty and pretty. I haven't taken it off since I got it! Have had many compliments! Just love it!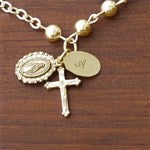 beautiful
By
Shopper

(Copperas Cove, TX) - August 14, 2011
It's a beautiful rosary bracelet!!

Stunning
By
Shopper

(Folsom, PA) - June 13, 2011
I purchased this bracelet for a wedding gift for the mother of the groom. The bracelet is stunning and exactly what I was looking for at an excellent price!

very nice!
By
Shopper

(Louisville, KY) - May 1, 2011
before buying mine, I read previous reviews, some of which were negative. I've had mine for a few weeks now and I don't take it off often and none of the charms have fallen off. the engravings were done very nicely, I had no problems with those. I've actually gotten quite a few compliments, it's a very simple but beautiful bracelet and I actually got a matching one for my sister and she loooved it. I would definitely recommend it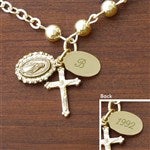 Very Cute!
By
Jessica G.

(Troy, MI) - August 16, 2010 (
See all reviews by this customer
)
This item is so cute! I ordered this item on Friday and it arrived on Tuesday....super fast shipping and it is very cute just has pictured. Thank you will definitely be ordering from you in the future.

Rosary Bracelet
By
Lisa G.

(Glen Allen, VA) - July 23, 2013 (
See all reviews by this customer
)
Love the bracelet and personalization! Great bargain with 22k gold overlay to make it last. Very pretty and fits perfectly.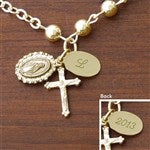 Nice Bracelet
By
Shopper

(Plymouth, MA) - April 13, 2011
I bought this as a gift for a communion. It's very cute, and looks like it would fit the 7-year-old I bought it for well.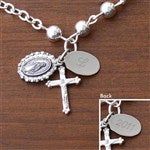 Rosary bracelet
By
Vicki Y.

(Finksburg , MD) - May 26, 2010 (
See all reviews by this customer
)
I had been searching for a gold rosary bracelet everywhere and finally found it on your website. It is beautiful and Mom put it right on when she received it. Thank you for a great product!

Charms a little smaller than I thought
By
Debra C.

(Dallas, TX) - March 26, 2012 (
See all reviews by this customer
)
It is a pretty bracelet, but for the price ($65), thought it might look a little better. The charms were smaller than I thought they would be.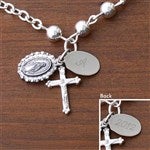 Pretty Bracelet
By
Shopper

(Bloomington , CA) - May 5, 2011
I ordered this bracelet for my mother in law for mothers day, and its a beautiful bracelet but the length is shorter than I expected. Other than that I loved it.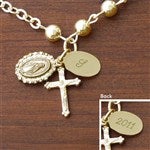 Scratch on engraving plaque
By
Shopper

(Meridian, ID) - March 26, 2011
I received this bracelet with a verticle scratch on the engraving plaque just under the "2" in 2011. I was disappointed that the engraver didn't care enough to fix his/her problem before shipping this out to me. He/she probably didn't want to get in trouble. Pmall should have a secondary reviewer check for issues before shipping. Thankfully, I ordered this gift with time to spare and Pmall is shipping a replacement that should arrive before I need to give the gift away. I was pleased that there was no hassle to get a replacement.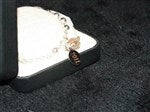 Beautiful but flawed
By
Shopper

(Union Pier, MI) - January 10, 2011
I love the look of this bracelet, but it has a design flaw. The lobster clasp is on the same end with the cross, medal and personalized disk. Having the weightiest portion of the bracelet so close to the clasp makes it very difficult to put the bracelet on as it tends to pull the rest of the bracelet down and you find yourself "chasing" the clasp ring. The bracelet would be much easier to put on if the clasp were on the opposite end, where the weight of the charms would help to hold the clasp ring steady for grasping with the lobster clasp. Also, the personalized disk fell off the first time I wore the bracelet since the ring connecting the charms to the bracelet was not completely closed.

Rosary bracelet
By
Shopper

(North Conway , NH) - November 26, 2012
I absolutely love the bracelet I ordered. The only down fall was in less than a week of having it, it broke. The clasps between the beads kept coming apart from each other causing my braclet to fall apart 3 times in the first week I had it. I easily fixed the bracelet with a pair of needle nose pliers, but I was a little disappointed with the quality of the bracelet.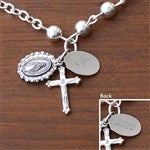 Pretty but not worth the money
By
Shopper

(briarcliff manor, NY) - November 1, 2011
Its a very pretty bracelet but the loops in between the gold balls are turning brown. Its not made well-not worth the money

Not sure that I would reccomend
By
mikey anne O.

(sioux city , IA) - January 18, 2013 (
See all reviews by this customer
)
I bought this gift for a friend who lost her baby after only a month. She loved it and wanted to wear it all of the time. After only a week it was discolored at any place that touched her skin. This surprised me because it is supposed to be silver. I called customer service, and they told me that my friend had skin that is to acidic. Customer service said that my friend had to clean it with silver cleaner and not wear it very often. I don't think that something advertised as a bracelet made of silver should discolor. It was really uncomfortable telling my friend she had to go buy cleaner for it and tell her that she is just unable to wear this because of her skin. Maybe if it was a $20 gift but not for this price!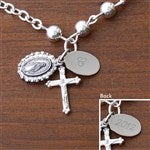 Very Fragile, Breaks Easily
By
Shopper

(Moreno Valley, CA) - July 9, 2011
I loved my rosary bracelet, until the chain opened and released the crucifix. The bracelet is not made for everyday wear. The chain links are too flimsy. If you purchase, I would suggest special occasion use only. The gold overlay is well done, and can withstand daily washing. But, the main chain is a different gold color than the beads, crucifix, Our Lady medal, and intial oval.

Beautiful to look at, but doesn't hold up
By
Jeanne S.

(Canton, MA) - February 12, 2010 (
See all reviews by this customer
)
I ordered this a month ago and am sending it back for a refund. 2 of the charms have fallen off, and it is tarnishing to silver. Too bad, it is a beautiful piece. I am going to have to spend the money on 14K gold I guess.