My very own photo puzzle
By
Missy B.

(Mount Vernon, MO) - December 31, 2011 (
See all reviews by this customer
)
I had this made of a picture I took earlier this year at the NLCS game 5 in St. Louis. I thought it was a pretty good picture so I used it when I found this "Make your own puzzle" thing. I was not prepared for how awesone the product would be. It is very professional quality and the tin it comes in is my favorite part!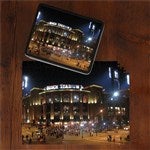 Personalized Puzzle
By
Catherine P.

(Miami, FL) - December 12, 2011 (
See all reviews by this customer
)
The quality of the puzzle is great, truly a unique gift and beautiful gift.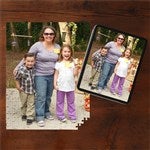 pieces are very tiny
By Shopper (Dallas, GA) - December 5, 2011
I ordered 3 puzzles, 2 for 2 grandmothers and 1 for a great grandmother - yes, that's $90 plus shipping. Although the copy says 252 pcs and states the measurement, it doesn't state the dimension of the pieces. I called customer service and told them they should at least put something in the picture like a quarter or a cup of coffee so the buyer can really see the relation in size before buying. Of course, she offered no help because of their no return policy. i think that is why I am upset because the csr basically said, 'aww that's too bad goodbye'. I am stuck with this $90 set of puzzles I can do nothing with. The pieces are far too small for elderly hands. I guess I should have mapped out the size and cut out my own 252 pieces to confirm the size before spending so much money on this. The only thing good out of it is the tin. It is about 5 times the size it needs to be to hold all of the tiny little pieces. At least they can use the tin to store things in; although, pretty expensive for just a storage box. I will be hesitant to buy anything from here again without calling and getting all of the unpublished details.
terribly disappointed.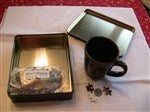 Puzzle was grainy
By
DAWN A.

(IDABEL, OK) - November 15, 2011 (
See all reviews by this customer
)
I was not happy with the puzzle. It was a snap shot so when it was put on the puzzle it was very grainy. It will be hard to put together due to the image not being good. However I put images on a guitar pick & post it notes and they turned out well. I loved them.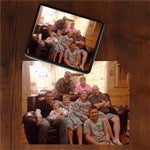 Nice gift!
By
Andrea F.

(Clay, NY) - November 11, 2011 (
See all reviews by this customer
)
When I received my order, I received the tin, but no puzzle. I emailed customer service, and I received a reponse right away. I then received a new tin, along with the puzzle, within a week. Great customer service! I would order again from this company!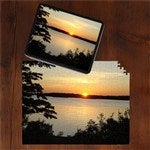 Great gift idea
By
Jeremy D.

(fairfield, CA) - October 28, 2011 (
See all reviews by this customer
)
The color was a little different but I was expecting that. The puzzle was about the same quality as one you'd find in a store and the tin sturdy. My girlfriend will love this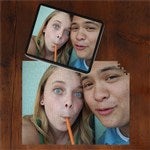 Photo Puzzle and Tin
By
Sandra B.

(Saint Thomas, PA) - October 2, 2011 (
See all reviews by this customer
)
I would like to thank you for a beautiful puzzle. This picture was taken at my Mom's 80th Birthday Party. It is a picture of all her Great Grandchildren. She loves to put puzzles together and I know she will love it for a Christmas present. Can't wait for her to see it.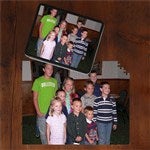 Fast delivery
By
Barbara K.

(Westlake, OH) - September 19, 2011 (
See all reviews by this customer
)
I ordered this puzzle as a hospitality gift sent directly to a host couple so I never actually got to see the finished product. However, I was extremely impressed with the very fast delivery. I ordered it in the tin and immediately got a "thank you" email because they were delighted with it, and easily recognized that it was a photo taken from their front yard.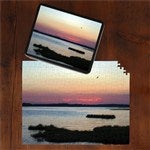 Awesome Puzzle!
By
Annalisa W.

(Canada) - August 24, 2011 (
See all reviews by this customer
)
Love the tin & the puzzle....would definitely purchase again!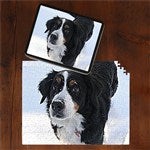 Big hit!
By
Shopper

(Simpsonville, SC) - July 23, 2011
My 10 yr old granddaughter is a Diva and I put a lot of energy into finding creative gifts for her. She absolutely loved the puzzle and it was a big hit at the party. I combined it with engraved pencils; monogramed wallet and the four notebooks with her picture on them. She loved each and every gift. I placed my order on Monday and received it the very next Saturday. The product and the service was great! This was my first purchase, but I will order again in the future.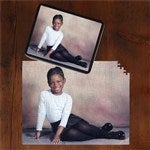 Adorable gift for Grandma!
By
Shopper

(Twin Peaks, CA) - May 13, 2011
This is a great gift idea for a Grandma who enjoys puzzles. I gave it to her for Mother's Day with a picture of my daughter on it. It was adorable! We haven't put the puzzle together yet. The tin turned out fairly nice but I was dissapointed that the top of the picture was slightly cut off and thats not how it looked on the preview. Also, the gloss coating wasn't applied perfectly, there were some flaws. But Grandma loved it anyway!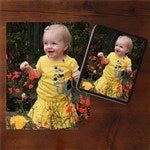 Great, Unique item
By
Shopper

(Waterford, MI) - May 12, 2011
What a great, unique item! The kids will love putting the puzzle together with their Grandma and watching their image appear.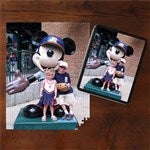 Expensive
By
Shopper

(Salem, CT) - May 1, 2011
This site has a tendency of changing the cost of their products often. Unfortunately, I bought this product when it was at a considerably high price. I wish I had known this before I spent $15 more than I needed to.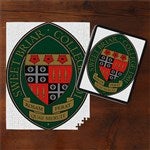 Grandparent Favorite
By
Sandra W.

(Bloomfield Hills, MI) - March 29, 2011 (
See all reviews by this customer
)
I bought this as a birthday gift from my 2 year old daughter to her grandmother. The tin made for an awesome presentation and my daughter's grandmother had so much fun making the puzzle with my daughter. Of course, my daughter got a bang out of seeing her own picure evolve as they built the puzzle. It is high quality and amazing like all things I've ever bought from Personalization Mall.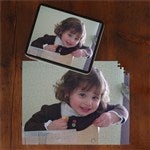 Photo Puzzle
By
Roman T.

(Brooklyn, NY) - March 10, 2014 (
See all reviews by this customer
)
The puzzle turned out fantastic. The quality of the picture was great. The box makes the gift extra special. Definitely recommend this.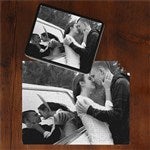 Puzzle
By
LORRAINE H.

(PHILADELPHIA, PA) - December 17, 2013 (
See all reviews by this customer
)
I was very pleased with the puzzle I ordered. Everyone liked it.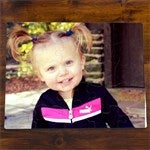 Puzzle was a hit!!
By
Shopper

(Brentwood, NY) - September 2, 2013
my boyfriend and i had lots of fun putting it together after his bday surprise party. My sister and brother in law even joined in. The whole picture was beautiful! And the tin is gorgeous too! Thank you!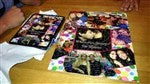 Excellent Product!
By
Shopper

(Lindenwold, NJ) - July 30, 2013
This turned out fabulous, the picture transferred onto the puzzle exactly as I had imagined, and I am using it as a creative reveal to a gift I bought for my husband for our anniversary (that won't ship until a few months from now). So excited to watch him put it together and figure out what it is!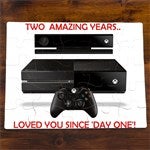 Adorable!
By
Crystal G.

(Amherst, NY) - May 6, 2013 (
See all reviews by this customer
)
This came out soooo cute!! Absolutely perfect, exactly what I was looking for!!

poor quality
By
Renee L.

(Pinellas Park, FL) - April 30, 2013 (
See all reviews by this customer
)
I was looking forward to this puzzle so much as a gift for my mom. I was pleased with the printing of the photo on the tin and on the puzzle, but the puzzle quality itself was very poor. the cardboard is really thin and the picture was peeling of the puzzle before we even put it together.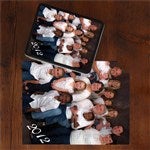 Amazing
By
Victoria J.

(Fort Worth , TX) - April 2, 2013 (
See all reviews by this customer
)
Just love this item, it was a huge hit. Thank you for making the process so easy and sending it out right away. If I could give it 10 stars I would.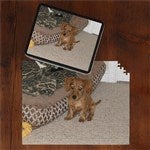 Love our Personalized 25 pc Photo Puzzle
By
Patricia C.

(Clarkston, MI) - February 11, 2013 (
See all reviews by this customer
)
The quality and workmanship of these puzzles can't be beat. The fast delivery was so timely. Our 2 year old granddaughter had a ball putting the puzzle together and the moment when she said "It's Mikala" was priceless. Thank you for a great job.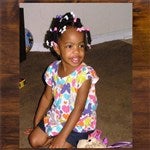 Awesome!!
By
Noha H.

(Springfield Gardens, NY) - January 2, 2013 (
See all reviews by this customer
)
great quality, bought it for my friend.. she loved it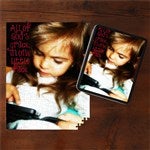 Love!!
By
Shopper

(Concord, NC) - December 24, 2012
What a great gift this puzzle will make!! The tin is just as cute & good quality as puzzle. Perfect!!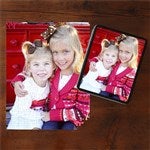 Wonderful as always
By
Skyler W.

(Helenwood, TN) - December 22, 2012 (
See all reviews by this customer
)
I have ordered several things from Personalization.com and have never been disappointed! The puzzles were even better than I had been expecting. The quality is excellent and the tins they come in look wonderful. The quality of all of their products is exceptional and I have always gotten them quick. Will continue to shop here!!!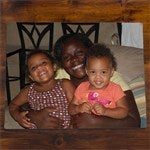 Great children's gift
By
christi G.

(walnut creek, CA) - December 15, 2012 (
See all reviews by this customer
)
Ordered at his for my 3 year old niece. The photo quality on the puzzle and tin were great. Awesome gift idea that is personalized and provides entertainment for children.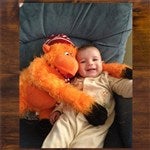 A personalized treasure
By
Brenda C.

(Arundel, ME) - December 4, 2012 (
See all reviews by this customer
)
This is absolutely beautiful! What a nice souviner for the children to make a puzzle of their pet, and have the beautiful tin to go with it.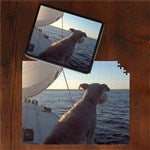 GREAT QUALITY, JUST AS PROMISED
By
Shopper

(Denton, TX) - October 26, 2012
I AM EXTREMELY IMPRESSED WITH THE QUALITY OF THIS PRODUCT. THE TIN IS BEAUTIFUL AND THE PUZZLE PIECES HAVE A VERY CLEAR PICTURE. I HAVE NOT SEEN THE ASSEMBLED PUZZLE BECAUSE IT IS A GIFT, BUT LOOK FORWARD TO SEEING IT. THE PIECES ARE CUT VERY CLEANLY AND SHARPLY, SO I AM CONFIDENT THAT IT WILL FIT TOGETHER WELL.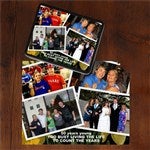 Love it!
By
Shopper

(orem, UT) - August 2, 2012
This is the cutest idea. It will be a gift for a child who LOVES dolphins and since we took this picture, it will have a personal touch for her. THANKS!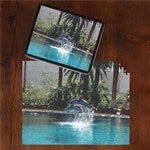 Excellent Product
By
Patricia G.

(Miami, FL) - April 12, 2012 (
See all reviews by this customer
)
I ordered this product for a gift to my boyfriend, the product arrived on time. The quality is excellent. :D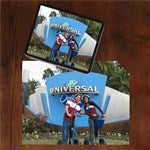 Great gift needs more glue
By
Mallory E.

(Newport News, VA) - March 20, 2012 (
See all reviews by this customer
)
I was very pleased with the puzzle. I had to order it last minute and I was able to get it right on time. My only concern was a good percentage of the pieces as my coworker began to put it together started to peel. I am not sure because this was a rushed order. But I would have liked for the pieces to be adfixed a little stronger.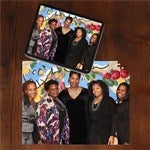 Great Gift!
By
Emily B.

(Ellensburg, WA) - March 3, 2012 (
See all reviews by this customer
)
I bought this for my boyfriends parents to thank them for flying me down to Arizona for a vacation. The puzzle came out wonderful and the best part is the metal container that has the picture on it. I cant wait to give it to them I was really happy with this product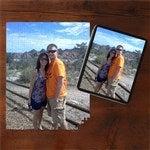 Great Product
By
Shopper

(Missoula, MT) - February 22, 2012
I had been looking for a somewhat challenging personalized puzzle. I search online forever and prices really varied from place to place and the more pieces you wanted to more expensive it got.

The puzzle I ordered from here was PERFECT! It was a great size and the perfect amount of puzzle pieces (even though I do not know the exact number). The image on the puzzle was great.

I love the fact that this product also comes with a tin to store the puzzle, with the picture on it. This made the perfect gift.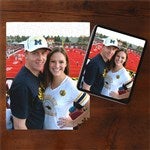 They loved it
By
Caryle S.

(The Villages, FL) - February 22, 2012 (
See all reviews by this customer
)
This was bought as a gift. My kids loved it.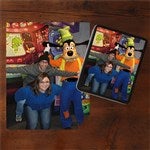 puzzle
By
Shopper

(San Jose, CA) - January 15, 2012
My mom loved this puzzle. The photo quality was really nice, but the photo on the tin box was a little chipped and some of the puzzle pieces were bent with the photo peeling off. Other than those few issues, I loved it and so did my mom!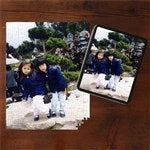 cool gift idea
By
mike B.

(Canada) - January 1, 2012 (
See all reviews by this customer
)
makes a perfect christmas gift. was a little difficult setting the size on the website. lots of pieces in the puzzle, but the cutting left a lot of dark edges around all the pieces. however, it's not a picture, it's a puzzle, so what do you expect. The tin is a nice touch too. excellent product.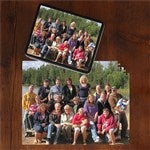 Great Idea
We love this!!!!!!

Too cute
By
Jennifer B.

(Bolingbrook, IL) - December 23, 2009 (
See all reviews by this customer
)
Perfect gift for a grandma who loves to do puzzles with grandkids.

It was perfect!
By
Jane B.

(Rapid City, SD) - December 22, 2009 (
See all reviews by this customer
)
I was so surprised at the turn around time. I had it in less than a week and it looks great. I can't wait to give the puzzle to my mom for Christmas! Thank you!

Jigsaw Puzzle
By
Undine N.

(Washington, DC) - January 11, 2010 (
See all reviews by this customer
)
Smooth transaction, prompt delivery, quality better than expected. Few pieces were not completely cut, but this was not much of a problem when being careful separating them.