Personalized Shoe Bag
By
Vanessa S.

(Yorktown, VA) - January 29, 2013 (
See all reviews by this customer
)
This is fantastic - I just wish it was available in more sizes. I would love to have it in a larger size for boots or a few pair of shoes.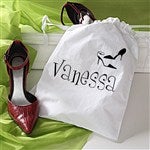 Beautiful Shoe Bags!
By
Shopper

(Houston, TX) - December 28, 2012
Loved the shoe bags! The font was beautiful as well as the colors selected! The colors looked better and were more vibrant in person than online. I gave them as gifts so, I'm not sure how many washes the laser print can take before it fades. I am thinking about ordering some for myself, then I will have that answer.


Great for work
By
Tracey T.

(Indian Head, MD) - December 20, 2012 (
See all reviews by this customer
)
I purchased this bag because I always wear my sneakers to work and then change into my shoes. This was a great purchase because it protects my shoes better than a plastic bag and it's personalized.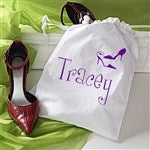 Wothwhile
By
Shopper

(Williamsburg, VA) - December 19, 2012
I was very pleased with the product. It was just what I expected.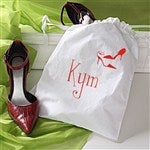 Exactly like the picture
By
Shopper

(New York, NY) - August 18, 2012
What you see, you get! Comes out perfectly, good colour in the writing and shoes and good material!

Fantastic gift
By
REBA H.

(TULSA, OK) - August 1, 2012 (
See all reviews by this customer
)
I purchased this item for me quite awhile ago and loved it. It stays in my suitcase.
I helped put a cruise together for 4 other friends and wanted to get them something special from me and also something they could use.
I chose these bags to put in their cruise gift bags.
They loved them. I chose blue, pink, purple, and red.
The colors are bright and lovely. The bags can be used for things other than shoes.
The quality is wonderful and looks nice.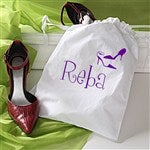 Great Birthday!
By
Seth R.

(Benton, AR) - July 25, 2012 (
See all reviews by this customer
)
July 20th was my wife's birthday. I wanted to get her smaller gifts leading up to her big day! I gave Personalzation mall a try to help make my gift more personalable. I'm glad I did! My wife was so excited about her shoe bag! She talk about how unqiue, cute, and thoughtful it was. Thank you for making wife's birthday celebration special!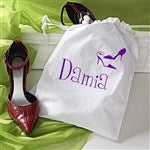 Love this shoe bag!!
By
Kathryn C.

(Nevada, MO) - July 8, 2012 (
See all reviews by this customer
)
I was impressed with how quickly my shoe bag arrived - within a few days of placing my order. The size is great and I love the personalization. the quality of the product is good - it' s well made. I'm going on vacation soon. This bag will hold up to five pair of my sandals, keeping them organized and packing easier. I highly recommend this company and this product.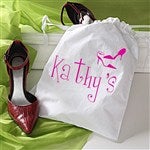 It's all about the shoes!
By
Shopper

(Bowdoin, ME) - June 25, 2012
This bag makes a fantastic gift for bridal attendants. Thank you for the quick turnaround time from the ordering to the delivery of the product.

GREAT GIFT
By
Shopper

(San Diego, CA) - April 16, 2012
I'm going on vacation and we always bring a gift for each other during our travels. there are 6 girls going and each will receive a shoe bag personalized.
love how they all turned out using all the different color choices.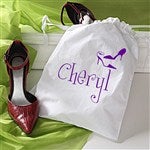 Quality & Very useful!
By
Shopper

(Laurel, MD) - January 9, 2012
I ordered three as a birthday gift to friends who travels a lot and love shoes and they all like it! It is very essential since when they travel they only use plastic bags to put their shoes on...now they have a very cute shoe bag. I plan to order more for myself and friends.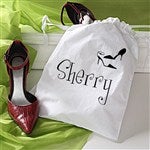 "Fancy Shoe Bag"
By
Jessica G.

(Baton Rouge, LA) - January 3, 2012 (
See all reviews by this customer
)
This was the perfect gift for my Mom. She travels alot and is a "shoe fanatic" w/ lots of fancy shoes. She now has a way to travel w/ them "safely", as this personalized, well made bag has been used already...in her words...it works "perfect" to hold my shoes.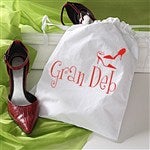 Great product
By
Shopper

(Dothan, AL) - November 9, 2011
It fits the description perfectly and it shipped out fast. I love the price and it is perfect for people that love to go dancing.

Very satisfied!
By
Shopper

(Coatesville, PA) - October 2, 2011
The product is exactly as you see it on website. It arrived immediately, I think it was on the second day after I ordered it. I got the gift box and it was packaged beautifully.

ADORABLE Bag!!
By
Andrea N.

(Goshen, IN) - August 22, 2011 (
See all reviews by this customer
)
Fabulous!! You camnot go wrong with the quality and customer service from Personalization Mall!!

Just HER Style
By
Tony C.

(Atlanta, GA) - August 22, 2011 (
See all reviews by this customer
)
This was given as a birthday gift for a lady that loves expensive shoes and travels alot. They are great protecters for such an expensive investment;-) It was the perfect gift and she absolutely loved them!

Wonderful Gifts
By
Shopper

(Albuquerque, NM) - July 25, 2011
I purchase the Shoe Bags as gifts for family and friends. There is a great selection of colors, and I choose the recipients' favorite color for the personalizing. This is a wonderful, inexpensive gift, which is well received. I will buy more!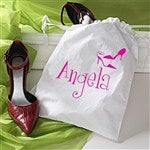 Bridesmaid Gift
By
Kaylah B.

(Rensselaer, NY) - April 29, 2011 (
See all reviews by this customer
)
I was really excited when I received these in the mail, it didnt take long at all and they look great, I went with colors that they liked instead of our Wedding color and Im going to get a pair of flip flops to put in the bag so if they want, they can switch them during the Reception. Its a great inexpensive personalized item to add with their Bridesmaid Gifts I cant wait to share and use my own :)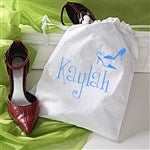 Fantastic
By
REBA H.

(TULSA, OK) - April 17, 2011 (
See all reviews by this customer
)
Have a friend that is hard to buy for? I do...she travels a lot, has all the luggage and bags anyone could want. So, when I came across this for my friend that LOVES shoes...I thought, a perfect gift! and it was. She loved it.

I loved it. Since I travel a lot too, I bought myself one. I tossed the XL ziplock bag I used to keep my shoes in, and will be taking this on my next trip.

Cute, good quality. Some shoe bags I've tried, don't fit my shoes. (I wear a size 10) This one does. Just a nice gift for yourself or a friend.
It's a nice size bag that you could use for other things also.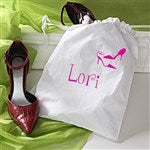 Great gift
By
Jacqueline P.

(Canada) - April 11, 2011 (
See all reviews by this customer
)
I bought this for my sister in law who works in an office and carries her high heels to work each day. Great as an added gift or a little thank you gift for someone.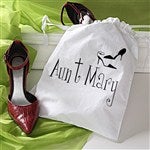 Beautiful Bag
By
Tammi E.

(Nashville, TN) - March 30, 2011 (
See all reviews by this customer
)
This shoe bag is gorgeous and fun. It's an early Christmas gift and I know my friend will love it. I may order one for myself. I've been pleased with everything I've ordered and have recommended this company to others.

Great Purchase
By
Shopper

(LOUISVILLE, KY) - March 21, 2011
I bought these bags for my bridesmaids for the wedding day and of course, any time after. They turned out really cute and I'm excited for the girls to see them! I liked them so much I ordered one for myself also!

Chic
By
Moriam O.

(Takoma Park, MD) - February 19, 2011 (
See all reviews by this customer
)
A very chic way to carry your shoes, step out in a glamour style.

Great Customer Service
By
Chiara G.

(New York, NY) - February 9, 2011 (
See all reviews by this customer
)
Somehow I accidentally typed Mr. instead of Mrs. and someone contacted me to check on the spelling. I was so appreciative! Thank you very much for the wonderful customer service. And such a cute product!

thin but very nice
By
Chelsea H.

(woodbury, NJ) - December 19, 2010 (
See all reviews by this customer
)
came out perfect

Perfect as a gift bag for my Bridesmaids!!!
By
Maryam R.

(Hackettstown, NJ) - November 11, 2010 (
See all reviews by this customer
)
Great size, nice monogram. Wish there were more color options for each style (the lingerie bag,etc) but I definitely recommend this for anyone. I ordered 2 for myself too!!

Perfect gift!
By
Linda R.

(Atlanta, GA) - August 3, 2010 (
See all reviews by this customer
)
I'm sooooooooo thrilled with this shoe bag! I ordered the monogram in pink and was concerned it may be too light. I was impressed that the color is more a fushia and looks so classy. It arrived pressed nicely and ready for presentation. Perfect for the friend who has everything!

Personalized Shoe Bag
By
Carol K.

(Reading, PA) - August 3, 2010 (
See all reviews by this customer
)
I haven't opened the plastic bag, which it came in, as it is a Christmas stocking stuffer, but I was very happy with the promptness of the order and from what I can see, I am happy with the product.

Bridesmaid Gifts
By
Charlene A W.

(Pompano Beach, FL) - July 19, 2010 (
See all reviews by this customer
)
My Niece and I looked all over for Shoe Bags. Most didn't even know what we were talking about. They were right on your web site. As they are gifts for her Bridesmaids, my Niece was so excited. To be able to them personalized,too! Thank you for having such a variety of items.

Perfect for our bridesmaids
By
Cindy F.

(Starke, FL) - April 9, 2010 (
See all reviews by this customer
)
Everything is perfect about this bag!! We are purchasing our bridesmaids heels and putting them in this bad as a surprise at the bridesmaids luncheon!! We highly recommend this bag for this very special occasion!!!

Very Nice!
By
Debra A.

(Drexel Hill, PA) - March 16, 2010 (
See all reviews by this customer
)
I got two of these for my daughter, she's a model and these will be perfect for her to store her heels in when she's traveling. The quality of the bag and design is excellent!

Perfect for Bridesmaids!
By
Kimberly C.

(Thornton, PA) - October 8, 2009 (
See all reviews by this customer
)
We got these for all of our bridesmaids. Perfect for their heels!

Love the bag!!!!
By
Migdalia A.

(San Antonio, TX) - October 7, 2009 (
See all reviews by this customer
)
The item was exactly as previewed and as described.
It is sooo cute!

Good option for an inexpensive personalized gift
By
Tonia S.

(Minnetonka, MN) - August 3, 2012 (
See all reviews by this customer
)
I purchased 10 of these for the women in our wedding, myself, and our moms. They were a nice personalized gift that was inexpensive and had extremely fast shipping. It was simple to pick different colors for each person. I liked the website and when I ordered, I could view the bag with each name and color. I used the colors classic black, red, blue, green, pink, and purple. All the colors were great. The green was much darker than it showed on the website, which I hoped it would be. The girls used the bags to hold items like water and their wallets the day off. They look nice and the drawstring is cute. My only dissapointment is the thickness of the bag. I have shoe bags that are super durable; these are not. I would just use these for your fancy shoes that will not get this bag dirty and not breakdown the thinner fabric.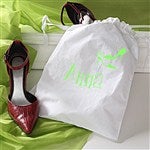 Travel Lingerie and Shoe Bags
By
Shopper

(Livonia, MI) - August 2, 2012
The bags are a decent quality, but prefer a stitched monogram or name.
The travel bags are a useable, thoughtful, fun gift item - not usually duplicated.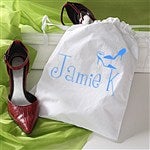 Personalized Shoe Bag
By
Shopper

(Dayton, OH) - April 29, 2012
These bags are really nice...the reason I didn't give it 5-stars is because I wish it came in other colors. The white bag will eventually get very dirty...which will cause me not to use the product. I'm hoping they will wash well. Overall, I like the product...can't wait to present my two girlfriends with the ones I bought for them.

Will get a lot of use out this bag!
By
Mariota T.

(Riviera Beach, FL) - December 23, 2011 (
See all reviews by this customer
)
I ordered this bag, personalized for my friend and I for Christmas. My friend is a Shoe pyscho and always has on a pair of heels, I am a basketball coach, and was looking for something cute to carry my shoes in after my game (I usually only make it 3 quarters standing in my heels) rather than, just holding them my hands.
We both will use the bag a lot, our only complaint is that the bag is 'white' and WILL get dirty quickly! So, please provide some other colors! Also, as a Christain, I liked how the "T" in my name looks like a 'cross'.
Lastly, I thought the names would be embroiderd, not ironed/screened on, so I was disappointed by that too...but I'm still very happy with my purchases.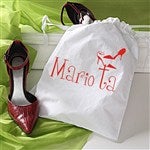 Great for cute little (non-expensive) gifts!!!
By
Shopper

(Cincinnati, OH) - September 12, 2011
I love shoe bags and things with my name on them! So, when I came across these, I was super excited! They are actually really cute and well made. I have ordered them for gifts for several of my friends. Also, I have a larger foot (9.5) and often have a hard time finding shoe bags that will actually fit my shoes! However, these work just fine w/ room to spare. I definetly recommend.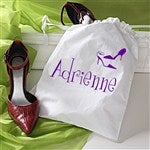 Great Product !
By
Shopper

(Greenville, FL) - April 12, 2011
This product added the extra class needed for my event. The quality was great and it looked just like the preview photo, so what I saw was exactly what I got.

Really cute
By
Michael J.

(Bangor, ME) - January 1, 2011 (
See all reviews by this customer
)
These were what I expected from the reviews and they really were cute. Would have been exactly what I was looking for if the fabric had been a bit sturdier.