Good Gift Idea
By
Shopper

(Lexington, KY) - February 15, 2012
The wallet is a very soft beautiful leather and looks great with the monogram. My husband loved it. The only thing I would suggest is to make it a little bit bigger. He couldnt fit all of his stuff in it.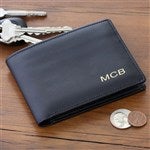 Feedback on my purchase
By
Shopper

(Charlotte, NC) - December 28, 2011
I loved this gift I got for my boyfriend its really nice the only thing I didn't like was the limit of 3 initials because my boyfriend has 4 in his name so I had to decipher which name not to put. Other than that I was very satisfied leather is nice looks good! The gold is kind of sparkley hope it doesn't rub off I thought it was plain gold like engravings. Good gift though if the persons wallet has worn thin and you need a replacement, lol.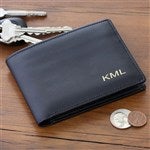 Very pleased
By
Shopper

(Framingham, MA) - December 16, 2011
I ordered this as a last minute birthday present for my boyfriend. I paid an arm and a leg for two day shipping but it made it on time! I was very pleased with the quality of the wallet, it feels vey good in your hands, not cheap. The monogram looks great, I'm wondering how long it will stay on but so far it doesn't seem to be going anywhere. The card pockets inside are not typical "wallet-size" however, they are smaller. This means that a small part of the top of the card shows, which is no problem at all but is worth mentioning. Coming from a trifold to a bifold however it is a tight fit, the wallet doesn't allow for much stretch room. He doesn't mind though, he really likes it and he gets compliments on it all the time! I would reccommend this item to anyone who has a man to buy for, and i would definitely buy from this seller again!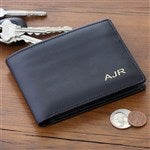 Personalized Leather Bi-Fold Wallet
By
Shopper

(Pearland, TX) - September 26, 2011
I ordered the personalized leather bi-fold wallet for my bf's birthday gift. I haven't given him the wallet yet, but I think he'll really enjoy it. The leather is soft, has a nice texture and looks sturdy. I'm happy about the purchase, and I can't wait to see what my bf thinks of it!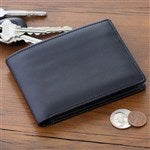 cool
By
Clare N.

(panorama city, CA) - July 5, 2011 (
See all reviews by this customer
)
best gift my uncle received on his birthday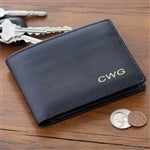 Father's Day Gift
By
Karen A.

(New Britain, CT) - May 30, 2011 (
See all reviews by this customer
)
When I ordered the wallet, I knew it was going to be beautiful and of quality, but when I received it, I was even more pleased by the way the letters gleamed in gold and the wallet smelled so fresh of leather. It's beautiful indeed and my daughter and I can't wait to give it to Papi for Father's Day.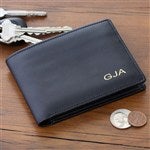 Great! !
By
Shopper

(Herrin, IL) - April 24, 2011
We ordered these for our groomsman. They quality of the wallet is great and the initials look good also.

Nice
By
Amy F.

(Dallas, TX) - January 15, 2011 (
See all reviews by this customer
)
I bought the Regent as a Christmas present for my husband. I chose the black bi-fold with silver font...he appreciated the quality of the wallet. We're happy with our purchase.

Show me the money!
By
Niambi P.

(Philadelphia, PA) - December 30, 2010 (
See all reviews by this customer
)
This is a nice wallet. Good quality! Reasonably priced. Plenty of compartments. Although, the ability to Personalize is terrific, that feature won't last long on the product.

Nice leather wallet
By
Kathy C.

(Utica, KY) - December 28, 2010 (
See all reviews by this customer
)
This is a very nice leather wallet. I gave it to my husband for Christmas. The momograming on it looks like it will eventually rub off. But it is a nice quality leather wallet.

RECOMMENDED
By
IDALIA H.

(DORCHESTER, MA) - November 20, 2010 (
See all reviews by this customer
)
I KNOW MY BOYFRIEND IS GOING TO LOVE IT!! ESPECIALLY THAT IS PERSONALIZED WITH HIS INITIALS!!!

Wallet great -- printing not so great
By
Amy J.

(Elk Grove, CA) - March 31, 2010 (
See all reviews by this customer
)
The quality of the wallet is great. We were a little disappointed in the foil printing on the product. We ordered two wallets. The foil "bled" on one of them and the other one was blothcy. Overall, the product is great especially for the price.

Not embroidered
By
Joshua W.

(Hartshorne, OK) - January 27, 2010 (
See all reviews by this customer
)
The words on the front of the wallet are not stitched, its printed on. But it is still a nice, and professional looking wallet