Okay
By
Shopper

(San Francisco, CA) - May 6, 2011
Not the best font ever, but still passes as a good gift!

not quite a hit
By
Victoria G.

(Bonney Lake, WA) - December 30, 2010 (
See all reviews by this customer
)
I was very pleased with the quality and softness of the leather used in this wallet. It is well made and just what I hoped for, unfortunately, the stamped initials were done with less quality. The letters already looked worn and cheap when the item arrived.

Not great
By
Melissa D.

(Magnolia, TX) - December 18, 2010 (
See all reviews by this customer
)
The wallet is a nice wallet. It seems of good quality. I wouldn't think it is worth the price, though. I had to return it based on the monogram setting nearly off the side of the wallet. The last initial was on top of the stitching. It made it look cheap. I was disappointed with the monogramming.

Monogram Wallet
By
Karen P.

(Canton, OH) - June 16, 2010 (
See all reviews by this customer
)
Somewhat disappointed in the monogram. It looks like it could have been a bit more completed. Top is cut off, not a lot but noticeable. This is a Father's Day gift and too late to return. Wallet itself is very nice and good quality.

Ok...not great.
By
Amanda S.

(Dallas, TX) - April 14, 2010 (
See all reviews by this customer
)
I ordered this for my father's birthday. I was sort of disappointed. The leather wasn't great quality and the initials are not embossed (i.e. imprinted with ink and indentions) but rather just almost silk screened on. I don't think that the initials are going to stay on there very long. Just kind of disappointed for the price.

Wallet is Good
By
Sreelekha K.

(Denver, CO) - January 26, 2010 (
See all reviews by this customer
)
I bought this wallet for my husband's birthday. It was really good he liked it. But we have few suggestions, there was not enought pockets for credit card. A seperate pouch for credit card was there but when we keep the credit cards in.. the wallet bulges out & difficult to take the cards when needed. So my husband removed that attachment.



Initials are stamped on
By
Ladonia T.

(Westminster, CO) - April 9, 2013 (
See all reviews by this customer
)
Most of the products I have ordered through personalizationmall.com are of great quality, expect for this wallet. The initials are stamped on rather than sewn in, therefore they rubbed off after a month. The price is cheap so I guess you get what you pay for.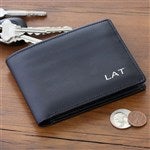 Disappointed
By
Shopper

(Bellflower, CA) - April 21, 2012
I was very excited to get this for my fiance and my father but was very disappointed. I got it because the Initials make it more personalized but the initials on the wallet is so light it will eventually rub off. Also my fiance is into name brands and I thought this would be a nice gift for a change but I was not happy with what I got. My fiance's birthday was on the weekend and I got this wallet on a monday and I paid $11 for 3-5 day shipping (I ordered 6-7 days before). I recommend this for elders who just need a wallet, like my father loved it but other than that you can find better wallets at ross for a cheaper price.

Nothing Special
By
Shopper

(torrance, CA) - January 13, 2012
The reason I came to this site and bought THIS wallet was because of the simple personalized initials I was able to add to it. Unfortunately, the letters do not stay... They fade after time and now my boyfriend's wallet is just black.

Personalized mens wallter
By
Shopper

(Sacramento, CA) - October 22, 2011
At first I thought this was a great gift for my husband....but after using it for a couple of months the letters have faded completed off the wallet. For the price I wished that the monogrammed could have been better.