Nice
By
Amy F.

(Dallas, TX) - January 15, 2011 (
See all reviews by this customer
)
I bought the Regent as a Christmas present for my husband. I chose the black bi-fold with silver font...he appreciated the quality of the wallet. We're happy with our purchase.

Show me the money!
By
Niambi P.

(Philadelphia, PA) - December 30, 2010 (
See all reviews by this customer
)
This is a nice wallet. Good quality! Reasonably priced. Plenty of compartments. Although, the ability to Personalize is terrific, that feature won't last long on the product.

Nice leather wallet
By
Kathy C.

(Utica, KY) - December 28, 2010 (
See all reviews by this customer
)
This is a very nice leather wallet. I gave it to my husband for Christmas. The momograming on it looks like it will eventually rub off. But it is a nice quality leather wallet.

RECOMMENDED
By
IDALIA H.

(DORCHESTER, MA) - November 20, 2010 (
See all reviews by this customer
)
I KNOW MY BOYFRIEND IS GOING TO LOVE IT!! ESPECIALLY THAT IS PERSONALIZED WITH HIS INITIALS!!!

Wallet great -- printing not so great
By
Amy J.

(Elk Grove, CA) - March 31, 2010 (
See all reviews by this customer
)
The quality of the wallet is great. We were a little disappointed in the foil printing on the product. We ordered two wallets. The foil "bled" on one of them and the other one was blothcy. Overall, the product is great especially for the price.

Not embroidered
By
Joshua W.

(Hartshorne, OK) - January 27, 2010 (
See all reviews by this customer
)
The words on the front of the wallet are not stitched, its printed on. But it is still a nice, and professional looking wallet

A little over priced I think.
By
Shopper

(Edna, TX) - August 7, 2013
Grandpa likes bigger wallets so when I received this in the mail, I was a little disappointed. It's very small, maybe for a teenager or young college man. Graduation gift or so. Not someone who has a lot to place in it. He loved the "GPA" we had engraved on it. He still hasn't used it because not all his stuff fits in it. I also think it's over priced for the size that it is.

Monogram wore off
By
Shopper

(Washington, MI) - July 11, 2012
When originally receiving this wallet and giving it to my husband the presentation amd quality seemed great. However, after only a short time of daily practical use, the monogram started fading and rubbing off, making the wallet look cheap and tacky. Disappointed

Sweet
By
Lubna M.

(Canada) - June 14, 2012 (
See all reviews by this customer
)
A normal simple wallet becomes special with just 3 letters on it. Got it for my hubby's birthday. Hopefully he will like it. Nice leather.
Shipping charges are on the higher side.
Nice gift.

Okay
By
Shopper

(San Francisco, CA) - May 6, 2011
Not the best font ever, but still passes as a good gift!

not quite a hit
By
Victoria G.

(Bonney Lake, WA) - December 30, 2010 (
See all reviews by this customer
)
I was very pleased with the quality and softness of the leather used in this wallet. It is well made and just what I hoped for, unfortunately, the stamped initials were done with less quality. The letters already looked worn and cheap when the item arrived.

Not great
By
Melissa D.

(Magnolia, TX) - December 18, 2010 (
See all reviews by this customer
)
The wallet is a nice wallet. It seems of good quality. I wouldn't think it is worth the price, though. I had to return it based on the monogram setting nearly off the side of the wallet. The last initial was on top of the stitching. It made it look cheap. I was disappointed with the monogramming.

Monogram Wallet
By
Karen P.

(Canton, OH) - June 16, 2010 (
See all reviews by this customer
)
Somewhat disappointed in the monogram. It looks like it could have been a bit more completed. Top is cut off, not a lot but noticeable. This is a Father's Day gift and too late to return. Wallet itself is very nice and good quality.

Ok...not great.
By
Amanda S.

(Dallas, TX) - April 14, 2010 (
See all reviews by this customer
)
I ordered this for my father's birthday. I was sort of disappointed. The leather wasn't great quality and the initials are not embossed (i.e. imprinted with ink and indentions) but rather just almost silk screened on. I don't think that the initials are going to stay on there very long. Just kind of disappointed for the price.

Wallet is Good
By
Sreelekha K.

(Denver, CO) - January 26, 2010 (
See all reviews by this customer
)
I bought this wallet for my husband's birthday. It was really good he liked it. But we have few suggestions, there was not enought pockets for credit card. A seperate pouch for credit card was there but when we keep the credit cards in.. the wallet bulges out & difficult to take the cards when needed. So my husband removed that attachment.



Convenient gift idea disappoints
By
Shopper

(New Haven, CT) - June 24, 2013
I bought this as one of several gifts for my father this past father's day. I thought it an ideal, pragmatic gift. Unfortunately, my father won't be using the wallet because it is surprisingly too small. What should have been useful and of good quality for my 51 year old father is now passed down to my fifteen year old brother. If I could return it, I would.

Initials are stamped on
By
Ladonia T.

(Westminster, CO) - April 9, 2013 (
See all reviews by this customer
)
Most of the products I have ordered through personalizationmall.com are of great quality, expect for this wallet. The initials are stamped on rather than sewn in, therefore they rubbed off after a month. The price is cheap so I guess you get what you pay for.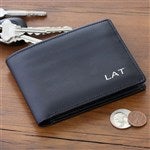 Disappointed
By
Shopper

(Bellflower, CA) - April 21, 2012
I was very excited to get this for my fiance and my father but was very disappointed. I got it because the Initials make it more personalized but the initials on the wallet is so light it will eventually rub off. Also my fiance is into name brands and I thought this would be a nice gift for a change but I was not happy with what I got. My fiance's birthday was on the weekend and I got this wallet on a monday and I paid $11 for 3-5 day shipping (I ordered 6-7 days before). I recommend this for elders who just need a wallet, like my father loved it but other than that you can find better wallets at ross for a cheaper price.

Nothing Special
By
Shopper

(torrance, CA) - January 13, 2012
The reason I came to this site and bought THIS wallet was because of the simple personalized initials I was able to add to it. Unfortunately, the letters do not stay... They fade after time and now my boyfriend's wallet is just black.

Personalized mens wallter
By
Shopper

(Sacramento, CA) - October 22, 2011
At first I thought this was a great gift for my husband....but after using it for a couple of months the letters have faded completed off the wallet. For the price I wished that the monogrammed could have been better.

flakey
By
Bonnie F.

(Largo, FL) - December 23, 2010 (
See all reviews by this customer
)
I have been ordering from here for years never being disappointed with anything. However this time I was disappointed with the quality of the lettering. I was hoping it to be in the leather. Instead the initials were just put on with some type of gold powder. The gold is also all over the wallet itself. Being it is a powder it was very difficult to wipe off. Honestly I could have done it myself.

Generic
By
Melanie G.

(Shepherdsville, KY) - June 18, 2010 (
See all reviews by this customer
)
The wallet was so generic looking that when I removed it from the packaging I actually giggled. I was so embarassed to have to present my boyfriend with this as a gift. I have absolutely LOVED every other product I have ever ordered from personalizationmall.com but this was a total dissapointment.

Monogram is low quality
By
Shelly C.

(Tamarac, FL) - June 17, 2010 (
See all reviews by this customer
)
I just got this item today June 17 2010 and I am very disappointed with the lettering as it looks already faded. The wallet itself is ok. I do not recommend this item at all.

High Cost, Cheap Leather, Bad Monogramming
By
Shopper

(Baltimore, MD) - November 16, 2012
For this price, I expected a better quality wallet. I read the 4 reviews that rated this product 1 star, but chose to ignore them. I regret that now. It's too late to return this as I'm flying out of the country and the wallet was a gift to my cousin overseas and I haven't bought anything else for him. The leather feels cheap. The monogram itself was print. It wasn't thread. The print not only looks cheap, but also looks as if it might wear off any moment, like one of the reviewers said. If you are easily exhilarated by seeing your initials on a wallet, then by all means, order this. Else, stay away. To their credit though, the ordering was a breeze and delivery was on time - Nov 2012

Cheap Quality
By
Shopper

(Orlando, FL) - June 19, 2012
Quality isn't really good...Very cheap leather

cheap looking
By
Anastasia K.

(Jersey City, NJ) - February 6, 2012 (
See all reviews by this customer
)
I have had good experiences with personaliztion mall, but this wallet was a real dissapointment. Cheap and oddly bulky. I do not recommend this product to anyone. The momogram looks as if it's gonna rub off at any moment....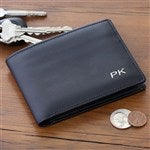 poorly constructed for the cost
By
Shopper

(Ventress, LA) - January 16, 2012
looked cheap and definitley not worth the cost

Dissatisfied
By
Shopper

(Upper Marlboro, MD) - July 31, 2011
I'm unhappy that one of the wallets lettering is faded (intials NSH).