Arrives and apears as expected.
By
Jane G.

(Southington, CT) - December 10, 2009 (
See all reviews by this customer
)
This is a great box and arrives exactly as pictured on the web page. Using these boxes is a great way to keep family recipes identified by placing the cook's name on the box.

Just adorable!
By
Annamaria P.

(Astoria, NY) - November 14, 2009 (
See all reviews by this customer
)
This is a great combination with the other kitchen gifts. I have purchased more than one of these and it never ceases to please. Truthfully any product purchased from you has never disappointed.

Great Product!
By
Diane D.

(Denton, TX) - October 21, 2009 (
See all reviews by this customer
)
Such a nice quality Recipe Box. Love the engraving. Speedy delivery!

Sturdy Value
By
Alan P.

(Schaumburg, IL) - October 19, 2009 (
See all reviews by this customer
)
This was a great gift for my wife. Solid wood. Very sturdy. Great value.

well made
By
Bea S.

(Arlington, VA) - October 7, 2009 (
See all reviews by this customer
)
Bought the personalized recipe box for a kitchen shower gift. The box was even better than I had expected - well made, and the wood was beautiful. The letters, design and name are "etched," not just stamped onto the box - very nicely done. The recipe cards were also very cute and well-done. Would definitely order something from here again.

Great recipe box.
By
Carla B.

(Elizabeth, CO) - October 1, 2009 (
See all reviews by this customer
)
I ordered one a few months ago & found it was not quit large enough for my recipes (even though I downsized my recipes) because I am always gathering more recipes that sound delicious. I now have two different ones so I know which half of the recipes are in each. I love the look & the size. Thanks!

Nice product
By
Shopper

(Champaign, IL) - January 15, 2012
Very nice quality. Very fast service. My only negative comment would be that is was a little pricey.

Great gift idea
By
Shopper

(Berkeley Heights, NJ) - November 15, 2011
Perfect for my daughter starting out on her own!

Very nice addition to the Recipe Box.
By
Srinivas D.

(College Park, MD) - October 31, 2011 (
See all reviews by this customer
)
I bought this personalized Recipe Cards to go with the Recipe box. The quality is very nice. It has a smooth touch to it which is very classy. However I honestly feel its quite expensive for the cost.

Personalized recipe box
By
Shopper

(Maryland Heights, MO) - May 25, 2011
This item is almost perfect. If it could have accomodated a few more letters, it would be perfect. My daughter's first & last name would not fit. She just graduated with a double major in Baking & Pastry Arts and Culinary Arts. I thought that this would be the ideal gift as she leaves town for further schooling.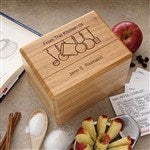 great gift
By
Shopper

(Canada) - February 25, 2011
It is a great item and and good gift. It would be nice to have the larger style available to keep the larger sized recipe cards.

Joja
By
Shopper

(Clinton Township, MI) - January 8, 2011
Really nice recipe box, they are hard to find locally. Wish it was a little larger, I don't think it will fit 1000 recipe cards like it said but mine are laminated so they take up more space. Really nice look and good quality. Very happy with it and the personalization is a plus.

NEAT RECIPE BOX FOR CHRISTMAS GIFT
By
Kathryn C.

(Roxboro, NC) - July 27, 2010 (
See all reviews by this customer
)
I am trying to get all of my small Christmas Gifts bought now, so I don't have to fight crowds in November & December. Christmas gets smaller and smaller each year for our family, but I thought this would be a nice gift and keepsake.

So cute!
By
Malissa N.

(Woburn, MA) - July 19, 2010 (
See all reviews by this customer
)
I really love this box...I only wish there was a font choice!

No surprises on Recipe Box
By
Brett G.

(Northwood, OH) - May 12, 2010 (
See all reviews by this customer
)
The recipe box was just as pictured based on the website photo. Well appreciated as Mother's Day gift. Only drawback was personalization character limit, which prevented last name on box and recipe cards. Not a big deal, since the first name only seemed better ayway.

Wooden recipe box
By
Patricia W.

(Highland, IL) - February 11, 2010 (
See all reviews by this customer
)
It was all I hoped for as a gift for my son who loves to cook. Great looking, he will love it. Thanks

Good things come in small packages.
By
Lana C.

(vineland, NJ) - January 27, 2010 (
See all reviews by this customer
)
This box is absolutely gorgeous! It is sturdy and reliable. The size is perfect and is more than enough room for many 3x5 cards. I just wish the box had some notches/dividers on the bottom so the cards didn't slide around so much. Otherwise...perfect!!! ++++

Recipe Box
By
Nadine R.

(Wichita, KS) - January 22, 2010 (
See all reviews by this customer
)
I ordered three of these boxes for Christmas gifts. Two of them were absolutely perfect. One of them didn't close perfectly and had a very slight opening--seemed like one of the metal closures was slightly off center when it was screwed in. Didn't look like it would make a difference but it did.

Useful and beautiful gift
By
Bernardine G.

(Succasunna, NJ) - December 21, 2009 (
See all reviews by this customer
)
the box is a nice color and grain and the etching looks really nice. It is a great gift for someone who really likes to cook and collect recipes.

More attention to detail needed
By
Mary S.

(Bellevue, NE) - November 9, 2009 (
See all reviews by this customer
)
The box is well-constructed; the wood grain is attractive and has a satin finish. My only complaint is that the "f" in the word "Of" in the inscription was not inked in. I attempted to do this myself with an OK, but not perfect, result.

It was ok.
By
Shopper

(New Hope, PA) - May 26, 2013
I thought this box would have a sheen to the finish, but it was very dull. Also the personalization could have been more pronounced. It is a bit top heavy also. I'm sure it will be just fine to hold recipes and will hold up for a long time. also the box it came in was so flimsy. You could never keep it in that box to give it as a gift.

Disappointing size
By
Jenna T.

(Ramsey, MN) - April 28, 2012 (
See all reviews by this customer
)
I got this recipe box from my mother-in-law 4 years ago for a wedding show gift and it's my FAVORITE gift! My cousin is getting married this summer so I thought this would be a wonderful gift for her as well. I ordered it last week and it came quickly (paid for the standard shipping but it still got here in 4 days) and was packaged well. But when I opened it to take a sneak peek before I wrapped it for her, I realized that it only holds 3x5 cards. Mine is the EXACT same recipe box but it holds 4x6 cards. I was frustrated and immediately got on the website to see if I had accidentally ordered the wrong size or something, only to realize that this box ONLY comes in 3x5 now. Very disappointing since every recipe card that I own is 4x6... and we all wrote out recipes for my cousin at her shower but she couldn't even put them in her new recipe box since they were on 4x6 cards. The box itself is wonderful but beware that it's SMALL.

Second Time's the Charm
By
Shopper

(Centereach, NY) - February 18, 2012
When this item first came, I was very disappointed because the lid had cracks and splits in the wood and it looked cheap. However, when I emailed customer service, they were very helpful and courteous and sent me a second one right away, for free. I did not have to return the first one or anything.

The second box was absolutely beautiful, exactly like the picture on the website. It is gorgeous and we love it. The only sad part was that it was supposed to be a Valentine's Day gift, and the good item didn't arrive until the day after the holiday. However, considering the excellent customer service and the good quality of the second box, I would order from this company again.

Smaller than anticipated
By
Shopper

(Avon, IN) - November 20, 2011
Very nice looking and sturdy wood - just alot smaller than I had anticipated

Quality of Recipe Box
By
Barry S.

(Ashland, MA) - November 12, 2009 (
See all reviews by this customer
)
The box is attractive and well-made. However, the top does not close properly, leaving a space between the top and bottom when the lid is closed.

ES

Mixed Review
By
Shopper

(Hampton, NH) - June 12, 2011
Although I like the box itself, the measurements should be more specific. The write-up states the box is 6" W x 4 1/2" H x 4 1/2" D. Therefore you would think if you order recipe cards in the 6" x 4" size they would fit in the box, but they don't. That's because the actual measurement of the OPENING of the box is only about 5 1/4" W (too small for these cards). When I called this to the attention of customer service, their response was not very customer friendly, in my opinion. You need to be careful in reading their description.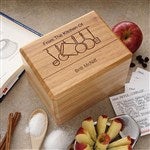 I wouldn't buy another as a gift.
By
Frederick E.

(Orrington, ME) - December 17, 2010 (
See all reviews by this customer
)
The laser engraving is fine. The box itself and the description could use more quality control. My lid is not centered. I know these are made a bazillion a day in some third world country, but it wouldn't take long to inspect them & throw out the bad ones. Also....if this will hold 1,000 cards, it will also hold all of your pots and pans. Using a hammer you might fit in half what they declare.

Don't all that happy!!
By
Rod S.

(Salem, OR) - December 20, 2009 (
See all reviews by this customer
)
Like I said, I'm not completey happy. It looks beautiful, but the receipe box was a whole lot smaller than I thought. The claim that it can a 1,000 cards has be an exragation.