A perfect halloween gift
By
Steffen H.

(New York, NY) - October 9, 2009 (
See all reviews by this customer
)
I recently bought this bandana for my sister's dog, who is a chihuahua/jack russell mix. I was worried it would be too big, but it fits greats! It kind of looks like a cape. The way it attaches to the collar ensures it won't fall off and become lost. She really loved the personalized message too!

Howl-oween dog bandana
By
Melanie P J.

(Morrow, GA) - October 7, 2009 (
See all reviews by this customer
)
SO cute and perfect for all of our dogs. Quality is very good and I am very pleased with this product. And as always, service from Personalization Mall was incredible!

Happy Howl-oween© Personalized Bandana
By
Jan N.

(San Gabriel, CA) - October 5, 2009 (
See all reviews by this customer
)
Absolutely love it! I bought one for each dog!

Howling Success
By
Constance P.

(MERCERSBURG, PA) - October 1, 2009 (
See all reviews by this customer
)
This is the cutest scarf for all size dogs....goes over collar so very convenient...adorable...

Howl-oween Personalized Bandana
By
Mary M.

(Woodbury, NY) - October 1, 2009 (
See all reviews by this customer
)
I just love this item..It looks exactly as shown, and the personalization is adorable..I can't wait to put it on my dog on Halloween...

can't not tie
By
Shopper

(Keyport, NJ) - November 9, 2012
I would've rated this product with 5 stars, however my dog could not wear it. It was too small for her neck and did not come with some sort of ribbon or elastic on it.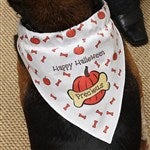 Cute
By
Noelle P.

(Lemont, IL) - November 5, 2012 (
See all reviews by this customer
)
My husband refused to let me dress our puppy, Kinzy, up for Halloween and so the bandana was our compromise. Our dog got a lot of compliments on it when we went to the vet's office. We have a 40 lb lab and it fit her well. I don't think it would look good on a dog much bigger than that.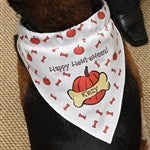 Cute
By
Shopper

(Garden Grove, CA) - November 3, 2012
This bandanna is very cute. The only reason I didn't give it a 5 star was because of the fabric. It is very stiff! I haven't washed it yet so I don't know if it will soften up.

Needs sizing.
By
Lynne M.

(Toledo, OH) - October 14, 2012 (
See all reviews by this customer
)
A large collar will not fit this lovely collar. The buckle is too large to slide through.

Adorable but a bit pricey
By
Shopper

(OAK PARK, CA) - October 29, 2011
This bandana is adorable and well made. The dogs collar feeds through it so there id no hazard of choking or difficulty untying knots. Would of been 5 stars except for the cost:-)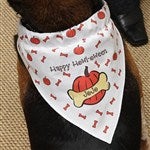 Doggie Howlloween scarf
By
Myrtle E.

(North Myrtle Beach, SC) - October 6, 2009 (
See all reviews by this customer
)
Mailed item to my son for his pet. I am waiting for his response to the gift to rate.

Cute idea!
By
Sherie H.

(Overland Park, KS) - October 15, 2012 (
See all reviews by this customer
)
This is a cute idea and was an impulse purchase that didn't quite work. Bandana is too small for larger dogs and somehow I ordered the one where the collar feeds through it. Doesn't quite work for a chocolate labrador that is over 80 pounds.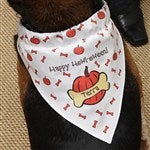 Dog bandana
By
Shopper

(Hyattsville, MD) - October 14, 2012
Loved the actual bandana although it was too small to fit around the dog collar (I have an extra large dog) . If it is not already under the on- line item description, I would suggest to add that this item is only for small to medium dogs.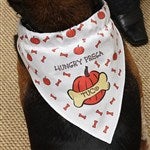 Dog Bandana
By
Shopper

(Demotte, IN) - October 14, 2012
I ordered this for my canine grandson to wear for Halloween. It is very cute, ,but the fabric is very thin and cheap feeling. I suppose for a dog, it is fine, Pay attention, It does not tie, it fits over a collar which I did not notice.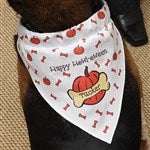 Scarf
By
Shopper

(Annandale, VA) - October 13, 2012
Too small to fit on his collar - should be a little bigger.

Cute, but not for big dogs
By
Shopper

(Morris Plains, NJ) - October 2, 2012
Like everything out there for pets, these bandana's are not for big dogs. They do not fit on a large collar. I had to remove the first row of stitching to get it on the collar and then it just looks silly on my big dogs because it's too small. If you have small dogs, then you'll be fine, but if you have big dogs, keep looking!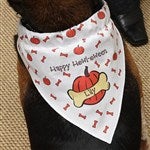 Attaches to dog collar
By
Shopper

(New Baltimore, MI) - October 14, 2011
This dog bandana is cute. It attaches to the collar tho. I was thinking it was a bandana that ties around the neck. It does not. You put your dogs collar, ( a narrow collar) thru the top like a curtain rod. My two dogs wear chokers, and I tried, but couldnt get it to work.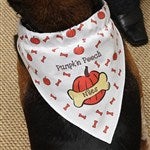 Too big for my little chihuahua
By
Tony T.

(Santa Clarita, CA) - October 13, 2009 (
See all reviews by this customer
)
This is adorable! But I have a chihuahua and this is way to big for him. We have made it work but I think it is better for larger dogs.

cute but unable to use
By
Shopper

(Tampa, FL) - October 23, 2012
The bandanas are cute, especially with the personalization, but the hole isn't large enough for the dogs collar to fit through. You have to slide the collar buckle through the bandana and it's too large, even with a regular size buckle. It turned out nice, but unfortunately we can't use them.

Thin and Flimsy
By
Shopper

(Alsip, IL) - December 8, 2011
I purchased this for a larger dog and was very disappointed. The bandana was very flimsy and felt more like thin plastic than 100% cotton. I was told that it was starched so that it would lay on the dog's back, but it still felt more like a plastic tablecloth than starched cotton. Definitely not worth the money.

disappointing
By
Shopper

(Pembroke Pines, FL) - September 30, 2011
For the price, it is really not worth it. It must be put on the dog's caller, not used as a bandana.

cute but small
By
Janet E.

(Las Vegas, NV) - May 8, 2011 (
See all reviews by this customer
)
I was purchasing this for a big dog and it will not fit so it is cute but only for smaller dogs.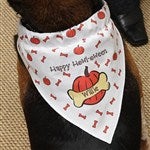 too small to fit over collar
By
jennifer T.

(chesterfield, VA) - October 20, 2012 (
See all reviews by this customer
)
too small to fit over collar