Ringbearer gift
By
Shopper

(Conestoga, PA) - March 27, 2011
The bat is very good in quality. The engraving was good but could have been a little bigger. Good value for price. Very pleased with item

great website
By
Shopper

(Hagaman, NY) - March 13, 2011
I think my nephews will love this bat for being my ring bearers. However, I was a little disappointed with how small their names were on the bat.

Good Gift Idea
By
Shopper

(Pink Hill, NC) - January 15, 2011
I ordered this as a ring bearer gift for my daughter's wedding and I am very satisfied. Only wish the child's name was printed a little larger; other than that it's a great gift for the price! Well satisfied!

Would Recommend
By
Rachel W.

(Brandon, FL) - September 8, 2010 (
See all reviews by this customer
)
The bat is a great quality Rawlings bat, but the engraving was a little different than I expected. The photo shows it more toward the middle of the bat, but it was actually engraved at the very tip and was kind of small. I would still recommend this item though.

Almost what expected
By
Kelly B.

(Bolingbrook, IL) - July 26, 2010 (
See all reviews by this customer
)
Thought it was a good price, but didn't realize they were not full size bats. Would have looked for a larger one for one of the three that I ordered, but not bad for the younger kids.

Special gift
By
Ingrid C.

(Danbury, CT) - June 18, 2010 (
See all reviews by this customer
)
I ordered this as a Christening gift for my grandson. I thought it would be a unique gift with his name and birthdate. I was just unhappy with the location of the engraving ... it was too close to the tip of the bat, I would have thought it would be more centered.

Better than the Pic
By
Lisa H.

(New Port Richey, FL) - May 7, 2010 (
See all reviews by this customer
)
These are not big stick bats nor mini bats, but after comparing prices these were the ones. They were better than I thought they would ever turn out. I especially cannot wait to give one to my very special ring bearer. For the price, and definitely the quality these are perfect gifts for your groomsman....

great for every sport fan
By
Jessica M.

(Camp Lejeune, NC) - May 3, 2010 (
See all reviews by this customer
)
This bat was a great gift idea. The boys loved it!

Room for improvement
By
Shopper

(Bradford, VT) - August 22, 2013
The overall quality of the bat was good but the personalization was very small and the placement was odd. It was very close to the tip of the bat when it would have looked better centered.

Small Engraving
By
Shopper

(Jacksonville, FL) - October 15, 2011
The bat itself is very nice. I ordered this for my ring bearer who is 7 and loves to play baseball. We wanted him to actually use the bat instead of just displaying it, so in that since it was worth the money. However, for those of you who are buying it just because you can personalize it...you may want to think twice. When I took the bat out of the package I was like "where is his name??" That's because it's SO SMALL! I think the engraving is literally like 2 inches, which is small on this big bat. I also showed the bat to his parents to see if they think he would like it and it was funny because they too didn't notice the engraving at first! Just something to think about!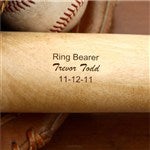 Great Bat...Small Print
By
Kathleen S.

(Shirleysburg, PA) - April 20, 2010 (
See all reviews by this customer
)
The bat itself was great...loved everything about it. The personalization was very small and hard to find at first. I was disappointed about this.

small personalization
By
Shopper

(Madison Heights, MI) - September 13, 2011
couldn't believe how small the personalization was. pointless to have it personalized.