Nifty photalbum
By
Kirstie R.

(Ocala, FL) - April 15, 2013 (
See all reviews by this customer
)
I would have given it 5 stars but the album was a little smaller than I expected it to be considering the price. Otherwise, it is a nicely put together album and the engraving turned out neat and straight.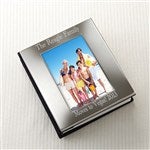 High quality album
By
Shopper

(Brooklyn, CT) - February 24, 2013
I really like the quality of this album, and I would have given it 5 stars except that it really shows fingerprints so if it is going to be used a lot, buyers beware. In my case, it will be on display and won't be picked up so it isn't an issue. Like the pages; they have an insert in them that keeps back to back photos showing through to the other side. I would order this album again.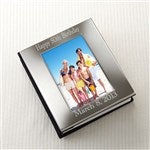 Photo Framed Album
By
Shopper

(Stafford, TX) - October 22, 2012
The order arrived earlier than expected. I am looking forward to ordering a couple more albums.
Engravement came out really nice.

Makes a nice gift
By
Shopper

(Tustin, CA) - February 4, 2012
The photo album is very good quality. My only issue is that the engraving is hardly noticeable against the silver frame. I find myself having to adjust the lighting to read the engraved name.

Accurate to listing
By
Shopper

(Prior Lake, MN) - October 10, 2011
It was very accurate to what it looked like, I just wish it had more characters available. But you definately get what you see in the picture. Good product.

Happy!
By
Alison R.

(Centennial, CO) - May 10, 2011 (
See all reviews by this customer
)
Happy with the purchase! The frame quality seems good for the price. I didn't think there was an option to change the personalization to accomodate a horizontal picture. I would have liked that & an option to pick the font for the engraving.
I think the frame looks great & my mother & mother-in-law will love them.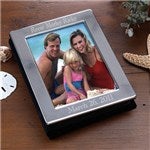 Great Gift for parents
By
Laurie C.

(New Bedford, MA) - March 20, 2011 (
See all reviews by this customer
)
Purchased one for reach of our parents as a "thank you" gift for our upcoming wedding. The engraving could have been a little darker, but it arrived quickly.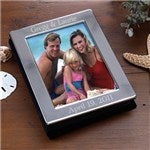 Great Gift!
By
Kerrie B.

(New York, NY) - March 1, 2011 (
See all reviews by this customer
)
I bought this as a new baby gift after receiving one (also as a gift) when my daughter was born. It's the perfect gift for a new mom - especially if it's a second (or third, fourth, etc.) child who already has everything. The only thing I don't love about it is the soft back cover.

Nice
By
Shopper

(Apex, NC) - February 8, 2011
It's was nice, the photo online makes it look larger than it really is in real life. I liked the font online but for some reason I didn't like it when I saw it in person. It's a gift so I wish I had more lines around the frame but all and all it's nice and would get another.

Nice Product
By
Erin T.

(Mechanicsburg, PA) - May 20, 2010 (
See all reviews by this customer
)
We ordered 5 of these for our wedding. Very nice product, great price, and fast shipping! I would say the only complaint that we have is that it shows fingerprints all over the silver!!!

great product
By
Theresa R.

(Vincennes, IN) - May 10, 2010 (
See all reviews by this customer
)
I bought this as a thank you for my daughter's teacher. I was very happy with the personalization that I had put on it.
Love Personalization Mall!

Great!!
By
Marina I.

(Long Beach, NY) - December 23, 2009 (
See all reviews by this customer
)
It was great quality. Can't wait to give it to all my girls!!

Photo album
By
Joan S.

(Conrad, IA) - December 20, 2009 (
See all reviews by this customer
)
This is a high quality photo album. My one complaint is that the engraving on it is hard to read since it is the same color as the frame. It would look better if the lettering was black.

Joan S. - Iowa

Photo Album
By
Elizabeth H.

(Essex, MD) - January 1, 2012 (
See all reviews by this customer
)
The photo album quality is what I expected, but the laser engraving is barely visible. I ordered a total of four albums for gifts and the engraving quality was a dissapointment on all. I would not recommend.

Photo Album not 100% satisfied
By
Shopper

(Garden City, NY) - November 21, 2011
First time I was not 100% satisfied with a product from this website. The reason being that it was difficult to read the engraving. I was afraid the recipient wouldn't even see it, so I had to point it out. Otherwise the product was of good quality.

Photo Album
By
Linda W.

(Arnot, PA) - December 24, 2010 (
See all reviews by this customer
)
Although the product was very pretty, I was not impressed with the engraving on the product. The silver on this album is so shiny that the engraving was not very noticable. I think on something like this product, black or gold color engraving would of stood out much better.

It was easy to order and product was shipped quickly.

Engraving could be better
By
Danielle T.

(Worcester, MA) - September 23, 2010 (
See all reviews by this customer
)
When I first took the album out of the box, I didn't even notice the engraving, it's not very noticeable unless under the right light. I'm not sure if this is due to the default font used or if that's just how it's supposed to be, but other than that, I was happy with the purchase.

Engraved Photo Album Review
By
Robin L B.

(Pueblo, CO) - December 29, 2009 (
See all reviews by this customer
)
The shipping was extremely quick. The item itself seemed of average quality, especially since the engraving was included, but I have to say the engraving is very difficult to read. It does not seem to be deep at all and you have to actually maneuver it into the correct light to be able to read it. My husband didn't even notice it when he opened the gift, and I had to tell him to go to the window to see the engraving in the light. Also, the lettering is awkwardly sized. The "j" in "project" is so large, it dropped down into the picture area and looks strangely cut-off. Not exactly the quality I was looking for, but it's not like I can send it back since I already gave it to him as a birthday gift.