Better than Expected
I purchased this as a Christmas gift for my father. I just recieved it in the mail today and am pleasantly surprised. The box is much larger than I had expected and the smell of the cedar is a great bonus. The iron was wrapped in a red bandana to add to the wonderful presentation. I cannot wait to give this to the man who has everything!

Phyl
By Shopper (Baldwinsville, NY) - December 5, 2011
My husband and I wanted to find something unique for our new son-in-law. He loves to BBQ w/friends. We ordered the set (in a cedar box with his initials on the outside). He just got it and they are both raving about it. I'm very happy. :0)

Great Christmas gift
By
Shopper

(West Memphis, AR) - October 15, 2011
This is the perfect gift for someone who has it all. Bought it for my son for Christmas. The box alone is great.

PLEASANTLY PLEASED
By
Elise L.

(Pittsburgh, PA) - August 3, 2011 (
See all reviews by this customer
)
I BOUGHT THIS GIFT FOR A MAN WHO HAS EVERYTHING...EVERYTHING BUT THIS BRANDING IRON. HE LOVED IT AS DID I. THE BOX IT CAME IN WAS A GIFT WITHIN ITSELF. I LOVED THE ADDED TOUCH WITH THE INITIALS ON THE BOX. IT WAS STRONG AND STURDY. I WAS PROUD TO GIVE THIS AS A GIFT!!

unique gift
By
Shopper

(Bethel, PA) - July 12, 2011
Got this for my husband, no special occasion. He is trying to dry age his own steaks and this way he can put his initials on them before he serves them.

Awesome Groomsmen Gift for the Grillin Masters!
By
Shopper

(Bayville, NJ) - July 11, 2011
My Fiance and I wanted unique gifts that our bridal party would actually use... all of the guys are all about the grill so we thought how cool to get them branding irons... Received them yesterday and they are just fabulous :)

Super happy we went with the gift set!!!

excellent gift
By
Rene B.

(Yonkers , NY) - July 7, 2011 (
See all reviews by this customer
)
I love the Branding Iron and Wood Box Gift set. The first thing that I notice was the wood smell when I open the box. It sets the gift apart then just a wood box. I then did not know the handkerchief came with the gift set. I love the quality of the branding iron itself. Seems to make it very sturdy and the initials are set apart so if use can tell each letter without difficulty.

Monogram BBQ Branding Iron
By
Elaine R.

(Houston, TX) - July 5, 2011 (
See all reviews by this customer
)
The iron was the perfect Father's Day gift. The quality was excellent. I would have purchased the matching box but I felt it was a little pricey. He was pleasantly surprised!

Groomsmen gift
By
Shopper

(Butler, PA) - July 2, 2011
I purchased 5 branding iron wood box gift sets for 5 out of the 8 groomsmen for my western themed wedding in Aug 2011. I was very anxious to get them in the mail since I have previously ordered one other item off of personalization mall website & was very happy with my experience. Like always not very long after I purchased, my order was delivered. The gifts were better than I expected! I couldn't wait to show my fiancé who was bummed that I didn't order him one as well! After inspecting all the products I found 2 boxes that had minor shipping damage. I called the company expecting to talk to operator after operator, but to my surprise my call went immediately through & I was greeted & treated like royalty! My minor damage boxes were replaced right away & I couldn't have been any happier with my 2nd ordering experience. I plan on shopping & purchasing more items off of this website for my wedding & any event to come in the future. I highly recommend this website!!!

Love it. Good quality and unique gift.
By Shopper (Methuen, MA) - May 24, 2011
Love the cedar box it comes in. The hankerchief the item is wrapped in on the inside is a nice touch. very happy with this item.

BRANDED INTO REGULARITY
By
Daniel V.

(Point Marion, PA) - June 24, 2010 (
See all reviews by this customer
)
OUR SON IN LAW LOVES TO BAR-B-Q. MY WIFE & I FOUND THIS ITEM IN A CATALOG WHILE VACATIONING. WE THOUGHT IT WAS AN EXCELLENT ADDITION TO OUR SON IN LAWS BAR-B-Q TOOLS AND WOULD ADD TO HIS BAR-B-Q'ING EXPERIENCE. THE COST IN THE CATALOG WAS VERY HIGH. MY WIFE & I SEARCHED THE INTERNET AND WERE PLEASED WHEN WE FOUND PERSONALIZATION MALL. FINDING THE SAME PRODUCT AT ABOUT A 40% SAVINGS WOULD MAKE ANY SHOPPER HAPPY. THE WEB SITE WAS EASY TO NAVIGATE, THE PRICE WAS EXCELLENT ONLY EQUAL TO THE FAST DELIVERY. WHICH , BY THE WAY, GOT ME OUT OF THE DOG HOUSE, BECAUSE I WAS ABLE TO STILL SHIP THE ITEM OVER SEAS AND GET IT THERE IN TIME FOR FATHER'S DAY. I WILL BE RECOMMENDING PERSONALIZATION MALL TO ALL MY FRIENDS AND FAMILY. OH, AND THE MOST IMPORTANT PART . . . OUR SON IN LAW LOVED IT!

Great product!!
By
Raechal C.

(Austin, TX) - April 1, 2010 (
See all reviews by this customer
)
Loved as a gift!

For That Special Person
By
Meta B.

(Gainesville , VA) - December 26, 2009 (
See all reviews by this customer
)
Excellent gift for that person in your life that 'has everything'...but not this personalized branding iron gift. My brother is looking forward to the many bbq's for family and friends. The cedar box and clever wrapping with a bandana was a great presentation. Thanks! Mrs. B

Letters only please
By
Marcine Z.

(Hondo, TX) - December 24, 2009 (
See all reviews by this customer
)
Ordered 2 of these this Christmas for 2 very special men in my life and they were both quite impressed with the quality. Both couldn't wait to use them. My only problem was that in the ad it stated that either letters or numbers could be put on the monogram and I wanted numbers on both. The day after I ordered online I had a call from the company that my order was being held because numbers were not able to be used. I was quite disappointed but wanted the branding iron so I used letters instead. Even though I couldn't have the numbers I was still pleased with the product's quality.

Great gift for grillers!
By
Arielle K.

(Knoxville, TN) - December 23, 2009 (
See all reviews by this customer
)
The branding iron came in a cedar box that was almost a gift in itself because it smelled SO good, wrapped in a red handkerchief. Although we haven't tried the branding iron yet, it seemed to be a great quality and very sturdy, with a wooden handle. A great gift for avid grillers!

Great gift for the guy who relishes his grill!
By
Annamaria P.

(Astoria, NY) - December 23, 2009 (
See all reviews by this customer
)
What a unique gift idea for the guy who likes to leave his mark on his work. Great quality, perfect idea!

Amazing
By
Adrienne S.

(Albertville, MN) - October 7, 2009 (
See all reviews by this customer
)
I ordered this for my Dad as a gift for his birthday, it was personalized so I ordered it a few weeks early thinking it would take a while for them to process and ship the order. I ordered it on a Tuesday evening (around 7:30pm) and to my shock the order was filled and shipped and arrived at my parents house Thursday morning before noon! WOW! Crazy!! Very prompt business. Although he has not opened it yet so I cannot testify to the products quality. My mother saw it and said it was really nice and that Dad was going to LOVE it!

Nice item
By
danise G.

(Metamora, MI) - July 5, 2014 (
See all reviews by this customer
)
Please take note that the letters come slanted not straight. I don't care for that much as it looks too feminine but it is a nice quality product.

Wish I could get more of these
By
Shopper

(Canada) - July 29, 2012
I really like this product, its packaging and delivery were much appreciated and beyond my expectations!
The only thing that would have made it better, was to have delivery in Canada. My package was shipped to relatives in the States and I had to go and pick it up. I am not aware of the laws regarding delivery.
Oh well, still love the product, my brother in law will be impressed.

Box isn't sturdy...
By
Kristina B.

(Grant, FL) - December 6, 2011 (
See all reviews by this customer
)
The branding iron itself is wonderful! Very good quality...love it! The cedar box that it came in...not that great. I would have given the Branding Iron 5 stars, but the box alone....probably 2 stars. The box was broken when it arrived. Looks like it was put together by a nail gun and the wood is just a little too delicate for that. However, I was able to wood glue it back together again, making for a nice presentation. Not ideal that I had to glue it back, but whatever. However, it does smell very lovely! Gotta love that cedar smell. It also comes with a large red bandana to wrap your branding iron in.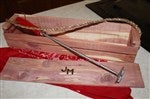 Unique Gift
By
Ciji R.

(Salamanca, NY) - December 3, 2011 (
See all reviews by this customer
)
We bought this brander for my brother in-law who is the most impossible man to buy gifts for! :) Would definitely recommend it if you have someone who is tough to shop for as it truly is a unique, personalized gift. Only drawback is it does look a bit "cheap" when you unwrap it and are looking at it for the first time. I guess for the money we were expecting something of a little finer quality, but all in all, it is still a nice gift.

Really neat product
By
Eric A.

(Lake in the Hills, IL) - June 24, 2010 (
See all reviews by this customer
)
This is the neatest thing and my dad really loves it! The quality, at first glance, is very good. Unfortunately, he hasn't used it yet, but it feels sturdy and the box it came in was very well made.

Fun gift for the griller
By
Lindsey L.

(Katy, TX) - June 24, 2010 (
See all reviews by this customer
)
This is a great idea for those who love to grill. It will let them put their own stamp on their cooking - literally!

Nice product but smaller than expected...
By
Jessica M.

(Land O Lakes, FL) - January 14, 2010 (
See all reviews by this customer
)
The branding iron is nice and sturdy, with a comfortable handle, however I have two complaints: 1. The actual monogram seems smaller than in the photo, 2. Shipping took forever! Great product otherwise!

Slightly dissapointed
By
Shopper

(Southington, CT) - April 16, 2014
What isn't shown in the picture is that the handle says "Texas Irons", which would be fine, except I was giving this to my husband, who is a big Oklahoma fan. Customer service gave me an additional 20% off, but said there was nothing they could do. Also, it is 3 different letters soldered together, if you couldn't tell by the picture. Still a cute idea, but not worth the full price.

Monogram Branding Iron
By Shopper (Gainesville, FL) - December 11, 2012
Very neat idea but the welding job was terrible. I don't think it will hold up for very long. Thankfully I know someone who is a welder and will be able to fix it later on down the road.

OK product but misleading advertizing
By
Micha K.

(Pilot Point, TX) - October 8, 2009 (
See all reviews by this customer
)
Looks like the advertised picture has now since been changed (after I brought this to the company's attention). The product I *thought* I was purchasing had a WOODEN handle and the letters were not on a square metal plate (per the picture originally advertised). The item I received had a PLASTIC handle and letters on squre metal plates. I informed both personalizationmall.com (which is the 3rd party site this stead branding iron company adverizes with as well as this company itself) and it looks as though the advertized picture has now been updated to reflect the correct item being sold. I was rather frustrated as I did not have time to return the item for the correct product so I actually spent more money than was necessary for a lesser quality product. Thanks.

Disappointed
By Shopper (PITTSBURG, TX) - December 21, 2011
I was very disappointed in this Item. First when it arrived the box was broke so I had to wood glue it back together. Second the weld job was very amateur. For the money I would not recommend

Not Great Quality..
By
Shopper

(Louisville, KY) - November 26, 2011
I received the iron and was surprised at how cheap it looked. For the price of $30+ I expected a little more. I understand the uniqueness of the gift, but for that much you should at least get a bag or box to hold it in. It also had no leather strap that is essential for hanging with other grill utensils.

Did not work properly
By
Shopper

(Meridian, MS) - July 11, 2011
We ordered this product as a Father's Day present. Despite several attempts, the branding iron would not create a proper brand. The letters were also placed on the iron at weird angles, so much so that you could not tell what the second letter was suppose to be. I would not recommend this product. I was extremely embarrassed when I saw this product in person....after it was delivered to my father.

no stars
By
Monika M.

(Williston, VT) - March 9, 2010 (
See all reviews by this customer
)
This product doesn't even rate one star. I was not impressed with the poor quality. It looked cheap. Also, I don't appreciate personalizationmall doing their own "personalization" on this product. The handle (which was scratched) had their logo on it. This was very tacky and not mentioned or shown in the product write up. Unfortunately, because the item was "personalized" I was unable to return it. However, it has ensured that I will never do business with personalizationmall again.