Great Gift
By
Shopper

(Potomac Falls, VA) - August 7, 2011
Nice quality, imprinting looks great. Arrived quickly, well packed and was the hit of one of my daughter's 40th Bday party. Highly recommend.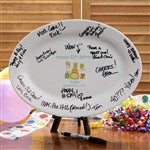 Birthday Platter
By
Shopper

(Greensboro, NC) - July 23, 2011
The platter was beautiful. Great quality for price.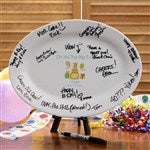 Great gift
By
Shopper

(Rockville, MD) - January 28, 2013
The plate is exactly as advertised. Terrific quality. Personalized as requested. Will be a wonderful gift for a birthday party.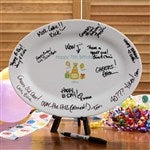 Better than pictured
By
Shopper

(Sunnyvale, CA) - March 19, 2012
This was a rush item. I placed the order two days before it was needed and the Personalization Mall team delivered. From being able to do the personalization we wanted on the platter to the turn around, this staff is on the ball.

The best part, over 100 people ended up signing the personalized B-day platter and it looks AWESOME! The recipient now displays this item on her counter (she is still basking in her 50th b-day glory) and has made room for it in a display case. It will be something she has to always remember her special 50th surprise party!!

Well done. I will definitely order from you again!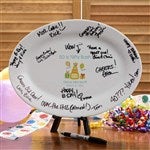 Wonderful Gift
By
LAURA M.

(MONTEVALLO, AL) - February 13, 2012 (
See all reviews by this customer
)
Not only was this platter delivered promptly (at no additional cost), but it was everything and more than we expected. I purchased it for my mother-in-laws 85th birthday and she was so taken back by it. All of the attendees to her party signed it and she now displays it in her china cabinet. It is a perfect gift!!!!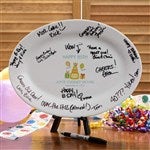 Awesome Keepsake
By
Norma S.

(Crestview, FL) - May 17, 2010 (
See all reviews by this customer
)
Our daughter loved this plate personalized for her "sweet 16"... something she can proudly display!

Great for a Party!
By
Chris G.

(Wood Dale, IL) - January 19, 2010 (
See all reviews by this customer
)
I bought this plate for a friend who was celebrating her 30th Birthday. It was a real hit of the Party because the guests could write there well wishes to the Birthday Girl! The plate is a nice heavy quality. I would of liked to have a preference of a Bolder color choice. The pastels were nice but a darker color would of popped off the plate.

I love this web site, I get get alot of gifts and everything has been great.

Love it!!!
By
Keri R.

(Matthews, NC) - March 18, 2010 (
See all reviews by this customer
)
This plate is much nicer in person. Great unique gift! Can't beat the fast shipping for a last minute gift!

perfect surprise
By
la jean S.

(fort worth, TX) - January 19, 2010 (
See all reviews by this customer
)
Bought this for a surprise party, and it was the hit of the party. Everyone thought it was cute, and made the guest of honor a great memento.It came quick and was great quality. Very pleased and will buy again.

I <3 it!!!!!!
By
Amy C.

(Watauga, TX) - September 17, 2010 (
See all reviews by this customer
)
I had this mad for my sister and brother-in-law for thier birthday. They both turn 40 two days apart from one another. I can t wait to bring it the party for everyone can sign it and they will have wonderfull memories when they look at it. The only thing I was hoping it would be a little bit bigger.

Great gift!
By
Doreen D.

(Emerald, WI) - August 30, 2010 (
See all reviews by this customer
)
I ordered this as a gift for my sister's 50th birthday party. She loved it! I wondered if I would get it in time, because I didn't order it until the last minute, but it arrived quickly!
I would recommend this for any occasion! It gives a nice personal touch. The only reason I gave it 4 stars rather than 5, was because of the colors of the picures and writing. I would have preferred bolder colors.

love this plate!
By
Tammy S.

(Fort Washington, PA) - October 7, 2009 (
See all reviews by this customer
)
This is such a great gift to be passed around at parties as a remembrance of the special event. We loved giving it!

Received someone elses order
By
Shopper

(Little Meadows, PA) - March 18, 2013
This purchase was a disaster. Have had good results in the past,but was really let down on this one. Will be sure to order more in advance of a special event to make sure the order is completed correctly (if I do order again).

Great gift!
By
Kimberly F.

(Tecumseh, MI) - August 21, 2011 (
See all reviews by this customer
)
We gave this platter as a 50th birthday gift. Everyone at the party signed it and now the recipient
will have this to remember her party and all who attended. I was very pleased with the quality and
the personalized monogramming.

Great Birthday Plate
By
Shopper

(Danbury, CT) - February 27, 2011
We purchased this item for my mother in law's surprise birthday party. Everyone complimented on this creative birthday idea and how nice the plate looked. My mother in law absolutely loved it! We also used other Sharpie colors besides the black marker it comes with. The plate in person matched what you see in the preview before you order. Great product and a great way to make any birthday extra special!

Great keepsake!
By
Mindy F.

(Ocean Gate, NJ) - August 16, 2013 (
See all reviews by this customer
)
I ordered this for my niece for her Bat Mitzvah so that all her friends could sign it. It's small enough to fit easily on her desk or dresser, and she can even take it to college with her to always remember her friends and that day.

birthday platter
By
LINDA F.

(LIVONIA, MI) - August 1, 2012 (
See all reviews by this customer
)
It's a beautiful platter and love the inscription -- well worth the $$$.

Birthday Plate
By
Peggy L.

(Oradell, NJ) - July 21, 2010 (
See all reviews by this customer
)
OMG, this is the 4th one of these I've ordered! The first one was for my Aunt's 70th, then 2 50th birthdays and another event. Everyone goes crazy for them, askes how I thought of it and where I got it. They are proudly displayed in everyone's house to this day!

I don't wrap it but put it right where people are coming in so they can personalize it. Later during the party I make sure everyone signed it. When we run out of space, we use the back.

A little tip, I bring many colors of Sharpie pens, not just the black that comes with it. Makes for quite a beautiful work of art! I also take the plate back and mail it to the person if they flew in from out of town for the party. Just a little extra nice thing to do... cause that's how I roll :) as my 14 nieces and nephews would say!!!

I would really have given it a 4 star rating because I think it should be a bit larger and come with the easel but.... I love it so much and so does everyone else that you get a 5 star rating. Thank you so much!

outstanding
By
cindy A.

(providence, NC) - July 14, 2010 (
See all reviews by this customer
)
I could not believe how fast I got this item with regular shippment. It was far more than I had anticipated. I am very well pleased and will shop here again!

Super hit fo the party
By
Shopper

(Elysburg, PA) - February 13, 2011
This gift was greatly appreciated by the "Birthday Girl" and family..A true treasure.

Great gift idea
By
Jesica L.

(Pomona, NY) - December 17, 2010 (
See all reviews by this customer
)
This is a really cute gift idea or if you are throwing a party you can purchase this as the sign in book or board and you can display it all year long.