Fun Product
By
Shopper

(Ventura, CA) - November 12, 2013
I'm happy I ordered this mug. It's just as cute as it looked online. I can't wait to give it as part of a gift basket I'm putting together.

Georgia Lady
By
Shopper

(Athens, GA) - January 9, 2013
I bought these for Christmas next year. I have already thought of a theme for family gifts and these will be the foundation. They came packed very well each in their own individual boxes and in a very timely manner. They are adorable. I love the finished product even more than anticipated.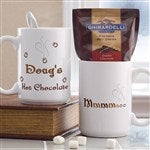 Product was everything as specified!!
By
Margaret S.

(Holbrook, NY) - December 28, 2012 (
See all reviews by this customer
)
I have ordered this product 8 times because the first one I ordered exceeded my expectations. These products were exactly as described, and actually, the picture does not do them justice. They were better in person than the picture. The people that received these as gifts were very happy with the product.

I have ordered other products from PersonalizationMall.com and have always been satisfied with the service and the products. Because of their unique products, and the easy ordering process, and their customer service, I will remain a very satisfied customer.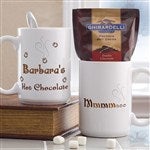 Quality Plus....
By
Michael M.

(Mercerville, NJ) - December 28, 2012 (
See all reviews by this customer
)
purchased for an eleven year old child...very pleased on the quality & presentation of the entire set....she asked for a hot choc. mug...this set went above and beyond her expectations...she loved having her name on the mug, too.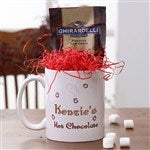 nice gift
By
Shopper

(Fairview Park, OH) - December 21, 2012
Super fast delivery and excellent quality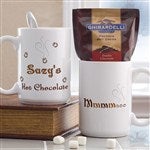 Sweet!
By
Shopper

(Chesterfield, MO) - February 5, 2012
A great gift for anyone who could use a nice hot cup of cocao--especially if they don't already have one. :)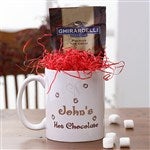 Ghiradelli personalized hot chocolate mug set
By
Kelly R.

(Chester, NY) - January 3, 2012 (
See all reviews by this customer
)
Love these mugs, have given over twenty as gifts for birthday party favors, Christmas presents and even as a birthday gift for my daughter's friend. Kids loves their name on a mug! I also like that they are not holiday-themed so you can use them all winter. Another great feature is that they are dishwasher and microwave safe. I love not having to hand-wash them. (I have them for my own four kids too). Can't go wrong giving these as gifts. I will mention that the hot chocolate is very strong/rich, you can probably get two cups worth out of one packet.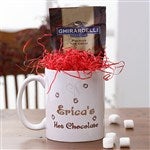 Great Gift
By
Troy P.

(Colorado Springs, CO) - January 1, 2012 (
See all reviews by this customer
)
Great gift for the mom-to-be! My wife really appreciates it as she proceeds through pregnancy. I know she will use it often and proudly display it whenever she can.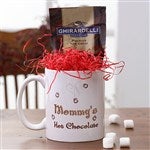 These were the perfect gift!
By
Shopper

(Berthoud, CO) - December 31, 2011
Thank you so much for making my Christmas shopping so incredibly easy!!! I ordered these for a younger couple and they loved them! They are beautifully made and fast delivery. Thank you again!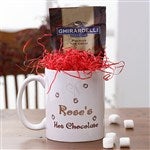 Hot chocolate
By
William L.

(Cottage Hills, IL) - December 29, 2011 (
See all reviews by this customer
)
My grandson Joshua loves is own cup to drink hot chocolate,especially since it has his name on it.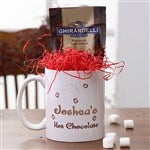 KIDS LOVED IT!!
By
Shopper

(CHARLESTON, IL) - December 29, 2011
I bought 7 of these for my daycare children for Christmas. They loved having their names on the cup and of course they all love hot cocoa!! These are great quality and come so very quickly!!! I do want to mention that one came with the wrong name on it, so I called customer service, who immediately put in for a replacement and I had the replacement in my posession in 2 days!! Which worked out perfectly for our Christmas party the next day!! I am so impressed with this company... the prices are great, the ease of ordering and being able to see your personalization design as you order, the SPEED of processing and shipping is unbelievable!!! The customer service was great as well. So...overall I am very pleased and plan to order for many more gifts!!

Great gifts
By
Mary K.

(Waldwick, NJ) - December 29, 2011 (
See all reviews by this customer
)
This mugs were fantastic! I purchased them as gifts for my teen volunteers, they were a hit! The quality and price cannot be beat. Very cute.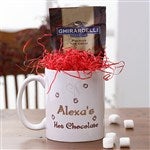 Exceeded expectations
By
Terrie R.

(Rockville, MD) - December 25, 2011 (
See all reviews by this customer
)
Bought 11 of these cups for my co-workers and they were all delighted and touched that they got something personalized. Very nice item for the price and very useful at that!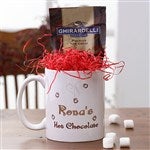 Simply Great
By
Tom T.

(Aurora, CO) - December 22, 2011 (
See all reviews by this customer
)
Came to me fast and furious, well in time for our gift exchange at my work. My co-worker loved it and so did the rest of my colleagues. They thought I was very thoughtful to do something that was personalized. This year's gift exchange theme was coffee, tea or cocoa. A lot of people took the easy lazy way out and bought Starbucks gift cards or bought something common at WalMart. But my gift showed the extra touch. Thanks for making it available. It would be good if you had oversized giant cups that could be personalized!

Thanks again!

Tommy T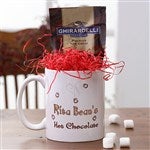 THRILLED
By
Cheryl C.

(Parkersburg, WV) - December 21, 2011 (
See all reviews by this customer
)
One of my grandsons asked for a coffee mug for hot chocolate for Christmas. Went on line to see what I could find and Personalzationmall.com came up. So I looked and they had a hot chocolate mug. I was thrilled to find a hot chocolate mug that I could have his name put on. Was happy with the price so I ordered. Arrived very quickly and when I opened the box I was thrilled with it. I bought my other grandson 1 also. Again I was thrilled and would recommend this site to anyone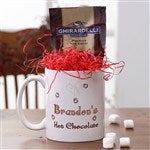 tasteful surprise
By
Shopper

(East Brunswick, NJ) - December 20, 2011
I ordered this item as a gift and was very pleased when it arrived. It was very nice, not cheap looking...It arrived within 5 days, with no problems. I am keeping this site in my favorites, for future personalized gifts, if needed.

Ghiradelli Personalized Hot Chocolate Mug Set
By
Sandra M.

(Sierra Madre, CA) - December 19, 2011 (
See all reviews by this customer
)
Bought a couple of these mugs as Christmas presents for my nephews and the personalized names look great and the mugs are very cute. Great product at a great price!

Perfect Hot Chocolate Mugs
By
Shopper

(Chambersburg, PA) - December 17, 2011
These are perfect for my kids of the family! I ordered six of these babies! I love them and wish I would have got myself one! I've been shopping with personalization mall for a few years now and any gift on the site is sure to be a hit! Thanks so much!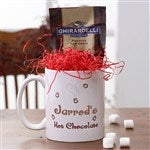 SOOOOOOOOO CUTE
By
Shopper

(Cherry hill, NJ) - December 11, 2011
Bought these for girls ranging in age from 6 to 16. Perfect little something. As a stocking stuffer or even for a teacher gift. Great price, great quality and as usual for Personalization Mall, something you can't walk into the local mall and find. You won't be disappointed.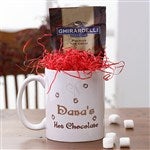 Sweet Hot Chocolate Mug!
By
Shopper

(Tuscaloosa , AL) - November 26, 2011
I purchased these personalized hot chocolate mugs for my nieces and nephew.They love hot chocolate! I thought they would be cute little treats until time to open gifts on Christmas Eve. The mugs are too cute! They are very nice quality with a perfect font for the design on the mug! I can't wait for them to get their very own, personalized, hot chocolate mug!

Cute Mug!
By
Shopper

(Pleasant Valley, NY) - November 21, 2011
Love my new mug! Would make a great gift or stocking stuffer.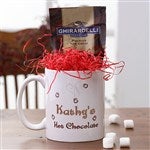 Great gift
By
Shopper

(Tomball, TX) - November 18, 2011
I purchased these for our kids and grandkids and a few friends. The mugs are a big hit with everyone. In this item, I found a terrific gift idea! Thanks.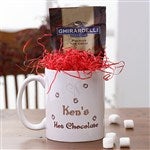 Great gift!
By
Jean F.

(Hiram, OH) - November 11, 2011 (
See all reviews by this customer
)
I got a special rate and ordered 12 (!) for gifts. All came with the correct name in perfect condition. I also bought more hot chocolate for some. I have
wrapped the sets and am ready for giving!!!! Thanks! A really nice idea! Come packed well in individual boxes.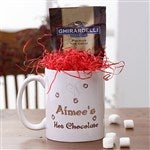 A gift for a hot chocalate lover
By
Cindy D.

(Amelia, VA) - November 7, 2011 (
See all reviews by this customer
)
Loved it, now I plan to fill it iwth Xmas candy

christmas gifts
By
Shopper

(Keizer, OR) - November 5, 2011
I was trying to find the perfect little gifts for Two thirteen year old girls.
These mugs with their names on them are PERFECT. I would of never thought of something like this if I had not seen them on your web site. Really cute with the hot chocolate included. I received them in no time and they were packed in nice little boxes. I would highly recomend them for a Teenage girl.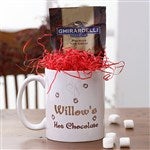 gift
By
Shopper

(Staten Island , NY) - November 1, 2011
nice touch
very nice gift

Too Cute
By
Shopper

(Temecula, CA) - October 31, 2011
This cup looks exactly like the picture, and I know my friend will love it. It is very festive and whimsical.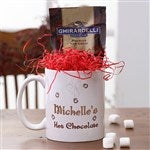 Awesome product
By
Karen E.

(Hastings, MN) - October 29, 2011 (
See all reviews by this customer
)
I drink hot chocolate and my Grandchildren like to share my hot chocolate. So they now have their own cups and a wonderful Christmas present!!

Great Item
By
Shopper

(Newark, DE) - February 22, 2011
I got this personalized hot chocolate coffee mug for my son and it comes with a packet of hot chocolate. He loved it, He loves that his name is on it and will keep it forever. The print comes out perfect and it comes safely wrapped in bubble wrap and plastic wrap.

expections..
By
Shopper

(Toney, AL) - January 16, 2011
I really had my doubts but when it came in my expections were surpassed..I love it..Thank You from the Dragon Lady

Hot Chocolate Mug
By
Lorraine D.

(Staten Island, NY) - December 20, 2010 (
See all reviews by this customer
)
Every one of the mugs came perfectly packed so not one of them was broken (think I ordered around 11 mugs). The order also came very quickly which I was very surprised.
Love ordering from Personalization Mall!!

christmas gift
By
Mary V.

(Paradise, CA) - December 17, 2010 (
See all reviews by this customer
)
Thrilled with product...far exceeded expectations.
Will order from company again:)

Kids are going to LOVE IT!!!
By
Karen R.

(Erlanger, KY) - December 16, 2010 (
See all reviews by this customer
)
My boys drink hot chocolate daily, when I saw this mug, I just had to get them each one. Quality is great. Appearance is adorable. They love having their very own personalized mug.

Great mug
By
Jaime P.

(Vacaville, CA) - December 2, 2010 (
See all reviews by this customer
)
My daughter loves hot chocolate, she will love having a mug with her name on it.

Hot chocolate
By
Priscilla V.

(East Haven, CT) - November 17, 2010 (
See all reviews by this customer
)
It is just what I ordered and I received it in a timely manner. It is such a nice gift and the hot chocolate is one of the best!!! The mug with the name on it makes it so much more personable. I have ordered so many Christmas gifts and I am never disappointed!!! Love You Guys!!!

Great gift idea
By
Dale S.

(Malta , MT) - March 1, 2010 (
See all reviews by this customer
)
Bought these for valentines gifts for 2 four year olds. They are the perfect size for hot chocolate. I wasn't sure how the personalization was going to look but it was very professional. Would buy again!

Never Disappointed
By
Kathryn B.

(Pasco, WA) - January 29, 2010 (
See all reviews by this customer
)
I am never disappointed with anything I order at Personalizationmall.com. The quality exceeds my expectations. I know whatever I purchase here is always going to be fabulous! One time the item I received was broken during transport...I made a phone call, and I had a new one within the next day or two! Customer Service is amazing here. I always tell everyone to shop here when they want something unique. I will continue to shop here! Besides the quality, the pricing is reasonable as well. Thank you for providing such quality merchandise. Every time I give presents from this site, the reactions are always the best!!!!! No complaints here!

Personalized Hot Chocolate Mug Set
By
Candy B.

(Oviedo, FL) - January 20, 2010 (
See all reviews by this customer
)
Purchased this for a friend who loves hot chocolate and she loved it. I really like the font that was used on this cup as well.

Hot chocolate mug
By
Laurie R.

(Waitsfield, VT) - December 26, 2009 (
See all reviews by this customer
)
So cute - great gift!

Absolutely cute!
By
Jessica B.

(Layton, UT) - December 25, 2009 (
See all reviews by this customer
)
I was not disappointed by this item. It met my expectations. I gave three of these as a gift and everyone loved them.