You can't argue when it's in black/white
By
Cynthia T.

(North Las Vegas, NV) - February 27, 2012 (
See all reviews by this customer
)
My search is over... We just moved into our new home and the family keeps coming and coming. And that's all good, but not all family extends the same courtsey or shows the same respect, as guest should when visiting someone else's home.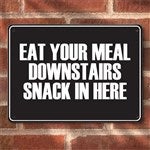 Beautiful!
By
Shopper

(Greenville, SC) - December 29, 2011
Exactly as I hoped! Bright colors, fast service. Will use this company again!

street sign
By
Sue W.

(Redwood Falls, MN) - November 25, 2011 (
See all reviews by this customer
)
It turned out awesome!

Sign is Looking Good
By
Amy B.

(Haverhill, MA) - October 29, 2011 (
See all reviews by this customer
)
A gift for my dad's boat, came to me just as it was shown in the preview. Sturdy construction, doesn't seem to be for the outdoors, but you could wrap it in plastic to protect it from the rain. Colors are bright and the letters are big enough to read from a distance. I got what I asked for. :)

Extremely Pleased
By
Shopper

(Beckley, WV) - October 8, 2011
There is nothing to be said except this item is perfect. It is exactly as I hoped it would be. Thanks so much.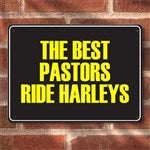 Super Professional
By
Jennifer J.

(San Juan Capistrano, CA) - September 5, 2011 (
See all reviews by this customer
)
We homeschool and I wanted a sign for our homeschool room. This looks awesome and people are amazed when they come in and see such a professional sign. Easy to hang. Easy to clean. Great price. LOVE this sign!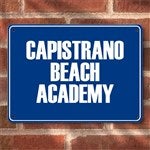 Nice sign
By
Shopper

(Mooresville, NC) - July 12, 2011
Very pleased with this sign. The colors we chose are just as we wanted and the sign is of good quality.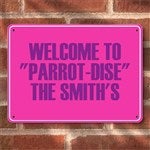 Best thing about Personalization Mall...
By
Abigail J.

(Colorado Springs, CO) - June 25, 2011 (
See all reviews by this customer
)
My favorite thing about Personalization Mall is how they offer a couple products like this sign where you can be COMPLETELY unique and creative. My sign was a gift for my well-meaning, often-opinionated father, and it reads: "Warning: Papa lectures given here" in his favorite Bronco's colors. This sort of product is not only a great gift, it's why I love this online store.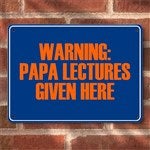 Perfect Father's Day gift
By
Shopper

(Great Neck, NY) - June 24, 2011
The quality was great. It came fast in the mail and it was perfect for my dad. He loves collectables and has his own garage that the kids always go into so it worked on so many levels.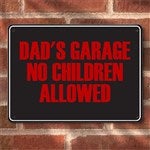 Great addition to my office
By
Tiffany B.

(Nashua, NH) - June 5, 2011 (
See all reviews by this customer
)
Perfect size and color...looks like I paid way more for it. Highly recommend this company have never been let down.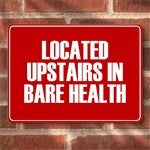 Love the idea
By
Shopper

(Brunswick, GA) - May 18, 2011
What an awsome way to make your own sign. Love it, although a little pricy.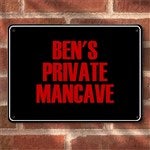 Exactly what I wanted
By
Shopper

(Sioux Falls, SD) - April 29, 2011
Everything the website says about the product is true. I was very happy with what I received and I know my niece will love it - it is a birthday present for her. I received exactly what I ordered and the quality is great.

Fun signs!
By
Mary G.

(RIchmond, VA) - February 13, 2011 (
See all reviews by this customer
)
I ordered three different signs for gifts and they turned out great. A fun item to hang in college dorm, outside bar and garage.

Nice sign
By
Timothy D.

(Oak Grove, MN) - December 30, 2010 (
See all reviews by this customer
)
This sign is a good thickness, not flimsy and not too thick when hanging it on the wall. We have purchased two of these signs and both have been good quality.

Good deal!
By
Angela A.

(new bedford, MA) - December 24, 2010 (
See all reviews by this customer
)
I'm very happy with my order! Good deal!

Great Gift!!!!
By
Juzell G.

(Killeen, TX) - June 26, 2010 (
See all reviews by this customer
)
I brought this for my Dad for Father's Day! I chose blue and orange because those are his motorcycle club colors!!! He LOVES it!!! and it was very well made & it didn't cost much!!! YEA ME!! LOL

street sign
By
Nancy S.

(corning, NY) - June 21, 2010 (
See all reviews by this customer
)
I ordered a personalized street sign for my husband on fathers day. I needed a little somthing for his garage and was very happy with all the choices. The quilty was great, I had alot of colors to choose from and recieved it in three days. He was very happy with it and I will be back to order.

Sign
By
Valerie A.

(Aurora , CO) - March 11, 2010 (
See all reviews by this customer
)
Gave this to husband as a housewarming present because he got his own workshop. He loved it!!

Great Room Sign!
By
Victoria F.

(Fishers, IN) - March 1, 2010 (
See all reviews by this customer
)
I have been looking for a room sign for awhile now for my twins and was so excited to find them at your store. I received them very fast and they're so great!! I cannot wait to give them the signs as one of their birthday presents. They will be seven and they will love them! Great quality and fast!!!

Great quality
By
Gertrude H.

(Canada) - February 13, 2010 (
See all reviews by this customer
)
Humorous sign to place in our senior area of a campground where we are seasonal campers, "DANGER SENIORS CROSSING'.

Great Customer Service
By
Shopper

(Ft. Dodge, IA) - January 28, 2014
I ordered some items for Christmas and was very impressed by the quality of the items and how quickly I received my order (I was cutting it close to Christmas). I placed this particular order several weeks later. I was surprised to receive someone else's sign. I called the company explained the situation. It was corrected without any hassle and my correct order shipped the very next day and I received it within days.
I do not shop online very often but I definitely recommend doing business with this company. They have a wide variety of items and everything I have received has been good quality. I was extremely impressed with their customer service!

Good product
By
Troy P.

(Elko, NV) - March 17, 2013 (
See all reviews by this customer
)
Sign came just like I expected it would. Said what I wanted it to and wouldn't hesitate purchasing another sign from you guys.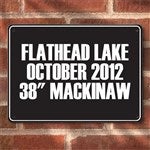 metal sign for biker
By
Shopper

(st louis, MO) - July 11, 2011
Recipient enjoyed birthday gift,sturdy and good quality.

No ordinary gift!
By
Shopper

(Bay Point, CA) - June 20, 2011
I was very happy with the quality of the sign. I wish it was a little bigger, it is on the small side.
It did come pretty quickly. I got this for someone who has everything, and is so hard to buy for, but LOVES to buy & sell stocks as his hobby!

Nice but a little cheap quality
By
Holly L.

(Mount Joy, PA) - May 27, 2011 (
See all reviews by this customer
)
I got this on sale so it wasn't a bad deal and it is a great personalized sign. But it's advertised as a sign for a garage and it's made out of thick cardboard. It does say what its made of I just assumed that a garage sigh would be metal. Next time I need to read better what the description says.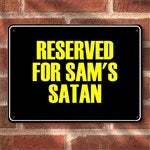 Great sign for garage
By
Shopper

(Indian Trail, NC) - May 23, 2011
This sign is awesome. I bought it for my husband for Father's day from our kids to hang in the garage. Great gift idea!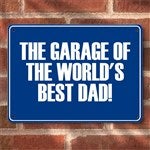 Special Fun Name Sign for our Second Home
By
Gail T.

(Mandeville, LA) - October 7, 2009 (
See all reviews by this customer
)
I wrote a funny name we call our beautiful 2nd home on the lake on the sign with the old street name. It is all in fun for everyone in our area to smile about.

Overall happy w/ product
By
ASHLEY B.

(SANTEE, CA) - July 29, 2010 (
See all reviews by this customer
)
Nice product. Not overly impressed, but it made a nice warning sign for garage. I thought the text was a little large and too close together once I received mine, but I am happy overall.