Impressive
By
Shopper

(Harrisburg, PA) - October 31, 2011
I bought this stamper for a friend who just started a new job as a teacher. She was absolutely thrilled to receive this as a present. She was very impressed with the quality of the gift. Hopefully it'll make grading a little more fun.

It is great!
By
Shopper

(Pace, FL) - September 9, 2011
Perfect for any teacher!

I love this!
By
Shopper

(Fairfield, OH) - May 27, 2011
This Personalized stamp really makes grading easy! It is super cute and makes a great mark every time.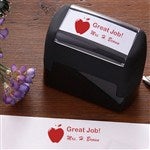 New Shopper
By
Shopper

(West Palm Beach, , FL) - April 22, 2011
The Self-Inking Stamper is very useful in my work. The product is well made and is just what I needed. I highly recommend the stamper.

Custom Stamp
By
Shopper

(Canada) - February 8, 2011
Great Gift idea for any teacher. Stamp looks great! and the self inking feature makes it very easy to use! She's gonna love it!!

Great teacher gift!
By
Shopper

(Bourbon, IN) - February 4, 2011
Great gift idea for a teacher. Good quality product and delivery was super speedy.

Exactly as Advertised
By
Renee C.

(San Diego, CA) - December 10, 2010 (
See all reviews by this customer
)
This is a great little stamp, and we received exactly what we were expecting. Self-Inking Stamp is clear and the color is vibrant. Very nice purchase!

Great Teacher's Gift!
By
Joyce M.

(Drummonds, TN) - December 8, 2010 (
See all reviews by this customer
)
Ordered this for my son's kindergarten teacher as a Christmas gift. It turned out great! Gifts that are useful and make the job easier are the best! Highly recommended!!!

Great for teachers
By
Samantha T.

(Schaumburg, IL) - December 8, 2010 (
See all reviews by this customer
)
I am a student teacher and just ordered this for myself and my mentor teacher. It seems like it's great quality and I am excited to use it and save some time while grading papers.

Our teachers will be thrilled!
By
Amber H.

(Kensington, KS) - November 2, 2010 (
See all reviews by this customer
)
My girls can't wait to give their teachers these stamps! I let them choose the saying and the picture, and they tried them out as soon as they arrived. They work perfectly!
I will definitely shop here again! Thank you so much!

very nice!
By
Stacey D.

(Saint Clair Shores, MI) - September 1, 2010 (
See all reviews by this customer
)
Works well, got it in only 2 days! Well made.

Wonderful!
By
Sarai R.

(Harlingen, TX) - February 27, 2010 (
See all reviews by this customer
)
I loved this product. My students enjoy having this stamp on their papers.


Wonderful for teachers!
By
Carla O.

(Schoolcraft, MI) - February 11, 2010 (
See all reviews by this customer
)
I order two of these: one for myself (for use in my 1st grade classroom) and one for my student teacher. I personalized each differently and both turned out wonderful. Great to use on notes to parents, homework, and when checking student work!

Great teacher's gift!
By
Julie W.

(Shorewood, IL) - December 17, 2009 (
See all reviews by this customer
)
I bought these for my children's teachers...they are bigger and more durable than I expected them to be. I think that they are definately worth the money. I am very pleased with them.

Personalized Teacher Stamps
By
Renee K.

(Reynoldsburg, OH) - November 27, 2009 (
See all reviews by this customer
)
What a wonderful surprise for my son's teacher.
This is something she can use over and over
and it includes her own name!
Love it!!

Great personal touch to a gift
By
Jerry A.

(Olathe, KS) - November 2, 2009 (
See all reviews by this customer
)
Our teachers really liked the personalized gift. It is not the normal gift that she gets from the other children. This is a gift they will use!! It stamps great.

Handy teacher's tool!
By
Shopper

(Naperville, IL) - September 16, 2012
This self-inking stamp is convenient for the busy teacher! I use it to stamp my resource students' papers to let parents know that their children completed the work with a resource teacher in lieu of their homeroom teacher. However, I used all of the characters possible allowed in making the stamp. With the font used, the text in the 2nd line is a bit small to make out. Although it really doesn't matter much and it does work well.

Christmas gift
By
Shopper

(Rosenberg, TX) - December 17, 2011
My co-worker loved the stamp. At first I was concerned with stamp on top, but as she tested it her name became clearer.

Terrific for a Teacher
By
christine M.

(north fort myers , FL) - May 7, 2010 (
See all reviews by this customer
)
Our school has a Positive Behavior Policy and the kindergartners recieve a "Star" or "Not a Star" to reflect the behavior that day. My daughter's teacher has to star 20 folders every day. This new stamp, with her name, should make that process so much easier. 4 stars not 5 was because the lable was printed crooked and slightly blurry. That aside, this teacher will appreicate the gift.