Nice Welcome Mat
By
Shopper

(Penngrove, CA) - November 22, 2011
This welcome mat is very nice. It arrived very quickly and looks exactly like the picture. It has a rubber type back and is a good size. The reason I am only giving it 3 stars is because it looks dirty very quickly. The color of the mat is a light tan as seen and it is showing every foot mark. Next time I would order a darker colored one.

Colorful and correct but lacking quality
By
Shopper

(Sagamore Hills, OH) - October 7, 2011
This is a pretty door mat, but would never stand up as it is very thin and not durable. It is just for show.

Beautiful, but probably not durable.
By
Shopper

(Mount Vernon, SD) - September 6, 2011
It is a beautiful rug, but very difficult to keep clean/or clean it once soiled. Any suggestions? The material gets very "fuzzy" and kind of lifts when you start to clean it.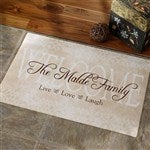 Pretty/durable?
By
Shopper

(Hilton Head, SC) - August 26, 2011
They are pretty to look at. After a small amount of use the material seems to pill so do not use in heavy traffic area. The other one I purchased is stained and cannot be removed so a mat that is fragile is hampering the effectiveness of the product

disappointed with personalization
By
Joy K.

(Graceville, FL) - March 19, 2011 (
See all reviews by this customer
)
I ordered this as a housewarming gift for neighbors. When it arrived, it simply had their surname, not 'The Adams Family', as I was expecting. Upon careful review, I did notice the small print, that you had to insert 'The' and 'Family', which I had assumed would be done....nevertheless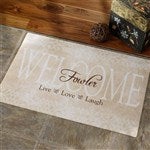 Rug gift
By
Shopper

(Wakefield, MA) - February 11, 2011
Bought this as a gift. I have yet to hear how it will clean. It looks more life a show piece than everyday use.

Purchased this as a thank you gift for a client, wouldn't buy another.
By
Misty H.

(Boonville, IN) - January 3, 2011 (
See all reviews by this customer
)
The look of the doormat is very nice but it is so thin and flimsy that it would not hold up to actual use. It seems that it is just for looks.

Nice but hard to keep clean
By
Deanna S.

(Seaford, NY) - October 6, 2010 (
See all reviews by this customer
)
I made the mistake in putting this in my highly traveled kitchen. It got pretty dirty and doesn't clean too well. I'd buy it again if I weren't putting it anywhere where shoes would walk on it.

Beautiful Item
By
Chelsy N.

(Jeffersonville, IN) - August 26, 2010 (
See all reviews by this customer
)
The mat is very pretty but also thinner than I thought it would be. It cannot be an outside mat, it is too then. It is good for inside the house.

I 'll purchase it again if they change the fabric
By
Natalija Rona B.

(Greece, NY) - April 2, 2010 (
See all reviews by this customer
)
It looks great, the bottom is good, I don't like the top material, it's cheap.

A bit disappointed
By
Maria B.

(MIAMI, FL) - January 24, 2010 (
See all reviews by this customer
)
The actual product looked quite like that of the preview photo but I am a bit disappointed nevertheless. I can't quite pinpoint WHY I'm disappointed .... maybe I expected it to be rich and plush ... which it definitely is NOT.

pretty but feels like cardboard
By
Jennifer S.

(Point Pleasant, NJ) - December 29, 2009 (
See all reviews by this customer
)
I bought this mat as a gift and thought is was very pretty, but the quality was not what i expected. It was very thin and felt like a piece of cardboard- I was a little embarassed giving it as a gift.

Strictly decorative...
By
Kathleen M.

(Shrewsbury, NJ) - December 27, 2009 (
See all reviews by this customer
)
Beautiful sentiment. but not very practical. Certainly nothing you would wipe your shoes on.

Beautiful INDOOR MAT--Almost too pretty to get dirty!!
By
JENNIFER V.

(POTTSTOWN, PA) - December 25, 2009 (
See all reviews by this customer
)
This mat has a great rubber backing that works well on our wood foyer floor, so it doesn't slide around. The material of the actual mat is not of much texture...it's not made to 'clean your shoes by wiping them on the mat'...it's more of a pretty looking item to add to your floor...rather than to get dirty. This is not for the outdoors. Definitely an indoor mat...made for shoes with very little dirt or water on them! If you are going for a look...it's beautiful and adds that extra personalized touch to your home...but not so practical. Not so sure I would buy it again.

Personalized doormat
By
Kathleen G.

(Saugus, MA) - December 23, 2009 (
See all reviews by this customer
)
I felt the lettering was lovely...but the doormat to be a little flimsy....I thought it looked and would be a bit thicker...it is a very thin mat.
As long as you know that...then everything else about it was ok.

Looks good but
By
Christine M K.

(Bayport, NY) - December 13, 2009 (
See all reviews by this customer
)
I purchased this as a gift to be used outdoors, but it seems a bit unsubstantial for outdoor use. It is very light in color--I'm afraid it will really show the dirt. Looks great, but seems impractical.

Not as expected
By
Deborah S.

(Oshkosh, WI) - December 9, 2009 (
See all reviews by this customer
)
This doormat looks very nice, and the personalization was correct, but the mat was not as heavy and "luxurious" as I had been led to believe by other reviews. I would call the thickness of the mat average at best.

Disappointed.
By
Shopper

(Dallas, GA) - January 27, 2014
I never write bad reviews but I will have to say I was very disappointed in this one. It didn't look as nice as I thought:( And I cant return it! Just seems like I spend a lot of money and it went down the drain. Very sad!

Light weight
By
Suzie D.

(Hobbs, NM) - December 15, 2013 (
See all reviews by this customer
)
I purchased this as an outdoor mat for a new home. The description "made using a commercial grade polyester surface fabric" led me to believe it was heavy duty. "Great for indoor or outdoor use" seemed to support this assumption. While the personalization was great and exactly as expected, the weight and quality of the material was disappointing. I fear that any wind at all will blow it down the street. I will not put it outside as a result. Not quite sure how I will be able to use it at this point.


Ms
By
Maria M.

(San Antonio, TX) - November 16, 2013 (
See all reviews by this customer
)
Decorative only doormat. Very thin. Personalized items are not returnable.

Cute, but not heavy duty
By
Jamie S.

(Depew, NY) - April 9, 2013 (
See all reviews by this customer
)
Love the doormat, but I wish it was a little more sturdy.

Quality was poor
By
Shopper

(Bellingham, MA) - December 10, 2012
I was so disappointed in the quality of this doormat. I would never withstand the outdoor eliments, never mind the soil from everyone's shoes.

This was going to be a Christmas gift for my son and daughter-in-law but I am too embarrassed to give it to them.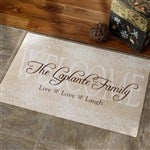 Could be better quality
By
Shopper

(Sheboygan, WI) - December 5, 2012
I purchased this as a housewarming gift for some friends, but was dissappointed in the thin material and poor quality of the doormat...but I did like the price. I was just expecting to get better quality for my money. I will still give the gift to my friends, but hope they don't think I'm cheap.

Doormat
By
Shopper

(Canada) - November 29, 2012
Was a little disappointed with the quality of the mat.....very very thin. I ordered several at once, possibly should have only ordered a few to see the product.

Housewarming Present
By
Shopper

(Albany, NY) - December 6, 2011
I purchased this item for a newly wed couple's housewarming present. Online, this item looks very nice, and a great addition to any new home. I purchased the item, knowing it was an extremely light color, but unaware that the mat itself is only canvas with rubber backing. Overall, the printing and personalization came out nicely, but I wish that the rug was more durable and higher quality.

Little less quality than expected
By
Shopper

(Laguna Hills, CA) - July 25, 2011
Looks nice, but is pretty flimsy. Using as entry mat outside, so was hoping for a little bit more studier mat. Personalization was excellent though.

Thin and Flimsy
By
Stacie S.

(Salt Lake City, UT) - January 11, 2011 (
See all reviews by this customer
)
I was hoping to use this at my front door, but the doormat would not be effective in that use. It is thin and has no texture. I may have to save for a time of year when people won't have to wipe their feet prior to entering our home.
The writing is nice and looks like the picture.

Gets Dirty Fast
By
Athena M.

(New Bedford, MA) - January 3, 2011 (
See all reviews by this customer
)
I was very happy with my purchase until I used it. It looked great, but the mat is very light and thin, and within one day was worn with traffic. Next time I will purchase a darker mat.

Disappointed
By
Lise H.

(Manning, SC) - November 17, 2010 (
See all reviews by this customer
)
To begin with, I felt the personalization portion of the order form was misleading. When asked for "family name" I assumed it would just insert the name into the line as shown on the sample: "The ____ Family". When ordered, it just had the name and not the other words. I also felt the mat was cheap looking and awfully thin for the price. My plan was to give this as a Christmas gift. Now I will have to put something else with it to make it a nicer gift. I would not order one of these again.

disappointed
By
Carolyn J.

(Suwanee, GA) - July 22, 2010 (
See all reviews by this customer
)
I was really excited to give this to friends as a housewarming gift but after receiving it, find myself a bit embarrassed. The quality of the product really seems lacking. It is made of a very thin material that does not look like it will last long at all. In fact, just unrolling it from the box it was shipped in I noticed creases in it where it was rolled. I have laid it flat for several days and it really hasn't improved. I really do like the personalization and think this would be a great gift if it were made of better materials.

Very thin and cheap looking
By
Chelsea G.

(Westfield, MA) - June 21, 2010 (
See all reviews by this customer
)
The doormat was nice but VERY THIN AND CHEAP LOOKING. I bought it for a gift and was a bit disappointed.

disappointed
By
Patricia D.

(Waukon, IA) - April 13, 2010 (
See all reviews by this customer
)
I thought it would be alot heavier than it was and it looks cheaply made. Will not buy any other mats. Very disappointed because I love your merchandise.

Door Mat
By
Christy T.

(Millis, MA) - December 14, 2009 (
See all reviews by this customer
)
I expected a heavier backing for this mat, it's kind of thin. Not one you would use for a door mat, more for decoration.

Distorted script
By
Evelyn P.

(Maspeth, NY) - November 28, 2009 (
See all reviews by this customer
)
The letter "R" was distorted on the family name. Beware if you have an r in your name!

unhappy
By
Shopper

(Bentonville, AR) - December 28, 2013
This is suppose to be a door mat not a bathroom rug. Too small.

poor
By
Vanessa B.

(Sugar Land, TX) - June 9, 2013 (
See all reviews by this customer
)
very thin. trip on it all the time - doesn't hold moisture. company will not take back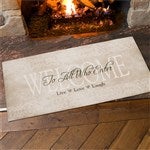 Too light color really shows dirt
By
Peggy S.

(Rome , GA) - April 8, 2013 (
See all reviews by this customer
)
Color is too light. It has gotten very dirty in just a few days.

Does not look like picture at all
By
Shopper

(Lower Burrell, PA) - April 19, 2012
I loved the look of this rug online. However, when I got it I was very displeased. It should not describe the rug as neutral. It definitely has a green tone to it. It is quite slippery as well. For the price, I wish I would have spent more somewhere else and got one that I really liked.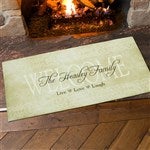 Unhappy
By
Shopper

(Newton, KS) - December 30, 2011
Was not pleased. The name of the family was not centered.


Not really a doormat, just a decoration
By
Kirk S.

(Morgantown, KY) - July 8, 2011 (
See all reviews by this customer
)
Flat smooth surface doesn't allow you to really clean your shoes off and so this doormat is really just a decoration to show off someone's personalized name. It's very light color makes it instantly dirty and I'm extremely sorry I wasted money on it.