Simply Beautiful
By
Shopper

(Neptune, NJ) - December 31, 2011
It was even more wonderful than what I saw in the online preview.. The gift was for my sister and she absolutely loves it.. There is nothing more to say than that. Thank you.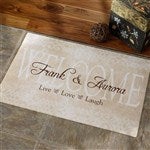 BEAUTIFUL
By
ALICIA S.

(NEWALLA, OK) - December 29, 2011 (
See all reviews by this customer
)
I bought these for family members that have everything! They absolutely loved them!! 2 of them are framed & hanging on walls!! Thank you soooooooooo much!!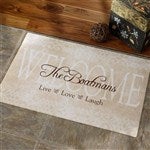 Nice product
By
Christie G.

(Milford, PA) - December 28, 2011 (
See all reviews by this customer
)
I ordered this product as a Christmas gift and it came out great. The receipients loved it as well. While I was disappointed that it did not ship in the stated time frame (1-2 days) it was for good reason and it still made it in time for Christmas. Apparantely there were issues with the machine due to all of the holiday orders and it was leaving ink spots. The doormat failed quality inspection 3 times before shipping out. I'm impressed that they caught the errors; a lot of companies would probably just ship them out, especially with the holiday rush. In addition, when I called customer service they were very courteous, apologetic, and professional.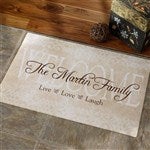 The Personalized Family Name Doormat (Wall Hanging)
By
Shopper

(SEAT PLEASANT, MD) - December 28, 2011
I purchased this for my home because I had purchased a similiar one for my daughter and son in-law and they loved it. When it arrived, I realized right then that it was much too pretty to be stepped on. So..it will be mounted on a wall in the entryway of our home.It serves as a lovely focal point and casts a warm feeling with its' WELCOME in the background in addition to the "Live, Love, Laugh" at the bottom which is our family's main "mantra"... Two thumbs up for a great product that led to an even greater decorative idea !!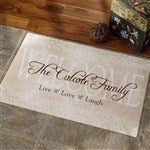 looks very nice
By
Shopper

(windham, ME) - December 25, 2011
We bought 3 of these mats for Christmas gifts. There look beautiful but are more decorative then functional. If you are looking for a mat to wipe feet on then you may not want this. It's really to nice looking anyway to wipe dirty feet on. However, if you want one that is great looking to go in a front door then this is it. We would buy then again for sure! The only reason I didn't give it 5 stars is just because I wouldn't use them as an everyday foot wiping mat.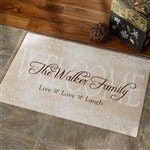 Wonderful
By
samantha L.

(moon township, PA) - December 24, 2011 (
See all reviews by this customer
)
Such beautiful gifts gave this as an x mas gift this is about my 5th time ordering from this site plus got two other people to order from it awesome! Thanks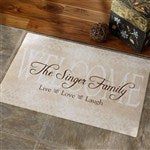 Indoor use
By
Zulay D.

(Homestead, FL) - December 21, 2011 (
See all reviews by this customer
)
Very nice! Wouldn't recommend it as an outdoor welcome mat. It's light in color and gets dirty easily.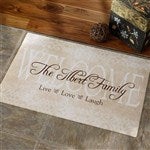 Great Quality
By
Mary K.

(Chesnee, SC) - December 14, 2011 (
See all reviews by this customer
)
The rug is thicker and better-made than I expected. And the no-slip back is great. I'm very pleased.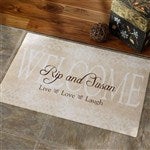 door mat
By
Christin S.

(Diboll, TX) - December 12, 2011 (
See all reviews by this customer
)
Loved the personalized door mat. It was perfectly sized, personalization was beautiful, and everything i expected. fast service!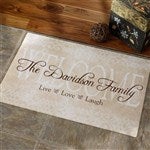 Perfect for Christmas
By
Sharon R.

(Thornton, CO) - December 12, 2011 (
See all reviews by this customer
)
This is sure to be a favorite Christmas gift, one they won't get three of. I could not belive how quickly this door mat arrived. Everything was perfect and beautiful. I will keep this in mind for a unique wedding gift. I may have to order one for my own home.

Very Classy
By
Summer T.

(Gulfport, MS) - December 11, 2011 (
See all reviews by this customer
)
I love the swirls and how classy this mat looks at my door.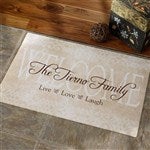 door mat
By
Carol L.

(Baden, PA) - December 7, 2011 (
See all reviews by this customer
)
very nicely done, printed very nice, good quality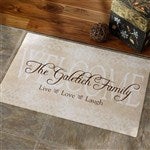 Beautiful Doormat
By
Shopper

(King George, VA) - December 6, 2011
I receive this in just a few days and it is an awesome product. Excellent customer service!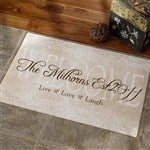 Awesome product
By
Shopper

(Lagrange, GA) - December 6, 2011
I was very skeptical about this item with the price being so low and it shipping as fast as it did! When it arrived I was very impressed with the quality and graphics!

Gorgeous Doormat
By
Kristen C.

(Lower Burrell, PA) - December 6, 2011 (
See all reviews by this customer
)
This item looks better than I expected. The lettering is very pretty and the mat looks like it will last.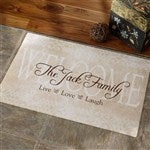 Great gift idea
By
Raquel W.

(South Jordan, UT) - December 2, 2011 (
See all reviews by this customer
)
I made this door mat for my parents as a Christmas gift! I absolutely loved how it turned out. I was very pleased at how fast it was able to come through the mail as well! Great gift idea for newly weds and families!

Gift
By
Shirley W.

(Cincinnati, OH) - November 5, 2011 (
See all reviews by this customer
)
Perfect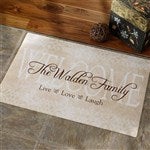 Personalized Doormat
By
Shopper

(Oxnard, CA) - October 29, 2011
Great Item! Wonderful, courtesy, and very quick to reply when you have a question. Would definitely buy gain from them.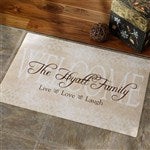 Perfect
By
Bethany L.

(Wylie, TX) - October 18, 2011 (
See all reviews by this customer
)
This product turned out perfect and is going to be a great gift!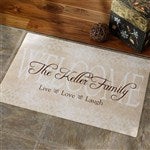 So pretty!
By
Shopper

(Eastanollee, GA) - September 26, 2011
I have bought two of these doormats and they are absolutley beautiful. I bought the first one for my mother for Christmas last year...and she keeps it on the fireplace because she doesn't want to ruin it with people walking on it! The printing is very good quality and I would definitely recommend anyone to by it as gifts for others and for themselves. Love this!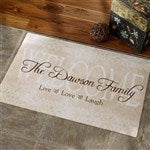 Wedding present
By
Shopper

(Spring Valley, MN) - September 25, 2011
I bought this as a wedding present for a high school friend, it turned out great!!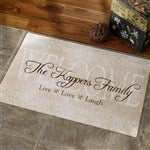 Too pretty to use!
By
Erin L.

(Thibodaux, LA) - September 11, 2011 (
See all reviews by this customer
)
The quality of this site's work is impeccable! The lettering is so elegant. This mat is too pretty to use. Ive bought several for Christmas gifts! You will not be disappointed!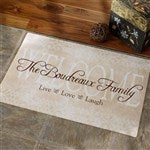 Beautiful, but probably not durable.
By
Shopper

(Mount Vernon, SD) - September 6, 2011
It is a beautiful rug, but very difficult to keep clean/or clean it once soiled. Any suggestions? The material gets very "fuzzy" and kind of lifts when you start to clean it.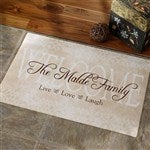 Sure they will love it
By
Shopper

(Red Creek, NY) - August 30, 2011
I am giving this as a housewarming gift. I am afraid they may not want to use it because it looks so nice. I only wish it was a little heavier weight.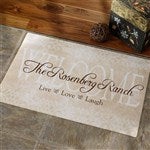 Great house warming gift
By
Shopper

(Reseda, CA) - August 23, 2011
This was by far the best house warming present for my relatives. Great service and speedy delivery...i would shop here again.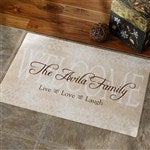 Pleased
By
Shopper

(El Paso, TX) - August 14, 2011
Quick service. Received exactly what was ordered. These mats look better in person. Very Pleased all around.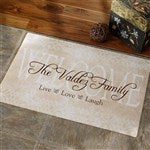 Loved It!!!
By
Brittany S.

(Henderson, KY) - August 3, 2011 (
See all reviews by this customer
)
The couple loved it. Will order this again. Great gift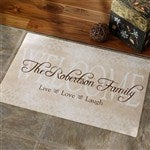 Love it!
By
Maura B.

(Chester , NY) - August 2, 2011 (
See all reviews by this customer
)
I wasn't really sure how this would look but I figured it wasn't expensive so why not? I absolutely love it! It's look great! I don't even want to put it outside or have anyone step on it! Will purchase more as gifts- as always another great product from here!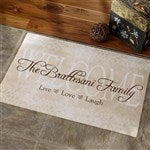 Nice looking.
By
Rebecca D.

(New York, NY) - July 14, 2011 (
See all reviews by this customer
)
Was pleased with a previous purchase so bought this one for my new home. Husband likes it and is concerned that it may get dirty, since it is light. Would make a nice housewarming gift for someone.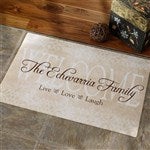 Great housewarming gift
By
Shopper

(Silver Spring, MD) - July 13, 2011
The placemat arrived quickly and I was impressed by the quality. It will make a great gift!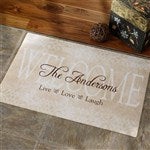 Not really a doormat, just a decoration
By
Kirk S.

(Morgantown, KY) - July 8, 2011 (
See all reviews by this customer
)
Flat smooth surface doesn't allow you to really clean your shoes off and so this doormat is really just a decoration to show off someone's personalized name. It's very light color makes it instantly dirty and I'm extremely sorry I wasted money on it.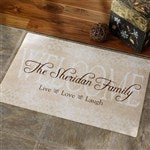 Birthday Mat
By
Deborah L K.

(Cedartown, GA) - June 25, 2011 (
See all reviews by this customer
)
Our latest tradition is the personalized door mat for each family member's birthday. These are very well received by the birthday honoree. Because of their excellent quality, these door mats last long beyond the celebration and will be used for years to come.

The Doormat is a beautiful personal touch
By
Shopper

(Sauk City, WI) - June 7, 2011
I have ordered from Personalization Mall several times now. I love the frequency of specials & promos they send. The products have been of great quality & they have a super fast order placement to front door time. If you haven't ordered from them yet, do so....you wont be disappointed.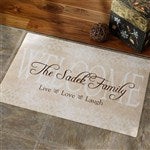 door mat with meaning..
By
Shopper

(Howard, SD) - June 4, 2011
Gave this as a shower gift. They were thrilled, thought they may frame it !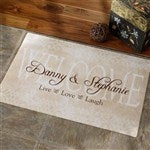 This was a gift for a cllient
By
Shopper

(Pentwater, MI) - May 23, 2011
This is the second time I have had one of these great door mats made for a client, and it got great raves from both recipients. It's really nice to be able to do something personal as a gift, so thank you for offering that opportunity. I am also pleased that I was able to see the finished product before ordering. That's a big plus.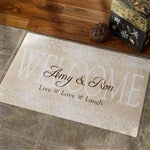 Beautiful Doormats!
By
Shopper

(Sonora, TX) - May 1, 2011
This mat is beautiful, elegant, & very well made. I'm a realtor and I bought it as a housewarming gift for two of my clients. It is the perfect gift. Both of my clients loved it and I'm going to be ordering one for all of my future clients, for myself, and my family!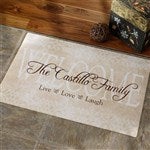 wedding present
By
kathy S.

(aurora, IN) - April 30, 2011 (
See all reviews by this customer
)
great idea and price for a wedding gift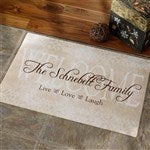 great
By
edwin P.

(apo, AE) - April 5, 2011 (
See all reviews by this customer
)
this was an awesome house warming gift for my future wife. she loved it very much and it arrived quickly.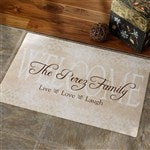 Love it!
By
Terri R.

(Waverly, VA) - April 4, 2011 (
See all reviews by this customer
)
This mat seems to be very well constructed and I love the patterns. The personalization was also very good and looks as though it will last.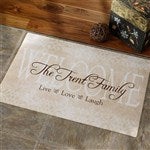 New Home Doormat
By
Jean L.

(Santa Barbara, CA) - April 2, 2011 (
See all reviews by this customer
)
Really loved the mat, but afraid to use it for the intended purpose. The mat is very light in color, so will really show the dirt. Thinking about just framing it to hold the beauty.