Nice but could be better
By
Kim M.

(Honolulu, HI) - December 30, 2010 (
See all reviews by this customer
)
The mat is nice, wish the letters stood out more, not so blended in. Only bad thing is that they do not ship to HI, had to send to my sis then to me!

Loved it!
By
Vickie G.

(Florissant, MO) - September 26, 2010 (
See all reviews by this customer
)
I am so looking forward to giving this gift at Christmas. The colors were beautiful and the personalization makes it such a special gift to receive.

Looks great, but....
By
Angela H.

(Virginia Beach , VA) - July 27, 2010 (
See all reviews by this customer
)
I love the way this doormat looks. It was just what I was looking for but the quality isn't that great. It is very thin. It's not made to actually wipe your feet on.

Nice
By
Kindra S.

(Pomeroy, OH) - May 9, 2010 (
See all reviews by this customer
)
It was really pretty but I almost wish it was engraved because it looks like it might wear off over time walking on it

I love this website!
By
Laura W.

(Bethel, CT) - February 3, 2010 (
See all reviews by this customer
)
Although I thought the white text could be a little darker, my husband loved this doormat. For every ocassion, I visit this website. They have the most unique gifts, and everything is very high quality.

Glad I Made the Purchase
By
Sherri D.

(Helena, AL) - February 1, 2010 (
See all reviews by this customer
)
I read the reviews before I purchased this personalized mat. As a result, there were no surprises. I don't agree that the printing is too light (which others have noted). The printing is really as it is pictured. It is not pictured as a prominent or bolded print. You can definitely read and see it, so I don't think it deserves that criticism. The weight is not substancial, but I don't agree that it can easily blow away. It is somewhere in the middle. I own a condo and have had my outdoor mats stolen by other condo owners (which is unreal, but it happens), so the idea that I could put my unit number on the mat was a major selling point for me. I am very pleased with my purchase and love the blue color as well. Very attractive mat and perfect for my beach condo.

Attractive floor mat
By
M J L.

(POTTSBORO, TX) - October 7, 2009 (
See all reviews by this customer
)
This is a very nice, big and heavy floor mat. Only thing we didn't like was the wording was too light. So we only gave it 4 stars. We hope it doesn't fade out too soon, but other than that, it is good quality and we really do like it.

Doormat
By
Shopper

(CLARKSVILLE, MD) - December 14, 2013
I have absolutely loved every item I have received from you, but this one, as pretty as it is, is a little "fuzzy" in its appearance. The image and the writing are just not as clear as they appear on the website. Thank you.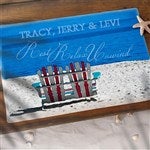 blurry
By
amanda F.

(allison park, PA) - March 21, 2012 (
See all reviews by this customer
)
The mat was blurry and the writing very light. However customer service was very helpful and I will order other mats in the future.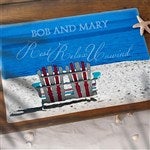 Loved the personalization-but ...
By
Joy L.

(Fort Worth, TX) - January 8, 2012 (
See all reviews by this customer
)
My sister loved the personalization(for her new beach house), but I was very
disappointed in how thin the mat was. It will not be very useful in keeping out mud or dampness. I don't really think it was a good buy considering the quality of the mat.

nice but thought it would be more durable
By
Shopper

(Silver Lake, IN) - July 30, 2011
I thought that it would be a little more durable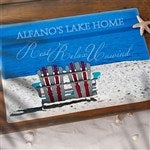 Doormat
By
Ethelee N.

(Silver Spring, MD) - August 17, 2010 (
See all reviews by this customer
)
Colors are dull and disappointing.

let down
By
DONNA P.

(UNION CITY, TN) - June 29, 2010 (
See all reviews by this customer
)
I was very disapointed with the doormat.it looked very bright in the pic but you can hardly see the words.

Beautiful but will be 'Gone with the Wind'
By
Sylvia B.

(Kirkland, WA) - November 5, 2009 (
See all reviews by this customer
)
I ordered two of these, on each for rental beach condos I own. I have to say they are beautiful and very unique as I was able to personalize them with the unit numbers. I was sad to see they are so lightweight though. Definately not something that will stay at my doors with the wind we get by the ocean. I am going to see if I can't find another heavy duty mat and glue the two together. We'll see I guess!!

Looks faded, blurry
By
Susan H.

(Riverside, CA) - April 20, 2014 (
See all reviews by this customer
)
Not sure if I got a bad copy or if this is the way it's supposed to look... When I opened it, I was pleased with the personalization, but not with the "Rest, Relax, & Unwind" script. It looks very faded. Didn't look this way in the pic to me. The chairs are blurry-looking...wavy lines outlining the chairs. Got this as a gift. Disappointed. Looks better when not viewed close-up...and does look better in a pic than when it's in front of you...took a pic and it looked about the same as the pic on the website. Have LOVED all other products but this is the first time I've ordered a mat...not sure if this is how it's supposed to look or not... :(

Doormat
By
Shopper

(Abingdon, MD) - December 6, 2012
The quality of the doormat isn't the greatest and the writing on it is faded already. I've gotten plenty of things off of here and loved them, but this one I was a little disappointed in.

Rather Disappointed
By
Shopper

(Clinton, ME) - December 12, 2011
The processing of the order and receipt of the order was exceptional. The monogramming and words of the product were as shown. However, the picture itself (adirondack chairs in this case) was not clear as depicted on line and did not care for the product for that reason.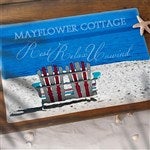 Not thrilled -
By
Sharon H.

(Saint Charles, MO) - October 18, 2010 (
See all reviews by this customer
)
I purchased this mat as a Boss's day gift. You cannot tell when you look at it on-line, but the beach picture is very blurry (looking like heat radiating off the beach). I have purchased many items off this site and this is the first time I have been somewhat disappointed. The print is very light and hard to read. The personalization is the best part of the whole item. I would not recommend.

Picture is blurry
By
Gail S.

(Panama City Beach, FL) - July 30, 2011 (
See all reviews by this customer
)
Poor Quality on the picture transfer to rug -- would not recommend -very disappointing