Does it work?
By
Donald R.

(Santa Rosa, CA) - October 9, 2009 (
See all reviews by this customer
)
It works.

Diamond Design Self-Inking Stamper
By
Dorinda C.

(Monroe, CT) - May 27, 2014 (
See all reviews by this customer
)
Nice stamp, was shipped fast, though you have to press really hard for ink to come out that is my only complaint

Better than the stickers!
By
Shopper

(Buffalo Grove, IL) - February 10, 2014
I love having the stamp for easier use than pulling the address labels off of the sticker. This is a great design, very elegant and simple. My only issue is that I have to press down very hard to get the whole imprint and sometimes there are areas that don't get as much ink. No matter, it is a great item and I would suggest it.

Looks just like it does on the website
By
Shopper

(Denver, CO) - January 31, 2014
It's a nice stamp

Great product good price
By
Shopper

(Maple Valley, WA) - November 9, 2013
Very nice and easy to hold, just a little disappointed with the evenness (?) of the stamp. found I really have to push down hard to get full coverage on all lines. Other than that great product for the price.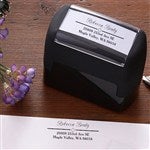 Great stamper!
By
Shopper

(Manteca, CA) - October 4, 2013
Quality & great service. Thank you!

Classy Stamper
By
Cristine L.

(Scranton, PA) - November 16, 2012 (
See all reviews by this customer
)
Bought this stamper for my parish church. It looks beautiful, classy, and makes a professional presentation. Since I'm the secretary, it will be put to good use.

Great
By
Shopper

(Gastonia, NC) - July 31, 2012
This stamper is great! I used it for return addresses on my wedding save-the-dates and was not disappointed. It stamped evenly, even on envelopes. Great product for the price!

Delighted
By
Shopper

(Tarrant, AL) - April 29, 2012
I was a bit hesitant due to the low price. I thought the print might appear a bit blurry. The clarity is amazing. Its slylish and package well for easy storage. I am very pleased!

Great Product
By
Ashley K.

(Bedford, TX) - March 9, 2012 (
See all reviews by this customer
)
I was very pleased with the stamp. My Dad loved it and it makes things much easier on him now and makes things look very professional. He loves it! But, I wish the font size could have been a little bit bigger. But overall, great product.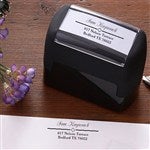 Love the font, lower ink looks blurry
By
Shopper

(Shelby, NC) - December 18, 2011
I love the flowy script of the name above the little diamond and the line, however, it appears that the ink on the address lines tend to "bleed" into one another and the words are not as distinct and crisp as the surname above the line. I stamped it a few times and it is better than the first time, so I hope as it gets used, it will appear less blurry and more distinct. Giving it for a Christmas gift, so will not have much information if this resolves itself later. Overall, a great stamper for the price and was shipped quickly.

Professional return address stamper
By
Geoffrey S.

(Vandalia, OH) - May 25, 2011 (
See all reviews by this customer
)
Time to stop using the labels and switch to this professional style stamper. Offered at a Great price and value. 3 colors to choose from....or maybe purchase one in each color.

Item exactly as described
By
Emily T.

(Conover, NC) - December 29, 2010 (
See all reviews by this customer
)
This item is exactly as described. It is a nice stamp.

I prefer it in gold lettering
By
Beverly T.

(Landover, MD) - August 25, 2010 (
See all reviews by this customer
)
It would have been great if the lettering was in gold.

Love it.
By
Tracy L.

(Littleton, CO) - May 24, 2010 (
See all reviews by this customer
)
I bought this as a house warming gift for my sister. She love s it and says it is beautiful. The shipping was very fast for a personalized item. Thanks so much.

Stamper
By
ROBERTA W.

(CARY , NC) - January 15, 2010 (
See all reviews by this customer
)
Love the stamper. Saves me alot of time.

Good
By
Lindsay M.

(Duluth, GA) - January 4, 2010 (
See all reviews by this customer
)
It is great, especially for the price. I used it for my wedding invitations and the ink bled a little but I think that was from the type of paper used for the envelopes. Either way, it did its job. I love that you can personalize what you want for the top line, including two first names with an "&" sign.

Nice Stamper
By
Damon B.

(Valencia, CA) - December 2, 2009 (
See all reviews by this customer
)
The Diamond Design Self Inking Stamper is great. It provides a classy stamp on my outgoing mail. Upon initial use, the ink came out a bit too heavy, but it seems to be evening out now.

Return address stamper
By
Cory S.

(Chicago, IL) - November 9, 2013 (
See all reviews by this customer
)
The stamper looks nice and works but the names don't come out very well and sometimes you have to press down harder to make it appear better which may get tedious after hundreds of envelopes.

okay, but not wonderful.
By
J. Clayton B.

(Taft, TX) - September 6, 2013 (
See all reviews by this customer
)
This stamped doesn't ink very well. It must be done on a completely flat very hard surface, and even then the image is not even and dark. I would definitely buy a different style next time.


address stamp
By
margaret C.

(celebration, FL) - December 22, 2010 (
See all reviews by this customer
)
no choice on the font. way too small

Not the best but not terrible either
By
Frances C.

(Saint Clair Shores, MI) - October 26, 2009 (
See all reviews by this customer
)
Item was ok... They didn't print my order 100% correct.

Address Stamp
By
Shopper

(Reading, PA) - December 12, 2013
I was very excited when the stamp came, but it is not as good as I would have hoped. You really have to press hard for the ink to take. Most times the ink is missing from the middle of the address. I am hoping this will get better with time. So far, not so good.

Address Stamper skips a bit
By
Jane S.

(Indian Land, SC) - November 11, 2011 (
See all reviews by this customer
)
Regarding my new Stamper...I have wasted a few envelopes because it seems to skip a bit. It is not totally used friendly and that was the reason I bought it. Also,getting the cover off is difficult for arthritic hands. I do not think it was worth over $20. with shipping.

This is the second time I am disappointed. Two weeks ago I order Family Tree notes as an engagement gift. The print on the names was much to tiny and that was a little disappointing. People love things that personalized but whoever inspects these items should correct them and improve them before going to final.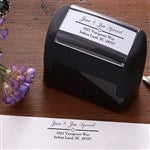 not good quality
By
Shopper

(Vienna, VA) - January 25, 2011
This product is not good quality - it doesn't stamp on envelopes - the middle doesn't show. It stamps on regular thin paper if you press down really hard. Hopeless on envelopes.
Very disappointed.

Self inking return mail stamp of poor quality
By
Becky P.

(Brentwood, TN) - February 26, 2010 (
See all reviews by this customer
)
I was disappointed to receive my stamper, it has inconsistant ink and appears like it is almost dry. I doubt that I will use it, creates a poor impression instead of a professional appearance to my mail.

Disappointed
By
Gabriela C.

(Richardson, TX) - January 7, 2014 (
See all reviews by this customer
)
We bought this stamper to help with our wedding invitations. The stamper does not ink well at all! Our names are very very hard to read and the '&' is pretty much non-existent. If you press the stamper down for about 10seconds and hold it just right you will be able to read our first names lightly and the address is much darker. It is super disappointing since I read very good reviews about this site. I am sad that we will probably have to buy a different stamper from another site because this one is just not doing the job.
Below is an example of the best I could get it to look.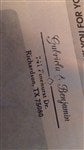 Major Dissapointment
By
Judith J.

(Katy, TX) - December 18, 2009 (
See all reviews by this customer
)
I purchased this to give as a Christmas gift. When I received the stamper I tried it out several times to see how it looked. Bad..really bad. The stamp only stamps in the middle so the Name and city lines only show up partially. This is no good at all. Now I wasted my time and money and I have to go out shopping for a replacement gift.

Piece of junk
By
Kathleen O.

(New Providence, NJ) - December 1, 2009 (
See all reviews by this customer
)
Do not buy this stamp. It is brand new and it stinks. You cannot do it quickly without only half of it showing up. You have to take the time to line it up perfectly and press slowly which defeats the whole purpose - you might as well handwrite it!