Who says it's just an address stamp?
By
Shopper

(Middleburg, FL) - December 14, 2011
I use this as a stamp for my personal books that are in my classroom. I used to write my name in each one so that the kids know where they belong. By having the stamp and "if found, please return" on it, I save my hand and keep by books looking neat!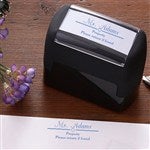 Good Product
By
Shopper

(Swampscott, MA) - December 13, 2011
I was pleased with my purchase. I got this as a gift for a fellow coworker, she is always running out of address labels.
The shipping is fast I would buy again from this company.


Nice address stamp
By
Shopper

(Arlington, VA) - December 13, 2011
Just got the stamp and it looks great! This should save us $$ on return addresses for our wedding invitations.

Excellent Gift idea
By
Shopper

(Grand Rapids, MI) - December 4, 2011
The gift was really nice and my husband enjoyed it and he still likes it.
Delivery was also in good time.
I highly recommend the site to others.
Thanks

Love your products!!
By
BobbySue S.

(Fort Morgan, CO) - September 6, 2011 (
See all reviews by this customer
)
Works great!!!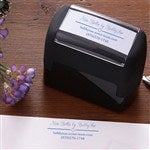 Awesome
By
Shopper

(Orlando, FL) - June 21, 2011
Awesome gift. No complaints. Shows up beautifully on my envelopes and everyone always compliments it. Definitely will reorder.

happy stamping!
By
Catherine P.

(Canada) - May 31, 2011 (
See all reviews by this customer
)
Love our new personalized stamper. Easy to read and easy to use!

Great Gift Idea
By
Shopper

(BEAUFORT, SC) - May 31, 2011
I purchased this gift for my sister-in-law's birthday and she absolutely loves it! Would recommend this product makes a great gift for any occasion!

excellent stamper
By
Shopper

(Castaic, CA) - May 28, 2011
This stamper produces a nice, clean, even stamp. It does not blot or leave excess ink on the paper. It is easy to use and has a comfortable grip. Sturdy construction and an attractive font add to the benefits. Price was right.


Address stamp
By
Eathel B.

(Spring Creek, NV) - May 21, 2011 (
See all reviews by this customer
)
Good quality and looks Great!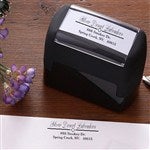 Return Address Stamper
By
Jamie Y.

(Amarillo, TX) - May 7, 2011 (
See all reviews by this customer
)
Great Quality, Easy to use. Exceeded Expectations. This stamp is perfect!

Very good value
By
Shopper

(Boston, MA) - April 18, 2011
The stamper works very well and the design looked exactly as it does on the website.

great stamper.
By
Shopper

(Quaker City, OH) - February 25, 2011
This stamper is easy to use. The lettering is clear and uniform. My old stamper had to be rocked back and forth to make good contact but this one stamps uniformly all the way across the lettering with no rocking needed.

great quality
By
Shopper

(Chicago, IL) - February 5, 2011
This works perfect. I and whole family love. Ink is brite and even in color(i have the color red). I would buy this again for sure. Hope it will last a long time.

Compact and stamps with ease
By
Shopper

(Las Vegas, NV) - January 17, 2011
Sleek & compact. Lettering style with diamond design looks classy. The self-inking is less mess and stamps with ease.

Stamp Is Perfect!
By
Shopper

(Naples, FL) - January 17, 2011
I absolutely love my stamp from Personalization Mall! It is perfect and was shipped very fast. I will definitely be buying more items from this company.

Exceeds Expectations
By
Nicole R.

(Pawling, NY) - December 24, 2010 (
See all reviews by this customer
)
The product is lightweight, comfortably fitted to the hand, stamps well on any surfaces and dries quickly avoiding smudges. I am very pleased with the quality of the product for the price, the ease of ordering, and the speed of delivery. I would recommend this product to a friend.

As Promised
By
Carolee L.

(Stafford, VA) - December 12, 2010 (
See all reviews by this customer
)

I ordered this for family members that had just moved into their new home. It came within 3 days and was just the way it was described on the website. I'm very happy with this purchase and excited to gift it!

Self inker
By
Anna P.

(Anna, TX) - July 5, 2010 (
See all reviews by this customer
)
Great item !! love it

GREAT SERVICE!!
By
MICHEEL K.

(PRINCESS ANNE , MD) - June 30, 2010 (
See all reviews by this customer
)
RIGHT TIMING.I WOULD ORDER MORE STUFF LATER.

A WONDERFUL ONE STOP SHOP FOR ALL MY GIFTING NEEDS!!!
By
Angelina R.

(New Springfield, OH) - June 10, 2010 (
See all reviews by this customer
)
I found this website by browsing, looking for online gifts...I was MORE than happy with the ease of shopping, the fact that I could actually SEE what I was buying with the demo sample picture, the speedy delivery, and the quality of the products once I had them in hand! The options are endless on this website--a one stop shop for ALL my gifting needs! Thank you!

Perfect
By
Nancy F.

(Canada) - June 2, 2010 (
See all reviews by this customer
)
I've bought 4 of these for my business and they are very good. Got them on sale so price was excellent if I compare with others I have purchased at regular store !

Great Service!
By
Lisa B.

(Elizabeth City, NC) - May 19, 2010 (
See all reviews by this customer
)
After searching many other websites for a self-inking stamp for our business, I found this one and after comparing prices for the same item on other sites, I was quickly taken in by the low cost for their product. I also liked how they give you a preview of what your actual self-inking stamp will look like before you finalize your order. I received my address stamp aprox. 3 days after I ordered it. I will definately place future orders with them! Very satisfied with their quality and service!

Fast Shipping and Great Stamp!
By
Nancy B.

(Huntersville, NC) - March 31, 2010 (
See all reviews by this customer
)
This is a very good quality stamp for the money and it was shipped to me very fast!

So Far, So Good
By
Thomas J.

(La Mesa, CA) - January 13, 2010 (
See all reviews by this customer
)
Just got my self-inking stamper and so far it working wonderfully. I am not a heavy volume user, but for my pusposes its perfect.

The best I've used!!!!
By
Susan D.

(Highland Lakes, NJ) - November 2, 2009 (
See all reviews by this customer
)
I had ordered & received a self-inking stamp from a very popular store almost identical to this one a few years ago. We were satisfied with it except that the ink ran whenever it was slightly touched by a damp palm or even if the air was damp and it was inadvertantly touched. So reading the return address was impossible if that happened.

Your stamp not only CAME QUICKLY AND EXACTLY AS ORDERED- perfect lettering, perfect colors, and cost less than our previous one.... but the CLARITY IS BETTER AND IT DOESN'T RUN OR SMUDGE AT ALL!!! We couldnt' be more pleased. I ordered 3 of them -- one for us and two for our children. They'll get theirs for Christmas and I'm certain they will like them as much as we do.

Thank you for providing what you advertised. We have already recommended you to a couple of our friends who are looking for Christmas gifts.

Does it work?
By
Donald R.

(Santa Rosa, CA) - October 9, 2009 (
See all reviews by this customer
)
It works.