Mother's Day Gift for Grandma
By
Shopper

(Aurora, IL) - May 12, 2011
This made an excellent gift for grandma for Mother's Day! It gave our daughter the opportunity to personalize her gift to grandma and gave grandma the opportunity to enjoy her special moment that much more! And in the long run, everyone will be able to enjoy the sweets placed inside for years to come!

Thank you Personalization Mall for making Grandma's day so special!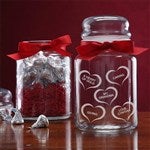 Very Cute
By
Hannah I.

(Youngtown, AZ) - February 21, 2011 (
See all reviews by this customer
)
This was a very cute valentines day gift i got for my boyfriend; he loved it! and loved the kisses as well. The only downfall to the item is the hearts and lettering are white.. so it makes it hard to read. If they were red it would look much better. But overall a good small gift.

Candy Jar with Hershey Kisses
By
Cherie T.

(Middleton, WI) - February 20, 2011 (
See all reviews by this customer
)
It came exactly as ordered but it is hard to read the words in the heart unless there is colored paper or something behind them. Good quality jar. Nice to be able to personalize something like this. My fiance loves it!

Fun Valentine's Day Gift
By
Shopper

(Canton, MO) - February 19, 2011
I like the notes one can put inside the five hearts. It was easy to create the notes and order the product. The product arrived on time as promised. The one drawback is that the heart etchings on glass are very hard to read. I had to tell my wife that I actually had created the inscriptions inside the hearts before she even noticed there were inscriptions.

Great Present
By
Andrea L.

(Rockville, MD) - February 16, 2011 (
See all reviews by this customer
)
Perfect gift for Valentine's Day for my husband. He keeps it on his desk filled with peanut m&m's.

Valentine's Gift
By
Shopper

(Brown Summit, NC) - February 16, 2011
The jar was awesome and my boyfriend LOVED it!! It's sitting on his desk at work. It was a little small but made up for it with the candy that was provided that I wasn't aware I would be getting.

GREAT GIFT
By
ADRIENNE E.

(STATEN ISLAND, NY) - February 15, 2011 (
See all reviews by this customer
)
GAVE THIS AS A VALENTINES GIFT FOR MY HUBBY....PERSONALIZED IT WITH OUR SECRET PET NAMES ETC....HE LOVED IT, PUTTING IT ON HIS DESK AT THE OFFICE...

Cute
By
Shopper

(Canada) - February 14, 2011
I like the jar, havent given it as a gift yet. The only thing I would change is the placement of the ribbon... it always falls off when you open the jar!
Thanks!

Nice
By
Kathryn R.

(Brownsburg, IN) - February 12, 2011 (
See all reviews by this customer
)
This was a nice purchase and something that I will give my husband for Valentine's day. The wording on the side was done very well. It was nice to already have the candy inside so that it is ready to go.

Awesome
By
Shopper

(Brooklyn, NY) - January 31, 2011
I purchased the gift for my fiance and I Loved It, it expresses exactly whats on your mind in a personal way.

Will shop again
By
Sherry W.

(Rolla, MO) - February 12, 2010 (
See all reviews by this customer
)
The gift was very beautiful, completed and shipped very fast. will purchase/shop from here again. The engraving was a little light, but it is readable. I really liked it and I think that he will too. I would suggest this for anyone.

Conversation Hearts Candy Jar with only a few Hershey's Kisses!
By
Deborah K.

(East Rutherford, NJ) - January 21, 2010 (
See all reviews by this customer
)
The jar is great --- as advertised.... The Kisses inside were not what you see in the picture --- red grass was used as stuffing at the bottom and only 32 kisses are enclosed, I believe...a bit skimpy on the chocolate!!

Recipient loved it, but etching is lighter than pictured
By
Christine B.

(Wayne, NJ) - December 8, 2009 (
See all reviews by this customer
)
The recipient loved it, however the site is deceiving in that it does not come in white, but rather "frosted" appearance so it's much lighter than shown on the website. It's also smaller than I would have liked, but it was a cute gesture and the recipient really loved it!

Not enough Hershey kisses!
By
Shopper

(Amherst, MA) - January 27, 2014
Jar only Half full.

What's the message in those candy hearts??
By
Judith G R.

(Windsor, VA) - February 1, 2013 (
See all reviews by this customer
)
As always, I was pleased with the ordering process, ability to preview my personalization, and speed with which my order was processed and received! However, for this particular purchase I was disappointed with how poorly the engraving showed up, especially with candy in the jar. The overall quality of the product was good, but a shame that you have to strain to see what messages have been written there.

Personalization unclear, but a good product otherwise
By
Kimberly C.

(Valatie, NY) - February 7, 2012 (
See all reviews by this customer
)
There was a generous amount of candy in the jar, but the writing was very unclear. You cannot make it out unless you look closely.

Good but hard to read
By
Quynh V.

(Woodinville, WA) - February 25, 2011 (
See all reviews by this customer
)
Hi, I love the jar because it's personal and my husband is a chocolate freak. However, the print should be in a darker color because it was hard for him to read.

It's ok...
By
Allyson M.

(Stamford, CT) - February 13, 2010 (
See all reviews by this customer
)
Wish the printing were darker and was all the way around the container instead of just on one side.

A little disappointed...
By
Beth B.

(Villa Park, IL) - October 15, 2009 (
See all reviews by this customer
)
The personalization is very light and hard to see - it would be better if the candy wrappers were a darker color or something.
Also, the jar itself is smaller than I expected.

print to light for clear glass
By
tim M.

(Tuscumbia, AL) - February 19, 2014 (
See all reviews by this customer
)
good size sturdy jar and lid but the printing is so fain it is almost un noticeable. actually had to pint it out to the person gettin the gift. I would suggest a bolder darker color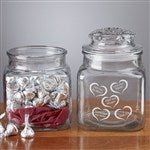 Cute idea, hard to see
By
Sarah L.

(Saint Louis, MO) - February 16, 2012 (
See all reviews by this customer
)
I love this idea but was disappointed with the end result. My Valentine could hardly read what was said on it, the etching didn't show up enough. Really took away from
it that I had to help him read it.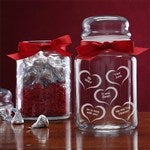 didnt like
By
JAMES D.

(ERIE, PA) - February 16, 2012 (
See all reviews by this customer
)
since the lettering is done in white its almost impossible to see the hearts and the wording inside. Not very satisfied.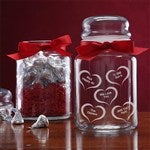 Somewhat Disappointed
By
Richard C.

(Elizabeth, NJ) - February 4, 2011 (
See all reviews by this customer
)
The concept of the item is great for Valentine's Day. My only complaint is that the personalization does not stand out enough. The hearts and the lettering within each heart should have been done in bolder colors so that they don't blend in as much with the glass.

Disappointing Jar
I purchased this jar for my husband for Valentines Day. I wrote several messages on it to be etched. I couldn't wait to get it. When it came, I opened it to see the love notes inscribed...I couldn't read them! They were so light -- not at all the opaque-looking white shown in the photo. Barely readable, and the jar was only 1/2 full with kisses. For this price, I expected it to be something more special, easily readable AND to have the jar FULL of kisses! So like I said, "Disappointing".

Slightly disappointed
When the kisses arrived the writting was so light the receiver didn't know that there was anything written on the front of the glass. I think it would have been better if the writting was darker, but the gift was appreciated and loved still. I would order from personalizationmall again. I really loved how fast the order got there.


Unhappy
By
Robert E.

(Pompano Beach, FL) - March 2, 2011 (
See all reviews by this customer
)
Looks great in the pictures, but in real life you can hardly read the hearts. The hearts should not be in white, they wash out and my wife did not even realize each one was personalized. Should have been printed in deep red so they show up.

Broken
By
Shopper

(Menifee, CA) - February 21, 2011
The item showed up broken and had to be replaced.