Fast Shipping
By
Joshua B.

(Charleston, SC) - April 28, 2014 (
See all reviews by this customer
)
I bought this for my sister's wedding gift it showed up beautifully and fast shipping I will buy from them again.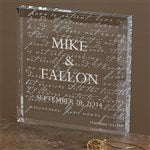 Best Wedding Gift Ever!
By
Deborah M.

(Chicago, IL) - March 13, 2014 (
See all reviews by this customer
)
I have been buying this beautiful Crystal Sculpture for every friend and family member that has tied the knot and it is a winner every time!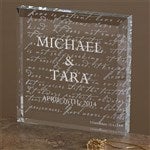 Wedding Gift
By
Shopper

(Long Beach, MS) - February 8, 2014
Outstanding quality, and the recipient loved it!


Perfect 60th Anniversary Gift
By
Shopper

(Madison, WI) - November 25, 2013
I ordered this to commemorate my Aunt and Uncle's 60th wedding anniversary, and I was so pleased with how pretty it is. And they loved it!

Consistent; My favorite gift to give at weddings
By
Matthew M.

(Bath, PA) - October 26, 2013 (
See all reviews by this customer
)
I've had 4 of these custom made now, and each of the couples has absolutely loved them. Grat price, and had it on my doorstep in less than a week.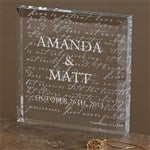 LOVE IT BUT............
By
Shopper

(Chesapeake, VA) - September 10, 2013
I love it! and I was a little disappointed in the size-My Fault....I don't understand measurements very well and I expected this item and a similar one I ordered, to be much larger-more in the 5x7 range. Anyway, the concept is AWESOME and I'm giving them both to the newlyweds to be....!!!!

Perfect Wedding Gift!
By
Shopper

(Towson, MD) - August 9, 2013
After missing my nephew's June wedding, I wanted to get something really special and personal to make appropriate amends. Not knowing his tastes, or his bride's, I did a Bing search for "personal wedding gifts" and came to this site. I was quickly led to this crystal and found it perfectly priced, perfectly meaningful, and perfectly ideal to send to other family members whose weddings I had also missed over the years, for reasons too long to explain. With one more coming up, I am going to bridge the gap by ordering five more, and am thrilled with this perfect gift for this use from now on. If I could give it ten stars, I would. Thank you so much, Personalization Mall!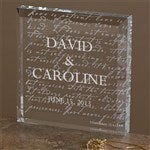 Wonderful Anniversary gift
By
Shopper

(Columbia, MD) - August 9, 2013
I loved my crystal sculpture! It's exactly what I was looking for. A beautiful anniversary gift to celebrate true love.

Married at work
By
Shopper

(Van Nuys, CA) - July 19, 2013
We use this as our standard gift when someone in the office gets married. It is loved by the employee and the perfect keepsake. It beautiful.

Fantastic
By
Marlon F.

(Guttenberg, NJ) - July 8, 2013 (
See all reviews by this customer
)
The Price
The Quality

Superb!!!!!!!!!!!

My Favorite Wedding gift to newlyweds.
By
Courtney X.

(Granbury, TX) - April 17, 2013 (
See all reviews by this customer
)
It's been a hit with all couples and becomes a family heirloom.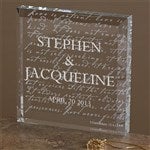 Pleased!
By
Shopper

(Broken Bow, NE) - March 30, 2013
Beautiful and Perfect!! Very Pleased!!

35th Anniversary
By
Shopper

(Clyde, NC) - October 26, 2012
Ordered this for my husband for our 35th annivesary. I wanted something special and unique. It was perfect, and he loved it. So glad I got it.

Fantastic gift for our anniversary
By
Richard H.

(Montpelier, VT) - October 15, 2012 (
See all reviews by this customer
)
The item arrived in great shape. The artisan did a great job etching our names and anniversary date into the crystal. She was pleasantly surprised and said she would keep it on her desk to look at every day. Thanks for helping make our anniversary of 11 years very special.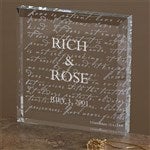 Great anniversary gift!
By
Shopper

(Virginia Beach, VA) - October 1, 2012
I bought this for my wife to celebrate our 15th Wedding Anniversary and she absolutely loved it! The engraving looks great and the 3D crystal is very cool especially in the afternoon sunlight. Great quality. Very affordable.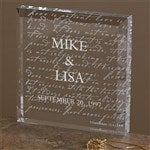 Simply Beautiful Gift
By
Reagan H.

(Dallas, TX) - August 3, 2012 (
See all reviews by this customer
)
Shipped right on time, and was even more beautiful than the picture shows.

Great Wedding Gift
By
Shopper

(Granbury, TX) - August 1, 2012
Weight is nice and beautiful piece. Great wedding keepsake for couples. I have purchased probably 6 of these. Highly recommend.

awesome
By
Shopper

(grandview, MO) - July 11, 2012
I bought the love is patient plaque n it was a great buy n gift! Loved the clarity of product n it was received with rave reviews! Thanx

Awesome Wedding Gift
By
Shopper

(Jonesboro, GA) - June 28, 2012
The engraving on the sculpture was great and positioned perfectly on the piece. The sculpture arrived immaculate. It is awesome to see the scripture behind the names. I highly recommend this item, and company.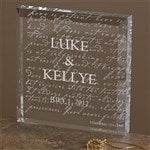 Beautiful gift
By
Shopper

(Troy, MI) - June 21, 2012
wedding gift for my best friend and his wife....they LOVED it!

50th Wedding Anniversary Gift
By
Shopper

(Olathe, KS) - June 18, 2012
I ordered this gift for my parents' 50th with not much time to spare. It came on the day promised, and it was beautiful!

God Bless
By
Shopper

(Sedro Woolley, WA) - April 24, 2012
I thank God for his word being brought out still for marriage's they way it is suppose to be, Thank you for having it . very happy with beauitful(Bella)

Beautiful!
By
Lisa M.

(Round Rock, TX) - April 9, 2012 (
See all reviews by this customer
)
I bought this as an anniversary gift for my husband and we both love it. I was pleasantly surprised by the quality of the gift, and it was delivered right on schedule. It is now displayed in our china cabinet and looks great!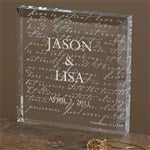 Crystal Sculpture
By
Shopper

(WOLFORD, ND) - March 19, 2012
Purchased for a wedding gift. Was very elegant looking. Shipping was extremely fast. The engraving was excellent and correct.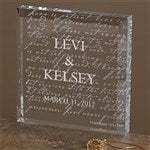 Very Pleased
By
Phillip M.

(Bristol, TN) - February 21, 2012 (
See all reviews by this customer
)
I purchased this as a gift for my parents 26th Anniversary. They really enjoyed it. Very happy with the product!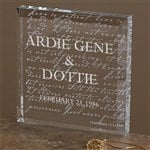 Better than imagined
By
Becca G.

(Amarillo, TX) - February 13, 2012 (
See all reviews by this customer
)
I bought this for a valentines day present. I was slightly worried because it was due to be here on the 12th. Not only did it come early it was even more beautiful than I thought it was going to be. I was pleasantly surprised! I'm always leary of ordering from new sites. This one is definatly a keeper I can't wait for my next order!

Nice remembrance
By
Shopper

(Shamong, NJ) - January 24, 2012
I've given this item twice to nephews & their brides. It is a nice memento, not too big, and they have enjoyed them & displayed them in their homes. A simple meaningful gift to commemorate a wedding day.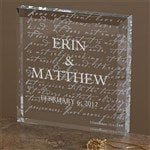 No problems!
By
Shopper

(Cordova, TN) - January 23, 2012
Very good product, love the weight and looks exactly like the picture. Shipped the day after I ordered. No problems at all. However it was smaller than I expected, but that is why they have the measurements listed! This is my second purchase from Personalization Mall, and definitely not my last!!

The perfect gift fo rthe perfect day!
By
Shopper

(Clearwater, FL) - December 22, 2011
Not only was the gift what we wanted for the happy couple it worked out that it was the same scripture that was used for the wedding, and the shipping and delivery was on time as promised. Everything was correct and there were not nick chips or scratches.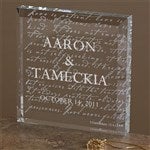 Awesome gift
By
Adam R.

(San Antonio, TX) - December 21, 2011 (
See all reviews by this customer
)
I've made purchases in the past from PersonalizationMall so I returned for this beautiful item and once again am extremely happy I did. The quality and detail of their items are great and their customer service goes above and beyond average vendor obligations. This is going to make my partner feel extra special this Christmas! Cheers!!!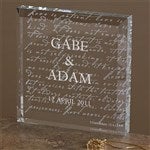 keepsake
By
jim V.

(huron, SD) - November 27, 2011 (
See all reviews by this customer
)
very nice anniversary keepsake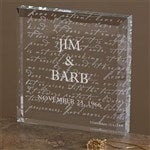 Fantastic Gift!
By
Krista N.

(Kalkaska, MI) - November 21, 2011 (
See all reviews by this customer
)
I am very pleased with this item. The weight of it is nice and the engraving is just what I hoped it would be. I will purchase other items in the future for gifts knowing that I will be getting a quality item. Thanks!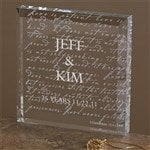 My sister's wedding gift
By
Mavis S.

(Torrance, CA) - September 2, 2011 (
See all reviews by this customer
)
My sister and her new husband loved it! It is clear, beautiful, and heavier than expected. I recommend this gift.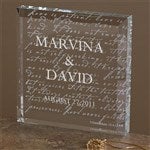 WRITTEN IN STONE
By
Regina B R.

(York, PA) - August 5, 2011 (
See all reviews by this customer
)
This was for a bridal shower. The joke was that they could not change the date for it was written in stone. Everyone got it, which was good. It was smaller than I imagined...they do give dimensions but DUH!!! I did not measure. However it turned out that due to its size the bride-to-be thought it was perfect. I bought a stand for it at a gift-shop and included it. This is a beautiful and romantic gift. One that will not only last a very long time but a reminder of what it takes for a successful marriage.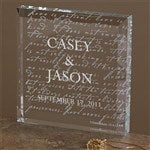 Nice momento
By
Shopper

(Shamong, NJ) - July 29, 2011
Purchased this for a niece/nephew after their Wedding as a simple momento. My new niece called me & she was happy to receive it. Simple, not too large and not too expensive, yet personalized.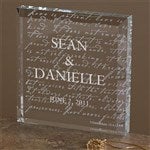 Corinthians I sculpture
By
Shopper

(Puyallup, WA) - July 4, 2011
Perfect gift for a second wedding!

Great for 3rd anniversary!
By
Rebecca K.

(East Norriton, PA) - June 12, 2011 (
See all reviews by this customer
)
I got this for my husband/us for our 3rd wedding anniversary. It was perfect because it was crystal, which is one of the modern gifts for the 3rd anniversary, AND it has Corinthians in the back, which was read during our wedding ceremony.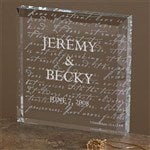 Beautifully engraved, great quality
By
Sherryl T.

(Crete, IL) - June 6, 2011 (
See all reviews by this customer
)
Purchased as a wedding gift for neighbors. Pleased with the precise engraving
and heftiness of the scupture. Have done business with you before, was recommended by my daughter. I appreciate the beauty and quality of your merchandise.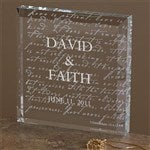 anniversary present
By
Shopper

(Boardman, OR) - June 1, 2011
My daughter and son-inlaw, just loved this item. It was beautifully made and I could have their name and anniversary number put on it which was perfect since crystal was the traditional gift for 15 year.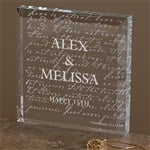 Couldn't Be More Pleased
By
Shopper

(Rowlett, TX) - May 31, 2011
I found this product to be above my expectations, and would certainly order again. I like to give personalized gifts for weddings and new babies, and was so pleased. I ordered for some friends in Belgium, and had the date engraved as on their wedding invitation.