Love them!
By
Shopper

(New York, NY) - August 27, 2012
Our flutes look amazing! We can't wait to sip from them at our wedding!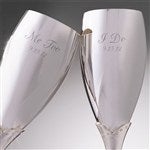 Gift for parents' silver wedding anniversary
By
Yana S.

(Southampton, PA) - March 12, 2012 (
See all reviews by this customer
)
i have not seen the flutes myself, but my parents loved them.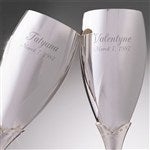 Wedding Flutes
By
Shirley B.

(New Carrollton, MD) - January 27, 2012 (
See all reviews by this customer
)
I purchased these flutes for my niece's wedding and she was absolutely thrilled with the gift.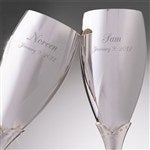 Perfect!!!
By
Tami G.

(Central Point , OR) - October 9, 2009 (
See all reviews by this customer
)
My Husband and I wanted something that was unique yet simple and elegant. These flutes are all that and the above! They are a good weight and are made very well. They looked just like the personalization preview! To put everything into one word....AWESOME

Bridal Shower Gift
By
Shopper

(Silver Spring , MD) - July 9, 2013
I purchased this set for my cousin and her fiance. These toasting flutes look simply elegant. The crystals give it a classy look and not too ornate.The personalization is nice, although I was expecting it to be engraving into the flutes. Recommend to anyone who's looking for something special for the bride & groom.

Absolutely beautiful
By
Patricia M.

(Lyndhurst, NJ) - October 3, 2009 (
See all reviews by this customer
)
These glasses are gorgeous! What a wonderful wedding gift.

GREAT WEDDING GIFT
By
Suzanne B.

(BARRE, VT) - October 7, 2009 (
See all reviews by this customer
)
The couple simply loved the elegant looking glassed that we wonderfully engraved. They will been treasured always.

Crystal Accents Engraved Wedding Flutes
By
Christy N.

(Portland, OR) - October 10, 2009 (
See all reviews by this customer
)
I initially ordered from Things Remembered as I wanted a brand new/untouched set for my wedding. I paid for the flutes and was told that they would arrive within 5-7 business days and that I would receive a phone call to come pick it up. I waited and waited but 2 weeks passed and no phone call. I called them and the sales lady told me that the flutes would arrive the following week for sure and I should receive a call. I waited another week and no phone call. I called again and was told that it did not arrive. I made a trip to Things Remembered where I was asked to wait another few days so they could locate the flutes. I agreed but the flutes never showed up. By that time, I only had 6 days left before my wedding. I started to panicked and began searching online. I found personalizationmall.com. I placed my order and purchased an additional cake server/knife set both with free engraving. I ended up paying the same price for both items as I did at Things Remembered and received the items 2 days later. Everything turned out beautiful, better then I expected. I've had the items for 3 months now and they are still shining just like how I received them. Thank you so much Personalizationmall.com. You guys are great!!

Very happy
By
Karen Z.

(St. Louis, MO) - March 11, 2010 (
See all reviews by this customer
)
I bought these for my daugter's wedding. She wanted something different than the normal glass flutes. They are beautiful and a wonderful keepsake for her and her husband.

Beautiful Flutes
Love the flutes. Was happy when I saw them on the website and was extremely ecstatic when I when they arrived within 3 business days no less. BEAUTIFUL WORK!!! Thank You, and I hope the happy couple will love them.

LOVE THEM
By
Chris G.

(HopeMills, NC) - April 16, 2010 (
See all reviews by this customer
)
WHEN MY FIANCE AND I PICKED THESE WEDDING FLUTES. WE THOUGHT THEY WHERE SO ELEGANT LOOKING, AND NOT LIKE THE WINE GLASSESS EVERYONE ALWAYS USES. THEY ARE SO PRETTY. BUT WHEN WE FINALLY GOT THEM IN THE MAIL, AND ACTUALLY GOT TO SEE THEM IN PERSON, THEY WHERE SO MUCH MORE BEAUTIFUL IN PERSON THAN ON THE COMPUTER. WE WILL ALWAYS CHERISH THESE FOR YEARS TO COME. AND WE WILL USE THESE AGAIN ON OUR YEAR ANNIVERSERYS. THERY ARE BEAUTIFUL, AND JUST SO ELEGANT

Crystal Accents Wedding Flutes
By
Irma G.

(Hollister, CA) - December 11, 2009 (
See all reviews by this customer
)
This product was ordered and received within 2 days,personalization and all! The flutes are exactly as pictured and the personalized engraving makes it extra special. This is my second order of this product,the price is excellent, the service is expedient and what more could we ask for? I highly recommend this product to others.

Very Impressed!
By
Christina F.

(Huntington, NY) - February 15, 2010 (
See all reviews by this customer
)
I was a little worried that these would look tacky or cheesy when they arrived (like bridal "pimp cups"), but they are gorgeous and I will be proud to give them as gifts. The silver plating, crystals and engraving are all done beautifully. Also, they arrived almost immediately and well-packaged. I know the bride and groom will be thrilled to use them at their wedding!

Wow better live than picture!
By
Von G.

(Houston, TX) - February 28, 2010 (
See all reviews by this customer
)
I went out on a limb for our 25 Wedding Anniversary since she wanted a compound miter saw and wow did this turn out great. The flutes are well worth the price and absolutely beautiful. If you are looking for the perfect inexpensive gift I cannot more recommend these to anyone, you won't be disappointed.

Anniversary Gift
By
Eleftheria E.

(New Hyde Park, NY) - November 4, 2009 (
See all reviews by this customer
)
Bought these for a 25th wedding anniversary present to my boyfriend's parents. Beautiful, better quality than I expected. The only thing is that the engraving is not very deep so you kind of have to move the glass around in the light to really catch what it says.

beautiful
By
Sheri H.

(Spokane , WA) - February 3, 2010 (
See all reviews by this customer
)
I thought these were beautiful... very classy looking. my daughter will love them
the only thing that bothered me was the writing doesn't show up very well. not sure what you could do with that, but from the pictures it looks like it should show up better.
overall they are beautiful.


Great Toasting Flutes!
By
Michael S.

(bellmore, NY) - October 5, 2009 (
See all reviews by this customer
)
I purchased these toasting flutes for my best friends bridal shower. She loved them! I was very pleased with the beauty and quality of these flutes. I would give a 5 but I felt like the engraving was a little light. Although that would not deter me from getting them again!

Nice Flutes - Pitiful Service
By
James C.

(Dahlonega, GA) - October 23, 2010 (
See all reviews by this customer
)
The first set of flutes had to be replaced because the engraving looked as if the bit was dull & the lettering was jagged, also the plating appeared to be flaking along with a dent. The second set flutes looked really nice. However, I agree with another review that the engraving isn't deep enough - you really have to hold the flutes just right to see the engraving. It DOES NOT look exactly like the picture. We placed our initial order Aug 26, they arrived without the advertised gift box. The replacement order arrived Oct 2nd, again without the gift box. I emailed once more and we finally got the gift box on Oct 20th, 10 days AFTER the wedding. We thought that because of the great reviews that this would be the best place to purchase from, we were wrong.

Wedding Flutes
By
Shopper

(Jefferson City, MO) - March 7, 2011
Flutes are beautiful, however the personnalization (engraving) does not meet my expectations. It is so light that it is hardly visable. I am very disapointed in the engraving.

The Champagne Flutes
By
Joseph P.

(Cutler Bay, FL) - March 2, 2010 (
See all reviews by this customer
)
The flutes are beautiful on their own but the engraving leaves something to be desired. Perhaps, in an effort to ship them as quickly as you did, less time was available for a deeper, more legible engraving. Therefore, instead of being great, they are mostly good to OK.

Same as others...
By
Nancy S. P.

(Pittsburgh, PA) - May 27, 2010 (
See all reviews by this customer
)
I was pleased with the appearance of the flutes, but disappointed in the size and quality of the monogram. It is relatively faint, and the size of the monogram seemed smaller than in the web page illustration.

Crystal Accents Wedding Flutes
By
Patricia M.

(Glenshaw, PA) - December 3, 2010 (
See all reviews by this customer
)
Very beautiful, I only wish I could have put both their names on both of them "Kris & Taryn" then "Taryn & Kris" then the date.

Amazing
By
Brendy J.

(Cornelius, OR) - May 18, 2010 (
See all reviews by this customer
)
Love them! Wont brake and beautiful. The engraving could be a little nicer, but not a big deal. I still love them.

Very well pleased
By
Joy T.

(Charlotte, NC) - March 10, 2010 (
See all reviews by this customer
)
My son and his fiance are using these at their reception and are overjoyed with how they turned out. Gorgeous flutes, and very prompt service. Thank you very much.

Nice
By
Holly W.

(Houston, TX) - April 15, 2010 (
See all reviews by this customer
)
My fiance' wanted all silver flutes. I wanted some bling to them. These were perfect. I placed the order and they arrive the other day. The look great, but the engraving is really hard to see. I wish that you were able to see the engraving a little better.

Perfect toasting flutes
By
Stacy B.

(Fair Oaks, CA) - April 20, 2010 (
See all reviews by this customer
)
I gave these as a bridal shower gift & they were beautiful:) The quality is as good as Things Remembered, but the price was much more affordable.

nice
By
Shopper

(Plantation, FL) - July 24, 2011
FAST shipping with a nice gift box!!!!!

Perfect Toasting Flutes
By
Shopper

(Lincoln, NE) - August 7, 2011
I am so happy with the toasting flutes. I had a very hard time finding all metal, personalized, toasting flutes for my son and daughter-in-law's upcoming wedding. The glass flutes can break too easily and even now after 32 years of marriage my husband and myself still have our personalized all metal toasting flutes. These flutes are perfect and beautiful. I was amazed how quickly they arrived. Thank you so much.

Crystal flutes
By
Shopper

(Victoria, TX) - February 4, 2011
Not what I expected, but they made points with my BW on our 25th anniversary, so I'm happy. I expected crystal flutes on silver-plated stems, much like your item 7146, (which I did not see on the website before) rather than all silver-plated with some embedded crystals. Also, I suggest three lines of engraving, for name, date, and event.

Extremely Pleased
By
Kerry M.

(Papillion, NE) - September 7, 2010 (
See all reviews by this customer
)
I was very happy to get these items quickly, engraved correctly, and in excellent condition. They were of good quality and clean and polished. I would recommend these to anyone. They were an excellent choice.

Fabulous!!
By
Catherine B.

(Sebring, FL) - October 26, 2010 (
See all reviews by this customer
)
They are THE Most B.E.A.utiful!! They will love them!!

love them!!
By
Shopper

(st louis park, MN) - October 25, 2011
I bought them for my brothers wedding, and i love them!! They look so beautiful!! Thank you!

beautiful goblets
By
Shopper

(ada, MI) - May 21, 2013
These goblets are gorgeous! I received the original order with damage marks on both goblets. After talking to customer service, they were replaced and the replacements were perfect! The package was secure with bubble and boxes and it arrived quickly.

Very pleased with purchase
By
Shopper

(East Lyme, CT) - October 4, 2013
The flutes completely lived up to expectation, I am looking forward to using them on my wedding day.

Beautiful
By
Shopper

(Hampton, NH) - July 30, 2012
I wasn't sure what to expect and had been looking for pewter toasting glasses. I couldn't find the right shape in pewter so I found these - wasn't sure if they were silver colored crystal but was very happy to find that they are metal and not glass. Love them and can't wait to use them at my wedding!

" Simply Beautiful "
By
Shopper

(Moore, OK) - December 29, 2011
I ordered these beautiful flutes for my husband & I 25th Wedding Anniversary Party for next year and I must say ," I was truly amazed " !!!! I was very much satisfied and I can't wait for our big day . Thanks Personalization , job well done .

Priceless!
By
Shopper

(Montrose, CA) - July 20, 2012
Not only are these Crystal Accent Wedding Flutes elegant for it's price, but they came professionally wrapped. Great as a gift for someone. All I can say is, we are very happy with the purchase and can't wait to finally use them on our Wedding Day.

wedding flutes
By
Nancy M.

(Oracle, AZ) - September 1, 2010 (
See all reviews by this customer
)
When we opened the package we were very happy to see that everything was engraved just right. They are very pretty

wedding flutes
By
Sandi B.

(Lutz, FL) - July 9, 2010 (
See all reviews by this customer
)
We received our flutes and they are perfect; very professionally done. We are very pleased with the flutes.
We bought these flutes rather than glass because we know these will not break!

beautiful
By
jeanna D.

(clearlake, CA) - July 14, 2010 (
See all reviews by this customer
)
The quality for the price= fabulous!