Valentine's day
By
Shopper

(Wallkill, NY) - February 17, 2013
I just want to thank you for the lovely boxers. My boyfriend has never had a pair, but loves these! I only wish I had put my initial first as I didn't and may soon buy another pair with the initials the other way around. I love them, he loves them! Shipping was fast and easy. I will be doing business with you again soon. Thank you so very much for being a site that gives exactly what you show online! I'm so very happy I did business with you!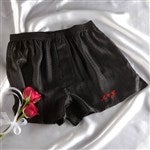 Wonderful Valentine's Gift
By
Shopper

(La Crosse, WI) - February 14, 2013
This gift was given as a Valentine's gift to my boyfriend. He loved them! They arrived in about a week as expected with the correct embroidery. The quality wasn't the best, but better than expected. My boyfriend usually wears a L in boxers and I bought an XL just to be sure they would fit. He says the XL fit comfortably. I would definitely recommend this product and will be coming back to this site for more personalized gifts. Excellent experience.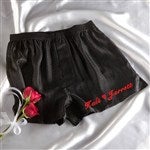 Fantastic
By
Shopper

(West Lafayette , IN) - February 9, 2013
This item is great. It came in a reasonable time, and I love them! I got them for my bf but I haven't given them to him yet because I'm waiting for valentines day. So we'll see if he likes them as much as me:)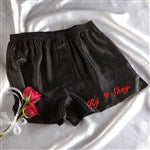 Nce but I was expecting more
By
Tatiana L.

(Port St Lucie, FL) - February 9, 2013 (
See all reviews by this customer
)
These boxers are decent tand the embroidery is nice but I expected a silky material than what I received. It was a different feel and texture than I expected. The boxers looked almost cheap. I paid almost $40 for boxers they could afford the real material. Not impressed but it was still worth it.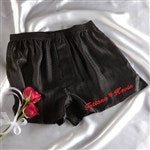 Black boxers
By
Kelli P.

(owingsville, KY) - February 1, 2013 (
See all reviews by this customer
)
The sticking is excellent the silk feels great i only wish they had been a bit heavier for the price.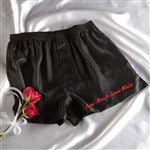 Love them!
By
Shopper

(Granite City, IL) - January 19, 2013
They fit great and were very soft (after washing). I was scared that they wouldn't be worth the hefty price, but was gladly surprised! I will defiantly be buying more products from this site.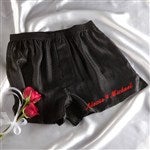 Happy overall
By
Shopper

(Indianapolis, IN) - October 23, 2012
This was a fun gift! The embroidery was well done. I was slightly disappointed in the silky fabric of the boxers. It is definitely not the same quality you find in department stores. The fabric is thin and not very soft. For the price, I expected better quality.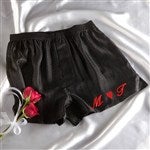 Absolutely Love This
By
Shopper

(Bridgeport, CT) - August 27, 2012
OMG I love the silk boxers! Would highly recommend to family and friends.
Thank you again...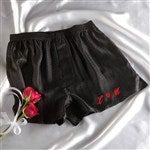 Purchased for him for Father's Day
By
Jennifer K.

(Crest Hill, IL) - June 25, 2012 (
See all reviews by this customer
)
Loved the embroidered boxers, they turned out very well. Surprised with the personalization, I've had a lot of things personalized and they did an awesome job. My husband loved them as well, comfortable fit.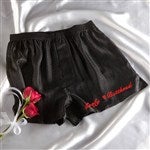 Love them! Very sexy
By
April H.

(New Iberia, LA) - February 22, 2012 (
See all reviews by this customer
)
Amazed with the quality and the service of this site! I will be back for more, no doubt.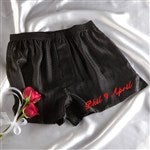 Great personalized gift!!
By
Heather J.

(melbourne, FL) - February 22, 2012 (
See all reviews by this customer
)
I was very happy with my order. My shipment came in perfect time and the product was excellent. My fiance said he loved that I put so much thought into his Valentines gift and it was very meaningful to him. The fit was great and the quality of the material was better then I thought it would be. I am very pleased.

Disappointed
By
Shopper

(Cabot, AR) - February 17, 2012
The silk boxers I ordered were ok, but they had loose strings hanging all over the place. Therefore, they looked a little "scraggly." For a total of a $50.00 purchase, I was a bit disappointed.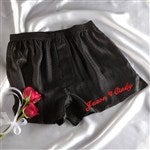 Perfect Gift
By
Katie Z.

(Sidney, MT) - February 14, 2012 (
See all reviews by this customer
)
I got these boxers for my Boyfriend because I know he wants slik boxers. So I thought this would be the best Valentine gift, something he wants, with our names. They were a little bit thinner then I thought they would be but I love them. I would get another pair.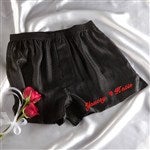 silk boxers
By
Shopper

(Portland, ND) - February 14, 2012
Order arrived quickly, my boyfriend loved the silk boxers and the personalization.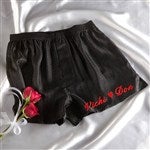 Silk?
By
Shopper

(Castro Valley, CA) - February 13, 2012
These looked great online and seemed a bit pricey, so I was thinking it was worth the quality.. Got it in the mail and man it did not feel as silky as you'd imagine in the photo... Only disappointment but it did have nice embroidering... And it is better than regular boxers I guess... But not for that price ($35?)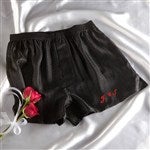 Valentine's Day present
By
Ken N.

(Fernandina Beach, FL) - February 11, 2012 (
See all reviews by this customer
)
I'm giving these boxers to my partner for Valentine's Day. I'm sure he will enjoying wearing them around the house.

The boxers seem to be made of a very high quality material. The embroidery is well done and the red looks great against the black background.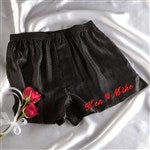 so sexy
By
Tanya B.

(Naugatuck, CT) - February 15, 2010 (
See all reviews by this customer
)
these shorts were an awesome valentines gift but i would have bought them any other time of year if i had found them. they quality is great!! and he loved them

Happy Valentine's Day!
By
Lauren M.

(West Hartford, CT) - February 16, 2010 (
See all reviews by this customer
)
my boyfriend really loves these, they came out very nice. The embroidery looks just like it did in the example. I thought they were going to be silkier, but they are a pretty good quality regardless.

Pleased with boxers
By
Lisa R.

(Glen Allen , VA) - February 19, 2010 (
See all reviews by this customer
)
The engraving looked nice and boxers were cute.

Silk Black Embroidered Boxers
By
Viviana G.

(Tulare , CA) - February 11, 2010 (
See all reviews by this customer
)
My boyfriend liked the boxers and i like how the names came out.! The boxers them self wasn't was i was looking for because they were kind of short on him, but the shipping was fast and the product was close enough how it looks in the picture. i will purchase from this website again.

Perfect Gift!
By
Jamie Jo B.

(Indianapolis, IN) - October 9, 2009 (
See all reviews by this customer
)
I gave this gift as a fun gift to my husband for our wedding day and he loved it! I had our full names on it and he wore them for the wedding! It was something fun that only we knew about. They are great quality, fit really well and the embroidery was beautiful. I would definitely reccomend this item

Very Nice Gift
By
Tyisha T.

(Williamstown, MA) - October 14, 2009 (
See all reviews by this customer
)
Got them for my boyfriend and he loved them. Comfy, very nice embroidery, size matched, but we wish they came in XXL. Overall, great item!

Pretty good stuff
By
Angela D.

(Jamesport, MO) - January 13, 2010 (
See all reviews by this customer
)
Seem to be made well, haven't used them but once or twice, so have no idea how they'll hold up.

boxers
By
Erin M.

(raleigh, NC) - October 25, 2010 (
See all reviews by this customer
)
Everything was great but the material of the shorts. they were silk they reminded me alot of soccer shorts and my boyfriend thought so as well.. but he sure did love they anyway! it was a great buy but you should be warned that the material is not what you think

Very Cute
By
Shopper

(Levittown, NY) - January 14, 2012
I bought these boxers for my boyfriend for Valentine's day this year. I got them in the mail and they are adorable. The only thing is that they aren't the best quality of silk that I thought they would be. The writing was good, but there's a little pull in the heart, hopefully, I can get it out. I think the price should be a little cheaper than what it is now. Otherwise, the boxers are cute and a great little thought.

silky boxers
By
Lesa C.

(Liverpool, NY) - October 8, 2009 (
See all reviews by this customer
)
The style & quality of the silk boxers are perfect. They wash and wear great.

Exactly as described and shown
By
Shopper

(Charlotte, NC) - February 24, 2012
After reading the positive and negative reviews, I decided to order these boxers in the next larger size. My fears of rough seams and fabric were instantly asuaged upon receiving the merchandise. I found the fabric to be indeed, silky soft, and the seams to be enclosed, French seams - NOT open finished or ragged as some had stated in the negative remarks. However, as some others had stated, I found the stiff embroidery backing to be a detraction form the overall quality of the product. It took me approximately 20 minutes to carefully trim away the excess backing from the embroidery. My guy, who normally wears a medium, loves the way the size large fit him, and adores the feel of the light weight, soft silk on his skin.

Very nice
By
Deidre R.

(Sahuarita, AZ) - October 3, 2009 (
See all reviews by this customer
)
I was very pleased with the quality of this product. I washed it like the directions said, and it was still very soft and silky (sometimes silk doesn't feel as nice after washing). My husband liked it very much and thought it was very comfortable.

Great Quality
By
Lacey C.

(Tallahassee, FL) - October 2, 2009 (
See all reviews by this customer
)
I received the boxers in the mail about a week after I ordered them and was very impressed with the quality. The embroidery looks great; it looks just like the example picture did. I haven't given the boxers to my fiance yet, but I'm sure that he will love them.

Nice Valentines gift
By
Shopper

(Saint Leonard, MD) - February 17, 2011
size was off

Good gift, embroidery a little small
By
Shopper

(Davis, CA) - February 14, 2011
I really liked these, they were shipped quickly and pretty nice quality. The only thing is that since the embroidery is cursive some of the letters are a little hard to read, like capital "J" looks funny so I did lower case letters on mine which were a little small. But in some ways that's nice too, since it's just a small personal touch and not too obvious or cheesy. Anyway, hopefully the bf likes them :) we'll find out soon!

not bad
By
Shopper

(FAR ROCKAWAY, NY) - February 4, 2011
I like it but I am waiting for valentine's day to give it to him, hopefully he loves it.

Glad
By
Alycia M.

(Cincinnati, OH) - February 14, 2011 (
See all reviews by this customer
)
After i bought the boxers, i read the reviews that were bad and got worried that the material would be cheap, but was happy to find out that this was not true. The fabric is soft and the writing was pretty..too bad it goes to waste now that my boyfriend broke up right before valentines day.

satisfied
By
Simone R.

(Savannah, GA) - February 17, 2011 (
See all reviews by this customer
)
The quality and material of product was good. My boyfriend liked them.

My boyfriend loved them
By
Kathy B.

(West Friendship, MD) - February 16, 2011 (
See all reviews by this customer
)
Very cute gift for a boyfriend that just lost his other pair of beloved silk boxers. Not the best quality silk, but I should have expected that given the price. They made for a successful Valentine's Day.

they run very small
By
christine C.

(Cedar Grove, NJ) - February 16, 2010 (
See all reviews by this customer
)
These silk boxers run very small...If I would've known I would've ordered an extra large.. :(
My husband has a 34-35 waist and they are skin tight on him....! and he's not a big boy....5'7" and skinny legs!
Help!

Too small
By
Toni D.

(stuart, FL) - February 3, 2010 (
See all reviews by this customer
)
I ordered the size 42 and they are very small and only actually is a 36 measured yet says it is 42 on the tag so i am now stuck.

Quality
By
Shopper

(Bentonville, AR) - February 22, 2013
Was not impressed with quality of these boxers for the price that was paid. Not sure why it would be considered 100% silk.

Bad Sizing
By
Shopper

(Oregon, OH) - February 20, 2011
The product was very small for a 32-34. It didnt fit, and obvioulsy once embroidered, I was unable to return. Wont be purchasing anything again due to same fear.

Disappointed Receiver
By
Robert P.

(Little Rock, AR) - April 1, 2010 (
See all reviews by this customer
)
My wife ordered these boxers for me for Valentine's Day after making a purchase with this same site for her best friends babys' Christening gift that she was very satisfied with.

Anywho, the boxers ran small as far as size and I only wore them twice before they started ripping down the side. They were washed as instructed (by hand...cold water) and air dried.

For me this was a little on the high end for some boxers, but since they were advertised as 100% silk and all of the reviews were good ones; my wife decided to order them and boy was that a waste.

Nice thought/idea, but not good quality or true to size.